Green Valley Ranch Casino Henderson
Address: 2300 Paseo Verde Pkwy, Henderson, NV 89052
Phone Number: +1 702-617-7777
Website: www.greenvalleyranch.com
Hours: Green Valley Ranch Casino is open 24 hours a day, 7 days a week.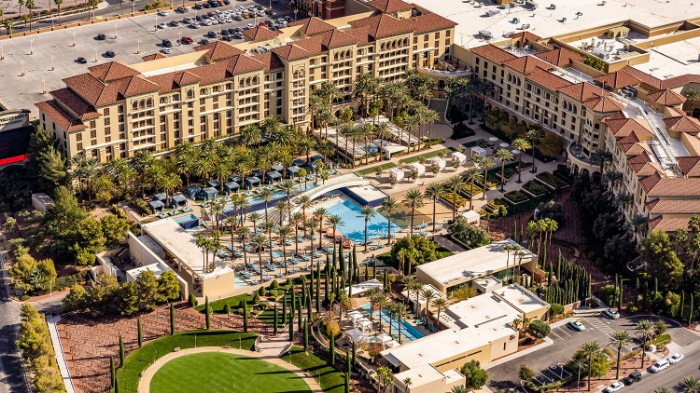 Green Valley Ranch Casino is located in Henderson, Nevada and was opened in 2001. The casino resort was originally owned by the American Nevada Corporation and then sold to Station Casinos.
The luxurious hotel-casino complex has been a popular destination among locals and tourists alike for its variety of gaming options, entertainment offerings, and amenities. The resort also offers a full-service spa, multiple restaurants, and a pool area with cabanas.
This property is one of the few casinos in Nevada that offer both slots and table games, and it even has its own interactive sports theatre with live betting options.
It is estimated that around 10 million visitors pass through the doors each year. The casino has also been featured in television shows and movies, including the hit series Las Vegas.
They are fully dedicated to providing first-class hospitality to guests from all over the world. With an emphasis on elegance and comfort, it is no wonder that this casino has become one of the most popular in Nevada.
On average, guests have given this casino an overall rating of 4 out of 5 stars. One guest said, "It's a very clean and beautiful casino with great service, lots of slots and table games. Definitely worth the visit!"
Another review said, "The entire staff was friendly and helpful, the room was nice, and the amenities they offer are top-notch. We had a great stay here!"
(Related reading: Nevada casinos)
Gaming
This casino features more than 143,000 square feet of gaming, including over 2,200 slots and video poker machines. They also have a wide variety of table games like blackjack, roulette, craps and many more.
Table Games
This casino offers some of the best gaming experiences around. With a plethora of table games ranging from Blackjack to Roulette, visitors can find a game to fit whatever mood they're in.
Craps and Pai Gow Poker are especially popular, offering exciting gameplay and chances to win big money. Playing these time-tested favorites while on vacation in Nevada is always fun.
The minimum table game bet at this casino is $5 for most games. Higher limits are available for those looking for bigger wins.
Slots
This casino offers a great selection of slot machines to suit all tastes, with something for everyone. Prosperity Link is one of their most popular titles; its distinctive feature is a progressive jackpot that increases the higher you bet.
Invaders Attack From The Planet Moolah is another well-known machine that offers bonus spins and multiple wilds for those looking for an extra chance of winning.
Alternatively, Smokin' Hot Stuff Wicked Wheel Fire & Ice and Buffalo Ascension guarantee a thrilling experience with exciting bonus rounds, wilds and multipliers.
Megabucks Mega Vault offers a huge progressive jackpot alongside Triple Double Gold Pinball for the ultimate in Las Vegas slot play, while Thunder Cash is known for its eye-catching design and numerous bonus opportunities.
This casino abides by the regulations in Nevada and offers a minimum return of 75% across all slot machines. This percentage is higher than the average for Las Vegas, meaning visitors can expect a great return on their investment.
Hotel/Resort
This casino resort offers a luxurious getaway for visitors. It features some of the best hospitality in Nevada, with rooms and suites that are comfortable, spacious, and modern.
These luxurious retreats feature amenities such as flat-screen TVs, complimentary Wi-Fi, minibars and robes for each guest. Plus, you'll have access to their fitness center, swimming pool and spa.
Choose from their spacious Deluxe King and Double Queen rooms, both equipped with contemporary amenities and modern décor.
Executive King Suites boast extra living spaces so you can watch some late-night TV, while their Executive Double Queens Patio Suites provide families with extra room to keep the kids entertained.
If you are looking for luxury, try one of the resort's eye-catching Luxury Patio Suites that feature private balconies for outdoor relaxation with beautiful views of the city skyline.
Or perhaps a higher tier of luxury with one of their Geneva Suites featuring king-size beds and separate lounges with a wet bar, fireplace and private terraces. Pick up your room key card at the front desk and begin your special escape today.
Additionally, the property offers a variety of amenities to enhance any stay. Some of them include:
24-hour fitness center
Swimming pool
Spa and massage services
Complimentary Wi-Fi
Onsite restaurants and bars
Salon services
Live concerts and events
The cost of your stay at this casino varies depending on the type of room or suite you choose. Rates start from $171 and can go up depending on the season and availability. Additional costs may be incurred for taxes and resort fees.
Check-in time at Green Valley Ranch is 3:00 pm
Check-out time at Green Valley Ranch is 11:00 am
Restaurants & Buffets
Although the casino resort does not currently offer a buffet, guests can enjoy several different restaurants while they stay. This establishment is the hottest spot for food and fun. With a dozen different restaurants to choose from at the casino, you're sure to have a great time.
Hank's Fine Steaks & Martinis is perfect for an upscale experience. Winter at the Terrace offers seasonal favorites with amazing views; Borracha serves Mexican dishes with flair; Bottiglia gives you Italian cuisine with an ethnic twist – from pizza to pasta.
Lucky Penny's diner serves classic American dishes, while Turf Grill gives you signature juicy burgers in a comfortable setting. The Oyster Bar caters to seafood lovers, and Slice House is your go-to piece of pizza heaven.
Auntie Anne's has delicious pretzels, Baskin Robbins provides all your favorite ice cream and treats, while Fat Burger goes large.
Panda Express brings some Chinese sizzle along with your favorite coffee drinks from Starbucks Coffee, and Capriotti's sandwiches are second-to-none, as are the fantastic pastries at Perks.
Pools
Whether you're looking for a prime spot to mingle or want a cozy place for two, this casino hotel in Nevada has it all.
Their Backyard Pool is the perfect place to cool off during those hot summer months, with plenty of room to stretch out and grab some sun.
And their cabana and day-bed rentals offer you an escape from the hustle and bustle of the pool, providing the perfect opportunity to relax in private.
Don't forget the Sandbar Grille, where you can lounge around on their plush couches while enjoying special cocktails or watching sporting events on multiple TVs.
Green Valley Ranch Casino, Henderson, NV FAQ
Does Green Valley Ranch Casino Have A Sportsbook?
If you're looking for a place to bet on sports in Nevada, this casino is here to help. Their Sports Book offers a variety of wagering options with competitive lines and unbeatable customer service.
Plus, they've recently launched a mobile app called STN Sports, allowing you to place bets from your phone or tablet. So don't miss out on this great opportunity to pick up some wins and make the most of your sports betting experience.
Is Poker Available At Green Valley Ranch?
Yes, the establishment is home to one of the largest poker rooms in Las Vegas, with multiple tables offering a variety of games. Plus, their daily tournament schedule keeps the action going with plenty of prizes and promotions.
What Are The Age Requirements For Gambling At Green Valley Ranch Casino Henderson?
The legal gambling age in Nevada is 21 years old. All guests must provide valid photo identification at the front desk prior to entering the casino floor and participating in any gaming activities.
Does Green Valley Ranch Have An Online Casino?
If you're looking for an online casino experience, look no further than this casino. Through STN Play, a safe and secure virtual casino platform, you can now enjoy the same great casino games from the comfort of your own home.
You'll have access to more than 60 video slots, progressive jackpots, classic table games like poker or blackjack, live dealer action, and more. Plus, you can play on the go with their convenient mobile app version.
Is There An Green Valley Ranch Casino App?
Although they don't have an app in its own right, they do have fantastic mobile apps full of amazing options. Enjoy their online casino and sportsbook that has their own mobile applications anywhere you take your device, and never miss a beat.
What Is The Dress Code At Green Valley Ranch Casino Henderson?
The casino has a casual dress code. Please be sure to wear appropriate clothing and footwear that is comfortable and presentable. There are no specific limitations on what you can or cannot wear, but they do reserve the right to deny entry if your attire is deemed inappropriate.
Is There An Airport Shuttle Available From Green Valley Ranch?
Unfortunately, this casino does not currently offer an airport shuttle service. However, the local airport is just a few miles away, and plenty of taxi services are available to get you to the casino.
Additionally, several car rental options are available at the airport for those looking for more flexibility.
What Is The Smoking Policy At Green Valley Ranch Casino?
Smoking is allowed in designated areas at the casino. These areas are well-marked and are set up to provide a comfortable smoking environment for guests.
Guests who choose to smoke must remain within these designated areas at all times, as smoking is not allowed anywhere else in the establishment.
What Is The Pet Policy At Green Valley Ranch?
At this time, the casino only allows service animals on the premises. No other pets or animals are allowed. If you require a service animal, please let the hotel staff know in advance, and they will be happy to accommodate you.
Is Wifi Available At Green Valley Ranch Casino Henderson?
Yes, free high-speed Wi-Fi is available to all guests throughout the casino and hotel. Additionally, they offer several convenient charging stations located around the gaming floor so you can stay connected while on the go.
What Is The Cancellation Policy For Green Valley Ranch?
You can cancel your reservation up to 48 hours in advance of your arrival date with no additional charges. If you need to cancel after the 48-hour window, you will be charged a cancellation fee equal to the first night's room rate.
Conclusion
Green Valley Ranch Casino in Henderson is an ideal destination for those looking for a great casino experience.
With plenty of gaming options, promotions, and tournaments, you'll never be bored. The casino also features comfortable lodging and convenient dining options to make your stay as enjoyable as possible.
If you're looking for a great casino experience in Las Vegas, be sure to visit this casino resort. Their friendly staff and welcoming atmosphere will make you feel right at home.