Hard Rock Casino Lake Tahoe
Address: 50 US-50, Stateline, NV 89449
Phone Number: +1 844-588-7625
Website: www.hardrockcasinolaketahoe.com
Hours: Hard Rock Casino Lake Tahoe is open 24 hours a day, 7 days a week.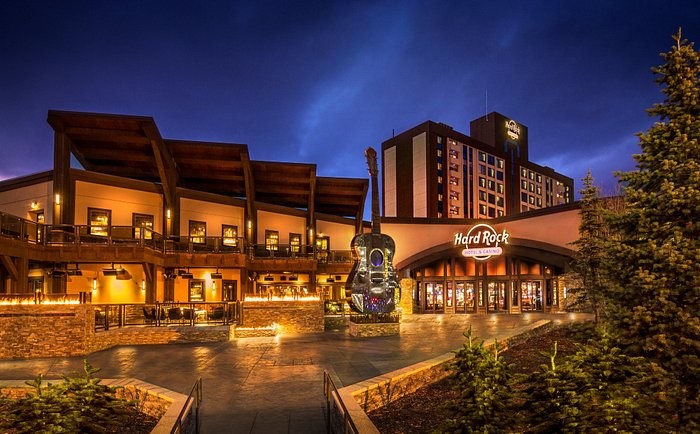 Hard Rock Casino Lake Tahoe has been a cornerstone of the South Shore for over 20 years.
Before becoming a world-famous destination for gambling, this casino started out as the Sahara Tahoe in 1965.
Back then, they hosted some of music's most memorable acts, such as Elvis Presley and more. Eventually, a hotel company named Columbia Sussex purchased it in 1990 and changed its name to Horizon.
After several other changes of ownership and issues with the lease, the property was rebranded as what we now know as Hard Rock Casino Lake Tahoe in 2014. Today, the casino is owned and operated by NevaOne LLC and Paragon Gaming
Their gaming space features over 400 slot machines, dozens of gaming tables, and several high-limit areas for those looking for an extra thrill. In addition to the gaming offerings, the casino also features a variety of restaurants, bars, and lounges.
The property also has an on-site hotel that offers several luxurious rooms and suites. And guests can also enjoy the casino's swimming pool, fitness area, and other attractions, such as concerts and comedy shows.
In short, despite the many changes and developments throughout the years, this casino remains one of South Shore's most popular gaming destinations. If you're in the area, be sure to check out one of Lake Tahoe's premier casinos and experience all it has to offer.
On TripAdvisor, the casino holds a 4 out of 5-star rating based on over 1,100 reviews. The majority of guests say, "We had a great time here. The staff was friendly and helpful, the slots were fun, and the food at the restaurant was great. Highly recommend!"
Others say, "Everything about this place was amazing! Highly recommended for anyone looking for an exciting night out. Great selection of slots, and the wait staff were amiable. Highly recommend."
(Related reading: Nevada casinos)
Gaming
This casino has more than 400 slot machines, several gaming tables, and several high-limit areas. Popular table games include blackjack, craps, roulette, poker and more.
Table Games
This casino features a wide variety of classic table games for you to try your luck at. Take a spin at blackjack or craps; each fan-favorite game provides an exciting experience that both novice and experienced gamblers can appreciate.
If you're feeling daring, take on Ultimate Texas Hold'em with an ante bet to get the full adrenaline rush. Or put your card-playing skills on display while playing Three Card Poker or Pai Gow.
Feeling extra lucky? Place a wager in the roulette area – plus, all eight offer progressive jackpots to really increase your bottom line.
Whether you're a big or small gambler, this casino offers something. All of their table games have minimums starting at $5, so even those on a budget can enjoy the gaming experience.
Slots
This casino is an exciting slot destination with an impressively diverse selection of slot machines.
Some of the most popular games that have been thrilling visitors to the casino include AGS Starwall, which features an awesome bonus round and Dance Drums Explosion – an electrifying game full of vibrant color and hypnotic sound.
With its featured WIllly Wonka-themed Munchkinland game, gamers travel through various levels to win combination-filled surprises. The Ultimate Fire Links game has also become a big hit, lit up with its precious firework display of bright lights and vibrant sounds.
Jolly 8's and Happy 8's have also attracted attention with fantastic graphics and action-packed play. Fierce Dragon dishes out huge jackpots while Wheel of Fortune 4D combines virtual reality technology with classic slots play.
According to the Nevada Gaming Commission, the minimum payback percentage for slot machines in the area should be no less than 75%.
Rest assured that when playing at this casino, you're getting the best gaming experience possible as they follow the guidelines of the Nevada Gaming Commission.
Hotel/Resort
Whether you're looking for a place to stay during your trip or need a break from the gaming floor, this hotel provides all the comfort and convenience of home. From cozy standard rooms to extravagant suites, there are plenty of accommodations to choose from.
Each room is equipped with modern amenities and offers breathtaking views of Lake Tahoe. Amenities include a flat-screen TV, WiFi, a refrigerator and a balcony for fresh mountain air.
Their room types are:
King Room – features one king bed
Double Queen – features two queen beds
Best Available Room – features a standard room with a bed
Suite – features one bedroom and a living area
At this casino hotel, guests can take advantage of several on-site amenities. Some of these include:
Concierge
Swimming pool and hot tub
Fitness center
Retail shops
Rock 'n' roll memorabilia
Recreation services
An array of restaurants and bars to choose from
Room rates at this hotel vary depending on the type of room and time of year. Rates start from $69 per night plus applicable taxes and fees. Additionally, rates are higher during peak periods, so make sure to check the dates before making a booking.
Check-in time at Hard Rock Casino Lake Tahoe is 4:00 pm
Check-out time at Hard Rock Casino Lake Tahoe is 11:00 am
Restaurants & Buffets
Even though the casino does not currently offer buffet-style dining, they do have an array of hot and tasty restaurants that will satisfy any appetite. Craving a quick bite? Fuel offers made-to-order sandwiches, pizza, burgers and more – perfect for when you're on the go.
For something more casual, try Alpine Union Bar & Kitchen, with its amazing mountain views and delicious recipes using local ingredients or The Oyster Bar, with its fresh catches ready to be cooked your way.
If it's fine dining you're after, look no further than Park Prime Steakhouse. With high-quality steaks, seafood, and fantastic service, this is the place to go for an unforgettable dinner experience at this casino.
Pools
If you're looking for a resort experience that combines a bit of rock n' roll with top-notch amenities and unmatched service, this casino is the perfect destination for your next getaway.
Their large outdoor pool provides plenty of space to relax and take a dip during the summer months, plus plush gardens make this an oasis in South Shores. There's never been a more serene yet entertaining way to enjoy all the appeal of their beautiful lakefront location.
With everything you need right at your fingertips, no other destination offers such unique features and amenities paired with the classic Hard Rock atmosphere.
Hard Rock Casino Lake Tahoe, NV FAQ
Does Hard Rock Casino Lake Tahoe Have A Sportsbook?
This casino offers a top-of-the-line sportsbook experience with William Hill Sports Book. You can find everything you need to make your sports betting dreams come true.
The casino is also one of the few to offer their customers the William Hill Nevada Mobile Sports App, so now you can be connected and in on the action all day long.
No matter what type of sport or game you're looking to bet on, from football and baseball to football and basketball, the casino's William Hill Sportsbook has got you covered.
Is Poker Available At Hard Rock Casino?
In their dedicated poker room, you can enjoy the thrill of playing poker at this casino. The casino offers a variety of exciting tournaments and cash games, complete with all the amenities you would expect from a first-class casino.
What Are The Age Requirements For Gambling At Hard Rock?
The minimum gambling age is 21, and all players must present valid photo identification when entering the casino. Anyone under the age of 18 is not allowed to enter or gamble in any area of the casino.
Does Hard Rock Lake Tahoe Have An Online Casino?
Looking to enjoy this casino from the comfort of your own home? You're in luck! They have an incredible selection of free online casino games for you to choose from.
From its Jackpot Casino and Blackjack Casino to many other thrilling titles, this casino has something for everyone. So grab a seat at the digital table and test your luck with the rock 'n' roll magic only this casino can deliver.
Is There An Hard Rock Casino Lake Tahoe App?
Are you looking for a convenient way to get access to the amazing rewards available at this casino? Get your game on with the Hard Rock Hotel & Casino mobile app – now available on IOS and Android devices.
When you download it, you'll also be able to use your Backstage Pass Card and be eligible for instant slot rewards.
What Is The Dress Code At Hard Rock Casino?
The dress code at this casino is "smart casual." This means that while you don't have to be dressed to the nines, visitors should still maintain a neat and appropriate appearance when entering the casino.
Is There An Airport Shuttle Available From Hard Rock?
Unfortunately, there is no airport shuttle available from this casino. However, the nearest airport is just a short drive away, and you will find several transportation services located nearby to help make your journey from the airport to the casino as convenient as possible.
These include Uber, Lyft and taxi services which can provide you with reliable transport when arriving at or departing from the casino.
What Is The Smoking Policy At Hard Rock Casino Lake Tahoe?
The casino has a strict non-smoking policy. The property is entirely smoke-free, meaning that all casino areas are off-limits to smoking and vaping.
This includes indoor and outdoor spaces – visitors who violate the policy will be asked to leave. However, designated smoking areas may be available outside the casino for those who wish to smoke.
What Is The Pet Policy At Hard Rock Casino?
This casino is a pet-friendly destination, and they have an accommodating policy that all guests must follow. They charge a fee of $65 per night per pet.
Only designated rooms are permitted to accommodate pets, so it's important to reserve the correct type of room before you bring your pet. Pets should also be medium size and under 60 lbs.
Is Wifi Available At Hard Rock Casino Lake Tahoe?
You can breathe a sigh of relief when it comes to staying connected during your stay at this casino. Every single guest room has free wifi access included in their stay.
That means you can keep up with work, relax, watch movies, or listen to music without worrying about coverage or speed. If you're looking for a relaxing getaway but don't want to miss out on using your technology, look no further than this casino.
What Is The Cancellation Policy For Hard Rock Casino Hotel?
The cancellation policy for this casino is subject to change, depending on availability. Generally speaking, they offer free cancellations up to 48 hours before your scheduled arrival.
However, you may be charged a fee if you cancel within 48 hours of your stay or have already checked in and need to cancel. To get the most up-to-date information, it is best to contact the hotel directly.
Conclusion
The Hard Rock Casino Hotel is the perfect destination for anyone looking for a fun and exciting getaway.
With plenty of gaming options, great rewards, a pet-friendly policy, free wifi and much more – you won't be disappointed if you choose to make this your next vacation spot.
So book your stay today, start planning a memorable holiday at this casino, and enjoy the ultimate casino experience.