Harvey's Casino Lake Tahoe
Address: 18 US-50, Stateline, NV 89449
Phone Number: +1 775-588-6611
Website: www.caesars.com/harveys-tahoe
Hours: Harvey's Casino Lake Tahoe is open 24 hours a day, 7 days a week.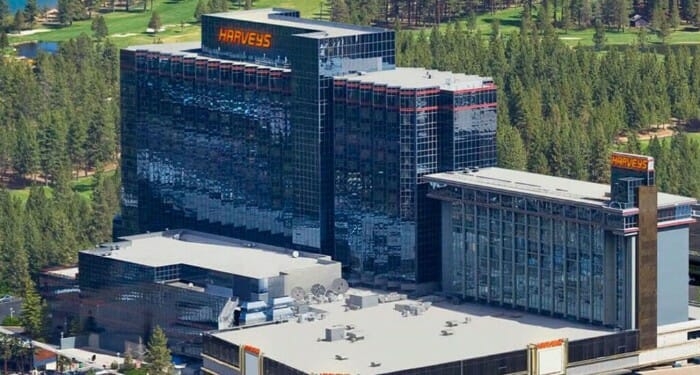 Harvey's Casino Lake Tahoe was established in 1944 by Harvey Gross and his wife, Llewella. It is located on the south shore of Lake Tahoe, just a few steps away from the Nevada-California border.
The casino has been through several owners over the years, but its charm remains intact, with a rustic but elegant mountain lodge atmosphere. It is now owned by Vici Properties and operated by Caesars Entertainment.
Their casino floor features more than 1,200 slots and video poker machines, a variety of table games, and a keno lounge. In addition to gaming, guests can take also book a night stay at their hotel, which features more than 740 rooms and suites with stunning views of Lake Tahoe.
Their dining options offer something for everyone, from casual fare at Food Court to the world-famous Gordon Ramsay's Hell's Kitchen restaurant. For entertainment, guests can enjoy live music and comedy shows in their nightclubs and lounges.
This casino is a great destination for a getaway any time of year. With its stunning location, thrilling games, delicious dining choices and top-notch entertainment, it's the perfect spot for a vacation.
On several online reviews, this casino has been given a rating of 4.5 out of 5 stars. According to one reviewer, "Harvey's Casino Lake Tahoe is a great place to stay and play. The rooms are spacious and clean, the staff is friendly, and the casino games are fun. Highly recommended!"
Another reviewer said, "This is a great destination for anyone looking to have a memorable time. The atmosphere is inviting, and the staff is attentive. The gaming options are diverse, and the restaurants are top-notch. Highly recommended!"
(Related reading: Nevada casinos)
Gaming
Their gaming options include classic to the latest games, from slots and video poker to keno, blackjack, craps, roulette and many more. They also offer progressive jackpots with big cash prizes.
Table Games
This casino is the perfect destination for those looking for a thrilling night of card games. Enjoy the classic blackjack game and take your chances in the roulette with its iconic spinning wheel.
Craps is also available with its high-stakes dice rolling, as well as Baccarat which allows you to play banker or player. Other options include Pai Gow, where you can bet on your own hand and Let it Ride, based on five-card combination rankings.
If poker is more up your alley, test your skill in Texas Hold'em or 30-Card Poker and see how far you can make it before the house takes its share.
The table game minimums vary depending on the time of day and night. During peak hours, you can expect to play with a $25 bet minimum, while during off-peak times, it may be as low as $5.
Slots
This casino offers guests plenty of gaming options, including over 1,200 slots and video poker machines. Some of the most popular slot machines here include:
MegaBucks
Buffalo Stampede
Jackpot Party
Blazing 7's
Bally Hot Shot
Penny Train
Li'l Red
While this casino doesn't reveal its slot machine payback percentage, it is regulated by the Nevada Gaming Control Board and must offer a minimum return of 75%.
Hotel/Resort
This casino is also home to a 740-room hotel featuring spectacular lake views and Sierra Nevadas. All guest rooms are decorated with a rustic mountain lodge look with comfortable beds, flat-screen TVs, a mini fridge, a coffee maker, an iron/ironing board, and complimentary Wi-Fi.
Room types include:
Classic Rooms – features one king or two queen beds
Deluxe Rooms – features one king or two queen beds and a tree-line view
Luxury Rooms – features one king or two queen beds and a view of the mountains
Premium Rooms – features one king or two queen beds and a tree-line view in a more spacious room
Junior Suites – features one king bed, a chaise lounge, a sitting area and a floor-to-ceiling view of the mountains
Balcony Suites – features one king bed, a parlor, a living room, a dining space, and a balcony
Additionally, the hotel offers great amenities such as:
Highspeed wifi access
Self-parking and valet parking
24-hour front desk
Concierge services
EV charging stations
Rooftop pool
Fitness center
Pet-friendly accommodations
24-hour business center
An onsite sportsbook
Live entertainment
Restaurant and bars
Retail stores
The cost of staying at this hotel will depend on the room type and time of year. However, you may easily find a room for as low as $59 per night.
For a more accurate estimate of the cost of your stay, visit their official website for up-to-date rates and availability.
Check-in time at Harvey's is 4:00 pm
Check-out time at Harvey's is 11:00 am
Restaurants & Buffets
Although they currently do not offer a buffet, this casino does have several excellent dining establishments. Whether you're in the mood for fine dining or a casual meal out with friends, there's something for everyone.
Step into the world of celebrity chef Gordon Ramsay at Hell's Kitchen, customize your tacos at El Jefe's Cantina Tahoe, or tantalize your taste buds with Italian dishes prepared fresh daily at Sapori.
If you're looking for something more traditional, Friday's Station Steak & Seafood Grill is the place to be, offering succulent steaks cooked to order.
For a relaxed and enjoyable mealtime experience, head to the American River Café – they have an array of delicious comfort food without skimping on quality. No matter your choice, you can be sure that a meal here won't disappoint.
Pools
If you're looking for a summer getaway, look no further than this casino. Enjoy crystal clear waters in the heated outdoor pool, allowing year-round swimming. No matter the temperature outside, the pool is always comfortable and inviting.
Take a dip and enjoy some time lounging by the pool – there is plenty of seating, so everyone can find a spot to relax. Or, if you get hungry while lounging in the sun, you can order food and drinks right from your lounge chair.
Harvey's Casino Lake Tahoe, NV FAQ
Does Harvey's Casino Lake Tahoe Have A Sportsbook?
If you want to get in on the action and place bets on your favorite sports teams in Lake Tahoe, then this casino has you covered.
Located just steps from the casino floor, the Caesars Race and Sportsbook cater to sports fans who are looking for an exciting atmosphere where they can cheer on their favorite teams.
Even better, mobile wagering is available through the BetMGM App so that you can place your bets right from your phone.
Is Poker Available At Harvey's Casino?
Yes, there are multiple live poker tables in the casino that features daily tournaments and cash games. Whether you're new to the game or an experienced pro, this is the perfect place to practice your skills and test your luck against other players.
What Are The Age Requirements For Gambling At Harvey's Casino Lake Tahoe?
The minimum age for gambling at this casino is 21 years old. All guests under the age of 21 must be accompanied by a legal guardian or responsible adult who is at least 21 years of age to enter the casino floor.
Does Harvey's Have An Online Casino?
Unfortunately, this casino does not have an online version. However, they offer so many exciting gaming options in their physical location so that you won't miss out on the action. From slots and table games to video poker and a sportsbook, there are plenty of ways to have fun at this casino.
Is There An Harvey's Casino Lake Tahoe App?
Unfortunately, this casino does not have a mobile app. However, they offer a mobile website that you can access on your phone or tablet for convenient access to the latest news and updates.
Plus, as they are partnered with Caesars Entertainment, you can use the Caesars Rewards App to check in by yourself, book a room and even find guest services. This app helps make your stay hassle-free and more enjoyable.
What Is The Dress Code At Harvey's Casino?
The casino does not have a specific dress code, but they do recommend that guests wear clothing that is suitable for the casino atmosphere.
For this reason, guests should avoid wearing items such as tank tops and shorts. The casino also recommends avoiding overly revealing or provocative clothing while on the property.
Is An Airport Shuttle Available From Harvey's?
Sadly, this casino does not provide an airport shuttle service. However, there are plenty of transportation options available in the area, such as taxis and ride-sharing services like Uber or Lyft.
What Is The Smoking Policy At Harvey's Casino Lake Tahoe?
The inside of the casino is a non-smoking area. There are designated outdoor smoking areas around the property where guests can smoke and vape. These areas must be used responsibly to prevent any disturbances or annoyances for other guests.
What Is The Pet Policy At Harvey's?
This casino offers a pet-friendly policy for those who need to bring their furry companions along. For a fee of $75 per pet per night, you can bring up to two dogs that weigh no more than 50 lbs.
Service animals are allowed in the casino without a fee if they are properly identified and have their necessary paperwork. For guests bringing pets that weigh more than 50 lbs, please get in touch with the hotel directly for further information.
Is Wifi Available At Harvey's Casino Lake Tahoe?
Yes, complimentary wifi is accessible throughout the entire casino property, allowing guests to connect and browse the web free of charge.
For further assistance with the wifi, you can contact the hotel's friendly team. They will be more than happy to help you get connected and answer any questions or concerns that you may have.
What Is The Cancellation Policy For Harvey's Casino?
The cancellation policy for this hotel varies depending on which booking rate was chosen. For room reservations, they offer a flexible "no fee" cancellation policy up to 48 hours before arrival.
If you must cancel within 48 hours of your arrival, you may be liable for all or part of your stay. Please contact the hotel directly to find out more about their cancellation policy.
Conclusion
Harvey's Casino Lake Tahoe is the perfect destination for those who like to play and explore. With its exciting gaming options, pet-friendly policy, and complimentary wifi, this casino will make your stay enjoyable and hassle-free.
Whether you're looking for a relaxing getaway or an action-packed weekend, consider visiting this casino and taking advantage of all that it has to offer. With its friendly staff, convenient location, and plenty of activities, you'll surely have a great time.