Hotel Nevada & Gambling Hall Ely
Address: 501 E Aultman St, Ely, NV 89301
Phone number: +1 775-289-6665
Website: www.hotelnevada.com
Hours: Hotel Nevada & Gambling Hall is open 24 hours a day, 7 days a week.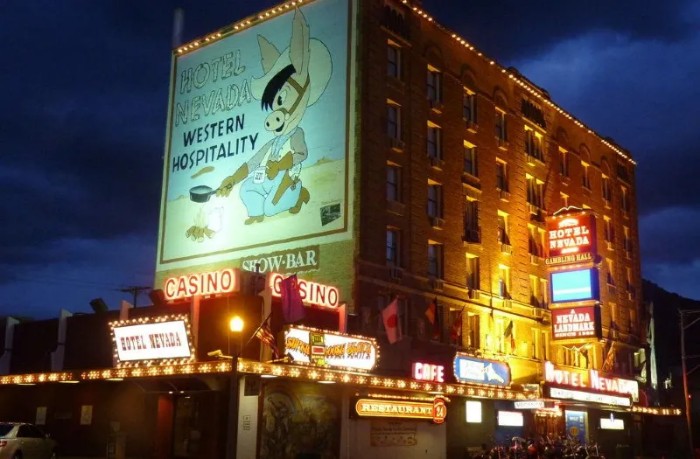 Hotel Nevada & Gambling Hall has served locals and visitors in Ely, Nevada, since 1929. It was the first brick building on Aultman Street and is one of the oldest operating casinos in the state of Nevada.
Unfortunately, in 1986, the property closed its doors due to the economic recession and financial struggles of the owners, The Goeringers. It was eventually put up for sale, but sadly, no buyers came forward.
Over a year later, the owners decided to reopen a part of the hotel, but a problem arose again when the Goeringers filed for a divorce. The hotel was then sold to Bert Woywood and Paul Kellogg.
After several changes and renovations, Woywood sold his half to Gaughan Gaming, who then became the co-owner of Kellog. Today, the property is still thriving as an iconic gaming and entertainment destination, offering many amenities for guests.
The casino itself boasts over 300 slot machines, as well as live table gaming and a sports book. They also offer hotel accommodations, a full-service restaurant, a bar and a lounge featuring live entertainment.
Whether you are looking for a night of fun and excitement or just relaxing after a long day at work, this is the perfect place to do so.
On TripAdvisor, the hotel has a 4-star rating, with numerous guests praising the hospitality and service they received upon their stay. One guest said, "The hotel staff was friendly and helpful, the room was clean and comfortable, and there were plenty of great gaming options."
Another visitor said, "I had a wonderful stay here. The casino was fun, and the rooms were very comfortable. The food was delicious too. Highly recommended!"
(Related reading: Nevada casinos)
Gaming
This hotel and casino offer various gaming options, from slots to table games. Table games include classics such as blackjack, roulette, craps and more.
Table Games
The casino is a great place to enjoy fun-filled nights of gaming. They offer all the classic table games you'd expect – roulette, blackjack, craps and baccarat.
Each game is incredibly easy to learn, and with their friendly staff on hand all night, you'll pick them up in no time. Whether you are an experienced gambler or a first-timer playing for fun, this casino provides an amazing atmosphere for all sorts of gamers.
Minimum bets at this casino vary depending on the game type and the table you are playing. Generally, most tables have a minimum bet of $5, but some can go as high as $25 and even $50.
Slots
If you're a fan of slots, this casino has something for you. Guests can enjoy classic slot machines and new and exciting games. Popular titles include:
Crazy Money Deluxe
Jurassic Park
Pixie Power
Shadow Panther
Quick Hit
Miss Kitty
This casino's minimum slot payback percentage is 75%, in compliance with Nevada Gaming Commission regulations. This means that for every $100 wagered on slot machines, at least $75 will be returned to players in the form of winnings.
Hotel/Resort
This property provides a variety of amenities and services to its guests. Accommodations include luxuriously appointed rooms and suites, with many offering stunning mountain views.
The hotel offers 64 well-appointed guestrooms featuring classic décor and modern amenities such as flat-screen TVs and complimentary Wi-Fi. Guests can also take advantage of the hotel's fitness center, laundry facilities and more.
Their Queen Room and Double Room provide comfortable accommodations ideal for couples. At the same time, their King Room Suite, Family Suite and top-of-the-line Premier Suite offer roomier options with thoughtful amenities like extra space and complimentary refreshments.
This casino hotel offers a variety of amenities to ensure its guests have an unforgettable stay. These include:
Complimentary WiFi and parking
24-hour front desk and room service
Fitness center
Laundry facilities
Outdoor swimming pool
Meeting rooms
The cost of a stay at their hotel depends on the type of room, length of stay and season. Generally, rates start at $80 per night for a standard single room. Upgraded rooms and suites are also available at higher prices. Check with the hotel directly for more information on current rates.
Check-in time at Hotel Nevada & Gambling Hall is 3:00 pm
Check-out time at Hotel Nevada & Gambling Hall is 11:00 am
Restaurants & Buffets
Although the hotel does not have a buffet, several on-site restaurants are located within the hotel. Whether you're craving a snack at 3 am or a sit-down dinner, this hotel has you covered.
There's a 24-hour bar and also a 24-hour Denny's that offers delicious American-style cuisine with all your favorite staples. The staff is always friendly and accommodating, so you can dine confidently, knowing that your experience will be top-notch.
Pools
If you're looking for a place to take a refreshing dip and splash around, this casino is not the spot, as it does not offer any pools for its guests.
Fortunately, plenty of other amenities are available such as complimentary Wi-Fi, accommodating front desk staff, onsite gaming and entertainment, and a delicious dining establishment. With so much to explore at the hotel, you won't miss your swimming time.
Hotel Nevada & Gambling Hall, Ely, NV FAQ
Does Hotel Nevada & Gambling Hall Have A Sportsbook?
If you're a sports fan, you can even enjoy the thrill of sports betting. They offer the only Live Sports Book in Ely, with high-odds parlay and teaser cards, plus regular promotions that are sure to get hearts racing.
So if you're looking for some sporting action, head to this casino to make that bet you'll never forget.
Is Poker Available At Hotel Nevada?
Yes, you can play poker at this casino. There are several tables offering popular games of chance. Whether you're a novice or an experienced card shark, there's something here for everyone.
What Are The Age Requirements For Gambling At Hotel Nevada & Gambling Hall?
The minimum age for gambling at this casino is 21. All guests must present valid photo identification to prove their age before entering the gaming floor. Minors are not allowed on the gaming floor at any time.
Does Hotel Nevada Have An Online Casino?
No, this casino does not offer an online casino. You can only play at the physical location in Ely, Nevada. You'll have to find another establishment if you want an online gaming experience.
Is There An Hotel Nevada & Gambling Hall?
No, there is no app available for this establishment. However, you can use their website to book a reservation and view current rates. The website also offers information about the casino games, restaurants, and amenities this establishment offers.
What Is The Dress Code At Hotel Nevada?
The dress code for this casino is smart casual. Visitors should avoid wearing clothing that could be deemed offensive or disruptive. Any clothing inappropriate for a family-friendly environment will not be permitted on the gaming floor.
Is There An Airport Shuttle Available From Hotel Nevada & Gambling Hall?
Unfortunately, this hotel does not offer an airport shuttle service. However, the hotel is well connected to local transport links, and taxi services are available nearby. Check with the front desk for more information on local transportation options.
What Is The Smoking Policy At Hotel Nevada?
Smoking is allowed only in this designated area and nowhere else on the premises. All guests must abide by the casino's smoking policy, as those who fail to do so will be asked to leave.
What Is The Pet Policy At Hotel Nevada & Gambling Hall?
This casino is pet-friendly, so you can take your beloved four-legged companion on vacation with you. It's important to remember that there are restrictions in place.
To learn more about bringing your pets on vacation with you, please do not hesitate to call the hotel directly with any further questions you may have.
Is Wifi Available At Hotel Nevada?
This casino is the perfect destination for a weekend away. Not only can you enjoy a range of classic and modern games, but the hotel also offers free WiFi in all their rooms, helping you stay connected with your friends, family, or the world at large.
What Is The Cancellation Policy For Hotel Nevada & Gambling Hall?
Their hotel offers a flexible cancellation policy. You can cancel your reservation up to 24 hours before arrival and receive a full refund. If you cancel later than this, you will be charged for the first night's stay. Please check the cancellation policy for more details.
If you have any additional questions or concerns about their policies and procedures, please do not hesitate to contact their team directly.
Conclusion
Hotel Nevada & Gambling Hall is the perfect destination for a weekend away. This casino offers an array of games and amenities, such as free WiFi in all rooms, pet-friendly policies, and a flexible cancellation policy.
You can also find plenty of restaurants and transportation options nearby.
Before you go, remember to bring valid photo identification to prove your age and to wear appropriate attire.
With all this information in mind, you will surely have an amazing time at this hotel and casino.