Hyatt Regency Lake Tahoe Resort Spa & Casino Incline Village
Address: 111 Country Club Dr, Incline Village, NV 89451
Phone number: +1 775-832-1234
Website: www.hyatt.com/en-US/hotel/nevada/hyatt-regency-lake-tahoe-resort-spa-and-casino/tvllt
Hours: Hyatt Regency Lake Tahoe Resort Spa & Casino is open 24 hours a day, 7 days a week.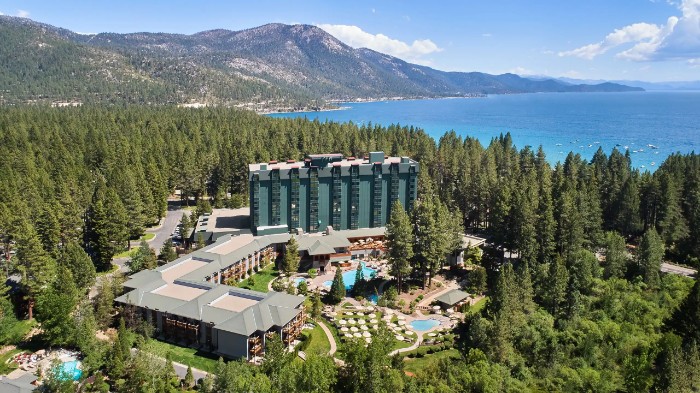 Hyatt Regency Lake Tahoe Resort Spa & Casino Incline Village has been a part of the North Shore since its opening in 1970. It is currently owned by tech billionaire Larry Ellison, who purchased the property in 2021.
The property houses a casino that offers slots, table games, video poker and sports betting. There are also plenty of amenities available such as a spa, fitness center, indoor/outdoor pools, fine dining restaurants and more.
The property also offers ski-in/ski-out activities and access to various area activities, including fishing, biking and hiking. Also nearby are the popular beaches of Sand Harbor and Lake Tahoe.
Additionally, the property offers more than 400 cottages, rooms and suites for visitors to choose from. Some of these rooms feature stunning views of Lake Tahoe, making this an ideal vacation spot for those looking to escape the hustle and bustle of everyday life.
Throughout the years, this casino resort has been the perfect getaway for visitors from all over the world looking to escape reality and experience relaxation, adventure, and luxury in one place.
The resort boasts an average rating of 4.7 out of 5 stars on TripAdvisor, with most users praising the staff, amenities and overall experience. One guest said, "They have great amenities, friendly staff and an awesome location with views of the lake that can't be beaten."
Another guest said, "The entire experience was an absolute pleasure! From arriving in Incline Village to leaving after a wonderful stay at this place, it was truly incredible. The staff was friendly and helpful, the room was spacious and comfortable, and the views were breathtaking."
(Related reading: Nevada casinos)
Gaming
This property offers 260 slot machines and several gaming tables featuring all your favorite games. Enjoy the action-packed environment of blackjack, craps, roulette, and more.
Table Games
Have you ever been urged to spin the wheel and make your fortune without flying to Las Vegas? With this esteemed casino in Nevada, Sin City's thrills are closer than you might think.
They offer various thrilling table games, including blackjack, craps and roulette. Blackjack is a classic card game where you'll be trying to beat the dealer compared to other players, while craps is all about betting and rolling two dice.
Lastly, roulette is one of the most popular spinning wheel games around. The game is all about predicting which number the ball will land on, and with this resort's luxurious roulette tables, you're sure to have a thrilling experience.
With 24/7 access to these beloved games available at this casino, it's definitely worth checking out for an exciting evening.
The minimums vary depending on the games you choose to play. Guests can start betting for as low as $5. The maximums vary depending on the table you are playing at, with some tables reaching as high as $1,000.
Slots
Their casino is home to many exciting slot machines. One of the casino's most popular slots is Ancient Dragon, which features an ancient Chinese theme and rewarding bonus features like free games and top awards of up to 500 times your bet.
Betty White may be a perfect choice for those looking for something a little lighter. This brightly-colored game takes players on a comedic journey featuring characters from Betty White's TV shows for multiple chances to win big.
Earth Rainforest has a unique point of difference – two progressives offering significant prizes with even bigger wins if players land five golden signs in sequence.
If you're a fan of HBO's hit show Game of Thrones or Ghostbusters, you'll have plenty of fun with their eponymous slots – both give players multiple chances to win big bucks and feature wild symbols to increase winning payouts even more.
They also added Jurassic Park to its repertoire – this blockbuster-inspired slot, much like its movie namesake, promises thrills and chills and a chance to walk away with huge wins.
The slot machine payback percentage at this casino is based on Nevada gaming regulations and is currently set at least 75%. This means that a gambler can expect to receive at least 75% of the money they put in as winnings.
Hotel/Resort
The resort offers a variety of accommodation options, ranging from standard rooms to suites and cottages. All rooms are air-conditioned and feature modern amenities such as flat-screen TVs, free Wi-Fi, mini-fridges and coffee makers.
With several room types and six suite options, you can design the perfect experience during your stay. Treat yourself to their one-of-a-kind King Bed Deluxe or a two Queen Beds Balcony; their amenities provide all of the comfort needed to make your stay unforgettable.
For larger families and groups, choose between the Family King Suite or Hospitality Suite; both come fully equipped with pull-out sofas to ensure even more comfortable sleeping arrangements.
Lastly, if you're searching for a true escape, book any of their beach or lakefront cottage rooms for an unforgettable view. Before you book, take some time to get further acquainted with these delightful accommodations available at this casino resort.
This resort offers many luxurious amenities to make your stay as unforgettable and enjoyable as possible. Take advantage of some of the following amenities during your stay:
24-hour concierge
Free internet access
EV charging
Multiple dining options
Fitness and gym center
Outdoor swimming pool
Skiing activities
Spa and salon services
Business centers
Meeting and banquet facilities
ADA amenities
The prices vary depending on the type of room you choose. Prices start at around $150 per night and can go up to more than $800 depending on the type of accommodation you choose.
Additionally, fees such as taxes and service charges may apply. Be sure to check their website for exact pricing information and availability.
Check-in time at Hyatt Regency Lake Tahoe is 4:00 pm
Check-out time at Hyatt Regency Lake Tahoe is 11:00 am
Restaurants & Buffets
Even though the casino resort does not currently offer any buffets, there are plenty of dining options that have something to offer everyone. Located on the shores of Lake Tahoe, their stunning resort offers a plethora of top-notch dining options.
Whether looking for gourmet fare, light dishes or fun drinks, guests can find something to satisfy every craving. Amongst the variety is Lone Eagle Grille, which serves up an elegant and acclaimed steakhouse experience.
To get a taste of home cooking, Sierra Café will be sure to hit the spot with its American-style favorites. Cutthroat's Saloon fuses live entertainment with rustic eats and craft brews for a memorable time in a casual atmosphere.
For those wanting a quality bite on the go, Tahoe Provisions & Tahoe To Go offer delicious yet convenient ready-made meals and snacks.
There are also multiple bars throughout the property, such as Stillwater Pool Bar and Grill for drinks by the pool; Pier 111 Bar; The Nest Bar & Grill, offering seaside cocktails and frozen treats; and beach service for guests seeking libations out sunning at the lakefront sand beach.
Pools
This casino resort is the perfect place to take a dip in the pool. Its heated outdoor swimming pool is ideal for spending the day with friends and family.
Whether you're looking for a leisurely swim or some water sports, you can do it all. Relaxing poolside chairs provide a perfect spot for sunbathing and taking a break from the outdoors.
Guests have access to towels, lockers and more, making their stay at this casino resort even more enjoyable. Your stay will be well worth the investment, with many onsite amenities like food and drinks.
Hyatt Regency Lake Tahoe Resort Spa & Casino, Incline Village, NV FAQ
Does Hyatt Regency Lake Tahoe Resort Spa & Casino Have A Sportsbook?
The good news is that the resort is home to William Hill Sportsbook, one of Nevada's most popular betting locations.
This comfortable and modern location offers an array of betting options on your favorite sports, making it the perfect place to make bets while enjoying a luxurious stay at the Hyatt.
Is Poker Available At Hyatt Regency Lake Tahoe?
The answer is yes – but at present, only video versions are available. However, there are plenty of exciting wins and bonuses to look forward to as you become engrossed in video poker play.
There's also another bonus: You can play in a relaxed and inviting atmosphere without worrying about opponents' reactions or reading their reactions for clues about the cards they are holding – as with traditional table structures.
What Are The Age Requirements For Gambling At Hyatt Regency?
The legal minimum gambling age in Nevada is 21. You must be at least 21 years of age to enter the casino, participate in gaming activities, or purchase alcoholic beverages on the property.
Valid photo identification and proof of age may be required for entry into any area of the casino reserved exclusively for guests ages 21 and up.
Does Hyatt Regency Lake Tahoe Resort Spa & Casino Have An Online Casino?
No, they do not currently have an online casino. However, the resort offers various gaming options inside its physical location. You can access the latest gaming machines, video poker, and table games such as blackjack, roulette, craps and poker.
Is There An Hyatt Regency Lake Tahoe App?
No, the resort does not currently have an app. However, they do offer a mobile version of their website that allows guests to view available rooms, check out amenities and more from their phones or tablets.
What Is The Dress Code At Hyatt Regency?
The dress code at the resort is casual, but no shorts or bathing suits are allowed in the casino. In some areas, such as The Nest Bar & Grill and Pier 111 Bar, a relaxed attire of jeans and collared shirts is suggested.
Is There An Airport Shuttle Available From Hyatt Regency Lake Tahoe Resort Spa & Casino?
Unfortunately, there is no shuttle service available. However, the resort does offer complimentary valet parking for those driving to and from the property. Guests may also use a Lyft or Uber ride-sharing service to get around while they are staying at the hotel.
What Is The Smoking Policy At Hyatt Regency Lake Tahoe Resort?
The resort is a non-smoking facility, including the casino and all indoor and outdoor areas. Additionally, all their hotel rooms are non-smoking. Guests must adhere to the hotel's policy or additional risk fees and potential removal from the property.
What Is The Pet Policy At Hyatt Regency?
Staying at this casino resort is a delightful experience, especially if you bring your furry friend along. The resort offers a pet policy that allows visitors to bring their dogs into guest rooms as long as they're nice and friendly.
There's a small fee for each day of their stay (just $40), so no need to worry about leaving your pooch behind. If you want more information on their pet policy, please don't hesitate to call the hotel directly – they'll be happy to help.
Is Wifi Available At Hyatt Regency Lake Tahoe Resort Spa & Casino?
Visitors to this casino resort will find that wifi is readily available at the hotel. It's complimentary in all hotel rooms, so you can stay connected without worry during your stay.
What Is The Cancellation Policy For Hyatt Regency Lake Tahoe Resort?
The cancellation policy for this casino resort is 72 hours before the date of arrival. If you cancel after that time, or if you don't show up at all, your full reservation amount will be charged.
If you need to make a change or cancel your reservation, please call the hotel directly as soon as possible.
Conclusion
Hyatt Regency Lake Tahoe Resort Spa & Casino offers visitors the perfect combination of luxury and convenience. With its numerous amenities, comfortable accommodations, and convenient location, this casino resort is sure to delight all its guests.
Be sure to review their dress code, smoking, pet, and cancellation policies before your stay so you can make the most of your experience. Whether you're looking to relax with a good book or enjoy casino games, this casino resort is sure to meet your needs.