J Resort Reno
Address: 345 N Arlington Ave, Reno, NV 89501
Phone Number: +1 775-348-2200
Website: www.jresortreno.com
Hours: J Resort is open 24 hours a day, 7 days a week.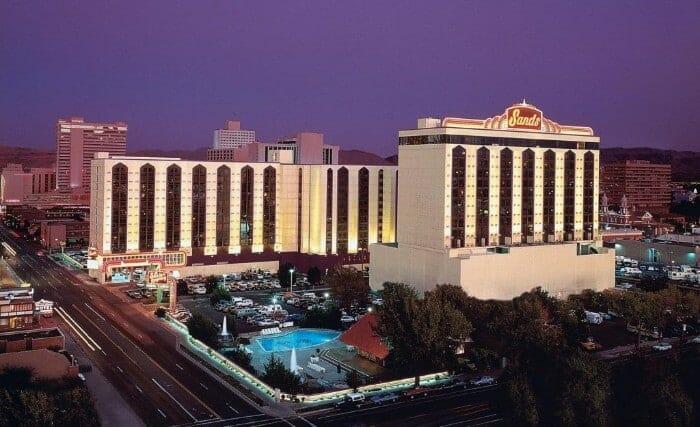 The land that J Resort Reno now stands on has been an integral part of the city's history, dating back to the 1960s. The property was initially known for housing the Sands Regency Casino Hotel, which was a go-to spot for Las Vegas visitors.
In 2017, Jacobs Entertainment purchased the property and began transforming it into a world-class resort and casino.
The renovation project is ongoing as the casino looks to provide visitors with an unforgettable experience, but they still offer a variety of gaming, live entertainment, luxurious accommodations, dining and shopping options.
Their gaming space comprises over 600 slot machines and multiple table games, including blackjack, roulette and craps. In addition, they offer a variety of tournaments, such as weekly poker tournaments and blackjack tournaments.
Their newly renovated hotel features over 300 guest rooms and suites for anyone looking for a luxurious stay in Reno. They also have multiple restaurants, from casual to fine dining, and various shops and stores.
For entertainment, the resort has a full-service spa and salon, live entertainment events and shows, and a lively casino bar. So if you're looking for a one-of-a-kind experience in Reno, this casino resort is the perfect place to stay.
According to TripAdvisor, the resort has an average rating of 4.5/5 stars from over 1,500 reviews. One guest said, "This place is incredible. From the beautiful rooms to the friendly staff and great food, this resort has it all."
Another reviewer said, "The casino is one of the best in Reno. The staff is friendly and helpful, and the gaming area is always clean. Definitely worth a visit!"
(Related reading: Nevada casinos)
Gaming
Their casino offers over 600 slot machines and multiple table games, including blackjack, roulette and craps.
Table Games
At this casino, you can play a variety of popular table games. From classic Vegas-style games like 3 Card Poker, Pai Gow Poker, and Texas Hold'Em to more exotic Roulette and Craps, there's something for everyone at this resort.
For the high-rollers looking for excitement, try your luck in Blackjack with its exciting betting options. No matter what type of game you're into, you'll definitely find that special something in their exciting table games section.
The minimums for the table games at this resort vary by game. Their minimums start at $5, and they can go up higher. It all depends on the game and the stakes you're playing at.
Slots
At this casino, you can find over 600 slot machines, ranging from classic 3-reel machines to the more modern 5-reel video slots. Popular games include:
Starry Night
Rawhide
Wonder Woman Wild
The Walking Dead
Cleopatra
Jurassic Park
Unfortunately, they do not disclose the payback percentage of slot machines. However, the Nevada Gaming Commission does require that all casinos in the state have a minimum payback percentage of 75%.
Hotel/Resort
This resort has a newly renovated and remodeled hotel, offering over 300 guest rooms and suites. Whether you're traveling with family or friends, the Premium Two Queens room allows for plenty of space to accommodate.
If you're looking for something a bit more luxurious, upgrade to one of the suite options like the Deluxe Suite, which comes with additional amenities such as deep soaking tubs to help you unwind after a long day.
Those who want an extra special stay can choose from either a Premium Executive or Signature Suite and indulge in spa-inspired bathrooms and dreamy mattress-topper beds complete with soft pillows and fine linens.
At this casino resort, you can take advantage of its wide array of amenities, such as:
Wifi access
Parking on site
24-hour front desk
Restaurants and bars
Swimming pool and spa
Live entertainment events and shows
The cost of staying at this casino depends on the type of room you choose. Standard rooms cost around $200 per night, excluding taxes and fees.
Check-in time at J Resort is 3:00 pm
Check-out time at J Resort is 12:00 pm
Restaurants & Buffets
This casino resort is home to some of the best restaurants known for their exceptional cuisines.
From Copa Bar & Grill's wide selection of grilled favorites, Cabana Cafe's delicious breakfast fare, Tacos Tijuana's Mexican goodies, and Hanna's Table-inspired picnic meals – there's something to satisfy every palate.
If you're looking for an Italian feast, you won't be disappointed by the array of flavors at J Paul's Italian Steakhouse. Best of all, The Buffet offers tantalizing dishes at a reasonable price of $26.99 for adults and $16.99 for children.
Whether you're dining alone or with family and friends, these amazing restaurants in this resort are sure to give your taste buds a treat.
Pools
If you're looking for a reprieve from the heat during your stay at this casino resort, look no further than its seasonal outdoor pool. Enjoy cooling off in the crystal-clear waters while admiring views of the surrounding landscape.
Relax on comfortable loungers and soak up the sun with family or friends while enjoying superb amenities and attentive staff catering to your every need.
J Resort, Reno, NV FAQ
Does J Resort Have A Sportsbook?
Yes, they have the William Hill Sportsbook located inside the casino. This sportsbook offers various sporting events, including major league baseball, basketball, hockey and football games. And, if you're feeling lucky, there are plenty of ways to place wagers and win big.
Is Poker Available At J Resort?
Yes, this casino offers different variations of poker. Whether you're a novice or an experienced player, the poker tables at this casino offer something for everyone. With cash games, tournaments, and more – it's sure to be a memorable experience.
What Are The Age Requirements For Gambling At J Resort?
Guests must be 21 years or older to gamble at this casino in Reno. A valid ID is required. Guests under the age of 21 may stay in the hotel, but they are not allowed to access any gaming facilities or areas.
Does J Resort Have An Online Casino?
No, this property does not currently offer an online casino. You will only be able to gamble in person at this resort. With that being said, you can still take advantage of the other amazing amenities this resort has to offer.
Is There An J Resort App?
No, there is no app associated with this casino resort. However, you can find all your information about this property on their website. From booking your room to finding out what casino options are available – everything you need is right at your fingertips.
What Is The Dress Code At J Resort?
The dress code at this resort is casual. However, please be aware that you may need to wear something more formal for certain events or shows. Remember that swimsuits and cover-ups should be worn when visiting the pool area.
Is There An Airport Shuttle Available From J Resort?
You may need to inquire directly with the resort for more information regarding airport shuttles. They may provide this service, but it is best to check with them beforehand. You can also look into other options, such as taxis or ride-sharing services, to get you to and from the airport.
What Is The Smoking Policy At J Resort?
The casino does not allow smoking in any of its public areas. This includes the casino, restaurants, pool area, and guest rooms. If you wish to smoke, there are designated outdoor areas where you can do so.
What Is The Pet Policy At J Resort?
Again, you may need to inquire directly with the resort for more information regarding their pet policy. It may be possible to bring your pet with you, but there may be restrictions and requirements. It is best to check directly with the resort for more information.
Is Wifi Available At J Resort?
Yes, free WiFi is available throughout the entire property. Guests can access the internet in their hotel rooms, pool areas, and public spaces. With a reliable connection, you can stay connected with family and friends during your stay at this resort.
What Is The Cancellation Policy For J Resort?
For reservations made directly with the resort, you may cancel your reservation up to 24 hours before arrival. For reservations made through travel agents or other third-party websites, please refer to their cancellation policies for more information.
Conclusion
This casino resort offers a wide range of amenities and services to help make your stay in Reno, Nevada, as enjoyable and convenient as possible. From gaming options to pet policies, the team at this casino resort is here to make sure you have an unforgettable experience.
If you find yourself in Reno, make sure to check out this casino. With so many things to do and see, you're sure to have a great time.