Jail House Motel & Casino Ely
Address: 211 5th St, Ely, NV 89301
Phone Number: +1 775-289-3033
Website: www.jailhousecasino.com
Hours: Jail House Motel & Casino is open 24 hours a day, 7 days a week.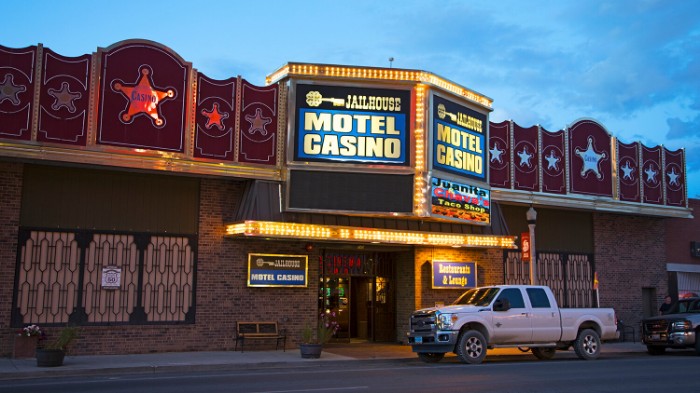 Jail House Motel & Casino has been an iconic Ely landmark since it opened in 1975. Since then, the casino has seen many expansions and renovations to become what it is today – an entertainment hub in the heart of Ely.
The casino features over 100 gaming machines, including slots, video poker, and keno. The motel offers comfortable accommodations with a range of rooms and suites, each equipped with helpful amenities such as Wi-Fi and HDTVs.
For added convenience, the property boasts multiple restaurants and several nearby attractions. Whether you're looking for a night of gaming or just want to explore the area, this casino motel is sure to have something for everyone.
The overall experience is rated 4 out of 5 stars by most customers. One reviewer said, "The casino was great, and the staff was friendly. We had a great time playing slots and video poker. The food at the restaurant was delicious, too!"
Another guest commented, "The rooms were very clean, and the staff was always available to help. The casino itself was great, with various games and plenty of people to enjoy them."
(Related reading: Nevada casinos)
Gaming
The casino has an extensive selection of games and machines, including slots, video poker, and keno. The casino also features several gaming tournaments throughout the year.
Table Games
This casino is the perfect choice for a night of high-stakes gambling. Although they do not offer table games, they have an immense selection of slot machines, so you can choose the game that best suits your style and level of expertise.
Whether you're looking for a classic 3-reel with a single pay line or the latest video slots with exciting bonus features, at this casino, you are sure to find something that will pique your interest and perhaps even bring home some big wins.
Slots
This casino is a great hub for gaming enthusiasts. It boasts popular slot machines that bring the thrill of Vegas right to players' fingertips.
From classic favorites like video poker and video blackjack to the thrilling new title Li'l Red, the casino has something for everyone.
Test your luck playing keno, experience exotic adventures with Pirate's Pleasure, or try your hand at MegaBucks – it's all here waiting for you.
If you're feeling a little more daring, don't miss out on Colossal Wizards or Forbidden Dragons – offering multiple bonus rounds and lucrative jackpots, they are sure to make you come back again and again.
All Nevada casinos must have a minimum return percentage of 75% by state law. This casino proudly meets this requirement by offering slot machines that pay back an average of 87% – making it one of the best places for gaming in the area.
Hotel/Resort
This casino motel in Ely offers comfortable accommodations for its guests. The hotel rooms come with Wi-Fi, HDTVs, and private bathrooms.
The motel also features a hot tub, perfect for relaxing after a gaming night. With its close proximity to some of the area's most popular attractions, this hotel is ideal for business and leisure travelers.
Featuring pet-friendly and smoking rooms, this locale provides a range of accommodation options to suit any family or individual traveler. You can choose from a king room or a double queen so that you feel at home during your stay.
This casino motel offers plenty of amenities for its guests. Along with a selection of comfortable and spacious rooms, guests can take advantage of the following:
Free Wi-Fi
24-Hour Room Service
High definition TVs
Hot tub
Onsite restaurants and bar
Nearby local attractions
The cost of staying at this casino varies depending on the season and the type of room you choose. Rates start at $65 per night plus taxes and fees. Make sure to book ahead of time for the best rates.
Check-in time at Jail House Motel is 3:00 pm
Check-out time at Jail House Motel is 11:00 am
Restaurants & Buffets
Although the casino does not have a buffet, there are several on-site restaurants and bars where you can relax and enjoy a delicious meal. No matter what you're in the mood for, they've got something that will tantalize your taste buds.
The Cellblock offers gourmet meals with a unique twist – it's just like eating at a restaurant inside of a jailhouse. The Taco Shop provides all the flavors of Mexico with its freshly made tacos and burritos.
If you'd rather grab a drink and catch the game, head on over to the Sports Bar. Or if you want somewhere cozy to enjoy some drinks while having a great conversation, try their Lounge: good music and even better company are sure to be had here.
Pools
Unfortunately, there is no pool available here. But not to worry – they do have a wonderful hot tub that provides plenty of space for soaking away the daily stresses after an exciting day out on The Strip.
This casino motel in the heart of Las Vegas is the perfect combination of fun and relaxation. Whether you're looking to hit the slot machines or take a dip in the hot tub, this hotel has it all.
Located close to all of the major sights and attractions in town, visitors can find just what they are looking for with all that Las Vegas has to offer.
Jail House Motel & Casino, Ely, NV FAQ
Does Jail House Motel & Casino Have A Sportsbook?
No, they do not currently have a sportsbook on-site. However, they have a sports bar with big-screen TVs where you can watch all the action from sporting events worldwide.
Is Poker Available At Jail House?
Although they don't have traditional table poker set up, they do offer video poker games, so you can enjoy a spin on a classic game in the comfort of the casino. With your poker skills and a bit of luck, perhaps you can win it big.
Whether you're an experienced gambler or just starting out, this is sure to be a great experience. Don't hesitate to make a visit soon and see what luck awaits you at this casino.
What Are The Age Requirements For Gambling At Jail House Motel & Casino?
You must be 21 years or older to participate in any gambling activities at this casino. If you're under the legal age, you may still enter the casino floor provided that you are accompanied by an adult and don't engage in any gaming.
Does Jail House Have An Online Casino?
No, they do not currently have an online casino presence. All of their gaming activities are available only in-house at this time. However, they offer a wide selection of online promotions and rewards for their loyal players.
Is There An Jail House Motel & Casino App?
No, there is not currently an application available for this casino. However, you can follow them on social media to stay up-to-date on their latest promotions and events. You can also sign up for their mailing list to get exclusive offers sent directly to your inbox.
What Is The Dress Code At Jail House?
The dress code at this casino is casual and relaxed. As long as you're dressed in neat, clean clothing that covers your body appropriately, you should not have any issues with the dress code. However, it's always best to use your discretion when deciding what to wear.
Is There An Airport Shuttle Available From Jail House Motel & Casino?
Unfortunately, there is no airport shuttle service available from this casino. However, visitors can easily access the airport using public transportation or arrange for a taxi, Uber, or Lyft service.
What Is The Smoking Policy At Jail House?
Smoking is not allowed inside the casino or on the motel premises. However, they do have designated outdoor smoking areas that are clearly marked and separated from other guests. All smokers must abide by the strict regulations in these areas to avoid penalties or fines.
What Is The Pet Policy At Jail House Motel & Casino?
This casino motel is an excellent choice for those looking for a vacation spot that is pet friendly. The property offers room options that are equipped with all the amenities needed to ensure a comfortable stay for you and your beloved canine companion.
Whether you are planning an extended stay or are just passing through, the motel and casino staff understand that pets are part of the family and do their best to accommodate everyone.
Is Wifi Available At Jail House?
Staying connected during your travels to this casino is a breeze. With free WiFi available in all the hotel rooms and throughout the premises, you won't have to worry about missing a beat while on vacation.
In addition, complimentary WiFi access is also provided in select casino areas, allowing you to stay online anytime.
What Is The Cancellation Policy For Jail House Motel & Casino?
This casino offers a flexible cancellation policy. Guests may cancel their reservations without penalty, provided they give the property at least 24 hours notice before the scheduled check-in date.
Don't hesitate to contact the hotel directly for more information or questions about the cancellation policy. They'll be happy to help you ensure your stay is as comfortable and stress-free as possible.
Conclusion
The Jail House Motel & Casino is the perfect destination for anyone looking for a fun and unforgettable gambling experience.
With an array of gaming options, promotions, rewards, and more, this casino offers something for everyone. Plus, their pet-friendly accommodations make it ideal for those traveling with their furry friends.
Make sure you are only engaging in responsible gaming and following the rules of the casino. Also, stick with games you know and understand – don't risk more money than you can afford to lose.