Jerry's Nugget Casino North Las Vegas
Address: 1821 Las Vegas Blvd N, North Las Vegas, NV 89030
Phone number: +1 702-399-3000
Website: www.jerrysnugget.com
Hours: Jerry's Nugget Casino is open 24 hours a day, 7 days a week.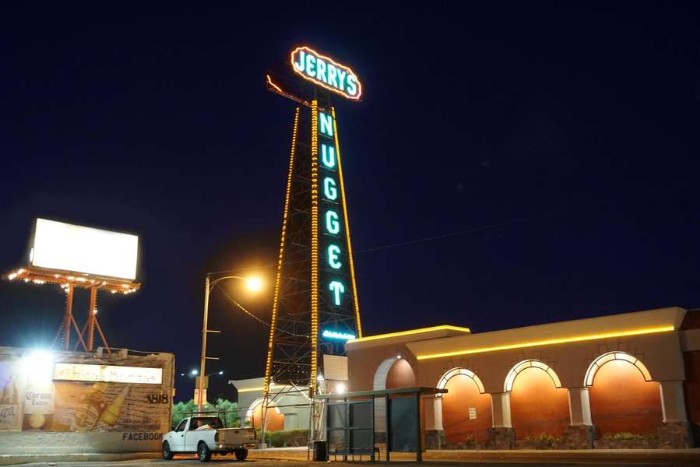 Jerry's Nugget Casino has a rich history that dates back to 1964. It was founded by Jerry Lodge and Jerry Stamis, two local businessmen from North Las Vegas. The land where the casino stands today formerly served as the Town House Bar site.
After several years of ups and downs, the third generation of the Stamis family, Jeremy and Joseph, acquired the property in 2014 while celebrating the casino's 50th anniversary. Since then, the property has undergone a remodeling and now offers a variety of entertainment.
Their 24,000 square-foot casino features more than 700 slots and video poker machines, along with a variety of table games, including blackjack, craps, roulette and more. There is also a sportsbook for all your betting needs.
In addition to the gaming area, they also offer an onsite restaurant, a cafe, and various entertainment options. From live music to karaoke, they certainly have something for everyone.
When it comes to ratings, this casino has a strong showing. On TripAdvisor, the casino holds an overall rating of 4 out of 5 stars based on over 800 reviews. One review said, "This is one of the nicer, more upscale casinos in North Las Vegas. "
Another review noted, "The slots are really loose, and you can find some unique games. The staff is friendly, and the food and drinks are reasonably priced. It's a great place to go for some fun!"
(Related reading: Nevada casinos)
Gaming
The casino offers more than 700 of the latest gaming machines and video poker, plus table games like blackjack, craps, roulette, and baccarat. A sportsbook also allows you to bet on your favorite teams.
Table Games
This casino in Nevada is an exciting place to enjoy a night out with friends or family. The casino offers plenty of table games to make you feel like you're on the Las Vegas Strip.
Whether you're looking for the classic game of blackjack, an exciting round of Heads Up Hold'em, a friendly game of craps, an evening of roulette excitement or the brand new experience of Ultimate Texas Hold'Em, you can find it here.
With table game minimums starting at just $5 for blackjack, $2 for roulette, and $5 for craps, you can enjoy these classic gaming choices without breaking the bank.
Make sure to take advantage of these great deals when you visit this casino, as they make it easy to get in on the fun without worrying about high buy-ins.
Slots
If you're looking for the best slot machines on offer at this casino, look no further. Buffalo Gold is one of the most popular slots among players, with its unique system of revisiting the Wild West in one of the most aesthetically pleasing and immersive gaming experiences ever.
For something truly magical, try your hand at Ocean Magic Grand. The hypnotic depths of the ocean are more than matched by its winsome sounds and visuals. Loteria gives players a taste of Latin American gaming culture, with fun symbols for big wins.
Lightning Link and Golden Jungle Grand feature game skins that keep you entertained all night long. And if you're up for going big or home, why not give MegaBucks a spin? It might be just what you need to get lucky tonight at this casino.
The Nevada Gaming Commission sets the minimum slot machine payback percentage at this casino at a minimum of 75%.
This means you can expect to get back an average of 75 cents for every dollar you wager on slots. However, that doesn't mean you won't find machines offering higher payouts than this baseline rate.
Hotel/Resort
This casino is the perfect spot for a night of fun and excitement. Although there is no hotel on site, plenty of options are nearby. Guests can choose from the Golden Gate Hotel to the Yellow PentHouse or anywhere in between.
They can stay at the famed Four Queens or Downtown Grand Hotel for a classic downtown Vegas atmosphere. Whether you opt for a luxurious suite or a basic room with private balconies, you'll be sure to find accommodation that suits your needs and budgetary constraints.
Restaurants & Buffets
This casino is legendary as a fun and friendly gaming spot, but it also offers two excellent on-site dining options – Jerry's Famous Coffee Shop & Jerry's Nugget Bakery.
The coffee shop is the place to go for all your breakfast favorites, from pancakes and waffles to eggs in any style you could want; plus, there are homestyle burgers, grilled sandwiches and classic comfort foods like chicken fried steak.
The bakery might surprise you with warm desserts fresh from the oven, a variety of homemade pastries, breakfast goodies like muffins and danishes, bread, pies, danishes and more. However, they do not currently offer a buffet.
Pools
This casino in Las Vegas has everything a person might need for a fun-filled visit. However, they do not have any swimming pools available if you want to take a dip and cool off on a hot Nevada day.
But if you're looking to explore Nevada outdoors and get some sun, there are many golf courses, parks and lakes within driving distance of the casino. With so many options nearby, you should be able to find the perfect spot to relax or have an adventure while visiting this casino.
Jerry's Nugget Casino, North Las Vegas, NV FAQ
Does Jerry's Nugget Casino Have A Sportsbook?
If you're looking for a great sportsbook in this casino, you'll be happy to know there is one. The William Hill Race and Sports Book offer a wide range of betting options, from Vegas-style sports betting to horse racing.
Patrons can also enjoy complimentary drinks, wager with ease on interactive kiosks, watch highlights and live games on the big screens and benefit from a rewards program for frequent bettors.
They also offer the William Hill mobile app, so you can make bets from the comfort of your home or hotel room.
Is Poker Available At Jerry's Nugget?
Yes, they offer poker players plenty of action. Even though they do not have a dedicated poker room, they do have daily tournaments and live cash games that run throughout the day.
It's also worth noting that the casino is open 24/7, so you can play poker anytime. You'll find a wide range of games and different limits to suit any player's budget. So whatever your preference, you'll be sure to find some action at this casino.
What Are The Age Requirements For Gambling At Jerry's Nugget Casino?
The age requirement to gamble at this casino is 21, so be sure to bring a valid ID when visiting. Any players under the legal gambling age will not be allowed on the gaming floor. Also, bear in mind that no one under the age of 18 can be present on the casino floor.
Does Jerry's Nugget Have An Online Casino?
No, they do not currently have an online casino. All gaming services are provided on-site at the casino located in North Las Vegas. However, they do offer a wide selection of slots and table games with higher payouts than you'll find at most other casinos.
Is There An Jerry's Nugget Casino App?
While the casino does not offer its own app, its sportsbook is part of William Hill's mobile offering.
With the William Hill app, you can access all your favorite betting markets wherever and whenever you please – make sure to understand the local gambling laws as they apply to online gambling before getting started.
What Is The Dress Code At Jerry's Nugget?
The dress code at this casino is relatively relaxed, but they are still committed to providing a clean and safe environment.
Patrons should avoid wearing clothing with offensive messages or images, excessively baggy clothing, and items like baseball caps and bandanas that could obscure their identity. A shirt must be worn at all times in the casino; tank tops, halters and other revealing clothing are not allowed.
Is There An Airport Shuttle Available From Jerry's Nugget?
No, this casino does not offer an airport shuttle service. However, numerous other transportation options, including taxi services and shuttles from nearby hotels, are available. You can also rent a car or book a private driver if you prefer.
What Is The Smoking Policy At Jerry's Nugget Casino?
The casino has a strict no-smoking policy, except in designated areas. Smoking is prohibited throughout the gaming floor, restaurants and bar areas. Patrons who wish to smoke must do so outside of the building or in the outdoor smoking area.
What Is The Pet Policy At Jerry's Nugget?
Unfortunately, pets are not allowed inside the casino. Service animals, however, are welcomed and permitted throughout all facility areas. If you plan to bring a service animal, please follow local laws and regulations when doing so.
Is Wifi Available At Jerry's Nugget Casino?
No, they do not offer complimentary WiFi. However, numerous cafes and other public places in the area offer free WiFi connections. Alternatively, you can purchase a prepaid mobile data plan from most major carriers if you want to stay connected during your visit to this casino.
What Is The Cancellation Policy For Jerry's Nugget?
There is no onsite hotel, so they do not have a cancellation policy. However, any reservations made for other services, such as gaming tables and shows, must be discussed with the casino staff.
It is important to note that all cancellations will incur a fee, so please make sure to read through the terms and conditions of any reservation before proceeding.
Conclusion
Jerry's Nugget Casino in North Las Vegas offers a wide range of gambling activities and services.
It is important to adhere to the age requirements and dress code when visiting and be aware of their strict no-smoking policy. Transportation from the airport is not available. However, numerous other options exist for getting to and from the casino.
With its wide range of services and amenities, this casino is an ideal destination for any gambling enthusiast.