Jokers Wild Casino, Henderson
Address: 920 N Boulder Hwy, Henderson, NV 89011
Phone number: +1 702-564-8100
Website: https://www.jokerswildcasino.com/
Hours: The casino is open 24 hours a day 7 days a week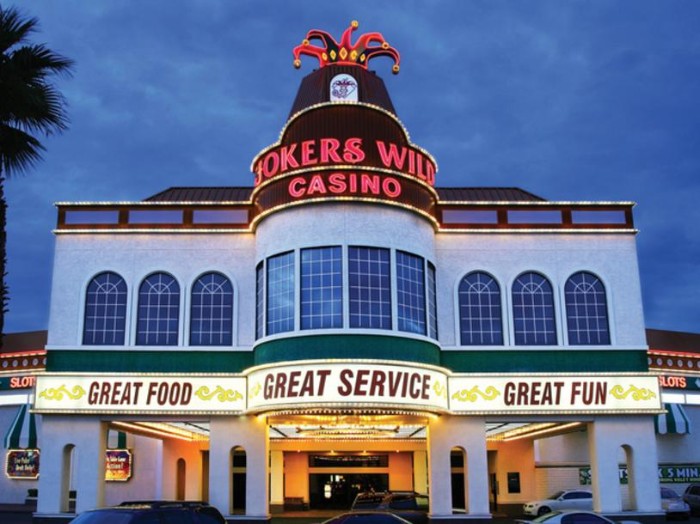 Jokers Wild Casino, Henderson, has been a Vegas Valley staple since 1993, when the casino first opened its doors. The vision for the casino was to create an exciting and inviting atmosphere that would bring people of all backgrounds together in one place for a night of entertainment.
The casino offers more than 400 slot machines and several table games, including Blackjack, Roulette, and Craps. The casino also features an on-site restaurant with great food, drinks and live music. There is also an exciting sportsbook if you want to bet on the game.
Jokers Wild Casino is the perfect destination for a night of gambling with friends and family. The casino offers great gaming options for novice players and experienced gamblers. There is also an on-site ATM if you need to cash out your winnings quickly.
Guests that have visited Jokers Wild Casino have had positive things to say about the atmosphere and gave it 3.8 stars. From the charming decor to the friendly staff and exciting gambling games, many customers have found their experience here to be enjoyable and entertaining.
(Related reading: Nevada casinos)
Gaming
This casino offers a variety of gaming options, including traditional slot machines and table games. The casino also offers a sportsbook where you can bet on any game or team. The sportsbook is run by experienced bookmakers who can help you make educated bets.
Table Games
This casino is the perfect destination for any table game lover! You can find all of your favorite classic games here – craps, roulette, and blackjack.
Why not give Royal Match 21 a whirl if you want to try something new? In this poker-based game, two cards are dealt to each player after an ante bet is placed. Players then have the opportunity to double their bet in return for two more cards.
The minimum bets for table games vary but typically range from $3 – $100. There are special events and promotions where the minimum bets may be reduced.
Slots
The casino features more than 400 slot machines, including classic favorites and the newest games. There is sure to be something here that gets your mind racing and your hands reaching for the jackpot.
Popular slots at Jokers Wild Casino include:
Mega Moolah
A Night Out
Gonzo's Quest
Monopoly Big Event
Starburst
The payback percentage for this casino has not been made available to the public. However, the state of Nevada has a minimum payback percentage of 75%. Despite this, you will find most casinos offer 90% or higher.
Hotel/Resort
There is no hotel available at this casino, but you will find several fantastic places to stay nearby. If you want to check out some of the best hotels in the area, there are a few that we would recommend.
They are as follows:
Best Western Plus
The Venetian Resort
Holiday Inn Express
Hampton Inn & Suites
Restaurants & Buffets
If you're looking for great eats at the casino, the two restaurants to check out are The Deli and The Court Cafe. The Deli serves up a full menu of all-day breakfast items as well as delicious sandwiches, salads and soups with vegetarian options available.
Meanwhile, The Court Cafe has classic American cuisine featuring burgers, an assortment of delicious wings, homemade desserts and ice-cold milkshakes. No matter what you're in the mood for, these two eateries have something to satisfy your craving.
Pools
The casino doesn't have a pool. However, many of the hotels near this location have pools, hot tubs, spas, and saunas available to guests. So, if you're looking to relax you're still in luck.
Jokers Wild Casino, Henderson, NV FAQ
Does Jokers Wild Casino Have A Sportsbook?
The casino offers a fully equipped sportsbook. With every comfort and convenience you would expect, this is one of the premier gambling locations in the area to get your fill of non-stop gaming action.
Whether you're a novice bettor or a long-time investor, you can feel confident that you'll have access to top-of-the-line services – plus a wide variety of live sporting events available for wagering.
Is Poker Available At Jokers Wild Casino, Henderson?
Unfortunately, poker isn't available at this location as they focus primarily on slots, video keno, and video poker.
Although the casino doesn't have live poker tables, there are a number of other exciting activities to entertain you such as slots and table games, that are sure to keep you entertained all night long.
What Are The Age Requirements For Gambling At Jokers Wild Casino?
Per the Nevada Gaming Control Board, to gain entry into any gambling establishment across the Silver State, you must be at least 21 years of age.
The same applies to Jokers Wild Casino; only those who can provide valid photo identification confirming they are over 21 years old will be admitted into the casino. With that being said, it is important to remember that this policy cannot be bypassed, even with an accompanying adult.
Does Jokers Wild Have An Online Casino?
Unfortunately, this location does not offer an online casino. For those looking for a convenient and easy way to enjoy all the casino action from the comfort of their living room, many online casinos are readily available that provide just that.
From blackjack and poker to slots and bingo, whatever your preference may be, you can find a gaming site that will fit your needs, whatever those may be. Many of these sites also offer bonus codes for even more incentives for new players.
Is There A Jokers Wild Casino App?
Unfortunately, there is not currently an app for the casino. However, the casino has an active website with information on all the available gaming and entertainment options.
Plus, plenty of exciting promotions pop up from time to time to take advantage of and make a trip out to the casino even more worthwhile.
What Is The Dress Code At Jokers Wild Casino, Henderson?
The dress code at the casino is comfortable and casual. Jeans, t-shirts, sweaters and sneakers are all appropriate clothing items to wear while visiting this location.
As long as you are dressed appropriately and in good taste, you should have no problem getting into the casino. However, it is always best to err on the side of caution and dress as conservatively as possible.
Is There An Airport Shuttle Available From Jokers Wild Casino?
No, there is no airport shuttle available from the casino. However, many of the hotels in the area offer their own shuttles from McCarran International Airport and other local destinations.
If you are looking for reliable transportation to get you to or from the casino, then it's best to make arrangements with your hotel.
What Is The Smoking Policy At Jokers Wild Casino, Henderson?
For the comfort and convenience of all guests, smoking is not allowed inside the casino. There are designated outdoor areas for those who wish to smoke.
The casino also offers a number of air-filtering systems throughout the building, which helps ensure that the air quality remains acceptable for all visitors.
What Is The Pet Policy At Jokers Wild Casino?
Unfortunately, pets are not allowed in the casino at any time. However, there are a variety of pet-friendly hotels in the area with accommodations that can meet your needs – and those of your furry companion.
Service animals are allowed in the casino if they are in compliance with all applicable laws. All service animals must remain on a leash or in a carrier and be accompanied by their handler at all times.
Is Wifi Available At Jokers Wild Casino, Henderson?
Yes, free Wi-Fi is available throughout the casino. You can connect your device to the network and enjoy high-speed internet access while you're playing or just hanging out at the casino.
For those who prefer a hardwired connection, there are also several ethernet ports located in various areas of the casino, which can be used for faster and more reliable connections.
What Is The Cancellation Policy For Jokers Wild Casino?
There is no hotel at this casino, so guests have no cancellation policy to worry about.
Conclusion
Jokers Wild Casino in Henderson is a great place to spend an evening of fun and excitement. From the array of gaming options and entertainment choices, to the comfortable dress code, free Wi-Fi and designated smoking areas, this casino has something for everyone.
Whether you're a seasoned gambler or a first-time visitor, Jokers Wild Casino has plenty to offer for everyone. So grab your friends and head out for an unforgettable night of gaming and entertainment. Just remember to leave your pets at home.