Klondike Sunset Casino Henderson
Address: 444 W Sunset Rd, Henderson, NV 89011
Phone number: +1 702-826-3866
Website: www.klondikesunset.com
Hours: Klondike Sunset Casino is open 24 hours a day, 7 days a week.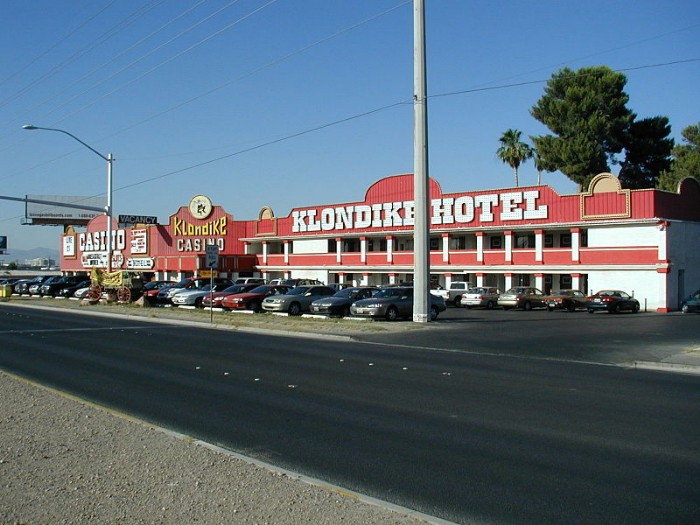 The Klondike Sunset Casino in Henderson was founded in 1989 and has since become one of the top gaming destinations in the Las Vegas area. The initial owner, Tom Yarbrough, opened the property as Tom's Sunset Casino for years.
After facing many financial difficulties, the property was eventually bought by John Woodrum in 1998 and rebranded as its name today. However, the casino still faced many challenges and was later on sold to its current owner, Bruce Familian and Jon Athey, in 2015.
Today, the casino is one of the most popular gaming destinations in Las Vegas and features over 200 slot machines and video poker machines. The property also houses a restaurant that offers a variety of delicious meals and desserts.
They are committed to providing all its customers with a safe, fun, and entertaining gaming experience. Whether you're looking for an exciting night out or a pleasant afternoon, this casino is an excellent choice.
On Yelp, the casino has an average rating of 4 out of 5 stars from more than 170 reviews. Additionally, guests on TripAdvisor rated the casino with a 4.5 out of 5-star rating from over 100 reviews.
One review said, "Klondike Sunset has been my go-to spot for years now! So many gaming options, and the restaurant is always great." Another review said, "The place is really clean and well-kept, and the staff is friendly. It's a great casino overall."
(Related reading: Nevada casinos)
Gaming
Their casino features several slot machines, video poker machines, and a variety of gaming tables. Their sportsbook offers betting on all major sports, including football, baseball, basketball and more.
Table Games
At casinos, you can participate in the exciting action of electronic table games such as craps and roulette.
If you're familiar with these classic casino games but want to try something different, come down to the casino and test your luck. With no traditional tables available, you'll be able to experience the thrill of old favorites with modern technology.
Slots
If you have ever entered the vibrant casino, then you already know what exciting time awaits you. If slot machines make your heart beat faster, then get ready for a special treat, as there are plenty of popular games to choose from.
Buffalo is one of the tried and true favorite slots that bring a fresh spin with every new visit. Who can pass up the chance to try their luck at Wheel of Fortune, where which player will walk away with the jackpot?
88 Fortunes offers exquisite gameplay with amazing graphics for a unique experience. And if you're into more than just classic slots, Lightning Link and MegaBucks will captivate you as they offer exceptional bonus features.
This casino is in line with state regulations for slot machine paybacks. Their slot machine payback percentages are at least 75%. On the other hand, their video poker payback percentage is almost guaranteed at a whopping 99%.
Hotel/Resort
Located in Nevada, this casino offers all casino lovers a lively and entertaining gaming atmosphere. Although there is no onsite hotel, nearby hotels are available to meet your accommodation needs.
The Best Western Plus Henderson Hotel, Sunset Station Hotel & Casino and Skyline Hotel & Casino offer classic accommodations with various room types to choose from.
The Comfort Inn & Suites Henderson is perfect if you need more space or want more space access to amenities like an indoor pool and restaurant.
Restaurants & Buffets
This casino in Nevada offers the best of both worlds – a thrilling gaming experience with great food to match.
The casino does not offer buffet dining. However, it does have an on-site restaurant, The Klondike Grill, which serves up classic American favorites made with fresh ingredients from local sources.
You can start your meal off with one of the delicious appetizers like their creamy mac and cheese bites or their hand-breaded mushrooms before choosing from the variety of juicy burgers or mouthwatering steaks available.
Pools
Sadly this casino does not offer any pools. However, there are many other amenities that can provide you with a great time. It offers an exquisite selection of slot machines, electronic table games and even a restaurant.
You can also check out nearby hotels for access to their pool. The Comfort Inn & Suites Henderson has an indoor pool and hot tub for guests, while the Best Western Plus Henderson Hotel boasts a spacious outdoor pool.
Klondike Sunset Casino, Henderson, NV FAQ
Does Klondike Sunset Casino Have A Sportsbook?
The casino offers exciting casino gaming, but did you know they also feature one of the best Sportsbooks in Vegas? Thanks to their partnership with the William Hill sports book, you can place a wager on any game and enjoy watching the action on their big-screen TVs.
Choose from betting options galore, like point spreads and money lines, as well as player props, live betting and parlays. Stop by this casino for a night of entertainment, including exciting gaming and sportsbook action.
Is Poker Available At Klondike Sunset?
Despite no live poker, video poker is available and has a generous 99% payback percentage on all machines. With various denominations and themes to choose from, there's something for everyone at this bustling casino.
What Are The Age Requirements For Gambling At Klondike Sunset Casino?
The legal gambling age in Nevada is 21, which applies at this casino. Players must present valid identification upon request to verify their age and identity. Those found to be underage will not be allowed entry into the casino or permitted to make a wager on any game.
Does Klondike Sunset Have An Online Casino?
No, they do not have an online casino. The Nevada Gaming Commission has strict guidelines and regulations that all land-based casinos must abide by, which do not allow for an online presence.
Is There An Klondike Sunset App?
No, they do not have an app. Players may need to download the William Hill sports book app if they wish to place a wager on their favorite sports; however, other than that, there is no dedicated casino app for this venue.
What Is The Dress Code At Klondike Sunset Casino?
They have a casual dress code, so feel free to come as you are. However, hats, tank tops and any clothing with offensive logos or graphics are not permitted in the casino. All guests must wear shoes at all times.
Is There An Airport Shuttle Available From Klondike Sunset?
Unfortunately, this casino does not offer an airport shuttle service. However, you can take advantage of Nevada's many taxi and ride-sharing services to get to and from Henderson Airport.
Additionally, several car rental companies are located at the airport, allowing you to explore the area and go on your own adventures.
What Is The Smoking Policy At Klondike Sunset Casino?
This casino is a non-smoking facility. There are designated smoking areas outside the building for those who wish to enjoy a cigarette or cigar. All guests must adhere to the casino's policy to maintain a healthy, smoke-free environment.
What Is The Pet Policy At Klondike Sunset?
Pets are not allowed in the casino, except for service animals. All service animals must be properly identified and accompanied by their owners at all times.
If you require the services of a service animal, don't hesitate to get in touch with the casino prior to your visit so that they can make special arrangements. All other animals must remain outside the premises.
Is Wifi Available At Klondike Sunset?
Unfortunately, this casino does not provide free wifi access to guests. However, many cafes and restaurants nearby offer free or paid internet access.
Feel free to ask the friendly staff at this casino for recommendations on where you can get connected. They will be more than happy to help.
What Is The Cancellation Policy For Klondike Sunset Casino?
No hotel is attached to this casino, so there are no specific cancellation policies. However, if you have booked other services at the casino, such as dining or other amenities, don't hesitate to contact their customer service team for further information.
Conclusion
Klondike Sunset Casino is a great destination for those looking for some gaming and sportsbook action in the Las Vegas area.
With its generous payouts, casual dress code, and pet-friendly policy, guests are sure to have an enjoyable experience at this vibrant casino. Don't forget to take advantage of their free parking before you head inside!
If you have any additional questions about this casino, don't hesitate to contact their customer service team for further information.