Lakeside Casino & RV Park Pahrump
Address: 5870 S. Homestead Road, Pahrump, NV 89048
Phone Number: +1 775-751-7770
Website: www.goldencasinogroup.com
Hours: Lakeside Casino & RV Park is open 24 hours a day, 7 days a week.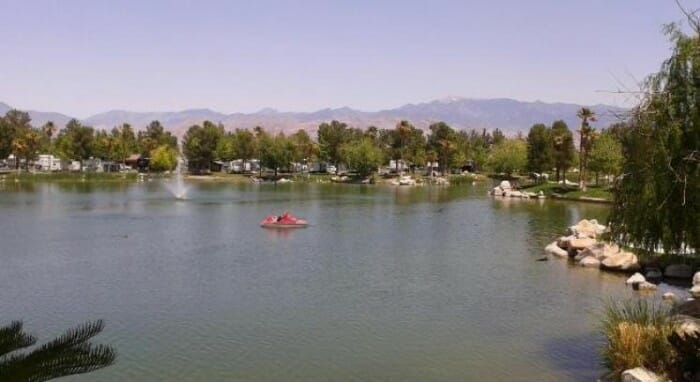 Lakeside Casino & RV Park was initially known as Terrible's Lakeside Casino. The casino was opened as part of the Terrible's chain, which operated several other casinos in Nevada. However, it is now under new management and is owned by Golden Casino Group.
The casino offers various gaming options, including traditional slots, video poker and more. The property also features an on-site RV park where guests can stay for an extended period of time. In addition, the casino offers several dining options and entertainment venues.
It offers the perfect combination of casino gaming and outdoor recreation activities, making it an ideal place to enjoy downtime. Whether you're looking for a night out or want to enjoy the beautiful desert scenery, this casino has it all.
This casino has received an overall rating of 4 out of 5 stars from customers on Trip Advisor. One guest said, "We had a great time at the Lakeside Casino & RV Park. We stayed in our RV and had plenty of room to park. The staff was friendly and helpful, especially when we needed help."
Another customer said, "The casino is spacious, and there are many slots. The staff was friendly and knowledgeable, and the RV Park is very well maintained."
(Related reading: Nevada casinos)
Gaming
Their gaming space features traditional slots, video poker, and more. Plus, with promotions and tournaments, there's something fun for everyone.
Table Games
If you're a fan of table games, unfortunately, this casino in Nevada does not offer any options to play. However, if you're a slot enthusiast, you'll be pleased to know that the casino is home to more than 200 slot machines.
From classic slots to new and popular titles, you're sure to find a game that fits your style. Plus, with the convenience of the on-site RV park, you can easily plan a multi-day getaway to enjoy all the gaming action at this casino.
Slots
The casino offers various slots, including classic games, video poker and more. Some of the popular titles at this casino include:
Spartacus Gladiator of Rome
Genie's Riches
Wheel of Fortune
Jaguar Mist
Game King Video Poker
Miss Kitty
Blazing 7's
Pixie Power
Triple Double Diamonds
Sphinx
As per the Nevada Gaming Commission, all slot machines in the state must have a minimum payback percentage of 75%. This means that at this casino, you can expect to receive at least 75% of your money back when playing slots.
Hotel/Resort
Looking for a place to stay in this area? While there is no hotel directly attached to the property, not to worry! There are a few nearby options that are worth checking out.
The Pahrump Nugget Hotel and Casino is just a quick drive away and offers comfortable rooms and plenty of entertainment options. If you're looking for a more rustic experience, the Longstreet Inn Casino & RV Resort might be the place for you.
For those who prefer to stay right on the RV park property, check out their onsite RV park. And finally, the Saddle West Hotel Casino RV Resort offers a full-service experience with a casino, sports bar, and even a wedding chapel.
So even if you don't want to stay directly on the property, there are plenty of nearby options. And with all that Pahrump has to offer, you will surely find something for everyone.
Restaurants & Buffets
If you're ever in Nevada and looking for a great place to dine, this casino has got you covered. With two amazing restaurants to choose from, you won't be disappointed.
Need a hearty breakfast to start your day? Head on over to Lakeside Café, where you can enjoy a hot cup of coffee paired with delicious pancakes, waffles, or eggs cooked just the way you like them.
Or, if you're more in the mood for a casual dinner with a view, Dockside Bar provides a relaxed atmosphere where you can grab some pub-style food and sip on a refreshing cocktail.
No matter what your taste buds are craving, this casino offers a delectable dining experience that will leave you satisfied and ready for your next adventure.
Pools
While this casino is a fantastic destination for those looking for some fun and relaxation in Nevada, it's important to know that there are no onsite swimming pools available.
While some travelers may prefer to dip their toes in a cool pool after a long day of exploring, there are still plenty of activities to enjoy at this casino.
Whether you're an avid gambler looking to test your luck or a nature enthusiast who wants to hike through the beautiful surrounding landscape, this casino has something for everyone. Don't let the lack of a pool dissuade you from experiencing all this lovely destination offers.
Lakeside Casino & RV Park, Pahrump, NV FAQ
Does Lakeside Casino & RV Park Have A Sportsbook?
Unfortunately, this casino does not offer a sportsbook. However, they still offer other gaming options such as slots, video poker and more. Additionally, nearby casinos have a sportsbook for those wanting to place bets on their favorite teams.
Is Poker Available At Lakeside Casino & RV Park?
No, they do not have any live poker tables at the casino. However, they do offer a variety of electronic poker games. Additionally, several nearby casinos are offering live poker tournaments if you are looking for a more traditional game.
What Are The Age Requirements For Gambling At Lakeside Casino & RV Park?
The legal gambling age is 21 years old. Guests must present valid identification to verify they are of legal age to participate in gaming activities. Minors may still access the property under adult supervision but will not be allowed to gamble or enter restricted areas of the casino.
Does Lakeside Casino & RV Park Have An Online Casino?
No, they do not currently have an online casino. Guests may only enjoy the casino floor located onsite with a variety of slots and other games. However, they do offer a rewards program that can be accessed to redeem points and discounts.
Is There An Lakeside Casino & RV Park App?
No, there is currently not an app associated with this casino. Guests can still access the rewards program through their website or by registering in person. Additionally, guests may download other casino apps to their mobile devices to play various slots and table games while on the go.
What Is The Dress Code At Lakeside Casino & RV Park?
The dress code is casual. Shorts and sandals are allowed; however, guests are not permitted to wear clothing that is overly revealing or offensive in any way. Additionally, hats must be removed upon entering the casino floor.
Is There An Airport Shuttle Available From Lakeside Casino & RV Park?
No, there is no airport shuttle service available from the casino. Guests will need to arrange their own transportation either through a rental car or ride-sharing services such as Uber or Lyft. The nearest airport is McCarran International Airport in Las Vegas.
What Is The Smoking Policy At Lakeside Casino & RV Park?
The casino floor is a smoke-free environment. Guests may still enjoy smoking outside in designated areas. Additionally, the RV park is also a smoke-free property. Guests must remain at least 20 feet away from other guests' sites when smoking outdoors.
What Is The Pet Policy At Lakeside Casino & RV Park?
Sadly, the casino does not allow pets on the gaming floor. However, they are welcome at the RV Park as long as they remain on leash and do not bother others. Additionally, there is a waste station located in the park for convenience.
Service animals are exempt from these restrictions and may accompany their owners on the casino floor. Guests must provide valid documentation for their animal if requested.
Is Wifi Available At Lakeside Casino & RV Park?
Unfortunately, no wifi is available in the casino. However, guests staying at the RV Park can access free wifi throughout the property. Additionally, there are several cafes and restaurants nearby that offer free wifi to customers.
What Is The Cancellation Policy For Lakeside Casino & RV Park?
As they do not have a hotel attached to the casino, there is no cancellation policy. Guests staying at the RV Park may contact the establishment directly to cancel their reservation. Additionally, guests interested in reserving a spot at the RV Park must make all payments upfront.
Conclusion
This casino offers a variety of gaming options as well as other activities such as RV camping, dining and entertainment. The property has a strict age requirement, smoking policy and pet policy, so guests should be aware of these before visiting.
Additionally, wifi is not available on the casino floor but is available in the RV park. With these guidelines in mind, guests can look forward to a fun and safe experience at Lakeside Casino & RV Park.