Laughlin River Lodge
Address: 2700 S Casino Dr, Laughlin, NV 89029
Phone Number: +1 702-298-2242
Website: www.laughlinriverlodge.com
Hours: Laughlin River Lodge is open 24 hours a day, 7 days a week.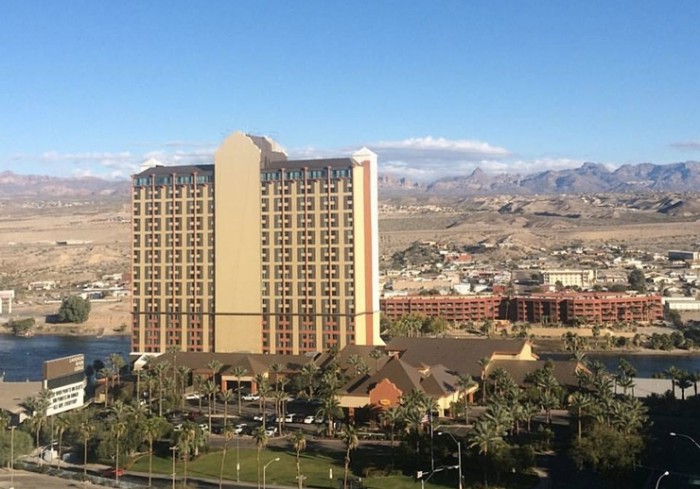 Laughlin River Lodge Hotel & Casino first opened its doors in 1984. It was initially owned by John Midby and had a name change from Sam's Town Gold River and River Palms to what it's called today.
In 2014, the property was renamed with its current branding after being purchased by Nevada Restaurant Services. Today, the hotel and casino are known for their distinctive "Laughlin River Lodge" sign and feature several amenities for guests to enjoy.
The casino property is located on the Colorado River banks and offers various gaming options, such as slot machines, video poker, and more. Also featured are live entertainment, multiple restaurants and bars and a 24-hour front desk for guest convenience.
The property also houses a hotel with 1,000 luxurious guest rooms and suites, as well as an outdoor pool, hot tubs and a fitness center. The hotel offers guests easy access to the nearby Laughlin Riverwalk and many of the area's attractions.
With its convenient location, this place is an ideal destination for anyone looking to have a great time and enjoy some gaming.
On most online review sites, this casino hotel has a 4-star rating from guests. One customer said, "I stayed at Laughlin River Lodge for a couple of days, and the staff was friendly, professional and always willing to help out."
One review also read, "The room was beautiful, and the view of the river from our balcony made it even more special. The casino floor was fun, with lots of machines and tables to choose from. Overall, it was a great experience."
(Related reading: Nevada casinos)
Gaming
Their 41,000-square-foot casino floor can be found on the Colorado River banks. It has several gaming options, such as slot machines, video poker, and more.
Table Games
While this hotel and casino do not offer traditional table games like craps or blackjack, it does have a wide variety of slots for your entertainment. From the classic 3-reel slots to the innovative new video slot machines – there's something to suit all tastes.
If Lady Luck is with you, you could win some cash or exciting prizes. With their helpful customer service team always at hand, they'll ensure your gaming experience is enjoyable and memorable.
Slots
Visitors of this casino can look forward to an array of popular slot machine games to choose from.
Whether you are a fan of classic-style games with a modern twist, such as Antony and Cleopatra, or you'd like to try something more modern, like Dragon Spin, the possibilities for entertainment are seemingly endless.
Those looking for something unique might want to give Shadow Princesses or Betty White a go. It's even possible to experience both age-old history and contemporary design all in one spin when you play Da Vinci Diamonds.
Finally, Pixie Power offers a blast of magical fun. With all these choices, you'll surely find the perfect slot machine game at this casino.
By state law, the minimum payback percentage for all slot machines in Nevada is 75%. This casino's machines are all state-regulated, so they must meet this requirement.
However, the actual payback percentage of any given machine can vary greatly, depending on its design and available bonuses. Guests can check out the payback percentage for specific machines with the casino staff before playing.
Hotel/Resort
Their hotel offers 1,000 luxury guest rooms and suites, each with its own balcony offering views of the Colorado River. The hotel also features an outdoor pool for guests to relax in after a day of gaming.
They offer a variety of rooms to meet your every need; from Deluxe Rooms to Family Suites, you will find modern amenities and stunning views.
All of their Deluxe Rooms include views of the Colorado River and offer a great range of amenities for comfort, including a 55-inch LED TV, microwave, hairdryer and ironing board. Their Standard Rooms are non-smoking with the option of either Riverview or Standard View rooms.
When looking for something more spacious, they have Family Suites that include two bedrooms, a living room and a kitchenette. And don't forget the Master Suites that feature the same but with an added kitchenette.
The hotel offers all of the amenities guests would expect from a luxury resort. Some of them include:
Wi-Fi access
24-hour front desk
Concierge services
Bowling alley
PC rental alley
Arcade
Beach access
Outdoor pool
Nearby local attractions
Meeting and banquet facilities
Multiple dining options
The cost of a stay at this hotel and casino will depend on the room type you choose. The lowest-priced rooms start from $69 per night plus tax and fees, while the more luxurious rooms can cost up to $200 per night plus tax.
Check-in time at Laughlin River Lodge is 4:00 pm
Check-out time at Laughlin River Lodge is 11:00 am
Restaurants & Buffets
Even though there are no buffet restaurants in the hotel, several restaurants are onsite that guests can enjoy. Guests can choose from fine dining, casual restaurants or grab-and-go snacks.
BigHorn Cafe offers a full breakfast, lunch and dinner menu with delicious entrees. Dotty's provides a quick bite between meals. La Villita is ideal for those who want to enjoy 24 hour gaming, food, and drinks.
Red Dragon is perfect for sports enthusiasts with its Asian-themed sports bar and cuisine. Bourbon Street Sports Bar is loud, rowdy, and fun. For those who are looking for something more relaxed, Points! Casino & Lounge Bar features cocktails and beer in addition to entertainment.
Finally, Strike Bowl serves up ice cream paired with tasty eats in case you are craving something sweet after a day by the river. And don't forget the General Store where hot food and snacks like grab-and-go items can be found.
Pools
This casino hotel offers a luxurious resort experience with various amenities to keep you entertained and relaxed. The hotel's outdoor pool is perfect for a proactive day trip or a leisurely romantic evening.
With its beautiful views, comfortable chaise lounges, umbrellas for shade, and refreshing water, this pool will provide the perfect setting for your next getaway.
Whether you're looking for some playtime in the sun or want to get away from the hustle and bustle of everyday life, this outdoor pool is sure to please. And if the heat gets too much for you, there are umbrellas and plenty of shady spots to escape to.
Spend your time lounging poolside under the picturesque Nevada sky, soaking up rays while listening to quiet music and enjoying quality time with family and friends. These special moments are sure to be ones that you'll always treasure.
Laughlin River Lodge Hotel & Casino, NV FAQ
Does Laughlin River Lodge Have A Sportsbook?
If you're visiting this casino and looking for the nearest Sportsbook, unfortunately, they do not have one located on their premises.
They have a vibrant and entertaining sports bar that offers a great atmosphere to kick back with friends and watch your favorite teams battle it out on the big screen.
Stop by for happy hour specials or some delicious wings, try your luck at trivia, and enjoy an exciting night of sports-themed fun.
Is Poker Available At Laughlin River Lodge Casino?
If you're considering a trip to this casino, you may wonder if poker is available on-site. The answer is yes – but with a caveat. While the lodge does offer poker, it comes in the form of video poker only.
You won't find any tables dedicated to traditional five-card draw or Texas Hold Em. But video poker offers plenty of chances to try your luck and maybe even score some big wins.
What Are The Age Requirements For Gambling At Laughlin River Lodge?
The minimum age to gamble at this casino is 21 years old. Bring valid photo identification with you, such as a driver's license or passport, in case it is requested upon entering the casino floor.
Failure to provide valid ID may result in your being denied entry and/or ejected from the premises. Be sure to follow all state and local regulations regarding the legal gambling age.
Does Laughlin River Lodge Have An Online Casino?
The casino does not have an online casino, but players can enjoy the games and attractions this hotel casino offers in person.
If you're looking for more gambling options, you'll find plenty of other casinos to visit while in town. There are plenty of opportunities to win big, so don't miss out on your chance to have a great time while visiting Laughlin.
Is There An Laughlin River Lodge Hotel & Casino App?
No, the hotel does not currently offer an app. However, they do have a website that provides information about the casino and its amenities.
On their website, you will find news and updates on upcoming events, detailed information on the lodge's many services, directions to get there, contact information for reservations and more.
What Is The Dress Code At Laughlin River Lodge?
The dress code at this casino is casual. This means that anything from shorts and a tee shirt to jeans and a collared shirt is acceptable. Keep in mind, however, that they do not allow any clothing deemed inappropriate or too revealing.
Is There An Airport Shuttle Available From Laughlin River Lodge Hotel & Casino?
Unfortunately, there is no airport shuttle service available from this hotel and casino. You will need to arrange your own transportation from the local airport or other destinations.
You may also want to consider renting a car while in town, as it will give you more flexibility and freedom to explore all Laughlin offers.
What Is The Smoking Policy At Laughlin River Lodge?
The smoking policy at this establishment is that all areas are non-smoking, with the exception of a few select designated smoking areas.
These areas are clearly marked and are located outside of the main casino floor. The hotel also has a no-vaping policy in place to ensure the comfort and safety of all guests and staff members.
What Is The Pet Policy At Laughlin River Lodge Hotel & Casino?
Unfortunately, pets are not allowed on the casino floor or in any of the guest rooms. However, if necessary, they may be able to make accommodations for small service animals with prior approval.
For more information on bringing a pet with you to the hotel, please get in touch with them directly via phone or email to discuss their pet policies.
Is Wifi Available At Laughlin River Lodge?
If you're visiting this casino hotel, you'll be pleased to know that staying connected doesn't have to be a hassle. The lodge offers free wifi in all hotel rooms, so you don't have to worry about data roaming costs and can stay up-to-date with friends and family back home.
With easy access to all your online accounts, using wifi at their hotel is the perfect way to keep in touch no matter where you are.
What Is The Cancellation Policy For Laughlin River Lodge Hotel & Casino?
The cancellation policy for this hotel is that reservations must be canceled at least 24 hours prior to the intended arrival date. Cancellations made less than 24 hours before the scheduled arrival date will result in a charge equal to one night's stay.
You can cancel your reservation by calling the hotel directly or by using their website. Please be aware that certain packages and promotions may have additional restrictions and cancellation fees.
Conclusion
Visiting Laughlin River Lodge Hotel & Casino is a great way to experience this city's best. Whether you're looking for exciting gaming action, relaxing spa treatments, or want a comfortable place to stay, this hotel and casino can provide it all.
Plus, with their convenient location and many amenities, you can have a great time without ever leaving the hotel.
With all the information provided in this article, you should have all the details you need to make an informed decision about your next trip. Make sure to check out their website for even more information and updates on events and promotions!