Longhorn Casino Las Vegas
Address: 5288 Boulder Hwy, Las Vegas, NV 89122
Phone Number: +1 702-435-9170
Website: www.longhornhotelcasino.vegas
Hours: Longhorn Casino is open 24 hours a day, 7 days a week.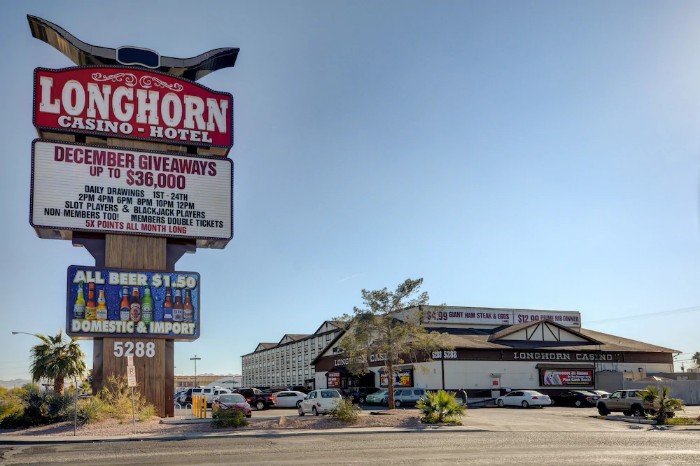 The Longhorn Casino & Hotel opened its doors in 1989 and has since become a popular place for locals and tourists. Richard Iannone currently owns the casino and has been rated one of the best in Las Vegas.
The casino is located on Boulder Highway and offers a variety of gaming experiences, including slot machines, table games, video poker and a sportsbook. Additionally, they offer several promotions and rewards for their players.
The hotel offers numerous rooms, suites, and amenities such as a pool, restaurant, lounge and more. So whether you are in town for business or pleasure, this casino is sure to meet all of your needs.
The casino hotel has an overall rating of 4.5 stars on TripAdvisor, based on over 6,000 reviews. One comment read, "I've been coming to this casino for several years now, and it's always a great experience. The staff is friendly, helpful and accommodating."
Another stated, "The Longhorn Casino has everything you could ask for in a casino. Great people, great food, and lots of gaming options. Highly recommend it!"
(Related reading: Nevada casinos)
Gaming
This casino has a large selection of gaming options to choose from. The casino has several slot machines and table games that offer poker. They also offer video poker and a sportsbook with live wagering options.
Table Games
This casino offers a variety of exciting table games for you to enjoy. If you're a fan of classic card games, you'll love their selection of both poker and blackjack.
Both experienced players and beginners are welcome to test their luck at either game. Plus, the friendly atmosphere and professional dealers make playing the table games at this casino truly rewarding and enjoyable.
The minimums for table games at this casino vary from game to game. Players can start with as little as $5 for blackjack and other table games. Visitors are encouraged to contact the casino directly for more accurate table game minimums.
Slots
This casino is a paradise for slot lovers! With 234 multi-game video gaming stations at the casino, including video poker and video keno, you're sure to find something to your liking.
There's truly a game for everyone at this casino. From all the classic designs of traditional slots to high-end progressive jackpot games, an evening of fun is only a few spins away.
The casino has a minimum payback percentage of 75%, which the Nevada Gaming Commission sets. While this is a slightly lower rate than other Las Vegas casinos, it still offers players an excellent return on their wagers.
Hotel/Resort
Located in the hustle and bustle of Las Vegas, their hotel offers guests a comfortable stay during their visit. All hotel rooms come with a cozy double bed, giving guests plenty of space to rest up for the exciting and wild nightlife that awaits them.
Furthermore, all hotel rooms are non-smoking to ensure that guests enjoy a pleasant environment with no second-hand smoke. Rest assured that the hotel offers pet-friendly rooms for families traveling with pets so everyone can enjoy this unforgettable experience.
Additionally, they offer many amenities to ensure guests have a great experience. Some of these include:
24-hr front desk
Housekeeping
Complimentary wifi access
Outdoor swimming pool
Onsite restaurant and bar
Players Club
Free self-parking
Laundry facilities
The hotel offers reasonable rates for their standard rooms. Room rates start at $69 per night and can vary depending on the season, hotel occupancy, and other factors.
Check-in time at Longhorn Casino is 3:00 pm
Check-out time at Longhorn Casino is 11:00 am
Restaurants & Buffets
Even though they currently do not offer buffet services at this casino, the hotel does have an onsite restaurant and bar on its property.
The Chuckwagon Restaurant is a great choice for anyone looking for delicious dining options. Their varied and well-crafted menu promises everything from classic American fare, such as steaks, to vegetarian dishes.
And if you're looking for an adult beverage along with your dinner, their full-service bar can accommodate. On top of that, their attentive service always ensures that you have everything you need and more.
Pools
This casino offers more than just exciting gaming – it has an outdoor pool and tub that is perfect for relaxing after a busy day. Take a refreshing dip and cool off with your friends or family, followed by delicious drinks and snacks in the adjacent cabana area.
Whether you're looking to unwind before placing your bets at the casino, want to host a pool party or enjoy the beautiful Nevada sunshine, visiting this casino can provide you with a great break from everyday activities.
Longhorn Casino, Las Vegas, NV FAQ
Does Longhorn Casino Have A Sportsbook?
This casino is the answer if you're looking for a great place to get your sports betting fix. While the casino may not have its own sportsbook, it does partner with William Hill Sportsbook to provide customers with an excellent online sports gambling experience.
With a user-friendly interface and numerous betting options, this is one bookmaker you won't want to miss out on. And don't forget that all William Hill Sportsbook memberships come with special bonus offers and rewards available only to those using their services in Nevada.
Is Poker Available At Longhorn?
Yes, poker is available here. The casino has several tables dedicated to the game and various rulesets. Whether you prefer Texas Hold'em or Omaha, this casino offers plenty of options for players wanting to take a break from the slots and tables.
What Are The Age Requirements For Gambling At Longhorn Casino?
In order to gamble at this casino, all guests must be 21 years of age or older. Valid forms of identification include driver's licenses, government-issued IDs, and passport cards. Guests who do not have the proper ID will not be allowed to enter or gamble at this casino.
Does Longhorn Have An Online Casino?
No, they do not currently offer an online casino. Guests can enjoy the selection of slots and tables available at the property. And with alluring bonuses and rewards offered to those who play in-house, there is no shortage of excitement here.
Is There An Longhorn Casino App?
No, there is no app available at this time. However, guests can access the casino's website from their mobile devices for information regarding upcoming events and promotions.
What Is The Dress Code At Longhorn?
This casino has a casual dress code. Guests are asked to refrain from wearing clothing that is overly revealing, offensive or disruptive.
Casual, comfortable attire is encouraged. This includes items such as jeans, shorts, t-shirts, and sneakers. While this casino does not require guests to dress up, they may be asked to remove hats or other headwear while inside the casino.
Is There An Airport Shuttle Available From Longhorn Casino?
Unfortunately, this casino does not offer any airport shuttle services. Guests can find taxis and other transportation options at the airport and nearby hotels that may provide shuttle services to and from the casino.
What Is The Smoking Policy At Longhorn?
This casino is a non-smoking facility. Guests who wish to smoke must do so outside in designated smoking areas that are away from the casino entrance and other public spaces. Guests who are found smoking in the casino will be asked to leave.
What Is The Pet Policy At Longhorn Casino?
This casino is the ideal vacation spot for pet lovers. They offer a pet-friendly policy, so guests don't have to leave their furry friends behind when visiting the casino.
All that is required from those interested in bringing their pet is a fee of $11.30 per night to cover any additional cleaning or room services that may be needed.
Is Wifi Available At Longhorn?
Visiting this casino? Then you'll be glad to know that it offers complimentary wi-fi for resort guests. Whether you're streaming songs or catching up with friends on social media, you can do so right from the comfort of your own room.
Enhance your experience with upgraded wi-fi, available for just $9.95 – perfect for up to three devices over 24 hours – and stay connected. At the same time, you explore all that this amazing venue has to offer.
What Is The Cancellation Policy For Longhorn Casino?
The cancellation policy for their hotel varies depending on the type of reservation. For most reservations, cancellations must be made at least 24 hours prior to check-in to receive a full refund.
Please refer to your reservation confirmation email or contact the casino's customer service team for more specific details and policies.
Conclusion
Longhorn Casino offers a wide range of casino gaming experiences, from classic slots and table games to new and exciting variations.
With plenty of age requirements in place, a casual dress code, pet-friendly policies, complimentary wi-fi and more, it's the perfect spot for an unforgettable vacation. Whether you stay at the hotel or enjoy a night at the tables, this casino offers something for everyone.
With all that said, this casino is the perfect spot to relax and enjoy a night out. So come on down and experience the excitement for yourself as you won't be disappointed.