Luxor Casino Las Vegas
Address: 3900 S Las Vegas Blvd, Las Vegas, NV 89119
Phone Number: +1 877-386-4658
Website: www.luxor.mgmresorts.com/en.html
Hours: Luxor Casino is open 24 hours a day, 7 days a week.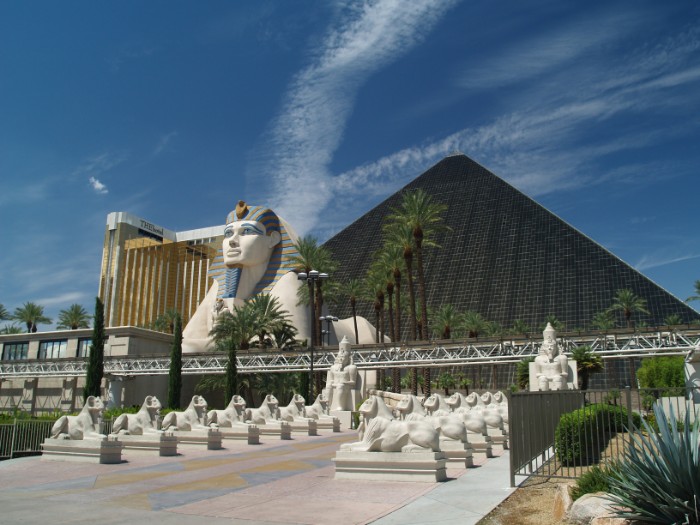 Luxor Casino Las Vegas first opened its doors in 1993 as the largest casino resort complex on the famed Las Vegas Strip. MGM Resorts International, a leading hospitality and gaming company, currently operates the property.
But before it became a casino, the plans for the property were quite different. Circus Circus Enterprises, the parent company of what is now MGM Resorts, originally wanted to build a 3,600-room hotel and entertainment complex called "Project X".
One thing led to another, and the project soon evolved into what is now known as Luxor, named after the city in Egypt. Today, it is currently owned by Vici Properties and operated by MGM Resorts International.
The iconic pyramid-shaped hotel, which stands 350 feet tall and has a base of 31 acres, is home to over 4,400 guest rooms and suites, several pools, multiple entertainment venues, four main restaurants plus additional bars and cafes and over 120,000 square feet of casino gaming space.
The casino is home to more than 2,000 slot and video poker machines and numerous gaming tables. It also features a race and sports book with giant video walls and comfortable seating to follow the action.
On average, the casino received an overall rating of 4 out of 5 stars on various review sites such as TripAdvisor and Yelp. One guest said, "The Luxor is a great place to stay in Las Vegas. The rooms are clean and spacious, and there are plenty of things to do."
Another guest commented, "The casino was great and had plenty of slot machines and gaming tables. The staff was friendly and attentive. Highly recommend Luxor Casino Las Vegas!"
(Related reading: Nevada casinos)
Gaming
This casino features all of your favorite slot machines, video poker and gaming tables. There are over 1,100 slots to choose from, with denominations starting at a penny up to $100.
Table Games
Visiting this casino for a fun night out? Don't worry about taking too long to decide on which table game to play – you have plenty of options.
From the classic Craps and Roulette to the more modern and popular Let It Ride and BlackJack, there's something that'll speak to everyone's tastes. If you're after a little more action, check out 3 Card Poker or Mini Baccarat.
The minimums for table games at this casino vary from game to game and can be found on the casino floor or online. On average, most tables have a minimum of $10-$20, with some going as low as $5.
Slots
If you're looking for some high-stakes entertainment at this casino, then take your pick from these popular slot machines. Buffalo Link is a classic 5-reel machine that has become an instant hit with players looking to strike it big.
Or try playing Dragon Link and Wolf Run Eclipse, featuring the exciting Hold and Spin bonus feature. More of a fan of classic-style slots? Try out Huff N' More Puff or Buffalo Ascension with free spin wagers and thrilling bonus features.
Feeling lucky? Try your hand on the Ultimate Fire Link Explosion – this red-hot 4×5 playthrough will test your luck every time.
The slot machine payback percentages at this casino are among the best in the state, with an average of 91.92%. The exact payback percentage for each machine will depend on its game theme and denomination.
Hotel/Resort
Their hotel offers an exciting place to stay and play. The iconic pyramid shape stands 350 feet tall and has a base of 31 acres, home to over 4,400 guest rooms and suites.
The accommodation has modern amenities, first-class service, and a convenient location. With easy access to the Las Vegas Strip attractions, this place is a great destination for both leisure and business travelers.
This iconic pyramid-shaped resort offers accommodations suited for all types of travelers. For example, their Pyramid Rooms are perfect for a traditional getaway with Pyramid King or Two Queen options.
If you're looking for something a little more special, try one of their Tower Premium rooms with King or two Queen beds.
For a truly luxurious experience, upgrade to their Tower Elite King Room or one of the many sumptuous suites, including One-Bedroom Corner Suites, One-Bedroom Penthouses, or Two-Bedroom Suites.
Plus, they offer Stay Well rooms that elevate your stay with thoughtful touches like air filtration and improved lighting.
Additionally, this casino hotel has a wide selection of amenities for all its guests. Some of the most popular amenities include:
Self and valet parking
Multiple dining options
Nightlife and entertainment
Fitness center and spa
Retail shops
24-hour business center
Pool and whirlpools
The rates at their hotel vary depending on the room type and time of year. Generally, their rates start as low as $39 per night. However, the exact price of a room depends on availability and seasonality. During peak times, rates can go up to $199 per night.
There will also be additional fees for taxes and resort fees. Please check their website for more information on pricing and fees.
Check-in time at Luxor is 3:00 pm
Check-out time at Luxor is 11:00 am
Restaurants & Buffets
If you're looking for the best of Las Vegas dining experiences, you won't want to miss out on this casino.
Whether it's top-notch Mexican cuisine at Diablo's Cantina that got you in the mood or an expertly prepared steakhouse meal at the TENDER steakhouse + lounge, they have something that is sure to tantalize your taste buds.
For a quick bite, try the classic sandwiches and salad at Backstage Deli or Pyramid Café. Don't forget about Starbucks Café for your caffeine fix and Blizz for some delicious ice cream.
The Buffet offers an array of classic dishes for both adult and child pricing – for brunch, adults can enjoy their meal at $28.99 per person and children at $16.99 each, or you can upgrade to weekend brunch for just a few extra dollars with adult pricing at $31.99 and children at $17.99.
Pools
Their pools are a great place to start if you're looking for a fun and relaxing way to beat the heat during your visit to Las Vegas. With 19,000 square feet of pool area split into four large sections, this destination provides guests with plenty of opportunity to soak up the sun's rays.
Plus, the 125,650 square feet pool deck gives everyone plenty of room to cool off and soak in the sights from one of Nevada's most spectacular locations.
And once you're done taking in all that this casino hotel has to offer at its pools, then you can upgrade to one of their luxurious cabanas for an experience that's truly above and beyond.
Luxor Casino Las Vegas, NV FAQ
Does Luxor Casino Las Vegas Have A Sportsbook?
Located in the heart of the Strip, this casino is a mecca for gaming aficionados. But if you're looking to add some sporting action to your Vegas vacation, they offer something even better – BetMGM Sportsbook.
From wagering on the latest NFL game or placing parlays and teasers on college basketball, the sportsbook gives visitors the chance to get in on the action and make their stay even more exciting.
What's more, those who prefer to stay closer might find their comfort zone with BetMGM mobile app, which allows guests to place bets and manage their accounts from anywhere in the state.
Is Poker Available At Luxor Casino?
Yes, poker is available at this casino. They have a dedicated poker room with several tables offering different popular game variations.
And if you're feeling lucky, there are daily tournament events, and Texas hold 'em tournaments where you can test your skills against other players.
What Are The Age Requirements For Gambling At Luxor Casino Las Vegas?
The minimum age to gamble at this casino is 21 years. In order to gain access, you'll need to present a valid ID or passport to prove your age. Those under the legal gambling age will not be allowed on the gaming floor, and any winnings they may have earned will not be paid out.
Does Luxor Have An Online Casino?
If you're looking for an online casino experience but don't want to leave the comfort of your own home, you can feel like you're in Las Vegas without leaving your couch. This casino offers myVEGAS Slots for players looking for a real online casino experience.
This real-money application is available on mobile devices and desktops, allowing players to spin their way through hundreds of slots and explore everything the virtual casino offers.
To access myVEGAS Slots, visit this casino's official website and click on the link. You'll then be able to create an account, download the app for free, and start playing for real money.
With generous jackpots and bonuses, myVEGAS Slots is the perfect way to test your luck without leaving home.
Is There An Luxor Casino Las Vegas App?
If you're a fan of this casino, you may wonder if they have their own mobile app. Unfortunately, they do not have their own app, but you can still take advantage of all its features on your favorite mobile device.
That's because MGM Resorts actually operate them. As part of that relationship, it is included as one of the many amenities featured on the MGM Resorts App.
This powerful app gives you access to rewards programs, exclusive deals, event updates, and much more from all the wonderful properties managed by MGM Resorts.
What Is The Dress Code At Luxor Casino?
The dress code at this casino is casual. However, you will need to be mindful of your attire and not wear anything that might be considered offensive or inappropriate.
Is There An Airport Shuttle Available From Luxor?
Unfortunately, this casino does not offer an airport shuttle. However, many transportation options are available for those looking to get to and from the airport quickly and conveniently.
Taxis, ride-sharing services like Uber and Lyft, or even airport shuttles operated by other casinos are all great choices for getting to the airport on time.
What Is The Smoking Policy At Luxor Casino Las Vegas?
They have a strict non-smoking policy. In accordance with Nevada state law, no smoking is allowed on the gaming floor or in any other public area of the casino.
For those who do wish to smoke, designated outdoor areas are available for your convenience. Keep in mind that these areas may be subject to change depending on local regulations.
What Is The Pet Policy At Luxor Casino?
Good news: this casino is indeed pet-friendly! However, it's important to note that they have some rules in place.
Only two dogs per room and a maximum combined weight of fewer than 100 pounds are allowed. Unfortunately, all other pets and animals are strictly prohibited both for registered hotel guests and visitors to the property.
If you need more info about their pet policy, feel free to call the hotel directly, as they would be happy to provide any additional information needed.
Is Wifi Available At Luxor?
If you're planning a trip to this casino, you'll be glad to know that wifi is available free of charge throughout the property. The wifi connection is fast and reliable, allowing guests to post updates, watch videos or get some work done easily.
So whether you're engaged in a hot streak at the blackjack table or chilling by the pool, you can stay connected and up-to-date on all your electronic needs.
What Is The Cancellation Policy For Luxor Casino Las Vegas?
The cancellation policy for this casino states that reservations must be canceled 48 hours before the scheduled arrival date to avoid additional fees or charges.
If you fail to cancel within the specified timeframe, you will be charged a cancellation fee equal to one night's stay plus taxes and other applicable fees.
Conclusion
Luxor Casino Las Vegas is a great destination for those looking to hit the slots and test their luck.
This casino offers plenty of features, amenities, and activities for all kinds of visitors. Whether you're looking for a pet-friendly policy, access to wifi or want to know what the dress code is, this article has all the answers.
You can now easily plan your trip to this casino with the information provided. So what are you waiting for? Get ready to let the good times roll!