Mandalay Bay Casino Las Vegas
Address: 3950 Las Vegas Blvd S, Las Vegas, NV 89119
Phone Number: +1 877-632-780
Website: www.mandalaybay.mgmresorts.com/en.html
Hours: Mandalay Bay Casino is open 24 hours a day, 7 days a week./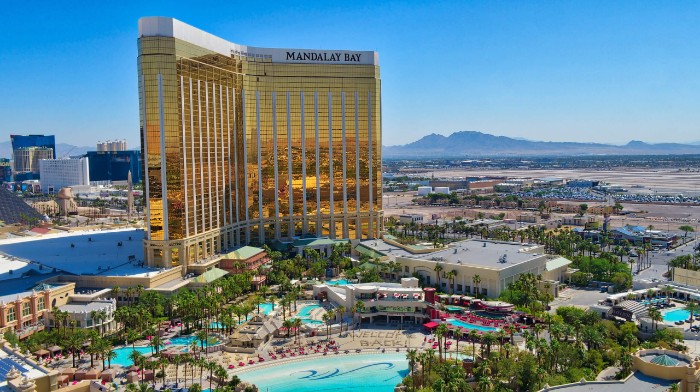 Mandalay Bay was created in 1999 by Circus Circus Enterprises, a hotel and casino resort located at the south end of The Strip. The land it currently stands on was previously owned by the Hacienda Hotel and Casino, which was imploded in 1996.
After numerous challenges, the project was completed and opened in March 1999. It is named after Mandalay, a city in Myanmar (formerly Burma). Its design was inspired by the tropical environment of Bali and its crystal-blue water.
Today, the property is owned by Vici Properties and The Blackstone Group. This casino is one of the most popular casinos in Las Vegas. It is home to some of the world's top poker players and has hosted major shows such as Mamma Mia! and The Lion King.
Its spacious gaming floor is filled with more than 1,200 slot machines and several table games. Additionally, it is home to some of Las Vegas' best restaurants and nightlife venues, as well as a variety of entertainment options.
This casino has become an iconic symbol of Las Vegas and remains one of the top spots for tourists and locals alike. With its luxurious accommodations and endless entertainment options, this is a great place for anyone looking for a good time.
On TripAdvisor, it has an overall rating of 4 out of 5 stars based on more than 12,000 reviews. One guest said, "I had a great time at Mandalay Bay Casino. The staff was very friendly and accommodating. We enjoyed the gaming floor, and it was always clean and well-maintained."
Another guest said, "This is our go-to casino when we come to Las Vegas! Great gaming experience with lots of options for both slots and table games. The atmosphere is really fun, and the staff is always friendly and helpful."
(Related reading: Nevada casinos)
Gaming
This casino offers more than 1,200 slot machines and numerous table games such as blackjack, craps, roulette and poker. There is also a race and sports book where guests can place bets on their favorite teams or events.
Table Games
If you're looking for all the thrills of Las Vegas, then this casino is the perfect place to visit. With a range of different table games, they offer something for every taste and every budget.
Enjoy baccarat with its unique card counting system, or head over to the blackjack tables if you're feeling like taking home the jackpot. Craps is also on offer, with a wide variety of betting options and creative playing strategies.
For those who prefer it slower-paced, roulette provides an opportunity to test your luck in a more leisurely fashion.
Also, they have a range of different table game minimums, depending on the time of day and type of game. Guests can find minimums as low as $5 for most table games.
Slots
This casino offers a variety of slot machines, from classic three-reel games to the latest video slots. Some of their most popular slots include:
Crazy Rich Asians
Megabucks
Blazin' 7s
Ultimate Fire Link Explosion
Wheel of Fortune
Monte Carlo
Buffalo Ascension 
Super Spin
Willy Wonka – Dreamers Of Dreams
By law, the payback percentage for slot machines in Nevada must be 75% or higher. This means that the house edge is 25% or less. This casino offers some of the most generous payouts in Las Vegas, with many games offering a return rate as high as 95%.
Hotel/Resort
Their hotel offers an array of accommodations, including luxury suites, standard rooms and villas. Guests can enjoy luxurious amenities such as complimentary Wi-Fi, in-room spa treatments and cable television.
Guests can choose from Resort King or Two Queen rooms for the perfect getaway. For those looking for extra pampering, they also offer Stay Well Rooms with Resort King or Two Queen beds included.
For those wanting something truly extravagant, suites are available too. Whether it be an Elite King, Executive King, Reef Suite, One Bedroom Penthouse Sky View Suite or even the Presidential 3 Bedroom Suite – you won't be stuck for choice.
The Media Suite is well-appointed, too, if you'd like to make your stay meaningful and work-focused. Additionally, they offer a wide range of amenities to ensure that guests have the best stay possible. These include:
24-hour room service
Access to the fitness center and spa services
Business center
Swimming pool
Multiple restaurants
Parking available
Laundry services
Housekeeping
24/7 front desk
The cost of staying at their hotel varies depending on the type of room or suite you choose. Their room rates start for as low as $69 per night, plus additional taxes and fees.
Prices for their suites range from $450 to upwards of $5000 per night, depending on the size and amenities included in the package.
Check-in time at Mandalay Bay is 3:00 pm
Check-out time at Mandalay Bay is 11:00 am
Restaurants & Buffets
This casino has something for everyone with its wide selection of restaurants. Diners can enjoy Italian cuisine at Rivea, come by S Bar for late-night drinks and snacks, try out French bistro eats at Fleur or have an unforgettable dinner at Lupo by Wolfgang Puck.
For more adventurous diners, there is KUMI, offering a taste of Japan, steak and seafood at STRIP STEAK, classic American fare at Burger Bar and delicious noodles at the Noodle Shop.
Guests can also treat themselves to the wonders of Veranda at Four Seasons or try out Border Grill for Mexican cuisine. Hussong's Cantina offers classic Cantina vibes while Citizens Kitchen & Bar serves up comfortable family-style meals.
A relaxed beach atmosphere awaits guests at Seabreeze Café or gets some homely cooking done right with Della's Kitchen. Also, there is the Foundation Room for anyone who wants fancy food and BBQ Mexicana.
Slice of Vegas if you're into pizzas and Libertine Social if you're in the mood for classic cocktails and refined bar bites. Additionally, they have The Buffet for anyone who wants a culinary journey with food from around the world.
For a delicious and affordable buffet brunch experience, they offer weekend brunch for $31.99 for adults and $17.99 for children – a great deal when compared to other restaurants in the area.
They've also got you covered if you're looking for a quick bite during the week. Adult buffet brunches are only $28.99; child buffet brunches are only $16.99.
Pools
An ideal destination for summer relaxation, this casino in Nevada offers stunningly vibrant pools and cabanas perfect for any summer getaway.
Lounge in a plush daybed paired with a private cabana, or take a dip in any of the resort's four sparkling swimming pools. Walk along rolling lawns that create the perfect setting for an afternoon picnic.
Take the opportunity to escape beneath towering palms and sink into one of the private poolside beds or sample an array of signature cocktails at one of the floating tables. Soak up some sun while enjoying your favorite pool treats like an oasis at this casino.
Mandalay Bay Casino, Las Vegas, NV FAQ
Does Mandalay Bay Casino Have A Sportsbook?
If you're looking to place a few bets on your favorite sports teams while visiting Nevada, then this casino has you covered. The casino boasts its own BetMGM Sportsbook with all the latest wagering options available.
Not only can you place your bets in person at the casino, but you can also take advantage of their BetMGM app for your mobile devices. No matter where you are in Las Vegas, you'll have access to the same great betting lines and bonuses offered at this casino's Sportsbook.
Is Poker Available At Mandalay Bay?
Yes, this casino offers a variety of poker games for players to enjoy. Whether you're a seasoned veteran or new to the game, there's something here for everyone.
From tournaments and cash games to progressive jackpots and other special promotions, this casino has plenty of options when it comes to poker. For more information, check out their website or stop by the casino in person to get in on the fun.
What Are The Age Requirements For Gambling At Mandalay Bay Casino?
The legal age to gamble in Nevada is 21 years old. This applies to any form of gambling at this casino, including slots, table games, poker and sports betting. You must present a valid ID upon entry to ensure that you are of legal age before entering the gaming floor.
Does Mandalay Bay Have An Online Casino?
While this casino does not have its own online casino, there is still a great way to enjoy gaming from this casino on your mobile device or desktop.
myVEGAS Slots is an app that provides you with the greatest content straight from this casino, including themed slot machines and more. To start playing, download the app on your Android or iOS device.
You'll then get access to immersive games that bring you closer to the action happening in Vegas and allow you to earn rewards for a real-world stay at this casino.
Is There An Mandalay Bay App?
If you're looking for a convenient way to explore all of the amazing amenities at this casino, then you'll be pleased to learn that they are now offering the MGM Resorts app.
This app can provide you with navigation help, recommended venues depending on your interests, exclusive offers and discounts, access to room reservations and even VIP experiences.
What Is The Dress Code At Mandalay Bay Casino?
This casino welcomes guests of all ages and backgrounds, so dress to impress. There's no strict dress code at the casino. However, proper attire is appreciated.
Is There An Airport Shuttle Available From Mandalay Bay?
Unfortunately, this casino does not provide an airport shuttle service. However, there are plenty of other transportation options for you to choose from.
You can take a taxi or ride-sharing service from McCarran International Airport and be at the hotel in no time. Alternatively, you can also rent a car or book a limousine for your group.
What Is The Smoking Policy At Mandalay Bay Casino?
This casino follows a strict non-smoking policy both indoors and outdoors. All areas inside the building are 100% smoke-free, including the gaming floor, restaurants, bars and lounges.
Designated smoking areas can be found outside the building in designated patios where guests may light up if they desire.
What Is The Pet Policy At Mandalay Bay?
This casino is dog friendly, so you can feel comfortable bringing your pup along for the ride.
However, there are a few policies to note; up to two dogs are allowed at a combined weight of fewer than 100 pounds, and a second dog fee will be charged upon check-in if necessary.
A $50 per night plus tax fee applies for rooms and an additional $100 per night plus tax for suites when bringing your dog(s). Don't hesitate to call the hotel if you have any questions or concerns about their pet policy.
Is Wifi Available At Mandalay Bay Casino?
Stay connected by taking advantage of free internet access in all guestrooms, or enjoy the complimentary wifi service offered at some of the resort's convention and meeting spaces.
This casino has your back, whether you're catching up on emails or just checking in with loved ones.
What Is The Cancellation Policy For Mandalay Bay?
If you need to cancel your reservation, it's best to do so at least 48 hours prior to the date of check-in.
Otherwise, you may be charged a cancellation fee equal to one night's room and tax rate. If you have questions about their cancellation policy, don't hesitate to call their customer service team.
Conclusion
At Mandalay Bay, you can expect to find all the luxury and fun that comes with a Vegas visit. From slots and games to dining experiences, this casino has it all.
Enjoy their vast selection of amenities while taking advantage of the helpful MGM Resorts app and complimentary wifi. Plus, don't forget to take advantage of the pet-friendly policy if you're looking to bring your pup along for the ride.
Whether you're here for a quick trip or an extended stay, they are everything you need.