Maverick Casino & Hotel Elko
Address: 2065 Idaho St, Elko, NV 89801
Phone Number: +1 800-545-0044
Website: www.maverickgaming.com/maverick-elko/
Hours: Maverick Casino & Hotel is open 24 hours a day, 7 days a week.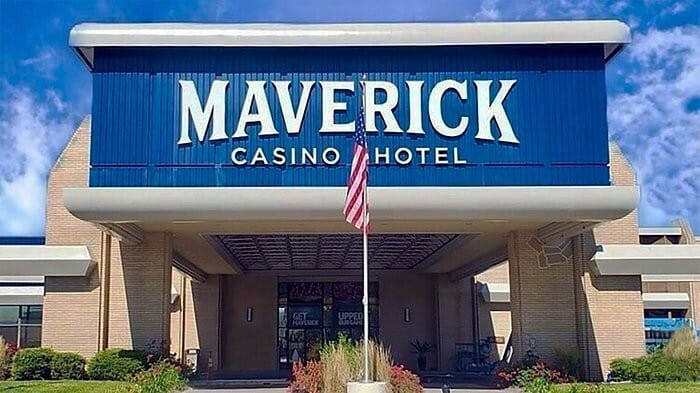 Maverick Casino & Hotel Elko opened its doors almost 30 years ago and has been a staple of the Elko community ever since.
The property has undergone many upgrades and improvements over the years, but its commitment to providing an exceptional gaming and hospitality experience has remained unchanged.
The ownership of the property has also changed since its opening, but the commitment to quality has remained. It is currently owned and operated by Maverick Gaming, which also owns and operates many other properties across the United States.
Their casino features more than 300 of the latest, greatest and most popular slot machines, as well as table games like blackjack, roulette, Three Card Poker and much more.
The hotel boasts comfortable accommodations, a full-service spa, a fitness center and meeting facilities. Guests can also dine in the on-site restaurant or enjoy nightly entertainment at the live music venue.
Whether you want a great gaming experience or a relaxing staycation, this casino is sure to provide it.
On most review platforms, this casino hotel has a rating of 4 out of 5 stars from guests. One guest said, "Maverick Casino & Hotel Elko is a great place to stay. The rooms are comfortable, and the staff was very friendly and helpful."
Another guest said, "I had an excellent stay at Maverick Casino & Hotel Elko. The staff was friendly and accommodating, and the casino was fun to play in."
(Related reading: Nevada casinos)
Gaming
Their casino features more than 300 of the latest, greatest and most popular slot machines, table games like blackjack, roulette, Three Card Poker and much more.
Table Games
This casino has a number of exciting table games on offer. Playing Blackjack at the casino is always a thrilling experience. Get closer to 21 than the dealer, and you can be rewarded with the chance to pocket some winnings.
You can also head to the tables and challenge your luck with 3 Card Poker. Put together a good hand, and you could earn a healthy payout at the end.
For something strikingly different, why not take a spin on their top-notch Roulette? Just choose which color or number you think will come out, and let the wheel decide.
Generally, table game minimums are usually quite low at the casino. Most of their table games have a minimum bet of around $5. However, some tables may have higher minimums depending on the day and time.
Slots
If you're planning a trip to this casino, you'll find plenty of fun and exciting slot machine options.
From the classic one-cent play on Penny Slots to the high-stakes potential of Megabucks, there is something for every budget. Multi-denomination Slots allow you to easily adjust your coin value, from Dime Slots to Quarter Slots and even Dollar Slots, ensuring the perfect game.
Nickel Slots are also a great option for those who want to take their chances with low stakes. No matter which type of slot machine tickles your fancy, this casino has you covered.
Nevada casinos must have a minimum payback of at least 75% by law. The exact percentage varies from machine to machine and can be found on the individual game's help screen. As with all slot machines, the higher denominations typically offer better payouts.
Hotel/Resort
The hotel boasts comfortable accommodations, a full-service spa, a fitness center and meeting facilities. Each room is impeccably maintained and tastefully decorated in a modern style with all the amenities you could need during your stay.
Their rooms are equipped with the most comfortable beds, blackout curtains, and complimentary Wi-Fi. Guests can also enjoy access to the hotel's outdoor pool and hot tub.
The good news about their hotel is that guests have the option to choose from smoking or non-smoking, pet-friendly or with ADA access.
Some of their room types include:
Deluxe Room – features 1 king or 2 queen beds
Premium Room – features 1 king or 2 queen beds and a balcony
Executive King – features 1 king and a balcony
Family Suite – features 2 bedrooms
Parlor Suite – features 2 bedrooms, a sofa bed, a jetted tub and a balcony
Additionally, the hotel offers a variety of amenities that will make your stay even more enjoyable. These include:
Front desk service
Fitness center
Complimentary Wi-Fi access
Onsite restaurants and bars
Room service
Laundry facilities
A full-service spa
Gift shop
Meeting facilities
Arcade games
An outdoor pool
The cost of a room varies based on the type and size you choose. Prices are subject to change, so check their website for the most up-to-date rates. Generally, all rooms start at around $129 per night.
Check-in time at Maverick is 3:00 pm
Check-out time at Maverick is 12:00 pm
Restaurants & Buffets
You won't be disappointed if you're looking for a delicious dining experience during your stay at this hotel. You can savor classic steakhouse cuisine at Aspens Steakhouse, enjoy a cup of coffee or a light meal from the cozy Coffee Garden and sip on your favorite Starbucks specialty drinks.
Jr.'s offers quick, tasty Mexican fare, perfect for lunch or dinner. And don't forget the casino floor has plenty of food available, including snacks and light meals. Unfortunately, this casino has no buffet option, but you'll find something to satisfy all appetites here.
Pools
This casino hotel offers much more than the adrenaline-filled gambling atmosphere. It also provides a serene escape with its outdoor pool, inviting guests to relax amidst the desert oasis.
Underneath its unique cabana-style roofs, you can enjoy a refreshing dip against the backdrop of swaying palm trees. And when it comes to lounging by the sparkling waters, there's an abundance of comfortable chairs and plush hammocks in which you can truly unwind.
With snacks and drinks served poolside, all that's missing is your sunscreen and swimsuit!
Maverick Casino & Hotel, Elko, NV FAQ
Does Maverick Casino & Hotel Have A Sportsbook?
Unfortunately, the casino does not offer a sportsbook at this time. However, it does have a variety of slot machines and table games. Guests can still enjoy the thrill of betting with low stakes.
Is Poker Available At Maverick Casino?
Yes, this casino offers 3-card poker. They have a dedicated poker room with seven tables open from midday to the early hours of the next morning.
Players can learn the basics in a private lesson before heading to the tables, or seasoned players can enjoy tournament nights and promotions throughout the week. The friendly staff is always on hand to provide assistance, making for an enjoyable experience for all guests at this casino.
What Are The Age Requirements For Gambling At Maverick?
The minimum age to participate in gaming at this casino is 21. Guests must provide valid photo identification when entering the casino floor, so ensure you bring your ID if you plan to gamble during your stay.
Does Maverick Casino & Hotel Have An Online Casino?
No, this casino does not have an online platform or app. All gaming and gambling must be done on the hotel's premises in person. However, guests can still enjoy the same entertainment and rewards opportunities as they would in an online casino.
Is There An Maverick Casino App?
Unfortunately, no. This casino does not currently have a dedicated app. However, guests can still access the hotel's website for information about promotions and rewards programs.
You can also check their social media pages or sign up for their newsletter to get the latest updates about the casino.
What Is The Dress Code At Maverick?
The dress code at this casino is casual, but guests should still remember to practice courteousness and good taste. No hats or torn clothing are allowed on the gaming floor.
Most restaurants have a more formal dress code, so it's always best to check with the establishment before your visit.
Is There An Airport Shuttle Available From Maverick Casino & Hotel?
Yes, the casino offers a complimentary shuttle service to and from Elko Regional Airport. Guests can call the hotel directly to book their ride, and they will be picked up at the front of the hotel. Contact the hotel's front desk or visit their website for more information about the shuttle.
What Is The Smoking Policy At Maverick Casino?
Smoking is allowed only on the casino floor. The rest of the hotel is non-smoking, including all rooms and public areas. Guests who wish to smoke in their room can do so on the balcony with the door closed.
What Is The Pet Policy At Maverick?
This casino hotel allows up to two pets of any size to stay with you in your room at an additional fee of $15 per pet per night. If you are planning on bringing three or more furry friends, the hotel adds an additional fee of $15 per pet per stay.
For more information, don't hesitate to get in touch with their help desk to find out more about the pet policy.
Is Wifi Available At Maverick Casino & Hotel?
Yes, the hotel offers complimentary wifi throughout the property. Guests can easily connect to the internet from their rooms or any public area of the hotel using their devices.
If you need further assistance with internet access, the staff at reception will be happy to help.
What Is The Cancellation Policy For Maverick?
The cancellation policy for this hotel is 24 hours prior to the arrival date. If you need to cancel your stay, contact the front desk as soon as possible. Late cancellations and no-shows will be charged in full.
Conclusion
Maverick Casino & Hotel is a great destination for an exciting gaming experience. With its friendly staff, modern facilities and numerous promotions, this casino ensure that guests will have a memorable stay.
Whether you are new to the game or an experienced gambler, Maverick has something for everyone.