Maverick Hotel & Casino Elko
Address: 2065 Idaho St, Elko, NV 89801
Phone Number: +1 800-545-0044
Website: www.maverickgaming.com/maverick-elko/
Hours: Maverick Hotel & Casino Elko is open 24 hours a day, 7 days a week.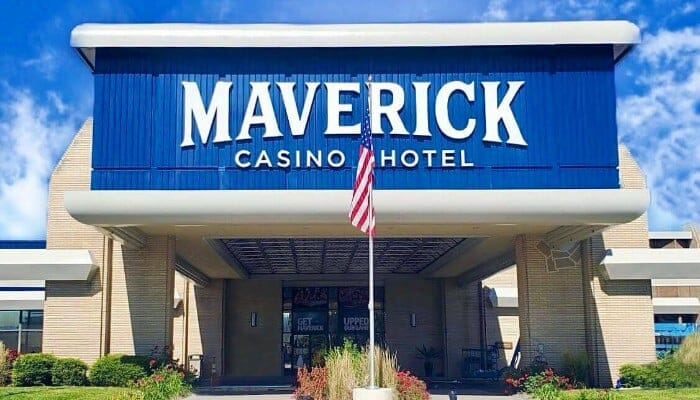 Maverick Hotel & Casino has provided first-class accommodations and entertainment to the Elko community for over 30 years. Founded in 1988, the hotel and casino have become a staple in Elko's nightlife.
The casino floor offers over 350 slot and video poker machines and live table games such as blackjack, craps and roulette. They also have a player's club that rewards players with comps, bonuses and discounts.
The hotel onsite has several comfortable guest rooms, each with amenities such as flat-screen TVs and high-speed internet. They also have a business center and meeting space for small or large events.
And if you want to take a break from all the gaming by night, this casino hotel has multiple dining options, including a fine dining restaurant, pub and lounge. There is also an onsite spa offering massage services and a fitness center.
They also host various events and promotions throughout the year, including live music, stand-up comedy shows, bingo tournaments and more. Whether you're looking to make a night of it or just want some fun entertainment while in Elko, this casino is worth checking out.
On TripAdvisor, this casino hotel has an overall rating of 4.3 out of 5 stars. One guest said, "The hotel is a great place for adults to relax and have fun. The casino staff is friendly, and the food is good, especially the steak house."
Another added, "The rooms are comfortable and clean with all the necessary amenities. The casino floor is well-staffed and offers a wide variety of games."
(Related reading: Nevada casinos)
Gaming
Their gaming space features over 350 slot machines and video poker games, plus blackjack, craps and roulette tables.
Table Games
This casino hotel in Nevada is home to some of the most exciting table games available today. Enjoy the pleasure and challenge of playing Blackjack, a classic casino game beloved by players worldwide.
Try your hand at 3 Card Poker, a variant of traditional Poker with fast-paced action – perfect for novice and experienced card players alike. On top of that, all casinos must offer the age-old game of Roulette – spinning the wheel has never been so thrilling.
Table games at this casino have a minimum bet of $3-$5 for most games, and it could go higher depending on what type of game you're playing.
Slots
This casino in Nevada offers a wide range of slot machines to choose from, allowing you to find your favorite machine and get the most out of your gaming experience. Penny, nickel, dime, quarter and dollar slots are available here.
Feeling lucky? Look no further than the IGT Megabucks machine. With its many progressive jackpots available, you will surely enjoy your time at the casino.
Looking for more options? Don't forget about the multi-denomination machines – no matter what your budget or preferences are, they have something that's right for you.
Unfortunately, the exact payback percentage of slot machines at this casino is not publicly available. However, Nevada state law requires all slot machines in the state to return a minimum of 75% to players over time.
Hotel/Resort
The hotel at this casino provides the perfect vacation destination for all types of travelers. Whether you're looking for an overnight stay away from home or a weekend escape with friends and family, it has everything you need.
On-site, guests can take advantage of their casino and restaurants before retiring to one of their many room offerings. From comfortable Premium King accommodations to luxurious Executive King Suites, it will surely have something that meets your accommodation needs.
When traveling with children or a larger party, their Family Suite offers plenty of space for all. Plus, the warmth and hospitality of their helpful staff make the hotel feel like your home away from home.
The casino hotel offers a variety of amenities to enhance your stay, including the following:
Highspeed wifi access
24-hour front desk
Daily housekeeping
Free parking onsite
Free 24-hour return airport shuttle
Dining options and room service
Nightlife and live entertainment
Fitness center
Business center
Seasonal pool
Arcade games
Pet-friendly accommodations
Full-service spa
Gift shop
The room price at this casino can vary depending on the season and availability but generally start at $121 per night. Be sure to check the hotel's website for special offers and discounts to get the most out of your stay.
Check-in time at Maverick is 3:00 pm
Check-out time at Maverick is 12:00 pm
Restaurants & Buffets
Even though they currently do not have a buffet, guests will find various restaurants to choose from. Everything from steak and seafood to Italian and Mexican cuisine is offered at their on-site eateries.
After a long day of gambling or exploring the city, relax at Aspens Restaurant for a mouthwatering steak dinner. For something more casual, grab a classic hamburger at JR's Restaurant.
If you want something quick, be sure to check out The Sports Bar for a wide selection of fine beers and snacks. Coffee Garden is also available if you need that perfect pick-me-up for your day.
Pools
This casino hotel in Nevada boasts an amazing seasonal outdoor pool that is perfect for a warm summer day. Whether you take a dip to cool off, sunbathe on the deck, or relax with a refreshing drink, the pool at this casino hotel has something for everyone.
During your stay at this hotel and casino, don't forget to plan some time for yourself to swim and enjoy the great Nevada outdoors.
Maverick Hotel & Casino, Elko, NV FAQ
Does Maverick Hotel & Casino Have A Sportsbook?
This casino certainly does boast an impressive sportsbook. Located inside is the William Hill Sportsbook, where visitors will find advanced technology with cutting-edge sports betting stations that provide a fast and easy betting experience.
The bar and food area are open daily and provide high-definition viewing of games taking place around the state. And if you're looking to participate in some of the latest sports bets on top sporting events, you'll be sure to find exactly what you're looking for at this Nevada gem.
Is Poker Available At Maverick?
They offer mainly 3-Card Poker, which is a fast-paced and fun variation of the classic poker game. Players can bet against the dealer or bet "both" for an even bigger payout if they have a winning hand.
What Are The Age Requirements For Gambling At Maverick Hotel & Casino?
Guests must be 21 years of age or older to enter the casino and participate in any gambling activities. Valid identification is required at check-in and will be checked again when entering the casino floor. All guests under the age of 21 are not allowed in any gaming areas.
Does Maverick Have An Online Casino?
No, they do not have an online casino. However, guests are welcome to visit the property to experience all of the great live-action gaming and exciting amenities that this hotel has to offer. From a sportsbook to live entertainment, there is something for everyone at this casino.
Is There An Maverick Hotel & Casino App?
No, they do not currently have an app. However, guests can visit the website or social media pages to stay up to date on all of their promotions and special offers. The website also provides additional information about the amenities, dining options, entertainment schedule and more.
What Is The Dress Code At Maverick?
This casino encourages guests to dress casually, but no overly revealing clothing is allowed. For those wanting a more formal look, the casino also offers a suit-and-tie dress code for certain areas. Guests should remember that no barefoot or beachwear is allowed at any time.
Is There An Airport Shuttle Available From Maverick Hotel & Casino?
Yes, they offer complimentary shuttles to the Elko Regional Airport. To be able to use this service, please get in touch with the concierge desk for more details. Make sure to book in advance, as these shuttles fill up quickly.
What Is The Smoking Policy At Maverick?
This casino hotel is 100% smoke-free. All areas are designated as non-smoking, including the casino floor, hotel rooms, and restaurants. Please note that there are designated outdoor smoking areas on the property.
What Is The Pet Policy At Maverick Hotel & Casino?
This casino hotel warmly welcomes all pet owners with their adorable companions. You and your furry ones can enjoy all the hotel amenities to the fullest. They allow pets of any size to join you during your stay for an additional fee of only $15 per night.
Is Wifi Available At Maverick?
Yes, they offer complimentary wifi access throughout the hotel and casino. Guests can connect with ease and surf the internet without any hassle. The connection is secure and encrypted to provide maximum security for all users.
What Is The Cancellation Policy For Maverick Hotel & Casino?
This casino hotel offers a flexible cancellation policy. You can cancel your reservation up to 24 hours before check-in without any penalty. Please note cancellations after the 24-hour window may be subject to additional fees or charges.
Conclusion
This casino hotel is a great destination for all kinds of gamers. Whether you're looking to win big with classic card games or just want to relax and watch the latest sports games, you'll find plenty of options at this Nevada gem.
From complimentary airport shuttles to smoke-free areas and pet-friendly policies, this casino will surely please everyone. Check out the website or social media pages for more information on promotions and special offers.