Nugget Casino Resort Sparks
Address: 1100 Nugget Ave, Sparks, NV 89431
Phone Number: +1 775-356-3300
Website: www.nuggetcasinoresort.com
Hours: Nugget Casino Resort is open 24 hours a day, 7 days a week.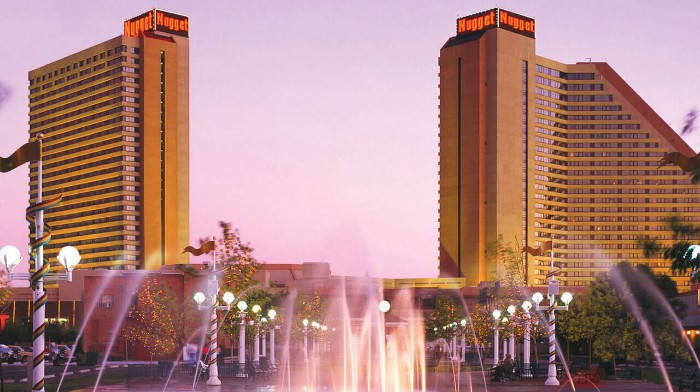 Nugget Casino Resort Sparks first opened its doors in 1955. Founded by John Ascuaga, the resort has gone through several renovations and expansions over its many years of operation.
After several changes to its ownership and management, the resort is now owned by Century Casinos and Marnell Gaming, with both having an equal stake in the establishment. The resort was originally known as the John Ascuaga's Nugget and featured restaurants and a hotel.
Today, the resort is a full-service casino with more than 900 slots and video poker machines, numerous table games, multiple restaurants, live entertainment and a 1,600-room hotel.
They also offer an array of amenities, including banquet rooms for corporate events or private parties, a fitness center and a pool area, and various other services. The resort is also a major destination for meetings, conventions, business retreats and weddings.
With its convenient location in Sparks, Nevada, this casino resort has become an integral part of the local community and continues to be one of the most popular entertainment destinations in the region.
According to reviews on TripAdvisor, guests have rated the casino resort highly, with an average of 4 out of 5 stars. One guest claimed, "It has everything you need, great staff, good food and fun gaming."
Another customer said, "I had a terrific time at the Nugget Casino Resort Sparks. It was great value for money, and I will definitely be back."
(Related reading: Nevada casinos)
Gaming
Their 52,000 sq. ft. casino floor offers hundreds of slot machines and table games such as blackjack, craps, roulette and more. They also have a bingo hall and a sportsbook.
Table Games
If you're looking for exciting and classic table games, then look no further than this casino. With a wide selection of classic options, you'll be sure to find something that fits your interests.
Whether you're looking to play a classic game like blackjack or want to try something different, such as Ultimate Texas Hold'em, they have it all. Craps has been upgraded and now features the exciting "Fire Bet".
Roulette is available, as well as Three Card Poker with a 6 card Bonus and Fortune Pai Gow Poker. Whatever your favourite game is, you'll find it here.
The minimum bets for most games at this casino are $5. However, some tables may have higher minimums during peak times or for certain events. Be sure to check with a casino representative if you're unsure about a specific table game's minimum bet.
Slots
This casino features a variety of slots with different payouts and bonuses. Some of the more popular slot machines at this casino include:
Buffalo Stampede
Ruby Magic
Betty Boop
Duo Fu Duo Cai
Lock it Link – Cats, Hats & More Bats
Red Phoenix
Anchor's Wheel of Gold
Fu Dao Le
The casino does not currently disclose the slot machine payback percentage. However, according to Nevada Gaming Commission regulations, all casinos within the state must have a minimum of 75% for each slot machine.
Hotel/Resort
This casino resort has a 1,600-room hotel attached. Each room is equipped with all the amenities to make your stay comfortable, such as air conditioning and full bathrooms.
Their rooms are divided into two towers, the Resort Tower and the Casino Tower. The Resort Tower offers easier access to the pool and fitness center, while the Casino Tower is close to all of its gaming options.
The Resort Tower has the most luxurious accommodations: Standard King rooms, Double Queen rooms, Petite King rooms, Hospitality Suites, and Bar King Suites.
For those looking for a more economical experience, the Casino Tower also provides Standard King rooms, Double Queen rooms and Hospitality Suites to meet every traveller's needs.
Additionally, this casino resort offers a wide variety of amenities for its guests. These include:
A selection of fine dining and casual restaurants
Fitness center
Indoor pool
Seasonal entertainment in the Events Center
Free self-parking
Airport shuttle
Gift shop
On-site arcade
Business center
ADA accommodations
Room rates at this resort depend on the type of room and season. Room rates start from $37 per night plus taxes and fees. Additional services like the airport shuttle and pet fees may cost extra.
Check-in time at Nugget Casino Resort is 3:00 pm
Check-out time at Nugget Casino Resort is 11:00 am
Restaurants & Buffets
If you're looking for a delicious dining experience, this casino is the perfect place to be. At Anthony's Chophouse, you can find delicious steaks and prime rib cooked to perfection, along with an extensive wine list.
Oyster Bar offers delicious seafood dishes inspired by the sea, while Rosie's Café serves up classic American favorites. At Island Grill, guests can indulge in traditional island-style cuisine, complete with Polynesian décor.
For those seeking something on the lighter side, Game On offers a variety of salads and sandwiches. And if it's just a caffeine fix you need, Starbucks Coffee offers all your favorite drinks. No matter your palate or meal preference, they definitely have something for everyone.
Pools
At this casino resort, guests can take a dip at any time of the year in their indoor Atrium Pool.
The eight individual bubble pools provide a serene and tranquil atmosphere where visitors can take a load off and relax, all while soaking up stunning views of the Sierra Nevada Mountains from within the luxurious interior.
Featuring floor-to-ceiling windows, visitors can marvel at the beautiful natural landscape while they bask in their vacation getaway.
Nugget Casino Resort, Sparks, NV FAQ
Does Nugget Casino Resort Sparks Have A Sportsbook?
Whether you're an avid sports fan or just looking to have some fun, this casino has you covered. They offer a top-of-the-line William Hill Sports Book right on-site, so you can catch all the action without ever leaving the resort.
With quick and easy betting options, this state-of-the-art sportsbook lets you control the games while also allowing you to enjoy its world-class amenities and facilities.
With their cutting-edge technology and knowledgeable staff, they make sure that betting with them is as enjoyable as possible.
Is Poker Available At Nugget Casino Resort?
Yes, this casino offers a variety of poker games. Whether you're looking for an exciting tournament or a friendly game of Texas Hold'em, they have plenty of options available. They also have a dedicated Poker Room offering daily tournaments with various levels of buy-ins.
What Are The Age Requirements For Gambling At Nugget Casino?
To participate in any form of gambling at this casino, guests must be 21 years or older. All guests under the age of 21 must be accompanied by an adult who is over the age of 21 at all times. Additionally, valid photo identification is required for all customers.
Does Nugget Have An Online Casino?
No, they do not have an online casino. However, you can still enjoy the casino experience by visiting their physical resort located in Sparks, Nevada. With a wide variety of slots and table games, you'll have no shortage of fun when you visit this luxurious resort.
Is There An Nugget Casino Resort Sparks App?
No, there is currently no app for this casino. However, you can stay up to date with all the latest news and information on their website. Additionally, you can sign up for their newsletter to be notified of any updates or special offers as they become available.
What Is The Dress Code At Nugget Casino Resort?
At this casino resort, guests are encouraged to dress smart-casually. This means avoiding flip-flops and tank tops, but also no tuxedoes or gowns. Sneakers and jeans are allowed as long as they're in good condition.
Is There An Airport Shuttle Available From Nugget Casino?
Yes, they offer an airport shuttle service between the casino resort and the Reno-Tahoe International Airport. The shuttle runs every hour on the hour, so make sure you plan your travel accordingly.
What Is The Smoking Policy At Nugget Casino Resort Sparks?
This casino resort has a strict no-smoking policy in all areas of the building. This includes cigarettes, cigars, electronic cigarettes, and any other smoking products. If you must smoke, there is a designated outdoor smoking area located on the property.
What Is The Pet Policy At Nugget Casino Resort?
Unfortunately, they do not allow pets on the property. However, if you require assistance with a service animal, don't hesitate to contact the resort in advance to make arrangements.
Is Wifi Available At Nugget Casino?
Complimentary wifi is available in all of their guest rooms, as well as in public areas throughout the property. You'll be able to stay connected and enjoy a seamless internet experience during your stay.
What Is The Cancellation Policy For Nugget?
If you need to cancel your reservation, please do so at least 24 hours prior to the scheduled arrival. If you fail to cancel within that time period, you will be charged a fee equal to one night's stay. Additionally, all reservations cancelled after this deadline are non-refundable.
Conclusion
Nugget Casino Resort is a luxurious and exciting casino located in Sparks, Nevada. With its world-class amenities, cutting-edge technology and knowledgeable staff, they make sure that betting with them is as enjoyable as possible.
They offer a variety of poker games, an airport shuttle service, complimentary wifi and more. Plus, their strict no-smoking policy ensures that all guests enjoy a safe and healthy environment.
With all that said, make sure you check out this casino resort for a truly unforgettable experience.