Owl Club Bar & Restaurant Eureka
Address: 61 N Main St, Eureka, NV 89316
Phone Number: +1 775-237-5280
Website: www.owlclubeureka.com
Hours: Owl Club Bar & Restaurant is open Monday 10:30 am–10:30 pm, Tuesday 10:30 am–10:30 pm, Wednesday 10:30 am–10:30 pm, Thursday 10:30 am–10:30 pm, Friday 10:30 am–10:30 pm, Saturday 6:30 am–10:30 pm, Sunday 6:30 am–10:30 pm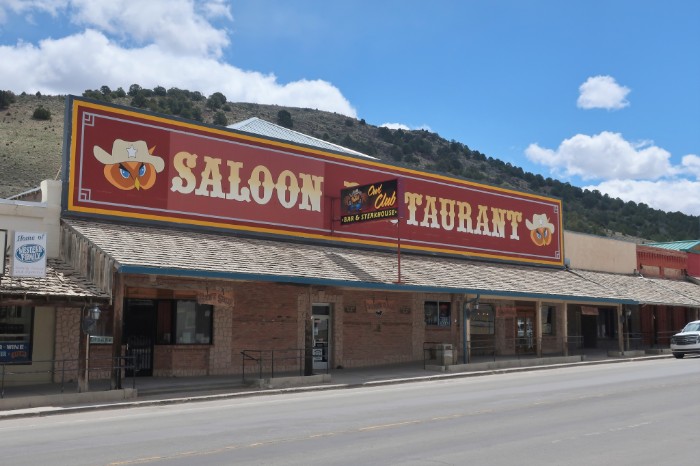 Owl Club Bar & Restaurant has been a staple in the Eureka community since its opening in 1981. It was founded by the Carrion Family, who had a passion for hospitality and wanted to create an inviting atmosphere that would allow locals and visitors alike to relax and enjoy the best of Eureka.
They are renowned for their flavorful menu, friendly staff, and warm atmosphere. Over the years, they have become a favorite destination for locals and visitors alike.
The restaurant offers an extensive menu of classic American fare, including burgers, sandwiches, steaks and much more. In addition to its delicious food offerings, it also boasts an impressive selection of beer, wine and cocktails.
In addition to its restaurant and bar, the property also offers several slot machines with various gaming options. Whether you're looking for a casual bite to eat, drinks with friends, or just looking for a place to unwind, this place is the perfect spot.
On TripAdvisor, it has a 4.5 out of 5 stars rating with over 500 reviews from satisfied customers. The restaurant also has an impressive 4.8 out of 5 stars rating on Google Reviews. One review stated, "This place is great! The food is always delicious, and their selection of beers is amazing!"
Another customer said, "Owl Club Bar & Restaurant is a great place to hang out, whether it be for dinner with friends or drinks after work. The atmosphere is always lively, and the service is top-notch!"
(Related reading: Nevada casinos)
Gaming
This casino is owned and operated by the Carrion Family and offers a variety of games that range from penny slots to video poker and more.
Table Games
At this casino, you can enjoy a night out spinning slot machines. While the club does not have traditional table games on-site, they offer an exciting selection of state-of-the-art slot machines with great prizes.
From classic slots to progressive jackpots and 3D fun, they are your ticket to the best gaming experience in the area.
Slots
If you're looking for a great spot to try your luck at some of your favorite slot machines, then this casino is the place to be.
They have an impressive selection of slots to choose from, including traditional dollar slots, multi-denomination slots where you can up the stakes, nickel slots for those on tighter budgets and of course, quarter slots.
You can even customize the playthrough amounts from anywhere between $0.05 and $50 per spin, so there's something for everyone. By law, slot machines at all Nevada casinos must return a minimum of 75% of the money put into them.
This casino's actual return on its slots is not publicly disclosed, but according to its customers, it does offer one of the highest returns in Eureka and the surrounding area.
Hotel/Resort
Located in Nevada, the casino is a great place to hang out with friends and enjoy some good food and drinks. But if you're planning an evening at this casino, it's worth noting that there isn't an onsite hotel.
Fortunately, there are plenty of nearby hotels like Santa Fe Station Hotel and Casino, Lucky Club Hotel & Casino, Plaza Hotel & Casino, and Best Western Plus North Las Vegas Inn.
All these locations are just a stone's throw away from this casino if you need somewhere to stay once you've enjoyed your night out.
Restaurants & Buffets
The Owl Club Steakhouse is a classic restaurant that offers a variety of excellent food and drinks to suit any taste. With everything from fine wines to craft ales, you can find something delicious no matter what you decide.
The menu features an array of succulent steaks, fresh seafood and mouthwatering desserts, all prepared by a talented kitchen staff. This fine dining experience also comes with impeccable service that will make any meal even more enjoyable.
With no buffet, freshness and top-notch customer service aren't compromised. Their focus is on making sure that every customer leaves happy and satisfied.
Pools
For an intriguing night out, look no further than this casino in Las Vegas. This iconic venue offers a plethora of entertainment that ensures an enjoyable and memorable experience for patrons.
From their sumptuous array of mouthwatering dishes to their live music performances and events, patrons will have plenty of opportunities to create lasting memories here.
Although they are not equipped with swimming pools, they guarantee an unforgettable time full of dancing, dining and fun.
Owl Club Bar & Restaurant, Eureka, NV FAQ
Does Owl Club Bar & Restaurant Have A Sportsbook?
No, the they do not have a sportsbook. However, they have an impressive selection of slot machines and video poker. If you're looking for sports betting, you must travel to another Nevada casino to take advantage of the action.
Is Poker Available At Owl Club?
If you are looking to play poker while enjoying a great evening out, then this may be just the spot for you.
This Vegas-style restaurant offers a full range of gaming amenities, including video poker machines. You can enjoy an amazing evening with friends and family, playing your favorite games and indulging in delicious food and drinks.
What Are The Age Requirements For Gambling At Owl Club Bar & Restaurant?
The legal age for gambling in Nevada is 21. Patrons must present a valid ID at the door to enter the casino.
Does Owl Club Have An Online Casino?
No, they do not have an online casino. However, there are plenty of options for those looking to play their favorite games from the comfort of their own home.
Many Nevada casinos offer online gaming platforms that allow you to enjoy a variety of slots and table games without ever leaving your house. These online casinos are often secure, easy to use, and offer plenty of bonuses and rewards.
Is There An Owl Club Bar & Restaurant App?
No, they do not have an app. However, they have a website to find all the information you need about their casino and restaurant. The website is easy to use, and you can even find out about upcoming events and promotions to know when the best time to come by is.
What Is The Dress Code At Owl Club?
The dress code at this casino & restaurant is casual. However, they ask patrons to refrain from wearing shorts, tank tops, and sandals while in the casino area. They also ask that visitors dress appropriately while attending events or dining in their restaurants.
Is There An Airport Shuttle Available From Owl Club Bar & Restaurant?
No, there is no airport shuttle available from this location. However, you may find other transportation options to get to and from the casino. You can always contact the staff for more information about getting to and from the casino.
You can also arrange for your own transportation if needed. There are plenty of taxi companies, ride-sharing services, and other options available to make the journey a breeze.
What Is The Smoking Policy At Owl Club?
They have a strict no-smoking policy. This includes all indoor areas of the casino, as well as outdoor patios and seating. They do provide designated smoking areas for guests who wish to smoke outdoors.
What Is The Pet Policy At Owl Club Bar & Restaurant?
Unfortunately, pets are not permitted inside the casino. However, there may be some exceptions for service animals used by those with disabilities. The staff can provide more information about their pet policy upon request.
Is Wifi Available At Owl Club?
Unfortunately, they do not offer free Wi-Fi at this casino. However, they have an extensive selection of games and activities that you can enjoy without the need for a connection. They also have plenty of delicious food options to satisfy any craving.
What Is The Cancellation Policy For Owl Club Bar & Restaurant?
As there is no hotel attached to the casino, there is no cancellation policy in effect. You don't also need to reserve a room in advance, as the casino is open to all. However, if you plan on attending a special event or tournament at the casino, it is best to contact the staff ahead of time.
Conclusion
Owl Club Bar & Restaurant is a great destination for those looking to try their luck at the tables. With plenty of gaming options, delicious food and drinks, and exciting events, this casino provides a thrilling experience for guests of all ages.
Be sure to follow the dress code and smoking policies, and bring a valid ID if you plan on gambling. Also, check out their website for more information about what they offer. With all that it has to offer, this is the perfect place for a night of fun and excitement.