OYO Las Vegas Hotel & Casino
Address: 115 E Tropicana Ave, Las Vegas, NV 89109
Phone Number: +1 702-739-9000
Website: www.oyolasvegas.com
Hours: OYO Las Vegas Hotel & Casino is open 24 hours a day, 7 days a week.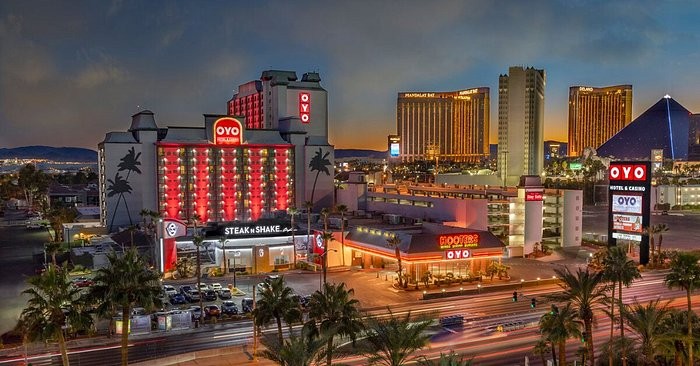 OYO Las Vegas Hotel & Casino is one of the oldest and most iconic casinos in Las Vegas. Initially, the land it was built on was a motor lodge with a small casino back in 1973.
After several renovations and expansions, it became the famous Hooters Casino Hotel in 2006 when Hooters of America bought it. However, a few financial problems faced the casino, and it was bought by OYO Hotels & Homes in 2019, renaming it as what it is today.
Since then, it has been a favorite destination for travelers from all over the world looking to experience Las Vegas in its true glory. Today, their 35,000 sq. ft. casino features over 500 slot machines, table games, and sporting events.
The property also houses a hotel that boasts over 600 rooms, each with chic furnishings and modern amenities. The hotel features several restaurants, bars, swimming pools, and other entertainment options that make your stay even more enjoyable.
This casino hotel has definitely something for everyone, from all-night gaming to poolside lounging and fine dining. It represents a unique combination of quality, convenience and affordability, making it the perfect choice for an unforgettable Vegas getaway.
On average, guests rate their stay at 4 out of 5 stars on TripAdvisor. Many guest claim that "the staff is really friendly and helpful, the casino is clean and it offers an amazing pool area with plenty of lounging and activities."
One guest even mentioned, "I've stayed in several Las Vegas hotels and OYO is by far the most comfortable and affordable. The rooms are big and very modern, with all the amenities you need for a great stay. I definitely recommend it."
(Related reading: Nevada casinos)
Gaming
Their casino offers 550 slot machines, including the latest and most popular titles. They also offer many table games with multiple tables for blackjack, craps, and more.
Table Games
This casino is perfect for a fun night out with friends or family. With a wide variety of table games, you'll be sure to find something that fits your needs.
From the classic blackjack game to the high-energy craps, whatever your style may be, you can enjoy it here. If cards are more your thing, try Pai Gow and get the chance to both divide and conquer.
And for a truly immersive experience, hop into a roulette game and take advantage of the thrill it can bring. So, no matter what type of game you prefer, this casino has you covered.
Table games at this casino are offered with minimums starting from $5, depending on the game. The casino also offers a variety of high-limit tables for select games. Additionally, they also offer $1 blackjack tables that make it easier and more affordable to play your favorite card game.
Slots
If you're planning a gambling trip to this casino, you'll have access to an impressive selection of slot machines. Some of the most popular options include Anchor's Wheel of Gold and Dollar Slots for those looking for a low-stakes game.
Traverse up the stakes ladder and choose from Five Dollar Slots, Megabucks, Quartermania Slots, Totem Pole and Wheel of Fortune Progressive Dollar Slots. If you prefer interactive games and TV-themed slots, check out Jeopardy and the immersive Multi-denomination Slots.
And if you're looking for a more affordable experience, test your luck at Nickels Deluxe, Nickel Slots, Penny Slots or Quarter Slots. Plus, don't forget about video poker for a classic casino experience.
According to Nevada Gaming Commission regulations, this casino's slot machine payback percentage is set at least 75%. So, whatever game you choose to play, you can rest assured that this casino has your best interests in mind.
Hotel/Resort
Their hotel is the perfect destination for guests looking to get away and escape the hectic city life. This modern hotel offers a variety of luxurious amenities, such as a large pool complex with multiple pools, cabanas, and sun loungers.
Each room is elegantly decorated and comes with comfortable beds, flat-screen TVs, modern furnishings, complimentary Wi-Fi, air conditioning and other convenient amenities.
With various room types ranging from standard one king to a premium room, you'll be sure to find one that suits your individual needs.
For those wanting an even more luxurious stay, they have premium rooms available with upgraded amenities. From their rooms, guests can choose a room that offers amazing views of either the Strip or the Pool area.
Those requiring special accommodations will be happy to note that some rooms offer ADA amenities. Whether it's for business or pleasure, their hotel has everything you need for a truly memorable stay.
This casino hotel offers a wide array of amenities, making it an ideal destination for travelers looking to get away. Some of these amenities include:
24-hour concierge
Wifi access
A variety of restaurants and bars
Fitness center
Swimming pools
Retail stores
Self-parking
Live entertainment
Their hotel offers a variety of room types and prices to meet the needs and budget of every guest. You can find a room for as low as $26/night plus additional taxes and fees. So, no matter your budget, you're sure to find something that fits your needs.
Check-in time at OYO Las Vegas Hotel is 4:00 pm
Check-out time at OYO Las Vegas Hotel is 11:00 am
Restaurants & Buffets
Although they currently do not have any buffet options, they offer a variety of restaurants for guests to choose from. This casino hotel has so much to offer in the way of food.
You can't beat Hooters Restaurant & Saloon for casual American-style dining with their famous wings and ice-cold beer. Steak 'n Shake's premium burgers and fries will really hit the spot, along with delicious hand-dipped milkshakes – a meal that beats fast food any day.
If you're looking for a bit more fun, don't miss out on Splash Cantina, the perfect spot to hang with your friends by the pool and savor some Mexican-inspired cuisine.
Southside Eatery is another great place to fuel up a day at the casino, offering everything from Krispy Kreme Doughnuts to Caribou Coffee and Pizza Hut pizzas – something for everyone's taste.
Pools
This casino is the perfect place to relax and enjoy a sunny day. The hotel offers two gorgeous pools with lush landscaping, lounge chairs, and plenty of open spaces to stretch out and soak up some sunshine.
Whether you're looking to get in a few laps, cool off with a refreshing dip, or relax on a float and take in the scenery, their pools are sure to be the highlight of your vacation.
OYO Las Vegas Hotel & Casino, NV FAQ
Does OYO Las Vegas Hotel & Casino Have A Sportsbook?
This casino features an on-site sportsbook where you can watch and bet on your favorite sporting events.
The William Hill Sports Book, conveniently located in the heart of the casino floor, is your go-to destination for the most popular betting lines and wagering options for major U.S. sports such as football, basketball, baseball and more.
There's something for everyone, from traditional bets to unique lines and straight bets. With its state-of-the-art betting stations and comfortable seating area, you'll feel like a bonafide expert as you enjoy the excitement of live gaming.
Is Poker Available At OYO Las Vegas?
This casino has plenty of options when it comes to poker games. They offer a variety of video poker machines and tables for you to try your luck, as well as weekly tournaments for Pai Gow Poker, where even novice players can participate in.
What Are The Age Requirements For Gambling At OYO Las Vegas Hotel & Casino?
The minimum age to gamble at this casino is 21 years of age. All players must present a valid ID to participate in any form of gambling or gaming activity. Any players found to be under the age of 21 will be denied entry and asked to leave.
Does OYO Las Vegas Have An Online Casino?
No, this casino does not currently have an online casino. However, they offer visitors many other gaming options, such as video poker and table games. As of now, there is no indication that the casino will be offering an online platform in the near future.
Is There An OYO Las Vegas Hotel & Casino App?
No, there is currently no app for this casino. However, visitors can book rooms and view information about the hotel and casino on their website, which is fully optimized for mobile devices.
What Is The Dress Code At OYO Las Vegas?
The dress code at this casino hotel is casual. While there is no strict dress code, guests are encouraged to wear appropriate clothing for the environment. Shoes and shirts must be worn at all times.
Is There An Airport Shuttle Available From OYO Las Vegas Hotel & Casino?
Unfortunately, this casino does not offer an airport shuttle service for its guests. However, several taxi and rideshare services can easily take you to and from McCarran International Airport.
Additionally, several car rental companies are located near the hotel, making it easy to get around town.
What Is The Smoking Policy At OYO Las Vegas?
All forms of smoking, including cigarettes, pipes, and electronic nicotine delivery systems such as vapes, e-cigarettes and the like, are prohibited in the rooms designated as non-smoking. Under Nevada law, marijuana use is not allowed on property whatsoever.
What Is The Pet Policy At OYO Las Vegas Hotel & Casino?
Pets are not allowed in hotel rooms. However, service animals for those with disabilities will be allowed on the property and in designated areas. Guests should contact the front desk before bringing a pet onto the property so appropriate accommodations can be made.
Is Wifi Available At OYO Las Vegas?
This casino hotel is pleased to offer complimentary Wifi access for your convenience. All guests staying at the hotel will have full access to Wifi during their stay, with connection available in all guest rooms.
What Is The Cancellation Policy For OYO Las Vegas Hotel & Casino?
The cancellation policy for this hotel and casino is 48 hours prior to check-in. Guests must cancel their reservation 48 hours before check-in to avoid incurring fees.
Cancellations made after this time may be subject to a fee. Payment for all charges will be taken from the credit or debit card used when making the booking. Guests should contact the hotel directly for more information about their cancellation policy.
Conclusion
OYO Las Vegas Hotel & Casino is a great place to stay for anyone looking for a fun and exciting casino experience.
With a variety of gaming options, excellent restaurants, and top-notch accommodations, this casino has something for everyone. While the hotel does not have an online casino or app available yet, they offer many other amenities that make it enjoyable to stay there.
Whether you're looking to spend some time at the slots or want to relax in a comfortable room, this is the place for you.