Palace Station Casino Las Vegas
Address: 2411 W Sahara Ave, Las Vegas, NV 89102
Phone Number: +1 702-367-2411
Website: www.palacestation.com
Hours: Palace Station Casino is open 24 hours a day, 7 days a week.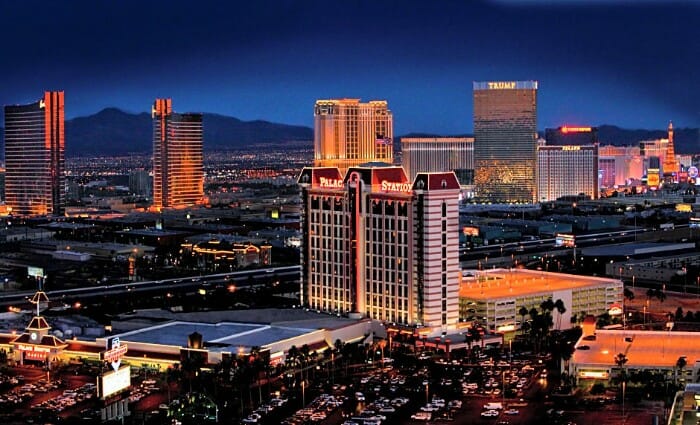 Palace Station Casino opened its doors in 1976 on the far west side of the Las Vegas Strip. Initially, it was built as a 5,000-square-foot casino owned by Frank Fertitta Jr., the founder of Station Casinos.
The casino has undergone several renovations over the years to keep up with modern times. With its grand reopening in 2018, the casino expanded to 220,000 square feet with new parking space and luxury amenities.
Today, this casino is one of the most popular gaming destinations in Las Vegas for both locals and tourists alike. It is now an award-winning casino resort with over 500 hotel rooms, various restaurants and bars, a movie theater, and a large gaming area.
Their casino boasts over 1,700 slots and a variety of table games, including blackjack, craps, roulette and more. They also offer live keno, bingo and poker rooms with a wide selection of tournaments.
This casino is dedicated to providing its guests with an exciting and safe gaming environment, as well as unbeatable customer service. Whether you're looking to hit the slots or participate in one of their many tournaments, they are sure to provide an unforgettable experience.
On most online review sites, this casino has an overall rating of 4 stars out of 5. One customer said, "It was my first time, and I really enjoyed the atmosphere. The staff were all friendly, the games were exciting, and everyone seemed to be having a good time. Definitely recommend it!"
Another customer said, "I had a great time at Palace Station Casino! The staff were all accommodating and friendly, the games were exciting, and I was able to win some money too. Definitely worth a visit if you're looking for an enjoyable evening out."
(Related reading: Nevada casinos)
Gaming
Their 84,000-square-foot casino floor offers over 1,700 slots and video poker machines. They also have a variety of table games available, including blackjack, craps, roulette and more.
Table Games
At this casino, you can enjoy various classic and modern table games to suit all skill levels. Whether you'd like to go for the thrill of the dice at craps, the sophistication of baccarat or the real texas hold'em experience, they have something for everyone.
If you decide to hit the blackjack tables, you can choose from single-deck, double-deck and six-deck games. Looking for a poker game with an Asian flair? Then give Pai Gow Poker a try when you visit this casino.
Finally, don't forget that good old favorite roulette – an easy game even for newbies but providing plenty of thrills and fun moments.
The minimums for the casino's table games vary depending on the game and time of day. The typical minimum bet at most of the table games during peak times is $5-$10.
Slots
This casino is home to some of the most popular slot machines around. Spin the reels on Triple Red Hot 7s to try and land a fiery combination of lucky 7s.
Quick Hits pays out big if you get all five symbols lined up just right, while Double Diamond could be your ticket to some significant jackpots. Wheel of Fortune will deliver free spins, money multipliers, and even a progressive jackpot for those looking for an exciting bonus round.
Finally, if you're daring, why not try Lightning Strike – a recent addition to this casino that offers huge payouts thanks to its multiple bonus rounds? No matter your choice, it's sure to be an electrifying experience.
The slot machine payback percentage at this casino is currently unavailable. However, they do follow the minimum gaming regulations set out by the Nevada Gaming Commission, which requires a minimum return of 75%.
Hotel/Resort
For those looking to stay the night, their property has a 500-room hotel that offers standard rooms as well as one and two-bedroom suites. All rooms are equipped with complimentary Wi-Fi, television, mini fridge and more.
Some of their most popular rooms include the Executive Suite with its expansive living area; the Grand Suite offers sweeping views of Las Vegas' iconic skyline; and the Parlor Suite features separate bedrooms and bathrooms.
The Premier Double Queen room includes ample space for up to four guests; the Premier King is equipped with an ultra-comfortable mattress and oversized desk; and the Studio Suite offers flexible floor plans.
Aside from the exciting gaming experience, this casino offers an array of amenities and services to make your stay even more enjoyable. Some of these include:
Free self-parking
Valet parking
24-hour front desk
Daily housekeeping
Dry-cleaning service
Outdoor pool with cabanas
Fitness center
Onsite restaurant, bar and lounge areas
Live entertainment
Business center with meeting facilities.
The cost of your stay at this hotel will depend on the type of room you choose. Rates range from as low as $49 per night plus taxes and fees. Additional amenities such as valet parking and pet fees may also apply.
The casino offers special packages and promotions throughout the year, so check their website for additional information on discounted rates and other offers.
Check-in time at Palace Station is 3:00 pm
Check-out time at Palace Station is 11:00 am
Restaurants & Buffets
Even though you won't find traditional buffets at this casino, plenty of restaurants and dining options are available for guests. The Brass Fork will hit the spot for those who love classic comfort food. Seafood fanatics will appreciate The Boathouse with its rich and delicious fish offerings.
Craving a succulent steak? The Charcoal Room is your destination. If you'd rather have something light yet delicious, The Oyster Bar serves up some mighty tasty dishes.
Of course, there are also must-have fast food spots such as Panda Express and Wingstop if you're short on time (or need a bite!). Plus, don't forget Starbucks for that perfect pick-me-up, Tacos & Tequila for some Mexican flavors, or Tailgate Social when you need some good old bar grub.
Whatever cuisine you may be hungry for, there's no shortage of great eateries at this casino that will keep you full and happy.
Pools
Experience the luxury of Las Vegas in the comfort of this casino. Visit their pool, The Palace Pool, for an unforgettable experience.
Whether you're lounging on one of the cabanas or daybeds or sipping on a refreshing cocktail from The Bar or Pool Bar, there's something for everyone to make your time at the pool extra special.
Plus, with restaurant and retail options nearby, you can rest assured that all your needs will be met during your stay. It's the perfect way to escape the hustle and bustle of everyday life in Las Vegas.
Palace Station Casino Las Vegas, NV FAQ
Does Palace Station Casino Las Vegas Have A Sportsbook?
Located just off the Strip and known for its exciting atmosphere and thrilling gaming, this casino is home to one of the largest Sports Books in Nevada. With big HD TVs, comfortable seating and a betting board, you'll have everything you need for an amazing experience.
And the best part? With mobile wagering through STN Sports, you can place bets right from your device anytime. Plus, you can take advantage of special promotions and offers to make your betting even more exciting.
Is Poker Available At Palace Station Casino?
Yes, you can find plenty of poker action at this casino. Whether you're a seasoned pro or just starting out, there are numerous games to choose from. Plus, there are daily tournaments with varying buy-ins and great prize pools.
What Are The Age Requirements For Gambling At Palace Station?
The minimum age for gambling in this casino is 21 years of age. All guests must be able to provide valid proof of age when requested by casino staff. Failure to do so may result in being asked to leave the premises.
Does Palace Station Casino Las Vegas Have An Online Casino?
This casino is one of the hottest gambling destinations in Vegas, and its offerings can now be accessed from the convenience of your own home.
They have an online casino through a mobile app, STN Play, providing players with a virtual destination for classic slots, video machines and much more.
Players can customize their own grab-and-go gaming experience tailored to what they want – choose your tastes and style, and away you go.
Is There An Palace Station Casino App?
No, there is not currently an app available for this casino. However, guests can access all the information they need from the website or STN Sports mobile app to place their bets.
Additionally, for those who prefer to gamble on the go, STN Play provides a virtual destination with classic slots, video machines and much more.
What Is The Dress Code At Palace Station?
The dress code at this casino is casual. Shorts, jeans, and t-shirts are all accepted as long as they are not offensive or excessively revealing. Dress shoes and hats must also be removed upon entry.
Is There An Airport Shuttle Available From Palace Station Casino Las Vegas?
Unfortunately, there is currently no airport shuttle available from this casino to the airport. However, there are several transportation options, including taxis, limousines and ride-share services, that all provide service to McCarran International Airport.
What Is The Smoking Policy At Palace Station Casino?
For the comfort of all guests, smoking is not permitted in any of the indoor areas of this casino. An outdoor designated smoking area is available for those who wish to smoke.
Additionally, e-cigarettes are not allowed in any casino area, including gaming areas and restaurants. E-cigarettes must be used only in designated smoking areas.
What Is The Pet Policy At Palace Station?
Unfortunately, pets are not allowed in any of the casino areas. Guide dogs and service animals are allowed, provided they have proper identification and certification. If you require a service animal, please contact the casino before your visit and make arrangements.
Is Wifi Available At Palace Station Casino Las Vegas?
Yes, free wifi is available for all guests throughout the property. Additionally, there are business centers available with computers and printers that guests can use to stay connected while onsite.
Please note that the casino does not guarantee network availability or speeds. The wifi is provided as a courtesy and may experience interruptions due to fluctuations in demand, equipment malfunctions or other issues.
What Is The Cancellation Policy For Palace Station?
Their cancellation policy varies depending on the type of booking and package chosen. When making a reservation, please check their website for complete details on their cancellation policies.
For most rooms, cancellations must be made at least 72 hours prior to arrival for a full refund. Cancellation requests made after that time are subject to an administrative fee. Please note that certain rates may require full payment at the time of booking.
Conclusion
Palace Station Casino Las Vegas is one of the hottest places for gambling in Vegas. With its online casino, mobile app and free wifi, guests can enjoy the convenience of virtual gaming from their homes or while onsite. The dress code is casual, and smoking is not allowed indoors.
Pets are not permitted, but guide dogs and service animals are allowed with proper identification and certification. Cancellation policies vary depending on the package chosen, so please check carefully when making reservations.
With all these great features, this casino resort is sure to be a hit for anyone looking for a fun night out in Las Vegas.