Peppermill Casino Reno
Address: 2707 S Virginia St, Reno, NV 89502
Phone Number: +1 800-648-6992
Website: www.peppermillreno.com
Hours: Peppermill Casino Reno is open 24 hours a day, 7 days a week.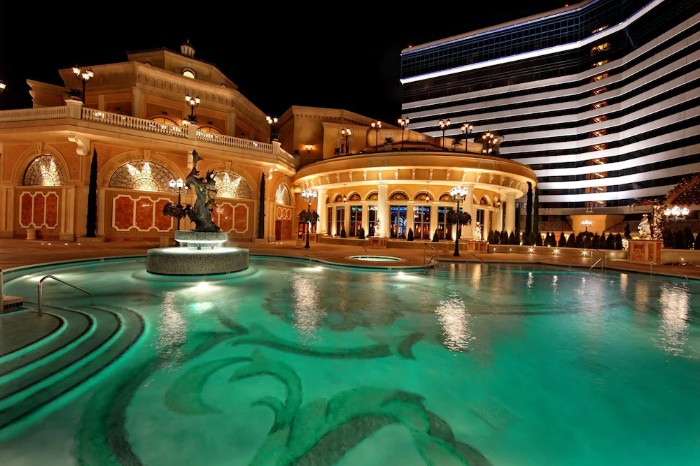 Peppermill Casino Reno officially opened its doors in 1971 as a coffee shop with a lounge. It was built by two local businessmen and good friends, Bill Paganetti and Nat Carasali. Additionally, their establishment currently features geothermal energy technology.
After several expansions and upgrades, the resort has grown to encompass over 1,600 rooms and suites, several restaurants and bars, and a spa and salon. In addition to a full casino, the property also includes a sports lounge and convention center.
Since its opening, they have become one of the most popular casinos in Northern Nevada. Its large gaming floor features over 1,700 slots and video poker machines along with dozens of table games.
In addition to its impressive amenities, they are known for its unique decor and entertainment. Fountains, fire pits, and chandeliers are quite common throughout the gaming floor.
Visitors can also enjoy live music, comedy shows at their cabaret theatre, and weekend pool parties during the summer months. And the resort is home to one of the largest selections of loose slot machines in the area.
This casino resort is a popular destination for visitors and locals alike, offering exciting gaming options that make it an ideal choice for a night out. With its impressive facilities and friendly staff, this casino is truly a one-of-a-kind experience.
Guests generally rate this casino very highly. It has an average rating of 4.5 stars out of 5 on most major travel websites such as TripAdvisor and Google Reviews. One guest said, "The Peppermill Reno is a great place to stay and play. Great atmosphere, friendly staff, and lots of fun."
Another visitor said, "The Peppermill Casino Reno is a great place to visit for an evening or even a weekend and be assured that you will have a great time. The staff is friendly, the games are fair, the food is good, and the atmosphere is inviting."
(Related reading: Nevada casinos)
Gaming
This casino offers gaming options for every type of player. They offer a full selection of slots, table games, and video poker machines. There's also a popular race and sports book and bingo hall.
Table Games
Whether you're a veteran in the world of table games or looking to try something new, this casino offers something for everyone.
Experience the classic blackjack game, bet it all on a hot roll with craps, spin and win with roulette, play the high-stakes game of baccarat — and if you're really feeling lucky, try your hand at Fortune Pai Gow Poker.
Play your cards right in Three Card and Four Card Poker, maximize your chances of winning in Ultimate Texas Hold'em and try two exciting Asian-inspired strategies when playing Pai Gow Tiles.
The table games at this casino offer a variety of betting limits. You can find minimum bets as low as $5 and high-limit action up to $2,000.
Slots
There are over 1,700 slots and video poker machines at this casino. Popular games include:
Casino Wizard VIP
Buffalo Link
Casino Wizard
Mystical Unicorn
Ultimate Fire Link
Zoltar
Davinci Diamonds
The Vault
Fu Dao Le
Grand Fu Wheel
Smokin' Hot Stuff Wicked Wheel
Wild Wild Samurai
Buffalo Gold Revolution
Dragon Link
Buffalo
Lightning Link
This casino does not currently publish its slot machine payback percentages. The Nevada Gaming Commission regulates it, and all gaming regulations require casinos to pay back at least 75%.
Hotel/Resort
Their hotel and resort are one of the most luxurious in Northern Nevada. The resort features 1,600 rooms and suites with views of the valley and nearby mountain range. Each room is equipped with a flat-screen TV, premium bedding and all the modern amenities you'd expect.
Their accommodations are divided into three locations: The Peppermill Tower, The Tuscany Tower and North & West Wings.
These luxurious venues offer various lodging options for every type of traveler, from the luxe suites in the Peppermill Tower to the Mediterranean flair of the Tuscan Towers.
Suites range from Deluxe Kings and Grand Suites in the Peppermill Tower to Tuscany King Suites, Florence Suites and Sienna suites in the Tuscany Tower. Lastly, their North and West Wings offer standard king rooms or Parlor Kings for those looking for superior relaxation.
This casino offers guests plenty of amenities to enjoy during their stay. Some of them include:
Outdoor pools
Fitness center
Full-service spa and salon with sauna
Arcade room
Free self-parking
EV charging station
Meeting and banquet facilities
ADA amenities
Rates vary depending on the type of room and time of year. Normally, rates start as low as $60 and can go up to $229. You can find more information and book accommodations online through their official website.
Check-in time at Peppermill is 3:00 pm
Check-out time at Peppermill is 11:00 am
Restaurants & Buffet
Even though this casino location does not have an in-house buffet, you can find a tasty selection of restaurants and eateries. Start with a romantic dinner at the Bimini Steakhouse, where you can sample delectable entrees like filet mignon, surf, and turf.
Fill up on Asian-fusion delicacies at CHI, or sink your teeth into Italian classics like carbonara and veggie lasagna at Romanza. Sabroso is sure to tantalize your taste buds with Mexican eats like ceviche and taco platters.
Seafood fans will want to hit Oceano for fish tacos and fresh oysters, while Cafe Milano serves up delectable pizzas and pasta dishes. For a more casual bite, drop by Biscotti's or Cafe Espresso for sandwiches, wraps, salads and desserts.
If you're looking for a quick snack, Sports Deli offers classic ballpark fare, such as hot dogs and burgers, plus flavorful pastries from their selections of international sweets. And don't forget about the Back Bar for craft cocktails, drafts beers and other local favorites.
Pools
Take a splash in the luxurious pools of this casino's location! Their upper and lower deck pools offer the perfect place to cool off or take in some sun.
During the summer months, enjoy grabbing a quick bite from Sole Cafe or a refreshing drink from Sole Poolside poolside bar while relaxing in the hot tub spas. Plus, the lower deck pool is even heated all year round so that you can splash comfortably no matter the season.
So if you are looking for a little luxury and some fun and exciting ways to keep the night going, head over to this casino.
Peppermill Casino Reno, NV FAQ
Does Peppermill Casino Reno Have A Sportsbook?
For avid sports fans visiting Reno, you may be wondering if the casino offers a Sportsbook. The answer is yes! In fact, the renowned Casino resort features an exciting Race & Sportsbook right inside their casino.
You'll feel right at home as you relax in custom-made seating areas with striking sights and sounds surrounding you. Their sportsbook is a go-to spot for any gambling enthusiast, with multiple flat-screen TVs, dozens of betting lines, plus free snacks and beverages.
They also offer mobile betting for on-the-go convenience with Peppermill's Sports Book App. With it, you can place bets while watching your favorite teams from the comfort of your own home.
Is Poker Available At Peppermill Casino?
Yes, they have an exciting selection of poker games for players to choose from. Whether you're a beginner or a seasoned pro, the casino offers plenty of different tables and stakes.
What Are The Age Requirements For Gambling At Peppermill Casino Reno?
Guests must be 21 years old or older to gamble at this casino. You will be asked to provide a valid ID upon check-in. Without it, you will not be allowed to enter the casino. Additionally, all persons under 21 are prohibited from being in any area of the casino floor.
Does Peppermill Have An Online Casino?
No, they do not have an online casino. Players can only access the casino in person and must be present at their Reno location to engage in gambling activity.
Additionally, all guests must adhere to the casino's safety protocols and social distancing guidelines. If you have any additional questions or concerns, please do not hesitate to contact the casino for more information.
Is There An Peppermill Casino App?
No, they do not have a mobile app. However, they offer a Sports Book App that allows you to place bets while watching your favorite teams from the comfort of your home.
You can also access their website or contact the casino directly with any questions or concerns that you may have. The staff at this casino will be more than happy to assist you.
What Is The Dress Code At Peppermill?
The dress code at this casino is smart casual. While they do not have a strict dress code, they ask that all guests respect the environment by wearing appropriate attire. This includes no athletic wear or clothing with offensive images or language.
Is There An Airport Shuttle Available From Peppermill Casino Reno?
Yes, they offer an airport shuttle that departs from the valet area outside the hotel lobby every half-hour beginning at 4 am. The last shuttle going to the airport takes off at 11:30 pm, while the first shuttle arriving at the casino from the airport is at 4:15 am, continuing until 11:45 pm.
What Is The Smoking Policy At Peppermill Casino?
This casino offers a non-smoking gaming environment. This means that guests are not allowed to smoke in any of the casino's gaming areas.
Additionally, there is a designated smoking area located around the casino. Guests are asked to respect this policy and to use the designated smoking areas whenever possible.
What Is The Pet Policy At Peppermill?
Unfortunately, this casino does not allow guests to bring any pets inside their premises. Only certified service animals are allowed on their property.
If you have any additional questions or concerns, please do not hesitate to contact the casino directly for more information. They will be more than happy to help you out.
Is Wifi Available At Peppermill Casino Reno?
Yes, free WiFi is available throughout the entire property. Guests can access the internet from anywhere in the casino and enjoy convenient high-speed connections for streaming and gaming.
Talk to the hotel staff if you experience any issues with the connection, and they'll be more than happy to assist you.
What Is The Cancellation Policy For Peppermill Casino?
Guests must cancel 24 hours prior to their reservation to avoid any charges. Just be aware that the cancellation requirement is 72 hours before your reservation for Holidays and Special Event dates.
Conclusion
Peppermill Casino Reno is a great place to visit for some fun and entertainment. With a welcoming atmosphere, exciting gaming options, and helpful staff always ready to assist you, it's no wonder this is one of the most popular casinos in Reno.
Be sure to review the casino's policies and guidelines before visiting, so you can have a great time and stay safe while enjoying your experience. Also, bring your valid ID and adhere to their safety protocols for an enjoyable visit.