Pioneer Crossing Casino Yerington
Address: 11 N Main St, Yerington, NV 89447
Phone Number: +1 775-463-2481
Website: www.pioneercrossingcasino.com/yerington/
Hours: Pioneer Crossing Casino is open 24 hours a day, 7 days a week.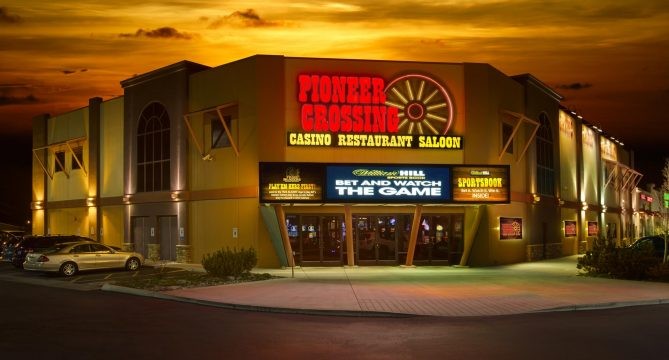 Pioneer Crossing Casino in Nevada was opened as part of the Pioneer chain of casinos. This casino is located in the historic mining town of Yerington and has quickly become a favorite destination for visitors to enjoy gaming, dining and entertainment.
Located just off Highway 95 in beautiful downtown Yerington, this casino is owned by Truckee Gaming, LLC and has been around for quite some time now. The state-of-the-art facility features more than 140 of the latest slot machines and table games.
Guests can also enjoy delicious food from multiple dining options and a classic saloon. Additionally, the property features various amenities such as a bowling alley, a movie theater and a convention center that can be used for conferences, meetings, wedding receptions and more.
The establishment also offers live entertainment, weekly promotions and special events. With its convenient location and a great variety of gaming options, it's no wonder why this casino has become a popular destination for locals and visitors alike.
On the most popular review websites, this casino is rated very highly by guests. The venue has an average rating of 4.5 out of 5 stars from customers who have experienced the casino's offerings.
One guest claimed, "I had a great time at Pioneer Crossing Casino. The staff was friendly, the atmosphere was pleasant, and it was easy to find what I wanted." Another said, "This casino is one of my favorites in Nevada. They have good food and great gaming options."
Whether you're looking for a relaxing evening at the casino or an exciting night on the town, this casino is sure to provide a memorable experience.
(Related reading: Nevada casinos)
Gaming
This casino features more than 140 of the latest slot machines and table games including blackjack and roulette. Guests can also take part in weekly promotions as well as various tournaments throughout the year.
Table Games
If you're looking for an exciting social game to play, then you'll be thrilled with the options available at this casino.
They have the only Blackjack tables for more than 50 miles, so if card games are your thing, you'll have plenty of opportunities to practice your skills. The casino offers double-deck blackjack, a classic form of the game enjoyed by players of all skill levels.
The minimum bet for all the table games at this casino starts at as low as $5. Whether you're a beginner or a seasoned veteran, there's something to suit your playing style and ensure everyone has a great time. 
Slots
At this casino, guests can enjoy a selection of classic and modern slot machines. Some popular titles include:
Spartacus Gladiator of Rome
Genie's Riches
Jaguar Mist
Miss Kitty
Pixie Power
Sphinx
Lightning Link
Dancing Drums
88 Fortunes
Dragon Link
The payback percentage for slot machines at this casino is currently unknown. However, the Nevada Gaming Commission does require all casinos in the state to adhere to a minimum payback percentage of 75%.
Hotel/Resort
This casino is a great destination for anyone looking to take a gamble. Whether you're an experienced gambler or are trying your luck for the first time, this resort has something for everyone.
While they do not have an on-site hotel, there are some great nearby options if you're planning on spending more than one day here.
The Yerington Inn and Main Street Inn both offer comfortable and affordable accommodations, while Walker River Resort is perfect for outdoor enthusiasts who also desire the convenience of being close to the casino.
No matter which option you choose, you can trust that your stay at this casino will be one to remember.
Restaurants & Buffets
Although there is no buffet at this casino, there are multiple dining options to choose from.
Enjoy a freshly cooked meal in classic Western style at the Branding Iron Café and Steakhouse located within the casino. You can savor all of your favorite steak, ribeye, seafood, and burger dishes in a spacious atmosphere made for dining.
If you're looking to have fun with your friends while grabbing something to eat, the Branding Iron Saloon is the perfect spot with an extensive collection of drinks to choose from. No matter what type of food you're after, the dining options at this casino will have you covered.
Pools
In this casino, you don't have to worry about missing out on a refreshing dip in the pool. That's because there are no pools onsite.
But that doesn't mean the fun stops as there are plenty of other activities available to make sure you get your fill of entertainment during your stay, such as all the games and slots inside the casino.
Plus, if you feel like catching some fresh air outside, they have beautiful outdoor spaces featuring stunning views of Nevada's breathtaking landscape.
If you really want to cool off, you can check with your hotel to see if they offer access to a pool or hot tub during your stay.
Pioneer Crossing Casino Yerington, NV FAQ
Does Pioneer Crossing Casino Yerington Have A Sportsbook?
Unfortunately, this casino does not currently have a sportsbook or betting options available. However, they do offer a variety of table games, slots, and entertainment options for guests to enjoy.
Is Poker Available At Pioneer Crossing Casino?
Unfortunately, at this casino, you won't find the traditional table poker experience that you might be looking for. However, the casino does offer video poker to its patrons.
There are several denominations of games available, so there's likely a game to match any budget. Video poker can be a great way to kick back and have some fun without feeling intimidated by more experienced players.
What Are The Age Requirements For Gambling At Pioneer Crossing Casino Yerington?
Patrons must be at least 21 years old to enter the casino and take part in any of the gambling activities. IDs will be checked upon entry, so make sure you have your valid ID with you when visiting the casino.
Does Pioneer Crossing Casino Have An Online Casino?
At this time, there is no online casino available for this property. However, you can still visit the physical location and enjoy all of the games and entertainment they offer. If you're looking to enjoy the full casino experience, then the on-site option is the best bet.
Is There An Pioneer Crossing Casino Yerington App?
Currently, this casino does not offer an app to its patrons. However, they do have a website that provides helpful information about the property and what it has to offer. You can check out the latest promotions, news, and events by visiting their website.
What Is The Dress Code At Pioneer Crossing Casino?
The dress code at this casino is casual. You should always make sure that you are dressed appropriately and not wearing any offensive or inappropriate clothing when visiting the casino, however. They do reserve the right to refuse entry if they deem your outfit to be inappropriate.
Is There An Airport Shuttle Available From Pioneer Crossing Casino Yerington?
Unfortunately, this casino does not provide an airport shuttle service for its guests. It is recommended to check with your hotel for any transportation options they may offer or inquire about car rental services in the area.
What Is The Smoking Policy At Pioneer Crossing Casino?
This casino is a non-smoking facility, and they have strict rules in place to ensure that all areas are kept smoke-free. If you wish to smoke, there is an outdoor patio area where smoking is allowed. Additionally, vaping is also prohibited on the premises.
What Is The Pet Policy At Pioneer Crossing Casino Yerington?
Unfortunately, pets are not allowed inside the casino. Service animals, however, will be permitted with proper documentation. If you plan on visiting with a service animal, it is recommended to contact the property ahead of time so they can make arrangements for your visit.
Is Wifi Available At Pioneer Crossing Casino?
Yes, there is free wifi available to all guests of the casino. Simply connect to the network and enter your login credentials to gain access. This can be a great way to stay connected while you're visiting the property.
What Is The Cancellation Policy For Pioneer Crossing Casino Yerington?
The cancellation policy for this casino will depend on the type of reservation and promotion that was booked. It is recommended to contact the property directly with any questions or concerns regarding their specific policies.
Conclusion
Pioneer Crossing Casino is a great place to try your luck and have some fun. With plenty of gaming options, entertainment, and restaurants available on-site, there's something for everyone to enjoy.
Be sure to check the age requirements and dress code before your visit, and make sure you bring valid identification with you. Additionally, take advantage of the free wifi and outdoor smoking area, and make sure to read up on the cancellation policies for any reservations you may have.
With a little bit of planning ahead of time, you can create an unforgettable experience at this casino.