Plaza Hotel & Casino Las Vegas
Address: 1 N Main St, Las Vegas, NV 89101
Phone Number: +1 702-386-2110
Website: www.plazahotelcasino.com
Hours: Plaza Hotel & Casino is open 24 hours a day, 7 days a week.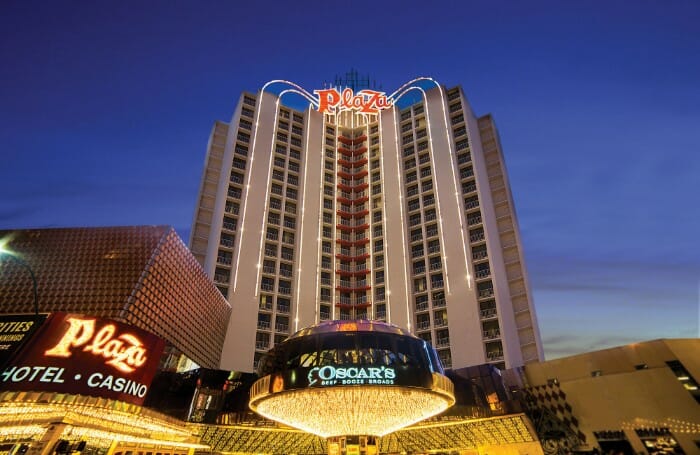 Plaza Hotel & Casino Las Vegas is a hotel and casino located in the heart of Downtown Las Vegas. The hotel has been open since 1971 and is one of the oldest casinos on the Strip. It was originally built by a group of local investors and was later purchased by the Tamares Group in 2005.
Before its purchase, the casino was known as the Union Plaza Hotel & Casino, the largest casino hotel in the world. The Union Plaza had a long and colourful history, beginning with its opening day celebration on June 1, 1971.
Over the years, the hotel has been renovated several times and now features over 900 rooms, a casino with slots and table games, a sports book, a keno lounge, a bingo room, multiple restaurants and bars, and an array of entertainment options.
Additionally, the hotel is home to the Plaza Event Center, which hosts a variety of events, from boxing matches and concerts to conventions and banquets.
The casino is also known for its iconic seven-story sign, which overlooks downtown Las Vegas. This landmark has become synonymous with the city's nightlife and entertainment culture, providing an iconic backdrop for many of Las Vegas's most memorable moments.
Guests at this casino generally have positive experiences. In fact, the hotel has a 4 out of 5 rating on TripAdvisor and numerous reviews praising its convenient location in downtown Las Vegas, comfortable rooms and helpful staff.
One guest said, "The Plaza Hotel & Casino Las Vegas is a great place to stay. The rooms were very clean and comfortable, the staff was friendly and helpful, and the location was perfect for exploring downtown Las Vegas. Highly recommend!"
(Related reading: Nevada casinos)
Gaming
Their 80,000-square-foot casino floor features over 700 slot machines and several table games, including blackjack, craps, roulette and more. The sports book on the main floor is a great place to watch your favorite teams while enjoying a cold beer or a cocktail.
Table Games
This casino offers an exciting array of table games for all players. Whether you're a seasoned gambler or just trying out the tables, you'll find something to your liking. Blackjack is particularly popular here, with both Double Deck and Free Bet versions available.
Craps fans will love rolling the dice on their New Saturn Glo Roulette Wheel and New Blaze Roulette table. Meanwhile, poker enthusiasts can try their hand at face-up Pai Gow Poker, 3 Card Poker and Ultimate Texas Hold Em.
And no Las Vegas casino experience would be complete without a spin of the wheel – so don't forget to give Roulette (including Single Zero roulette) a shot.
The minimum bet varies depending on the game and time of day you play. Generally, however, minimum bets range from $5 to $25.
Slots
At this casino, you will find a variety of popular slot machines to play. Choose from reel slots, video slots, progressive jackpot slots or penny machines; each offers a unique experience.
Reel slots are the classic and oldest of all slot machines and provide an immersive gaming experience with plenty of excitement.
Video slots offer more interactive games with video clips and animations, while progressive jackpot slots have ever-increasing prizes that can reach amazing heights.
Lastly, penny machines are popular because they allow you to play more hands per hour but still keep your stakes low if you prefer.
Unfortunately, the casino does not disclose its slot machine payback percentage. However, the Nevada Gaming Control Board requires all casinos to have a minimum of 75% return to players. So, you can expect a fair chance of hitting a winning combination with the slots at this casino.
Hotel/Resort
In addition to the casino and gaming floor, the casino also offers guests various accommodation options. There are over 900 guestrooms available, ranging from rooms with basic amenities to luxurious suites.
Each room is equipped with the latest amenities, including flat-screen TVs and high-speed internet access. Plus, some rooms have a private balcony or patio so you can enjoy the Las Vegas skyline while relaxing in your room.
Their room types include:
Luxe Room – features one king or two queen beds
Deluxe Room – features one king or two queen beds (offers a smoking option)
Pool Patio Room – features one king, walk-in shower and private patio
Junior Studio – features one king bed and sitting area
Mini Suite – features one king bed, a sitting area and a wet bar
One Bedroom Suite – features one king bed, a separate living room, a sitting area and a wet bar
Penthouse Suite – features one king bed, a marble bathroom with jetted tub, and a bar fridge
Additionally, guests can enjoy access to various amenities during their stay at the casino. These include:
24-hour front desk
Outdoor pool
Fitness center
Beauty salon and spa services
Onsite restaurants and bars
24/7 room service
A golf course
Bingo room
The cost of your stay will vary depending on the room type and time of year you book. Generally, room rates are around $110 per night plus taxes and fees.
Rates may be higher during peak season (summer months) or for special events such as holidays. Be sure to check the website for up-to-date rates before booking your stay.
You can also take advantage of various promotions and discounts offered by the casino throughout the year. This could include discounted rooms, free meals or entertainment packages. Be sure to check the website for more details.
Check-in time at Plaza Hotel is 4:00 pm
Check-out time at Plaza Hotel is 11:00 am
Restaurants & Buffets
Even though the casino does not have a buffet, there are several onsite restaurants to choose from. If you're looking for a romantic steakhouse experience, Oscar's Steakhouse serves prime beef and fresh fish specialties from the legendary Chef Hugo Bolanos.
For something a bit more casual, you'll find Hash House A Go Go for signature brunch dishes and farm-fresh menu items in a fun atmosphere. Looking for desserts? PinkBox Doughnuts offers tantalizing creations with exciting flavors like ube donut ice cream sandwiches.
Pizza lovers can indulge at Pop Up Pizza, offering delicious stone oven-fired pies to satisfy any craving. For coffee drinkers, the integrated Coffee Bar is perfect for getting your day off to a good start or staying highly caffeinated while gaming on the casino floor.
Fresh Mexican Grill combines classic ingredients with creative culinary ideas to provide tasty south-of-the-border cuisine options. And if you can't decide, why not try McDonald's or Subway for some well-known favorites?
Whichever choice you make, you won't be disappointed when it comes time to eat at this casino.
Pools
The moment you step foot inside the Pool at the Plaza, it's like being welcomed into a little oasis. Located at the casino hotel, it features a heated outdoor pool with cabanas, daybeds, and even a stage and event space.
The perfect spot to cool off during those hot summer days and sunny afternoons, the Pool at the Plaza have all your swimming needs covered. It also offers towels to use on-site plus extras such as cold drinks and summer treats from stylish bars nearby.
Plaza Hotel & Casino, Las Vegas, NV FAQ
Does Plaza Hotel & Casino Have A Sportsbook?
If you're looking for sports betting action while you stay at this casino, there's good news. The hotel houses William Hill Sportsbook – a world-famous wagering operation.
For over three decades, it has provided gamblers with top-of-the-line sports betting from valuable and knowledgeable staff who are always willing to help.
Not only does William Hill Sportsbook have superior technology for placing bets in person, but they also offer a sleek mobile app for betting on the go.
So if you're looking for an all-inclusive experience in sportsbook betting and competitive prices, look no further than William Hill Sportsbook at this casino.
Is Poker Available At Plaza Casino?
Yes, this casino has all the essentials for a top-notch poker experience. You'll find everything from tournaments to cash games and other exciting events here.
The main attraction is the Poker Room, where players can try their hand at different game variants. All tables have comfortable seating for players, plus free wifi and a wide range of cocktails and snacks to keep you going.
What Are The Age Requirements For Gambling At Plaza Hotel & Casino?
You must be 21 years of age or older to gamble at this casino. All guests must present valid ID when entering and/or engaging in casino activities. This is strictly enforced by casino staff to ensure the safety and security of all players.
Does Plaza Have An Online Casino?
Unfortunately, no. The casino does not currently have an online casino. However, guests can still enjoy the great gaming experience onsite with a wide range of slots and table games. There is also a full suite of sports betting options available at the William Hill Sportsbook.
Is There An Plaza Hotel & Casino App?
No, there is not currently an app available for this casino. However, guests can still enjoy their stay and access many features through their website or mobile website. From gaming to dining, you can find all the information you need in one convenient place.
Guests can also follow the casino on social media to stay up-to-date with all the latest promotions, events and offers. They can also sign up for their rewards program and earn points towards great prizes.
What Is The Dress Code At Plaza Casino?
The dress code at this casino is smart and casual. Guests should avoid wearing clothing with offensive or explicit language and images, as well as overly revealing clothes. It's also important to note that there is a no-hat policy in the gaming area.
Is There An Airport Shuttle Available From Plaza?
Yes, there is an airport shuttle available from this casino to the Las Vegas International Airport. Guests can find more information on their website or contact their concierge for further details.
What Is The Smoking Policy At Plaza Hotel & Casino?
The casino has a strict no-smoking policy throughout the property. However, there is an outdoor patio area where smoking is permitted, and guests can also use designated areas in the parking lot. There are also plenty of non-smoking options available onsite, such as restaurants and bars.
What Is The Pet Policy At Plaza?
Unfortunately, this casino does not allow pets on the property. Service animals are allowed. However, all other pets must be kept offsite. Guests should contact their concierge for more information about local pet-friendly accommodations.
Is Wifi Available At Plaza Hotel & Casino?
Yes, this casino offers complimentary wifi throughout the property. Guests can find detailed information on connecting to their network in the hotel lobby or contact their concierge for further assistance.
What Is The Cancellation Policy For Plaza?
The cancellation policy for this casino varies by room type and rate. Guests should contact their concierge or visit the website for more information about specific policies. Generally, reservations must be canceled at least 72 hours prior to check-in to receive a full refund.
Conclusion
The Plaza Hotel & Casino is a great destination for those looking to experience the thrills and excitement of Las Vegas. With a wide range of gaming options, comfortable accommodations, and plenty of onsite amenities, guests can enjoy an unforgettable stay.
Additionally, wifi and airport shuttles are available to make travel more convenient. Guests should review the age and dress requirements, smoking policy, and cancellation policy before making a reservation.
All in all, this casino is a great place to stay while visiting Las Vegas. If you find yourself in the city, make sure to stop by and experience all that it has to offer.