Primm Valley Resort
Address: 31900 S Las Vegas Blvd, Primm, NV 89019
Phone Number: +1 702-386-7867
Website: www.primmvalleyresorts.com
Hours: Primm Valley Resort is open 24 hours a day, 7 days a week.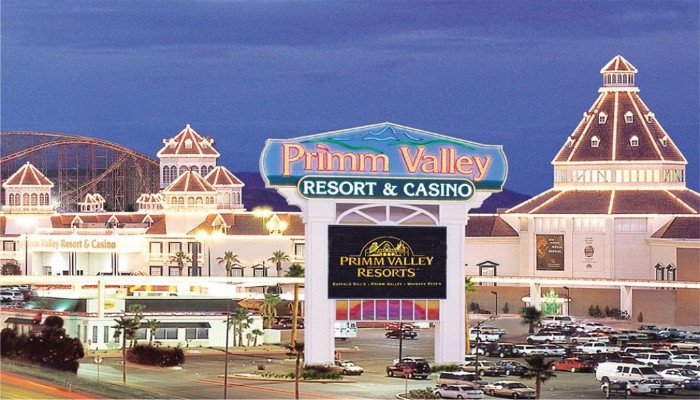 Located along the Nevada-California border, Primm Valley Resort & Casino has been a popular destination for travelers since it opened in 1990. The resort is known for its prime location on Interstate 15 and proximity to the world-famous Las Vegas Strip.
It was initially named Primadonna Resort & Casino, developed by Primadonna Resorts, Inc. It was renamed to its current branding in 2011 after being acquired by Affinity Gaming.
Today, the casino resort is known for its large casino, luxurious accommodations and attraction. The resort features more than 1,200 slot machines and several gaming tables that offer a wide range of games, such as blackjack and roulette, to popular new slots.
In addition to the casino, guests can also book a room at the resort's on-site hotel, enjoy a meal at one of the many restaurants and bars, or shop at their Outlets. The resort is also home to several exciting entertainment venues, including a golf course and live shows in the event center.
Whether you're looking to gamble, stay in one of the luxurious guestrooms, attend a show or enjoy the attractions at this casino, it has something for everyone.
On many guest review sites, the casino resort has received an average of 3.5 out of 5 stars based on over 10,000 reviews. Many guests say, "It's a great place to stay, and the casino is very nice. The staff was friendly, helpful and accommodating. Highly recommend!"
Another notable review is, "The rooms were nice and clean, and the staff was friendly. The casino was one of the best I have ever been to. We had a great time here!"
(Related reading: Nevada casinos)
Gaming
Their 37,700-square-foot casino floor offers a wide selection of gaming options, including slots, table games, and sports betting.
Table Games
This casino offers a variety of exciting table games for everyone. If you're a blackjack enthusiast, you can find "King's Bounty," "EZ Bust," and "Bonus Spin Progressive" tables all ready for your challenge.
The casino also has classic roulette, table craps and 3 card poker tables that offer traditional gameplay. For something more modern, guests can experience the new electronic roulette and craps, which feature faster play and fun animations.
The table game minimums at their casino vary depending on the time of day and type of game. Generally, players can start betting with as little as $5.
Slots
If you're looking for some exciting entertainment and the chance to win big at this casino, then the popular slot machines here are a great option. Mystical Unicorn, Dragon Spin, and Lock it Link – Huff n' Puff are three of the most sought-after slots in this resort.
From the multiple bonus rounds incorporated in Mystical Unicorn to the thrilling design of Dragon Spin and high-value wins with Lock it Link – Huff n' Puff, these games promise a unique experience every time.
Unfortunately, this casino does not publish the payback percentage of their slot machines. However, Nevada state law requires all casinos to have a minimum return on slots that is at least 75%.
Hotel/Resort
This casino resort is the perfect getaway for any traveler looking for a luxurious meal and high-end accommodations. With over 300 premium guest rooms, guests are sure to be impressed from the moment they enter.
Each room boasts modern decor, including large LED TVs and granite countertops. The bedrooms also offer 1 king or 2 queen beds, enabling each guest to choose the best option for their stay.
This resort offers a variety of great amenities for its guests. Some of these include:
A swimming pool
24-hour room service
Free parking and valet services
A lotto store
Multiple dining options
Entertainment arena
Arcade games
Fitness center
A golf course
Retail stores
Gasoline store and EV charging station
The cost to stay at this casino resort varies depending on the dates, room type and number of guests. Prices typically start from $45 per night for a standard room. There will also be additional fees for any extra amenities, such as late checkout or pet fees.
Check-in time at Primm Valley is 3:00 pm
Check-out time at Primm Valley is 12:00 pm
Restaurants & Buffets
Although they currently do not offer a buffet, this casino resort has a variety of on-site restaurants that can satisfy all types of cravings.
For pizza lovers, their very own Roundup Grill & Pizza offers classic Italian recipes with a southwestern-American twist; they also offer a full bar and an outdoor patio seating area.
If you're looking for coffee and pastries, Starbucks is sure to hit the spot – they have classic sweet treats such as donuts, muffins, and scones. And no trip to this casino would be complete without stopping by Pinkbox Doughnuts for their specialty doughnuts and milkshakes.
Pools
This casino is the perfect destination for travelers seeking adventure with relaxation. Offering plenty of activities, from golf to slot machines, there is something for everyone. But the real highlight of this casino is its outdoor pool.
With an expansive terrace that's surrounded by stunning mountain views and luscious foliage, you'll feel truly immersed in nature whilst taking a relaxing dip. With its many features, its outdoor pool stands out as an oasis for Vegas vacationers.
Primm Valley Resort, NV FAQ
Does Primm Valley Resort Have A Sportsbook?
Yes, they do have a sportsbook. Located inside the resort's casino, the William Hill Sportsbook is operated by one of the world's largest bookmakers and provides guests with a great environment to watch live sporting events and place bets.
The sportsbook also offers mobile betting through its app so that you can conveniently access your account from wherever you are.
Is Poker Available At Primm Valley?
Yes, the casino offers a variety of card poker games and video poker machines that guests will enjoy. Any player can find the game that suits them best and enjoy a great poker experience. The resort also has regular tournaments so that players can test their luck and skill against others.
What Are The Age Requirements For Gambling At Primm Valley Resort?
Gambling at this casino is only permitted for guests 21 and older. All forms of gambling are banned for those under the age of 21. Additionally, ID verification is required before any form of gaming can take place.
Does Primm Valley Have An Online Casino?
This casino certainly has a way for you to get your gaming fix. A-Play Online Social Casino offers an array of classic casino games like slots, poker, and even blackjack. All players can level up as they progress in the game while also receiving points that can be redeemed in various ways.
Their loyal players even have exclusive access to a VIP program with special rewards and bonuses. It's an exciting and convenient way to experience all the thrills of casino gaming without leaving your couch.
Is There An Primm Valley Resort App?
No, there is currently no app for this casino. However, the website does provide users with an easy-to-navigate layout that provides all the information needed to plan a trip. Additionally, you can create an account on their website and access special offers and discounts.
What Is The Dress Code At Primm Valley?
The casino resort does not enforce a formal dress code. However, guests are encouraged to dress appropriately for the environment and refrain from wearing clothing that could be deemed offensive or inappropriate.
Is There An Airport Shuttle Available From Primm Valley Resort?
No, there is currently no airport shuttle service available from this casino. However, guests can take advantage of other transportation options, such as renting a car or taxi.
Additionally, several ride-sharing services are available in the area, such as Uber and Lyft. These services provide a convenient way to get to and from the casino.
What Is The Smoking Policy At Primm Valley?
Smoking is only allowed in designated areas of the casino. These smoking sections are clearly marked with signs, and guests must adhere to these rules. The resort also offers an outdoor smoking patio for those that prefer to smoke outside.
What Is The Pet Policy At Primm Valley Resort?
Unfortunately, this casino resort does not allow pets on the premises. However, service animals are welcome and should be properly identified. Guests bringing service animals must also adhere to all pet policies while on the premises.
Is Wifi Available At Primm Valley?
Yes, this casino offers complimentary wifi to all guests. There is no password or additional charges for access, and the connection can be used throughout the resort's premises.
Complimentary wifi is also offered in the guest rooms, providing a convenient way to stay connected while visiting the resort.
What Is The Cancellation Policy For Primm Valley Resort?
The cancellation policy for this casino resort states that the guest must cancel their reservation at least 48 hours in advance to receive a full refund.
Cancellations made after this time period are subject to a cancellation fee. Additionally, reservations made via third-party sites may be subject to additional fees or restrictions.
Conclusion
Primm Valley Resort is great for those looking for an exciting casino experience. The resort offers a variety of gaming options, as well as plenty of other amenities for guests to enjoy.
Whether you are looking for a getaway or want to try your luck at the slots, the casino resort has everything you need. Be sure to follow the dress code and pet policy while visiting, and don't forget to take advantage of the complimentary wifi.