Railroad Pass Hotel & Casino Henderson
Address: 1500 Railroad Pass Casino Rd, Henderson, NV 89002
Phone Number: +1 702-294-5000
Website: www.railroadpass.com
Hours: Railroad Pass Hotel & Casino is open 24 hours a day, 7 days a week.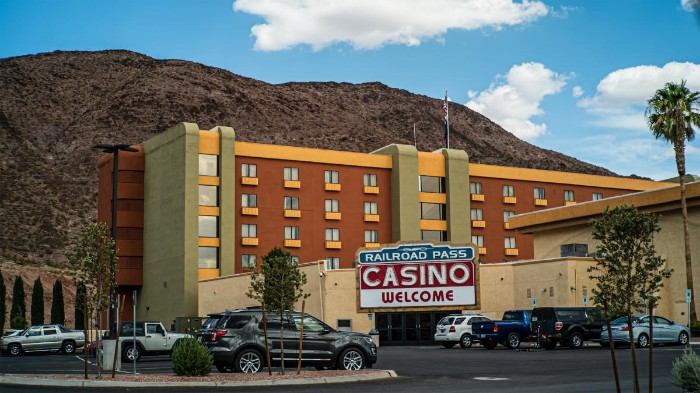 Railroad Pass Hotel & Casino is located in Henderson, Nevada and has been a part of the local community since 1931. The casino and hotel have changed hands several times over its lifetime, starting with its opening as a small casino.
Back then, alcohol and gambling were not allowed in the city. However, the property still flourished and was well-known among locals. Over the years, the casino has become a popular destination for tourists and locals.
After several changes in ownership, it was purchased by a local real estate developer, Joseph DeSimone, in 2014. Today, the casino offers its customers a wide selection of gaming options and amenities.
The casino floor is filled with popular table games like craps, blackjack, roulette and baccarat. Hundreds of video poker machines are also located throughout the casino's gaming area.
For those looking for a more relaxed experience, the casino also has a full-service bar and lounge offering cocktails, beer and wine. In addition to gaming, the casino also features live entertainment on select dates throughout the year.
For travelers staying at the hotel, there are many amenities to take advantage of including an outdoor pool, fitness center and free Wi-Fi. The hotel also boasts an onsite restaurant, a poolside bar and grill and 24-hour room service.
This casino hotel is dedicated to providing its guests with an unforgettable gaming experience in Henderson. With its wide selection of gaming options, amenities and promotions, this casino have something for everyone.
On popular review sites such as TripAdvisor, the property has earned a 4.5 out of 5 stars based on over 1,000 reviews. One guest said, "My wife and I stayed at the Railroad Pass for our anniversary. The casino floor was clean, and the machines worked well. Overall, a great stay!"
Another guest said, "The staff was very friendly and helpful. The hotel was clean, and the casino was great. We highly recommend this place!"
(Related reading: Nevada casinos)
Gaming
Their 12,803 sq. ft. casino floor provides a wide range of gaming options, including table games and slot machines. They also have an onsite sportsbook where guests can wager on various sports.
Table Games
This casino is the place to be for anyone looking for a world-class table gaming experience. They offer a variety of games, including 3 Card Poker, Six Deck Shoe, Blackjack, Craps and Roulette. These are all classic casino games that evoke fun and excitement.
With friendly dealers ready to help you learn the various rules and strategies, you'll have no trouble finding success at the tables! Whether you're an experienced veteran or want to try your luck for the first time, they certainly offer something special for everyone.
Table game minimums vary depending on the casino, but at this property, you can find table games with a minimum bet of $5. This includes classic games like blackjack and roulette.
Slots
This casino offers hundreds of different slot games for its guests to enjoy. Some of the most popular slot machines include:
Ghostbusters
Jurassic Park
Ancient Dragon
Game of Thrones
Betty White
Earth Rainforest
Game of Thrones
Unfortunately, they do not publish their slot machine payback percentage. However, Nevada law requires that all gaming establishments maintain a minimum return to players of 75%.
Therefore, you can assume that this casino must also have this same requirement to remain in compliance with state regulations.
Hotel/Resort
Their hotel offers guests a hotel and resort experience. Each room includes flat-screen TVs, microwaves and mini-fridges. They also offer suites with separate living spaces, which are perfect for families or larger groups.
Guests can choose from three different room types: Smoking, Non-Smoking, or Pet Friendly. Standard Rooms even come with two queen beds for added space and convenience. If you decide on their Deluxe Queen Room, enjoy one king bed with much more comfortable.
If you're looking for even more space and luxury, book the Large Suite, which comes complete with one king bed and spacious couch perfect for relaxing after a long day.
Additionally, the casino hotel has many amenities for its guests to enjoy. Some of these include:
Outdoor pool
Fitness center
Free Wi-Fi
Onsite restaurants
Poolside bar and grill
Room service
Self-parking
Nearby local attractions
The cost of staying at this hotel varies depending on the type of room you choose. Standard room rates start around $69 per night plus taxes and fees.
You can also find special deals and promotions when booking directly through their website. For rates, visit their official website or contact the hotel directly.
Check-in time at Railroad Pass is 4:00 pm
Check-out time at Railroad Pass is 11:00 am
Restaurants & Buffets
Even though they currently do not offer onsite buffets, this casino still has various restaurants for guests to choose from. Diners will be thrilled with the tastes and smell of Desimone's Steakhouse, a classic steakhouse that focuses on the freshest cuts of USDA-certified steaks.
For something a little more casual, there is Iron Rail Cafe offering heaps of comfort food favorites such as craft burgers, charcuterie boards, and wood-fired pizzas.
Fans of sports bars will appreciate the pub grub vibe combined with the modern audiovisual systems found at Sports Bars. Finally, SBARRO serves up Italian-American favorites like calzones and cheesecake slices.
Pools
At this casino hotel, guests have access to a luxurious outdoor pool. This inviting oasis provides a tranquil escape from the Las Vegas heat and plenty of room for aquatic fun. Guests can soak up the sun in a chaise lounge chair, take advantage of the pool's depth, and enjoy a refreshing dip.
Poolside amenities include complimentary towels, umbrellas for shade, and attentive wait staff to accommodate beverage requests. Whether you're looking for some family vacation fun or want to relax and get away from it all, you'll find it at this casino.
Railroad Pass Hotel & Casino, Henderson, NV FAQ
Does Railroad Pass Hotel & Casino Henderson Have A Sportsbook?
If you're looking for the ultimate sports betting experience at this casino, you don't need to look any further than William Hill Sportsbook.
Here you'll find a fully-stocked state-of-the-art sportsbook with all of the latest odds and lines on every major sport and more obscure ones like MMA and rugby. From live odds on point spreads and money lines to futures and prop bets, there's something for everyone here.
Plus, with the convenience of online wagering available through mobile phone apps or computers, it's easy to place your bets no matter where you are.
Is Poker Available At Railroad Pass Hotel & Casino?
Step into this casino and find something special for your poker needs. Whether it's 3 Card Poker or video poker, this casino is sure to have something that will tickle your fancy. With various game styles and variations to choose from, you're sure to find something that fits your needs.
What Are The Age Requirements For Gambling At Railroad Pass?
The legal age for gambling at this casino is 21. All guests must have a valid ID to enter the casino and will be asked to present their ID if requested by staff. Minors are not permitted in the gaming areas of the casino but can still access dining and entertainment venues.
Does Railroad Pass Hotel & Casino Henderson Have An Online Casino?
No, they do not currently have an online casino. However, players can still have fun playing the many slots and table games available in-person on the casino floor. The casino also has a selection of restaurants and bars for guests to enjoy during their visit.
Is There An Railroad Pass App?
Unfortunately, at this time, there is no app specifically designed for this casino. However, the William Hill Sportsbook does have an app that can be used to place bets online and follow the latest sports games.
What Is The Dress Code At Railroad Pass Hotel & Casino Henderson?
The dress code at this casino is casual and relaxed. Shirts, jeans, shorts, and sandals are all acceptable attire when visiting the casino floor. However, no hats or sports jerseys are allowed. Additionally, there may be special events that require guests to dress up in more formal clothing.
Is There An Airport Shuttle Available From Railroad Pass?
Unfortunately, there is no airport shuttle available from this casino. However, several taxi and rideshare services in the area can take guests to and from the airport. Additionally, rental cars are also available for those looking for a more comfortable way to get around.
What Is The Smoking Policy At Railroad Pass Hotel & Casino Henderson?
The smoking policy at this casino is that smoking is only allowed in designated areas. These areas are clearly marked, and guests must adhere to the signage. Additionally, all other areas of the casino are smoke-free environments.
What Is The Pet Policy At Railroad Pass Hotel & Casino?
Unfortunately, this casino does not permit pets in the hotel or casino. This policy is strictly enforced, and guests must make other arrangements for their pets while staying at this casino.
However, if you require assistance with a service animal, the staff is more than happy to provide assistance. Don't hesitate to get in touch with them directly for further information.
Is Wifi Available At Railroad Pass?
This casino hotel has a pet-friendly policy that is sure to put your mind at ease and welcome everyone from business travelers to furry friends.
For just $25 per pet, with up to two pets per room per night, you can feel comfortable and relaxed knowing your pet will be in good, safe hands. A deposit of $100 per pet room is also required for added peace of mind, which is refundable after inspection.
What Is The Cancellation Policy For Railroad Pass Hotel & Casino?
This casino offers a flexible cancellation policy for its guests. Guests can cancel up to 24 hours before their scheduled arrival without incurring fees. Cancellations within 24 hours of check-in will incur a fee of one night's stay plus tax.
This policy may vary depending on the type of room booked and the rate paid, so please check with the hotel directly for more information.
Conclusion
Railroad Pass Hotel & Casino Henderson is a great spot for those looking to get away from it all and enjoy some gaming, dining, and entertainment.
From its pet-friendly policy to the flexible cancellation policy, this casino is sure to have something for everyone. Plus, with an onsite sportsbook and plenty of slots and table games to choose from, players are sure to have a great time.
Be sure to check with the hotel directly for any special requirements or restrictions that could apply during your stay. Whether you're coming for a weekend getaway or an extended stay, you'll find plenty of ways to have fun at this casino.