Rainbow Club Casino Henderson
Address: 122 S Water St, Henderson, NV 89015
Phone Number: +1 702-565-9777
Website: www.rainbowhenderson.com
Hours: Rainbow Club Casino is open 24 hours a day, 7 days a week.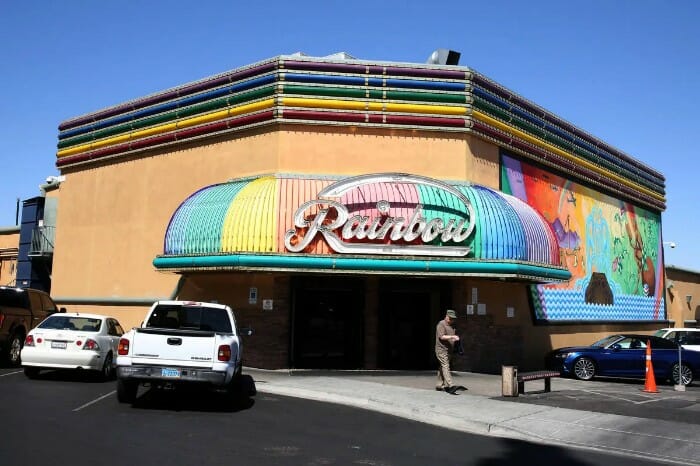 The Rainbow Club Casino in Henderson opened its doors for the first time in 1967. It has been a favorite among Las Vegas locals and visitors for several decades. The land on which the casino stands was originally a grocery store that provided supplies to the area's miners in WWII.
Peppermill Casinos, Inc. purchased the property back in 1984 and completely remodeled the property to create the Rainbow Club. However, in 2020, the casino was sold to its current owner, Tim and Mike Brooks, and was reopened in the same year.
Today, the casino offers guests a gaming experience comprising more than 300 slot machines, including video poker and keno. Guests can find several dining options that will satisfy the most discerning palates.
Whether you're a local or a visitor, this casino is sure to offer an unforgettable experience in Las Vegas. From its unique history to its exciting gaming offerings, this casino is definitely worth a visit.
The overall rating on various travel sites for this casino is 4 stars or higher, with many guests noting that it is one of their favorite casinos in Las Vegas. One particular guest said, "The atmosphere is relaxed and inviting but also lively, making it a great spot for all types of visitors."
Another guest wrote, "The customer service here is excellent. The staff members are friendly and accommodating, which makes for a pleasant experience."
(Related reading: Nevada casinos)
Gaming
The casino boasts several gaming options, including slots, video poker and keno. The casino has various promotions throughout the year, offering guests additional chances to win big prizes.
Table Games
You may have heard of this casino and its great selection of slots. The popular spot in town is indeed home to hundreds of different slot machines – giving you various choices to pick from.
However, if you're looking for table games, you won't find them here; it's strictly an all-slots casino. If you love slot machines as much as we do, head on down and give your luck on one of their machines.
Slots
If you're looking for some popular slot machines at this casino, you will want to check out a few of their most beloved games.
Wolf Peak and Cat Peak offer vibrant visuals and sound that really bring the wild jungle to life, while Treasure Box Kingdom and Treasure Box Dynasty take the excitement up a notch with whirling reels that entice with every spin.
For fans of luck, chances are you'll gravitate towards Glorious Fortunes and Money Trails Shining Phoenix. Alternatively, Money Trails Golden Rabbit and Abundant Fortune deliver opportunities to come up big with special bonus features.
Fans of classic genre slots can find their fill with Wild Explosion and 5 Dragons Rising Jackpots, while Wicked Wheel Fire Phoenix offers progressive action regularly.
For some of the more entertaining slots out there today, try Buffalo Gold Revolution or Fortune Totems — both are fun-filled experiences that offer the chance to win great prizes.
Finally, Rakin' Bacon and Whales Of Cash have become player favorites over time, offering exciting gameplay combined with generous wins.
Unfortunately, the casino does not share guest slot machine payback percentages. However, according to Nevada legislation, slot machine payback percentages must be at least 75%. This means that for every $100 wagered, you can expect to get at least $75 of it back.
Hotel/Resort
This casino is a great place to have some fun and try your luck at the games. The casino offers all of your favorite slots and table games, plus there is always something new with daily and weekly events.
Unfortunately, the property does not feature an onsite hotel; however, if you're looking for somewhere to stay nearby, you've got a few options.
Hawthorn Suites By Wyndham, Motel 6 Henderson, Best Western Plus Henderson Hotel and Railroad Pass Hotel & Casino are just moments away from the casino.
These choices are sure to provide guests with comfortable and affordable accommodations that are perfect for those planning a short or extended stay in the area.
Restaurants & Buffets
Although they do not offer buffet-style meals, this casino has a few restaurants and snack bars to satisfy your hunger. This casino has a wide variety of delectable restaurants sure to please every palette.
For instance, Triple B serves up delicious brooks brothers burgers daily with unique revolving specials sure to tantalize taste buds. Cocina Martes night includes a special menu and Wok on Water for those looking for a savory Asian dish.
There's even Seafood Night and a Prime Rib Meal Deal at this amazing casino destination spot. Come and explore the wide variety of culinary options available at this casino – you won't be disappointed.
Pools
This casino provides a vibrant atmosphere for gamers to enjoy an evening of slots and table games.
There's no need to worry about what to do during the day since it doesn't have a pool, but you can easily keep the fun going by playing all your favorite games with friendly and knowledgeable staff.
Get in on the action with themed events or tournaments happening regularly. Whether you want a night away or want something more intense, this casino has you covered.
Rainbow Club Casino, Henderson, NV FAQ
Does Rainbow Club Casino Have A Sportsbook?
Unfortunately, this casino does not have an onsite sportsbook. However, local sports betting venues located in nearby cities may be able to provide guests with the opportunity to place wagers on their favorite teams and players.
Is Poker Available At Rainbow Club?
Yes, this casino offers a form of poker for players to enjoy. However, they only offer video poker instead of the traditional card game often associated with poker.
If you're looking for a casino that offers tabletop poker games, you may have to look up other local casinos in the area. But if you're after an exciting video poker game, then this casino is your first pitstop.
What Are The Age Requirements For Gambling At Rainbow Club Casino?
As with other casinos, this casino requires all guests at least 21 years of age or older to enter and gamble. Guests may be asked to provide valid government-issued identification upon entry for proof of age.
Does Rainbow Club Have An Online Casino?
Unfortunately, this casino does not have an online counterpart. The only way to access the games offered here is by visiting the casino in person, where you will find a great assortment of slots and video poker machines.
Is There An Rainbow Club App?
No, there is currently no app available for this casino. The best way to access the casino and its services is by visiting the property in person or checking out its website for more information.
Additionally, the casino sends out promotions and information about upcoming events through email, so be sure to sign up for their newsletter if you want to stay updated.
What Is The Dress Code At Rainbow Club Casino?
This casino has a casual dress code, and guests are expected to dress appropriately when visiting the casino. Shorts, tank tops, and flip-flops are generally not allowed and may result in denied entry.
Is There An Airport Shuttle Available From Rainbow Club?
Unfortunately, this casino does not offer an airport shuttle service. However, there are taxi and rideshare services available from the local area for those wanting to get to the casino swiftly and safely.
What Is The Smoking Policy At Rainbow Club Casino?
This casino has a smoking policy that allows guests to smoke in designated areas only. Non-smoking gaming rooms and other non-smoking areas are also available for those who wish to avoid the smoke.
The casino is dedicated to upholding a safe and healthy environment for all its guests, so be sure to adhere to the smoking policy when visiting.
What Is The Pet Policy At Rainbow Club?
Unfortunately, this casino does not allow pets on the premises. However, service animals are allowed if they are registered and properly identified with a harness or other visible sign of their status as a service animal.
Is Wifi Available At Rainbow Club?
Yes, this casino offers complimentary wifi services to its guests. Whether you're playing at the gaming tables or enjoying a meal in one of the restaurants, you can stay connected with ease.
If you need further assistance with the wifi, you can ask a member of the staff for help during your visit.
What Is The Cancellation Policy For Rainbow Club Casino?
There is no onsite hotel, so this casino does not have a cancellation policy. However, if you make advance reservations for any of the restaurants or gaming tables, then it is recommended that you contact the casino for a more detailed cancellation policy.
Conclusion
Rainbow Club Casino is a great spot for casino-goers looking for an exciting game or two. With its wide range of slot machines and video poker terminals, as well as its enticing smoke-free environment and wifi access, it's the perfect place to have some classic gambling fun.
It's also important to remember the age and dress code requirements, as well as the cancellation policy for any bookings you might make. With all this knowledge, you're ready to have a great time at this casino.