Red Garter Hotel & Casino West Wendover
Address: 1225 Wendover Blvd, West Wendover, NV 89883
Phone Number: +1 775-664-2111
Website: www.maverickgaming.com/red-garter/
Hours: Red Garter Hotel & Casino is open 24 hours a day, 7 days a week.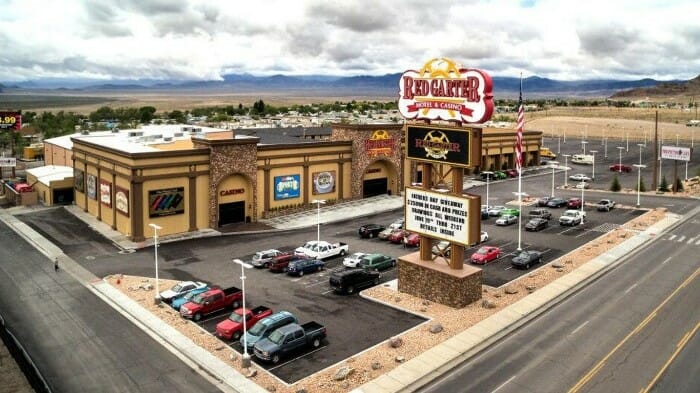 The Red Garter Hotel & Casino has a long and storied history in West Wendover, Nevada. The casino first opened its doors in 1983 and was popular among locals as well as travelers on their way to and from California.
Their gaming space offers 600 slot machines, video poker and plenty of table games. Players can also choose from various dining options, including The Golden Harvest Cafe and the Prospector Cafe.
The hotel features 108 standard rooms and luxurious suites for guests to enjoy. Amenities include room service, complimentary Wi-Fi access, and a seasonal outdoor pool.
The casino also offers plenty of entertainment options to its guests. These include comedy shows, live music, karaoke nights and more. The casino also hosts tournaments for poker enthusiasts.
So if you're looking for some Vegas-style fun in West Wendover, this casino hotel is the place to be. From gaming to dining and entertainment, this casino has it all.
Guests have rated this casino with an average of 4.3 out of 5 stars on major travel sites such as TripAdvisor and Google Reviews. One guest said, "This is a great place to stay for the night in Wendover. The room was comfortable and clean, and the casino had many games."
Another guest said, "The Red Garter Casino is really nice. It has plenty of slots and tables to choose from, as well as a restaurant right on the property. The staff is friendly and helpful, and it's an enjoyable experience."
(Related reading: Nevada casinos)
Gaming
The casino features 600 slot machines, video poker and plenty of table games. And with multiple promotions and tournaments, you can experience a different kind of gaming.
Table Games
Are you looking for some table game fun in Nevada? This casino has got you covered. There's something for everyone with games such as baccarat, blackjack, roulette, craps, and Let It Ride. For those feeling lucky, try your hand at Three Card Poker or La Paire Poker.
Pai Gow Poker is another fantastic option for players looking to test their skill and strategy. No matter what type of table game you're in the mood for, this casino has everything you need for an exciting and unforgettable gaming experience.
The minimum wager for table games at this casino is $5. However, depending on the game and the popularity of it, minimums can go up to $25 or even higher. Be sure to check with the casino before playing a table game so that you are aware of its specific minimums.
Slots
This casino hotel has over 600 slot machines for you to choose from. Popular slot games include:
Rawhide
Starry Night
Wheel of Fortune
Wonder Woman Wild
Triple Lucky Sevens
The Walking Dead
Double Diamonds
Jurassic Park
Cleopatra
Unfortunately, slot machine payback percentages are not disclosed to the public. However, this casino is regulated by the Nevada Gaming Control Board, which requires casinos to maintain a minimum payback of 75%.
Hotel/Resort
This casino offers 108 standard rooms and luxurious suites for guests to enjoy. Their rooms offer complimentary Wi-Fi access, comfortable bedding and modern amenities.
Some of their room types include:
Tower Building Room – features two queen beds and a granite vanity
Main Building Room – features two queen beds and a granite vanity
Whirlpool Bath Suite – features one king bed and a whirlpool bathtub
Bar Suite – features one king bed, a full-sized bar, a kitchenette and a jacuzzi
The casino also offers several amenities for guests to enjoy during their stay. These include:
Room service
Complimentary Wi-Fi access
Parking on site
24-hour front desk
Concierge services
A sportsbook
Gift shop
Banquet facilities
Onsite restaurants and bars
Live entertainment
An RV park
An outdoor pool
The average nightly rate for a room at this hotel is around $94. This price may vary depending on demand and availability, so check with the hotel before booking. Guests can also enjoy special packages that are offered seasonally.
Check-in time at Red Garter is 4:00 pm
Check-out time at Red Garter is 11:00 am
Restaurants & Buffets
If you're looking for great food options at this casino, look no further than the four unique restaurants on the property. Start your day with a hearty breakfast at the Golden Harvest Cafe or Morning After Cafe.
Craving a classic steak dinner? Head over to The Nugget Steakhouse for an unforgettable meal. And if you're in the mood for casual dining, the Prospector Cafe is the perfect spot to grab a bite with friends or family.
With such a variety of dining options, you will surely find something satisfying your cravings at this casino hotel. So even if you don't hit the jackpot at the tables, you can still enjoy a delicious meal.
Pools
Are you looking for a refreshing escape from the desert heat? Look no further than this casino's inviting outdoor pool. Dip in the crystal-clear water, lay back on a comfortable chaise lounge, and soak up the sun in style.
Whether you're staying at the hotel or just passing by, their pool is the perfect place to beat the heat and recharge your batteries. And if you need a refreshing drink, their friendly staff is always on hand to provide exceptional service.
Red Garter Hotel & Casino, West Wendover, NV FAQ
Does Red Garter Hotel & Casino Have A Sportsbook?
Yes, they have William Hill Sports Book located in the casino. The sportsbook is open seven days a week and offers betting on all major professional and collegiate sporting events. Customers can bet on various markets, including point spread, money lines, totals, futures and parlays.
Is Poker Available At Red Garter?
Yes, the casino offers a variety of poker games for players to enjoy. They offer Texas Hold'em, Omaha and more with fixed limits and no-limit betting structures. Poker tournaments are also available for players looking for an extra challenge and prizes.
What Are The Age Requirements For Gambling At Red Garter Hotel & Casino?
Guests must be at least 21 to gamble at this casino. Identification is required for anyone looking to gamble or purchase alcohol in the casino. Minors are allowed in certain areas, such as the pool and restaurants, but not on the gaming floor.
Does Red Garter Have An Online Casino?
No, they do not have an online casino. However, they offer sports betting and poker through their sportsbook and card room. They also offer live entertainment, restaurant options, and other amenities to enhance their guests' experience at the casino.
Is There An Red Garter Hotel & Casino App?
No, there is no app available for the casino. However, guests can access their website from any device with an internet connection to check out the latest deals and promotions. Plus, they have social media accounts so that you can stay updated with the latest news and updates.
What Is The Dress Code At Red Garter?
The dress code is casual. However, guests should know that the casino prohibits clothing or attire related to gang affiliation, profanity, nudity, or offensive messages. Also, guests must wear proper footwear, such as sneakers or sandals.
Is There An Airport Shuttle Available From Red Garter Hotel & Casino?
No, they do not offer an airport shuttle. However, there are plenty of taxi and ride-share services available in the area that guests can use to get to and from the casino. Guests can also rent a car if they prefer.
What Is The Smoking Policy At Red Garter?
Smoking is prohibited inside the casino and hotel, but guests can smoke on the outdoor pool deck. There are also designated smoking areas outside in front of the casino. Guests must adhere to this policy or face a fine or even expulsion from the property.
What Is The Pet Policy At Red Garter Hotel & Casino?
Unfortunately, pets are not allowed on the property. Service animals are allowed but must be kept on a leash at all times and cannot be left unattended in guest rooms. Guests should also inform the front desk of their service animal when requesting appropriate accommodations.
Is Wifi Available At Red Garter?
Yes, free wifi is available throughout the hotel and casino. The wifi is accessible in all guest rooms and public areas, including the pool deck, restaurant and bar. Guests can also access the wifi from their mobile devices while on the property.
What Is The Cancellation Policy For Red Garter Hotel & Casino?
Cancellations must be made at least 24 hours before check-in day. If a reservation is canceled within 24 hours of the check-in date, guests will be charged a penalty fee equal to one night's stay.
Conclusion
This casino hotel and sportsbook offer a great experience for guests looking to enjoy gambling, entertainment, and more. Guests can access various markets for sports betting, participate in poker tournaments, or simply enjoy their stay with amenities such as free wifi.
They must also adhere to the age requirements and smoking policy while on the property and understand the cancellation policy if they choose to cancel their reservation. With all of this, Red Garter Hotel & Casino will surely provide an enjoyable experience for its guests.