Reno Nugget Casino Sparks
Address: 1100 Nugget Ave, Sparks, NV 89431
Phone Number: +1 775-356-3300
Website: www.nuggetcasinoresort.com
Hours: Reno Nugget Casino is open 24 hours a day, 7 days a week.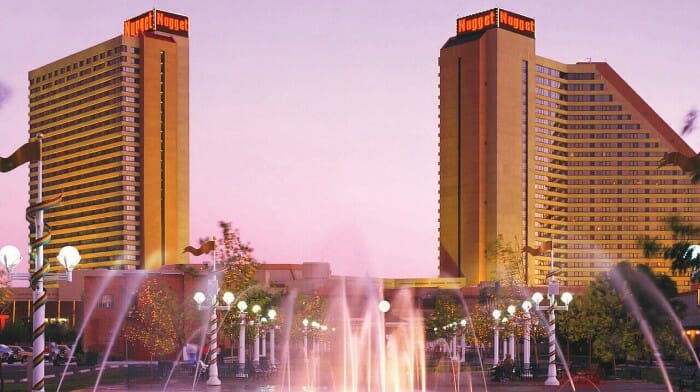 Reno Nugget Casino Sparks began in 1955 when a small casino opened downtown Reno. It was built by local businessmen Jim Kelley and Dick Graves, naming the property the Dick Graves' Nugget.
A couple of years later, the casino was purchased by John Ascuaga, the general manager, and it changed its name to John Ascuaga's Nugget. The casino then boomed and began to expand, leading to the construction of a new hotel in 1995.
However, due to fierce competition and the death of the casino's owner, the casino underwent many ownership changes over the next few years. In 2016, Marnell Gaming, Inc. purchased The Nugget and shared ownership with Century Casinos.
Today, the casino is a luxurious gaming and entertainment destination in Sparks, Nevada. It has over 900 slot machines, dozens of table games, a sports book area and several restaurants to choose from.
Their hotel boasts 1,600 guest rooms and suites. In addition, guests at this casino can enjoy live entertainment and special events and get access to a fitness center and pool.
With all of these features, this casino has something to offer everyone. Whether you're a veteran gambler or just looking for a place to relax and have fun, this casino is perfect.
On TripAdvisor, the casino has a 4.5/5 rating from over 700 reviews. Most reviewers say, "The Nugget is certainly one of the best casinos in Reno! Its clean, friendly staff and a huge selection of entertainment options make it a great place to spend an evening."
Other reviewers noted that they loved the hotel rooms, restaurants, bars and casino games. One reviewer said, "The hotel room was awesome – very comfortable and modern. We enjoyed the casino floor; food and drinks were all good."
(Related reading: Nevada casinos)
Gaming
Their 52,000-square-foot gaming floor offers guests over 900 slot machines and several table games, including poker and blackjack. They also have a sports book area with many screens to watch your favorite teams play.
Table Games
This casino offers several exciting table games. Blackjack is a classic card game to get closer to 21 without going over it than the dealer does. Craps is a dice-based game featuring two dice. Roulette involves spinning a ball onto a wheel with alternating red and black numbered slots.
Ultimate Texas Hold'em pits players against the house in poker played with five community cards deployed on the table. Three Card Poker requires placing three equal-value bets before receiving three cards.
Fortune Pai Gow Poker pairs seven cards while forming two hands to compete against the dealer's hands.
The table game minimums at this casino depend on the type of game. Players can find the minimums for each game posted on the casino floor. However, generally speaking, the minimums are usually $5 or higher.
Slots
When it comes to this casino, there are plenty of popular slot machines to choose from. Among them are:
Ruby Magic
Buffalo Stampede
Duo Fu Duo Cai
Lock it Link
Red Phoenix
Fu Dao Le
Unfortunately, this casino has no published payback percentage for slot machines. But according to Nevada gaming regulations, all casinos in the state must maintain a minimum payback percentage of 75% across their slot machines.
Hotel/Resort
This resort offers over 1,600 guest rooms and suites. Their rooms feature a flat-screen TV, complimentary high-speed internet, and in-room coffee service.
The hotel also has several suite options, including luxury suites with private balconies or terraces. In addition, guests at this resort can take advantage of its fitness center and pool.
Each room is equipped with modern amenities, creating a comfortable and convenient stay. Some of their room types include:
Standard Room – offers 1 king or 2 queen beds
Petite King Suite – offers 1 king bed, mini fridge, and a bathroom with a jetted tub
Hospitality Suite – offers 1 king bed and a spacious living room
Bar King Suite – offers 1 king bed, wet bar and a sitting area
Additionally, the casino offers many amenities, such as:
Free Wifi access
24-hour front desk
Concierge services
Free self-parking
Business center
Meeting and conference rooms
Multiple dining options
Indoor pool
Fitness center
Gift shop
Arcade games
The cost of staying at this hotel depends on the type of room you choose. Room rates start at $42 per night plus taxes and fees for a standard room.
Higher prices apply to different room types and suites. Guests also have the option to book packages with their stay, which include meals and entertainment options.
Check-in time at Reno Nugget is 3:00 pm
Check-out time at Reno Nugget is 11:00 am
Restaurants & Buffets
Although they currently do not serve buffet meals, there are plenty of delicious restaurants to choose from. For something exquisite, Anthony's Chophouse offers a variety of juicy steaks, fresh seafood and a fantastic atmosphere.
If you're in the mood for seafood, check out the Oyster Bar – their oysters and scallops are especially delicious! Feeling more casual? You won't be disappointed by Rosie's Café, where you'll find classic diner fare prepared with fresh ingredients.
Or, if you'd like to dine with a tropical flair, Island Grill serves up some tasty dishes inspired by cuisines from the Caribbean islands. Finally, don't forget Starbucks Coffee for your morning espresso or late-night pick-me-up.
Whatever type of food you're craving, there's something here at this casino that will satisfy you.
Pools
This casino offers guests a chance to dip in its convenient indoor atrium pool. Perfect for escaping the Nevada heat and kickstarting your vacation, the soothing, temperate water will have you forgetting any stress you had before arriving.
The pool is open seven days a week, even in winter, with sunroof panel heating allowing you to enjoy swimming all year round. There are plenty of chairs and umbrellas around, so you can relax in style while enjoying the view of the surrounding desert scenery.
The staff will be happy to help ensure your time spent enjoying the pool is comfortable and fun-filled.
Reno Nugget Casino, Sparks, NV FAQ
Does Reno Nugget Casino Have A Sportsbook?
This casino is home to the William Hill Sports Book, where Las Vegas action meets Northern Nevada fun. You'll find all your favorite sports and events covered at this state-of-the-art venue, with a relaxed atmosphere that focuses on the game.
Whether a seasoned sports bettor or a casual observer, you'll find all the best lines and props to get more out of watching your favorite teams. Place bets before kickoff and live during the game with an experienced team of bookmakers ready to assist you.
Is Poker Available At Reno Nugget?
Yes. This casino is home to various poker games, including Texas Hold'Em and Fortune Pai Gow. The spacious and exciting casino will always have some action with plenty of tables for playing.
From beginners to experienced professionals, everyone's welcome at this casino, where you can play cash games or tournaments. They offer various promotions and complimentary drinks and snacks while you play.
What Are The Age Requirements For Gambling At Reno Nugget Casino?
Anyone age 21 or older is allowed to gamble at this casino. Identification may be required upon entry to the property, so please have a valid ID ready. All guests must follow the casino's house rules and regulations regardless of age.
Does Reno Nugget Have An Online Casino?
No, there is no online casino associated with this property. The casino offers its guests the chance to experience all the fun of a real-life casino, with the convenience of playing from anywhere in Nevada.
Any online site can't match the excitement and energy of playing at an actual casino.
Is There An Reno Nugget Casino App?
Unfortunately, there is no app associated with this casino. However, you can find information about the casino and its amenities on the website. Additionally, you'll be able to stay up-to-date on upcoming events or promotions at this popular gambling destination.
What Is The Dress Code At Reno Nugget?
The dress code at this casino is casual but neat. Guests should avoid clothing with offensive graphics and may be asked to leave if their attire is deemed inappropriate. Proper footwear must also be worn at all times.
Is There An Airport Shuttle Available From Reno Nugget Casino?
You won't be disappointed if you're looking for an airport shuttle from this casino. The free shuttle runs daily from 7 am to 8:30 pm, departing the casino from the Valet parking area every hour and departing the Airport on the half-hour.
What Is The Smoking Policy At Reno Nugget?
Smoking is allowed in designated areas of the casino, but it is not permitted in other public spaces. All guests must follow the casino's smoking policy to avoid penalties or fines. The smoking section has ventilation to keep air quality levels high and minimize odor for other patrons.
What Is The Pet Policy At Reno Nugget Casino?
Only trained service animals are allowed in the casino. All other pets must be at home or boarded with a pet-sitting service. Guests should check local ordinances for more information about bringing their pets to Nevada.
Is Wifi Available At Reno Nugget?
Yes, complimentary wifi is available to all guests at this casino. Connecting to the wifi is easy and secure, with no sign-up required. Guests will find access points throughout the casino for fast and reliable internet service.
If you need further assistance, helpful casino staff can help with any technical issues you may be experiencing.
What Is The Cancellation Policy For Reno Nugget Casino?
If you need to cancel or change your reservation at this casino, don't hesitate to contact the hotel directly. All cancellations should be made 24 hours prior to arrival to avoid a cancellation fee.
If you booked through a third-party site, please refer to their cancellation policy for more details.
Conclusion
Reno Nugget Casino is a great place for fun and excitement. With its wide variety of games, promotions, and amenities, there's something for everyone here.
Before visiting this casino, consider the age requirements, dress code, and smoking policy. You'll find free Wi-Fi throughout the property and an airport shuttle to make your stay more convenient.
If you find yourself needing to cancel or change your plans, contact the casino directly for more information on their cancellation policy. With all these details in mind, you'll be ready to enjoy a night at this casino.