Saddle West Casino Pahrump
Address: 1220 NV-160, Pahrump, NV 89048
Phone Number: +1 775-727-1111
Website: www.saddlewest.com
Hours: Saddle West Casino is open 24 hours a day, 7 days a week.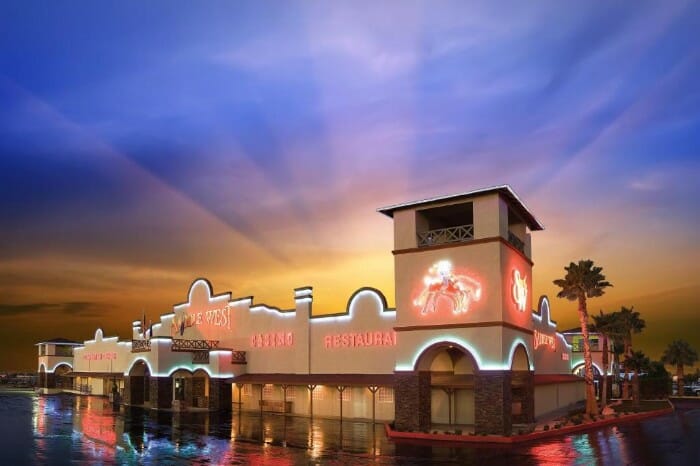 Saddle West Casino has provided gaming entertainment in Southern Nevada since 1973. It is currently owned and operated by Saddle West Investors, LLC and Marnell Gaming. It is located in Pahrump, Nevada, just 45 minutes away from Las Vegas.
The casino has become a favorite among locals and tourists alike for its gaming options, onsite dining, friendly staff and excellent service. The casino offers more than 250 exciting video and reel slot machines, bingo, keno and more.
Their hotel accommodations offer guests a comfortable and relaxing stay. Guests can enjoy amenities such as an indoor pool, fitness center, spa and more. Guests also have access to the casino's RV park, which is perfect for travelers who want to explore the area.
The casino strives to be a leader in the local gaming industry and is dedicated to providing an enjoyable experience for all its customers. They strive to create a safe, friendly environment while delivering quality services at competitive prices.
If you want a great place to enjoy your time in the Las Vegas area, this casino could be just what you're looking for. With its variety of gaming options, accommodations and amenities, it's no wonder why they have become a favorite among locals and tourists alike.
This casino resort has earned a 4.5 out of 5 stars rating with over 200 reviews on many review sites. One guest said, "This place is great! The staff was friendly and helpful. We had a great time playing slots and other games. Would definitely come back."
Another guest commented, "I love this casino! It's my go-to when I'm in town for the weekend. Great service, awesome games and an overall good experience. Highly recommend."
(Related reading: Nevada casinos)
Gaming
This casino offers a variety of gaming options, including slots, keno, bingo, and more. With over 250 slot machines, guests can find a game that fits their budget and playing style.
Table Games
This casino offers plenty of slot machine entertainment with various titles to choose from. If you're looking for classic casino table games, you might be disappointed that they are unavailable.
They focus exclusively on providing their guests with so many incredible slot options that you won't miss the table games.
Slots
This casino offers some of the best slots available in the market today. Popular slot machines range from video poker to electronic keno and Earth Rainforest, with specialty games such as Fu Dao Le, Ghostbusters, Shadow of the Panther, Snow Wizards, and Tiki Torch.
Whether you are looking for a classic game or a modern twist on an age-old favorite, they have something for every type of slot enthusiast. You can also enjoy progressive jackpot games like Golden Phoenix, which provide hefty payout cards that keep growing until someone wins.
This casino's slot machine payback percentage is currently undisclosed. Still, they are regulated by the Nevada Gaming Control Board, which requires all casinos to maintain a minimum payback percentage, which is currently set at 75%.
Hotel/Resort
Their hotel offers a variety of comfortable accommodations for its guests. The hotel features an indoor pool, fitness center, spa, and more.
Guests also have access to the casino's RV park, which is perfect for travelers who want to explore the area without breaking the bank. All rooms are equipped with flat-screen TVs, coffee makers, and refrigerators.
Their room types include:
Standard Room – features a 350 sq. ft. room with 1 king or 2 queen bends
Deluxe Room – features a 390 sq. ft. room with 1 king or 2 queen bends
Executive Suite – features one king bed and a mini fridge
Deluxe Suite – features one king bed, spa amenities, a wet bar, and a living room
Also, the casino offers plenty of amenities to keep guests entertained and comfortable. The resort features:
An outdoor pool
Spa services
Onsite dining options
Free Wi-Fi
Gift shop
Free parking
ADA amenities
RV park
The cost to stay at this hotel depends on the room type, seasonality, and availability. Generally speaking, a standard room can range from $569 to $150 per night, depending on the season.
Check-in time at Saddle West is 3:00 pm
Check-out time at Saddle West is 11:00 am
Restaurants & Buffets
This casino is home to the well-known Silver Spur Restaurant. Customers come from miles around to enjoy the delicious and affordable dining that Silver Spur provides. The restaurant serves breakfast all day and lunch and dinner specials from Monday through Saturday.
With items like steak, fish, ribs and more on the menu, there is something for everyone at Silver Spur. The restaurant offers a full bar with domestic, imported, and craft beer options and classic and contemporary mixed drinks.
They also offer buffet specials. The buffet menu changes often to provide guests with a new and exciting experience each time they visit. They offer an All American Breakfast Buffet for only $11.95.
Craving BBQ? Stop by their Rib Fest Buffet for some delicious ribs for only $19.95. And if you're looking for something really special, why not try their Prime Rib Buffet? Whatever your appetite requires, they have it
Pools
This casino is the perfect place for sun and fun. Whether you're looking to spend some time poolside or admire the beautiful setting, they've got something for everyone.
Their outdoor pool is spacious and open year-round. It offers ample lounge chairs and wide steps leading into the water to enjoy a refreshing dip after a hot day on the casino floor.
Plus, poolside services like food, drinks and even beauty treatments are available all season long – giving you one more way to relax and have fun in style.
Saddle West Casino, Pahrump, NV FAQ
Does Saddle West Casino Have A Sportsbook?
The answer is yes. For your convenience, William Hill Sportsbook kiosks are located at this casino, allowing you to place your bets with ease quickly.
Plus, if you're feeling lucky, there's no need to leave the casino floor as these kiosks are conveniently placed in both the bar and restaurant areas.
Is Poker Available At Saddle West?
If you're looking to find poker at this casino, you should know that the casino only provides video poker as a gaming option.
Although traditional-style poker is not available either in the casino or one of its restaurants, there are plenty of other exciting activities to enjoy, including slots and bingo machines.
Video poker offers some helpful features that can help you make better decisions than regular poker – like paying out more coins when you hit with a higher rank hand – so it's definitely worth checking out.
What Are The Age Requirements For Gambling At Saddle West Casino?
The minimum gambling age at this casino is 21. Under the legal gambling age, you will not be allowed to participate in any of the casino's gaming activities. Guests must provide valid photo identification to prove their age before entering the casino or buying a drink at the bar.
Does Saddle West Have An Online Casino?
Unfortunately no, the casino does not currently offer an online casino. The casino only offers on-site gaming activities and services.
Guests can catch all the fun of the casino floor, from slot machines to table games. They also have an on-site restaurant and a pool for sun and fun.
Is There An Saddle West Casino App?
No, the casino does not currently have an app available on either Google Play or the App Store. However, they have a website containing gaming activities and services.
The website also includes details about promotions, upcoming events, special offers and more. Guests can visit the website to plan their next trip to this casino resort.
What Is The Dress Code At Saddle West?
The dress code at this casino is casual. Guests should still dress neatly and appropriately, but there is no need to be overly formal.
Casual slacks, jeans, shorts and shirts are all acceptable attire while playing games in the casino or lounging by the pool. Dressier clothing may be required for special events and promotions.
Is There An Airport Shuttle Available From Saddle West Casino?
Unfortunately not. However, several taxi and shuttle services in the area can provide transportation to and from the casino.
Many car rental services are also available in the area, making it easy to get around while visiting the casino. Guests can always check with a concierge or call ahead for more details.
What Is The Smoking Policy At Saddle West?
Only designated areas are available for smoking. These areas are marked and designated in the casino, bar, restaurant and pool areas.
Guests should always follow the signs and ask a staff member if they need help locating a designated smoking area.
What Is The Pet Policy At Saddle West Casino?
This casino has a pet-friendly policy that allows guests to bring their lovable canine companions on vacation. Up to two dogs weighing 50 lbs or less can stay at the casino for an additional fee of $15 per pet per night.
To ensure you have all the information you need during your stay, please don't hesitate to contact the casino directly if you have any questions regarding the pet policy.
Is Wifi Available At Saddle West?
Yes, free wifi is available throughout the casino and its surrounding areas. Guests can access the internet using their personal devices, including smartphones, laptops, tablets and other internet-enabled devices.
What Is The Cancellation Policy For Saddle West Casino?
The cancellation policy at their hotel requires guests to give 48 hours' notice before canceling their reservation. If they cancel after this time, they may be subject to charges.
It is important to read the full terms and conditions of a reservation before booking so that guests are aware of what they need to do to cancel and/or modify their reservation. Guests should also contact the casino directly if they have any questions.
Conclusion
Saddle West Casino offers a variety of on-site gaming activities and services, as well as an on-site restaurant and pool. The casino does not currently have an app or an online casino, but they do have a website with information about its gaming activities and services.
With all that in mind, it is easy to see why the casino is a great destination for leisure and business travelers. The casino offers a pet-friendly policy, free wifi access and a casual dress code, making it an enjoyable experience for everyone.