Santa Fe Station Casino Las Vegas
Address: 4949 N Rancho Dr, Las Vegas, NV 89130
Phone Number: +1 702-658-4900
Website: www.santafestation.com
Hours: Santa Fe Station Casino is open 24 hours a day, 7 days a week.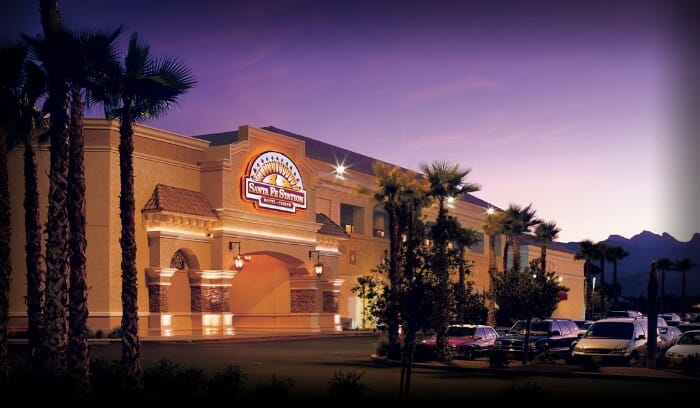 Santa Fe Station opened its doors on February 14, 1991. It is part of the Station Casinos family, a gaming and entertainment provider that operates several properties in the Las Vegas Valley. It was initially known as Santa Fe and was later rebranded.
During the 90s, the property faced labor disputes among the Culinary Workers Union. Still, the problem ended when Station Casinos acquired the property in 2000. The property has also been renovated over the years, but its original Southwestern theme remains. 
It is currently located on a sprawling 40-acre site just north of downtown Las Vegas and offers guests a wide range of gaming activities and amenities.
The casino features more than 2,200 slot machines, video poker and gaming tables, including blackjack, craps, roulette and more. The bingo room is one of the biggest in Vegas. Additionally, they host some of the most popular tournaments in town.
Their hotel has over 200 rooms and suites designed with a Southwestern flair. The hotel is also home to a selection of fine and casual dining options, an entertainment lounge and a live music venue. 
This casino is the perfect destination for anyone looking for gaming fun in Las Vegas. Whether you're looking to play some of the hottest slots in town or trying your luck at the gaming tables, there's something for everyone.
On major review sites like TripAdvisor and Yelp, it has an average rating of 4 stars out of 5. One guest said, "Lovely place, great staff and the casino is really nice." Another said, "A good value for money; lots of machines and variety of games."
(Related reading: Nevada casinos)
Gaming
Their 151,000-square-foot casino offers a wide variety of gaming options and is home to over 2,200 slot machines, video poker and several table games.
Table Games
At this casino in Las Vegas, Nevada, there's something for everyone in terms of table games. Whether you're a casual card player or enjoy the thrill of a fun game of chance, you can find it all here.
Classic favorites like blackjack, craps, Pai Gow poker, and roulette are plentiful – so take your pick. If you're looking to relax and sharpen your skills without spending too much money, there're even tables with lower limits to cater to different budget levels.
Generally, the minimum wager for table games at this casino is $5. However, the minimums could vary depending on the type of game and may be higher during peak hours.
Slots
This casino has something for everyone when it comes to slots. Whether you're a newbie or an experienced slot player, you can find your favorite games here. Popular titles include:
Cash Bonus Blitz II
Buffalo Cash Bonus Blitz II
Jumbo Dollar
American Original
Timberwolf
The Nevada Gaming Commission requires all casinos to maintain a 75-90% payback percentage. As such, this casino is required to have the same range of payback percentages.
Hotel/Resort
This casino has a hotel with more than 200 rooms and suites designed with a Southwestern flair. While staying at this property, guests can enjoy all the amenities of a typical Las Vegas resort, like a fitness center, swimming pool, spa and salon.
Each room is equipped with modern amenities like mini-fridges, microwaves and flat-screen TVs. Plus, WiFi is available throughout the property.
Guests can choose from two distinctive room types: Deluxe King or Deluxe Double Queen – both featuring plush bedding and an array of thoughtful amenities designed to make your stay relaxing and enjoyable.
Room rates vary depending on the season and availability. Generally, rooms are available starting at around $84 per night. Guests should always check the casino's website to confirm pricing and availability before booking a room.
Check-in time at Santa Fe Station is 3:00 pm
Check-out time at Santa Fe Station is 11:00 am
Restaurants & Buffets
Even though this casino does not currently have a buffet, they have various restaurants to choose from.
Here, guests can indulge in cuisines from around the globe, with restaurants like The Charcoal Room, The Brass Fork, Keglers Grill and Leticia's Cocina & Cantina serving traditional favorites.
For those craving seafood specialties, The Oyster Bar serves up hot and cold dishes that are sure to please. Guests also have plenty of American classics at Fat Burger and Panda Express for Chinese fare.
To wrap up your visit to this casino, grab a quick pick-me-up at Starbucks Coffee or try one of Capriotti's delicious sandwiches before ending with some wings from Wing Stop.
With so many unique and tasty options available within the casino walls, you won't go hungry during your stay.
Pools
This casino hotel is praised for its fantastic amenities and attractions. You will be delighted to know that the casino offers a great outdoor pool area. Guests of all ages can take advantage of the sparkling blue waters and tanning loungers under the warm desert sun.
To enhance your pool experience, there are a number of features offered, including lifeguards on duty and an assortment of events held throughout the week.
Whether you want to relax with friends or try something new and exciting, you will find plenty of fun at this casino's outdoor pool area.
Santa Fe Station Casino, Las Vegas, NV FAQ
Does Santa Fe Station Casino Have A Sportsbook?
Get in on the action with their Race and Sports Book. The book offers a full list of sporting events for wagering, including football, basketball, hockey, boxing, and MMA matches. There's even mobile wagering available through the STN Sports App.
For guests looking to relax after their bets, there is also a comfortable lounge area with plenty of TVs to keep up with the games. So whether you're looking to place bets or watch your favorite teams battle it on the court or field – head over to their Race and Sports Book.
Is Poker Available At Santa Fe Station?
This casino certainly has great options when it comes to poker. With the house-banked game of Pai Gow Poker, you can enjoy playing a classic version at their tables. Pair up your seven cards and build two hands – one consisting of five cards and another with just two.
What Are The Age Requirements For Gambling At Santa Fe Station Casino?
The minimum age to gamble at this casino is 21. Players must present valid photo identification to enter the casino floor and play games. The casino reserves the right to refuse service or entry to guests not of legal gambling age.
Does Santa Fe Station Have An Online Casino?
This casino has its own online experience for guests in the form of STN Play. By taking part in this exciting platform, you'll be able to get more from your casino visits by awarding yourself points and rewards on your play.
On top of that, you can cooperate with friends you meet at the casino in head-to-head gaming competitions and tournaments – or team up to earn even more rewards.
So while they don't yet have a full-fledged online casino, there are still plenty of ways to ensure that each time you visit this casino, you're getting the best entertainment experience possible.
Is There An Santa Fe Station Casino App?
Unfortunately, there isn't currently an app available for this casino. However, you can stay connected with them through their website or social media channels.
By doing so, you'll be able to get the latest news, events and promotions at this casino – along with various helpful tips and tricks that can make your next visit even better.
What Is The Dress Code At Santa Fe Station?
The dress code at this casino is casual. Guests are allowed to wear comfortable clothing, such as shorts and t-shirts. However, guests are asked to refrain from wearing overly revealing clothing or anything with offensive language or images.
Is There An Airport Shuttle Available From Santa Fe Station Casino?
Unfortunately, this casino does not offer an airport shuttle service. However, the casino is conveniently close to McCarran International Airport, and there are various transportation options.
Whether you want to rent a car, hop on a shared ride or catch a taxi – you will find plenty of ways to get to and from this casino.
What Is The Smoking Policy At Santa Fe Station?
This casino offers a non-smoking environment throughout the casino floor. However, guests are welcome to smoke in designated areas outside the building and around its outdoor pool area.
What Is The Pet Policy At Santa Fe Station Casino?
They are delighted to welcome your furry friends for an additional fee of $55, plus tax, per stay. For more information about the pet policies at this casino, please call the hotel directly. They will happily answer all your questions so that you and your pup can comfortably stay.
Is Wifi Available At Santa Fe Station?
Yes, free wifi is available throughout the hotel, casino and restaurant areas. Once connected, you will be able to enjoy a variety of exciting activities, including streaming movies, checking emails and social media sites, or playing games online.
What Is The Cancellation Policy For Santa Fe Station Casino?
The cancellation policy for this casino is flexible. Cancellations can be made up to 72 hours prior to arrival without penalty. Guests will be responsible for one night's room and tax charges if a reservation is canceled within 72 hours of the scheduled check-in time.
Conclusion
Santa Fe Station is a great casino close to the McCarran International Airport in Las Vegas. It offers plenty of entertainment, from live gaming tables and slots to tournaments and competitions.
Plus, you can even bring your furry friend along for an extra fee. Additionally, plenty of amenities are available, like free wifi and non-smoking areas. Be sure to check out their website or social media channels for the latest news and promotions.
Now that you know about this iconic casino hotel, it's time to book your stay. Don't wait any longer – pack your bags and get ready for an unforgettable experience in Las Vegas.