Scoreboard Sports Lounge Spring Creek
Address: 259 Spring Valley Pkwy, Spring Creek, NV 89815
Phone Number: +1 775-753-3663
Website: www.scoreboardcasinosc.com
Hours: Scoreboard Sports Lounge is open Monday 8 AM–12 AM, Tuesday 8 AM–12 AM, Wednesday 8 AM–12 AM, Thursday 8 AM–12 AM, Friday 8 AM–9 PM, Saturday 8 AM–9 PM, Sunday 8 AM–12 AM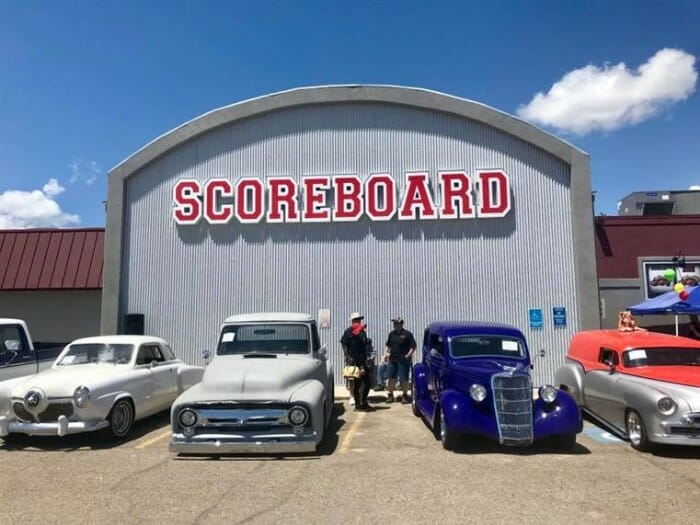 Scoreboard Sports Lounge was established in January of 1996 and has quickly become one of the top sports bars in Spring Creek. The charming bar is stocked with an array of craft beers, spirits, wine, and non-alcoholic beverages.
With several big-screen TVs and comfortable seating, this casino is the perfect place to watch live sports. The bar also features darts, pool tables, karaoke nights, trivia contests, and more.
Guests can also take a shot at their slot machines featuring several popular games. This casino is also associated with Stockmens Casino's lodging, which offers rooms and suites that are perfect for a weekend getaway.
This casino is dedicated to providing a fun and welcoming atmosphere for all its guests. Whether you're looking for a night out with friends or want to try your luck in the casino, Scoreboard Sports Lounge has something for everyone.
On most online review sites, most visitors rated the casino highly overall and rated it 4-star or higher. One guest said, "This is the perfect place to come for a good time, drinks, and great company. The staff is friendly and accommodating, and the atmosphere is fun."
Another said, "The atmosphere at Scoreboard Sports Lounge is fantastic. I love the selection of beers and cocktails, and there's always something fun. Highly recommend this place!"
(Related reading: Nevada casinos)
Gaming
Their gaming space offers a variety of slot machines, including the latest games from some of the leading software providers. They also have a selection of video poker machines, keno and a sports book.
Table Games
This casino may sound like the ideal destination for anyone looking to test their luck on a few table games. However, this quirky casino only offers slots, so don't expect to find a classic blackjack game or poker here.
But it's not all bad – if you're a fan of slot machines, then you'll be delighted by this casino. The selection of one-armed bandits is diverse and impressive, so be sure to check out the wide range of titles available.
Slots
This casino has the hottest and latest slot machines around. Whether you're a penny pincher or want to step up your stake, they've got something for you.
Their most popular slot machines include penny slots, nickel slots, quarter slots, and even dollar slots, all of which provide players with a fantastic experience while potentially providing massive rewards. And with multi-denomination slots available, you can play according to your needs.
By law, this casino operates its slot machines under the same regulations as all other Nevada casinos. That means that slot machines have a minimum payback percentage of 75%.
Hotel/Resort
This casino is perfect for sports fans to watch their favorite teams play. With a variety of large flat-screen televisions, it's a great spot to watch multiple games simultaneously, offering an exciting atmosphere and delicious food and drinks.
Although they don't offer lodging options in their own name, they are partnered with Stockmens Casino, which is just steps away and offers an array of comfortable accommodations you can enjoy after your game day experience.
Its newly renovated rooms and complimentary breakfast provide maximum comfort while you take in the beautiful views of the landscape.
Whether you are traveling for business or pleasure, the 24-hour business center, fitness center and outdoor swimming pool offer a range of activities to keep you busy.
Guests can stay connected with free high-speed Wi-Fi throughout their stay, and those traveling with pets won't need to worry either – pet-friendly rooms are made available to ensure your furry friends feel right at home.
For more information on their lodging options, please visit Stockmens Casino's website or call them directly.
Restaurants & Buffets
Even though the casino does not currently offer buffet-style dining, they have an onsite restaurant that serves various delicious American-style food.
Scoreboard Sports Restaurant provides a unique combination of great food and atmosphere for its diners. The restaurant features a wide array of menu items, including all-time favourites like burgers, sandwiches, salads and more.
In addition, they have daily specials that offer an ever-changing selection of tasty dishes at wallet-friendly prices. Plus, the lounge has plenty of televisions to watch sports games while you dine, making it the perfect spot to meet up with friends and family.
Pools
This casino is the perfect place to kick back and relax after enjoying a day in the sun. It offers an extensive menu of appetizing bites, beers and craft cocktails for everyone's taste.
Plus, if you're looking for entertainment with your meal or drinks, they have plenty of TVs to catch the big game or watch some sports highlights as you enjoy drinks and delicious food.
And while they don't have swimming pools, they surely make up for it with their amazing indoor lounging area. With plenty of seating available, you won't find an easier place to grab a bite and take a break from all the fun that Vegas has to offer.
Scoreboard Sports Lounge, Spring Creek, NV FAQ
Does Scoreboard Sports Lounge Have A Sportsbook?
This casino is proud to have the William Hill Sports Book Kiosk on-site, allowing patrons to place bets on their favorite teams and games.
Not only does it provide convenience to those who would otherwise have to travel elsewhere, but the kiosk also offers a variety of markets with competitive betting odds. Furthermore, if your bet strikes lucky and you win big, the payouts are speedy and secure.
Is Poker Available At Scoreboard?
While they don't offer a full range of typical poker games, they provide customers with video gaming options to add to the entertainment.
If you're looking for the thrill of poker but with a twist, the video versions available at this casino are just what you need. Or, if you're looking for a different challenge, this may just be your lucky day.
What Are The Age Requirements For Gambling At Scoreboard Sports Lounge?
The legal age to gamble at this casino is 21 or older. All guests must have valid government-issued identification with them when entering the casino and will be carded before being allowed to play any games.
Does Scoreboard Have An Online Casino?
No, this casino does not have an online casino but offers a range of video gaming options for customers. The Nevada Gaming Commission monitors and regulates all games to ensure fairness and safe play.
Is There An Scoreboard Sports Lounge App?
No, they do not currently have a dedicated app. However, they offer mobile access to their website and a full range of services through any major browser.
So, you can still take advantage of the amenities and offerings available at this casino, even when away from your laptop or desktop computer.
What Is The Dress Code At Scoreboard?
This casino has a relaxed dress code policy. Casual attire is acceptable as long as it's respectful and inoffensive to other guests. Shorts, jeans, t-shirts and sneakers are all acceptable forms of dress. However, tank tops or flip-flops are not allowed.
Is There An Airport Shuttle Available From Scoreboard Sports Lounge?
Unfortunately, there is no airport shuttle available from this casino. However, it's conveniently located near McCarran International Airport and major highways, so customers can easily get to and from the casino with ease.
Guests can arrange private transportation or use local taxi services to get to and from the casino. Several car rental companies are also nearby for customers who prefer to drive.
What Is The Smoking Policy At Scoreboard?
This property is a non-smoking casino. There are designated smoking areas outside for guests who wish to smoke while enjoying their time at this casino.
They also have an extensive air filtration system, so any potential odor from cigarettes or cigars does not linger inside the main gaming area.
What Is The Pet Policy At Scoreboard Sports Lounge?
This casino does not allow pets but allows service animals with valid documentation. All other animals are prohibited from entering the premises, so please plan accordingly and leave your pet home before visiting this casino.
Is Wifi Available At Scoreboard?
Unfortunately, they do not offer free wifi to their customers. However, several nearby hotels and restaurants offer complimentary access for their guests.
Those looking to stay connected while visiting can also purchase a prepaid internet plan through one of the local wireless providers. This will provide customers with unlimited access during their time at the casino.
What Is The Cancellation Policy For Scoreboard Sports Lounge?
There is no need for visitors to reserve a table or spot in advance, so there isn't a cancellation policy. That said, guests should still be aware that all games are subject to availability, and some areas may be booked up during peak times.
If you need to cancel your visit for any reason, it's best to call ahead as soon as possible so the staff can make the necessary arrangements.
Conclusion
Scoreboard Sports Lounge offers a great atmosphere for those looking to relax and play their favorite games. With a relaxed dress code, no pet policy, and plenty of gaming options available, this casino has something for everyone.
Those needing to stay connected while visiting the casino can purchase prepaid internet access from one of the local providers.
So if you're looking for an entertaining night out or just want to try your luck at some video gaming options, this casino will surely be a great choice.