Sierra Sid's 76 Casino Sparks
Address: 200 N McCarran Blvd, Sparks, NV 89431
Phone Number: +1 775-359-0550
Website: www.sierrasidscasino.com
Hours: Sierra Sid's 76 Casino is open 24 hours a day, 7 days a week.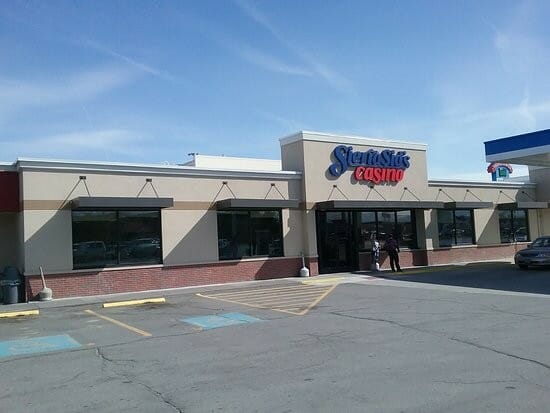 Sierra Sid's 76 Casino has been a mainstay of Sparks for decades. It opened its doors in 1971 and has since welcomed gamblers from all over the region to enjoy a wide variety of gaming options.
It is a family-owned and operated establishment that has served Sparks for nearly 50 years. It's known for its friendly atmosphere, excellent customer service, and various gaming options.
Customers can have fun from their several selections of slot machines, including video poker, progressive slot machines and a variety of video games. The casino also offers great promotions, tournaments, and special discounts to its loyal customers.
This casino offers something for everyone, from experienced gamblers to those just getting their feet wet. Whether you're in it for the thrill or the winnings, this Nevada casino has something for everyone.
Guests give this casino a positive rating of 4.5 out of 5 stars on the most popular review websites. One customer said, "This casino has a great selection of games, good promotions, and friendly staff. I'm always happy to come here."
Another customer said, "I always have a good time at Sierra Sid's 76 Casino. The staff are friendly, the games are plentiful, and the atmosphere is inviting."
(Related reading: Nevada casinos)
Gaming
Their gaming space offers various slot machines, including video poker and games. It also offers keno and sports betting.
Table Games
This casino offers a great selection of slot machines for players to choose from. If you enjoy playing table games, unfortunately, this isn't the place for you – they only have slot machines for your entertainment.
But if slots are your thing, visit them anytime; the friendly staff is always available to help you out.
Slots
If you're looking for excitement at this casino, check out their popular slot machines selection. There's something for everyone, whether you like a classic game like Flying Horse or something more up-to-date like Game of Thrones.
Fancy some Asian flair? Take a spin with Dragon Spin and see if luck is on your side! Get ready to conquer the universe with Thor's Hammer, or have some spooky fun with Ghostbusters.
And, of course, no visit to the casino would be complete without a try at Lock It Link, where you could win big.
This casino is regulated by the Nevada Gaming Commission, which sets guidelines for all casinos in the state.
According to their rules, this casino should have at least 75% payback on their slot machines. This means that for every dollar you put in, you should get back at least 75 cents in winnings.
Hotel/Resort
Guests of this casino in Nevada will find a wide range of exciting gaming and entertainment options – plus the convenience of staying nearby. The casino does not have an onsite hotel. However, there are several great local accommodation choices within easy reach.
Nugget Casino Resort is known for its superior amenities and modernized guest rooms, while Western Village Inn & Casino provides outstanding value with reasonable rates.
Sands Regency Casino Hotel offers many in-house amenities, such as an indoor pool and spa. At the same time, Best Western Plus Sparks-Reno Hotel provides pristine accommodations close to top attractions.
Whichever place you choose will provide excellent comfort while enjoying everything this casino offers.
Restaurants & Buffets
If you are looking for a delicious and wholesome meal during your visit to this casino, look no further than Country Pride Restaurant.
Offering the best in American home-style cooking, Country Pride is sure to satisfy your appetite regardless of what you're craving. Each entrée is prepared with fresh ingredients from local farmers, from steaks to salads and burgers to pasta dishes.
Although Country Pride does not offer a buffet, the diverse menu ensures enough variety for everyone. Plus, for those looking for a lighter fare, there are plenty of sides to choose from.
Pools
This casino is truly an amazing place that is sure to make your wildest dreams come true. Even if your idea of a dream vacation involves getting a little relaxation, the casino offers plenty of amenities to meet your needs.
Unfortunately, there are no swimming pools on the premises. However, if you're looking for a beachy experience with some sun, sand, and sea-worthy fun, it's only a short drive to one of Nevada's stunning coastline resorts.
So while you may not be able to make a splash right in the middle of downtown Las Vegas, you can still enjoy all that the area has to offer.
Sierra Sid's 76 Casino, Sparks, NV FAQ
Does Sierra Sid's 76 Casino Have A Sportsbook?
This casino is a great place for visitors and locals to experience the thrill of gambling. Fortunately, this excellent casino offers a comprehensive sportsbook operated by the reputable bookmaker William Hill.
Offering odds on games from various leagues and countries, their sportsbook lets you bet on whichever teams or games you fancy without leaving the premises.
For those looking to enjoy themselves in a safer environment, this casino helps ensure that each of its guests can bet wisely with confidence that all outcomes will be determined fairly.
Is Poker Available At Sierra Sid's 76?
Although the casino offers some gaming options and a large array of slots, there is no table poker. If you're interested in testing your skills with cards, video Poker is still available.
The venue is home to high-quality video poker machines, so you can test your mettle against the computer while possibly winning big.
What Are The Age Requirements For Gambling At Sierra Sid's 76 Casino?
Gambling at this casino is strictly regulated, and all players must be over 21 to participate.
Furthermore, all players must present valid photo identification before being allowed to enter the gaming area. This ensures that only adults of legal gambling age can enjoy their time at this casino.
Does Sierra Sid's 76 Have An Online Casino?
No, this casino does not have an online presence. However, with many great amenities and in-house games, you won't miss out on anything when visiting the venue. Also, with its convenient location, you can easily make a day of it and enjoy the rest of what Las Vegas has to offer.
Is There An Sierra Sid's 76 Casino App?
No, there is no app associated with this casino. However, the website offers plenty of information and links to all of their social media accounts. Plus, guests can easily sign up for promotions and special offers while visiting the establishment.
What Is The Dress Code At Sierra Sid's 76?
The dress code at this casino is casual. However, guests should avoid wearing clothing that might be deemed offensive or otherwise inappropriate. So, if you plan on visiting this casino, dress accordingly.
Is There An Airport Shuttle Available From Sierra Sid's 76 Casino?
Unfortunately, this casino does not offer an airport shuttle service. However, the casino is conveniently located near McCarran International Airport, and several ground transportation options are available to get you to and from the establishment.
Ride-sharing services, private car services, and shuttle buses can all be used to transport you to and from this casino.
What Is The Smoking Policy At Sierra Sid's 76?
The casino does not permit smoking inside the premises. However, an outdoor smoking area is available for patrons who wish to light up and enjoy their time at the casino. Smoking must be done in designated areas only, and guests may not smoke anywhere else on the property.
What Is The Pet Policy At Sierra Sid's 76 Casino?
Unfortunately, pets are not allowed inside the casino. This is to ensure the safety and comfort of all guests and maintain a clean and hygienic environment for everyone.
Service animals such as guide dogs may be allowed into the premises upon presentation of valid identification documents. All other types of animals must remain outside at all times. This includes emotional support animals.
Is Wifi Available At Sierra Sid's 76?
Unfortunately, they do not offer free WiFi at the casino. However, many of the restaurants and cafes in Las Vegas offer free access to their customers. Take advantage of these services if you need to connect to the internet while visiting this casino.
You may also call their customer service line for more information about WiFi availability at the casino.
What Is The Cancellation Policy For Sierra Sid's 76 Casino?
There is no pre-booking system, so this casino does not have a cancellation policy. Guests can visit the casino anytime during business hours and enjoy their time there.
However, the casino does reserve the right to refuse service to anyone for any reason. It is advisable to check with their customer service representatives before visiting the casino. They may also be able to provide more information about their other policies and services.
If you have any further questions or concerns, please get in touch with the casino's customer service team directly with your inquiries. They can assist you with any issues or concerns during your visit.
Conclusion
Sierra Sid's 76 Casino is a great place to visit for anyone looking for exciting entertainment and gaming in Las Vegas. The casino offers many amenities, a convenient location, and special promotions.
It also has a strict dress code and smoking policy, and pets are not allowed on the premises. Guests can easily access ground transportation from McCarran International Airport and nearby restaurants if they need to connect to the internet.
With all these features, this casino is an ideal choice for any traveler looking to spend a night of fun and excitement in Las Vegas. Before visiting the casino, check with their customer service team to learn more about their policies and services.