Silver Sevens Casino Las Vegas
Address: 4100 Paradise Rd, Las Vegas, NV 89169
Phone Number: +1 702-733-7000
Website: www.silversevenscasino.com
Hours: Silver Sevens Casino is open 24 hours a day, 7 days a week.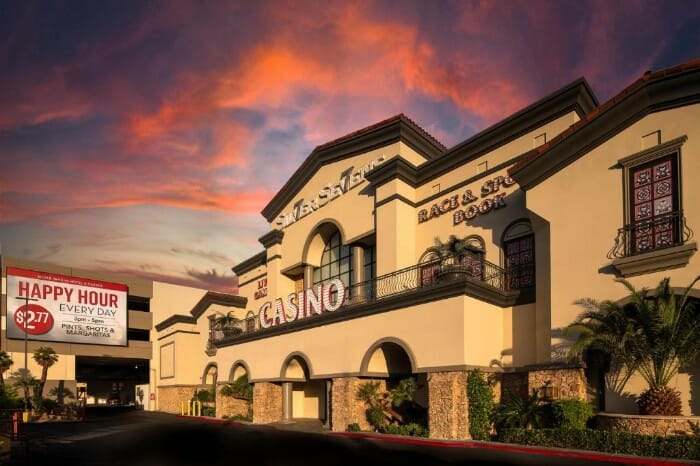 Silver Sevens Casino has been a staple in the Las Vegas area since it opened its doors in 1981. Originally named the Continental Hotel and Casino, the property was meant to be a resort with a 50s theme by its original owners.
However, the property went into bankruptcy in 1998 and was bought by the family that owned Terrible Herbst. After many renovations, the casino was renamed Terrible's and then became the Silver Sevens Casino it is today.
This casino is known for its friendly staff, great promotions, and all the latest gaming options. With more than 400 slot machines, a variety of table games, video poker, race and sports betting, Keno and bingo gaming, they have something for everyone.
For those looking to stay longer, they have an onsite hotel and several restaurants to choose from. Whether you're just passing through or planning a weekend getaway, this casino is the perfect place to get away and let your hair down in Las Vegas.
On many different review sites, this has been rated with 4-5 stars on average. Guests have commented, "The staff were friendly, helpful and accommodating. The casino was also very clean, and we had a great time playing the slots. Highly recommended!"
Another commented, "This is a great little casino in Las Vegas. They have everything you need to enjoy an evening of gaming or just having a few drinks with friends."
(Related reading: Nevada casinos)
Gaming
Their 35,000-square-foot casino is filled with all the classic slots and video poker machines you would expect to find in a Las Vegas-based casino. They also offer a variety of table games, including blackjack, roulette, craps, and more.
Table Games
This casino is the spot to be for an exciting and rewarding gaming experience. You can find all your favorite table games – from 1/2 No Limit Hold'Em and Pai Gow Poker to Roulette, Blackjack, and Craps.
You will surely find the game right for you at this casino. With helpful and friendly staff, you'll have no problem getting the hang of it in no time.
Generally, visitors will find that the minimum bets on table games are quite reasonable. This casino usually has $3 or $5 betting minimums for most table games, depending on the night and day.
Slots
This casino in Las Vegas is home to a wide variety of popular slot machines, ranging from penny and nickel games all the way up to high-stakes, multi-line action. Popular titles include:
Jurassic Park
Timber Wolf
Tabasco
Monopoly
Breaking Bad
Ghostbusters
Unfortunately, this casino does not currently publish its slot machine payback percentages. However, Nevada regulations require that all casinos in the state have a minimum return of 75% on their slots.
That means you can expect to get back at least 75 cents for every dollar you spend in this casino's slot machines.
Hotel/Resort
Their hotel is home to a 370-room hotel and resort. Each guest room is equipped with amenities like high-speed Internet access, cable TV, and microwaves. Guests can also enjoy onsite dining at the steakhouse, breakfast cafe, and deli.
Some of their room types include:
Deluxe Room – features 1 king or 2 queen beds
Premium Room – features 1 king or 2 queen beds
Patio Room – features 1 king or 2 queen beds and a patio with access to the pool
Suite – features 1 king bed, a living room, a walk-in shower and a bathtub
Additionally, this casino hotel offers a variety of amenities for visitors. These include:
Free self-parking
24-hour front desk
Free internet access
Onsite restaurants
Swimming pool
Live entertainment
Retail store
Meeting facilities
Fitness center
ADA amenities
The prices for this hotel vary depending on the time of year and availability. Generally, rooms start at around $69 per night, while suites cost up to $300 per night. Taxes and fees may be added to your total amount due.
Check-in time at Silver Sevens is 3:00 pm
Check-out time at Silver Sevens is 11:00 am
Restaurants & Buffets
Even though they do not offer a full-service buffet, the casino offers a few great dining options. City Cafe takes the classic diner experience and gives it a Las Vegas twist with its all-you-can-eat sandwich bar.
Meanwhile, Bud Light Sports Bar has not only beer but also plenty of TVs to catch up on your favorite sports broadcast while munching on bar bites and grilled favorites.
Silver 7 & Gold Sports Bar is an ideal spot if you need a break from the hustle and bustle of the bright lights and action; here, you'll find world-class cocktails, and gourmet tapas awaits those who are looking for a slightly more refined atmosphere.
Pools
Looking for a fun and unique way to cool off in the hot Nevada sun? Look no further than this casino hotel. They offer their signature Desert Oasis pool heated to a perfect temperature.
Relax in one of their private cabanas or take an invigorating dip in the hot tub while enjoying the stunning views of Las Vegas. Their poolside staff is friendly experts ready to assist with available cabana and hot tub rentals.
Silver Sevens Casino, Las Vegas, NV FAQ
Does Silver Sevens Casino Have A Sportsbook?
This casino is proud to offer patrons the chance to enjoy sports betting with their onsite William Hill Sportsbook. Whether you're at the casino in person or betting from home, there are easy ways to access sports-betting services.
You can visit their website or download the William Hill Sportsbook App, where a selection of wagers is available. Betting on sports just got easier with this casino's trusted partner in sports betting.
Is Poker Available At Silver Sevens?
Yes, this casino offers several poker rooms for players to enjoy. The action never stops with Texas Hold 'Em and Pai Gow game tables. Their staff is always ready to help guests get in on the action with proper instructions and rules.
The casino's friendly staff strives to ensure everyone has a safe and enjoyable time while playing. Whether you're a beginner or an experienced pro, this casino has something for everyone.
What Are The Age Requirements For Gambling At Silver Sevens Casino?
You must be at least 21 years of age to gamble in the state of Nevada. Patrons under 21 are not allowed on the casino floor, but they can enjoy all other amenities, such as restaurants and family-friendly activities.
Does Silver Sevens Have An Online Casino?
This casino offers an online casino experience for all players to enjoy. The A-Play Online Social Casino allows you to access casino games from anywhere, anytime. All you need to do is sign up and start exploring, finding the perfect game to suit your needs.
With a comprehensive range of games available on their platform, you can easily test out different features and stakes to maximize your gaming experience.
Head to their website today if this sounds like something that appeals to you – they have all the information you need to set up your account with A-Play Online Social Casino and unlock the world's potential for online casino gaming.
Is There An Silver Sevens Casino App?
No, there is currently no app available. However, you can access the casino's website through your mobile browser to stay up-to-date with everything that's happening at this casino. Be sure to follow their social media accounts for updates and announcements.
What Is The Dress Code At Silver Sevens?
The dress code at this casino is strictly enforced, and patrons are expected to dress neatly and appropriately. Shorts, t-shirts, tank tops, flip flops, hats, or any other clothing deemed to be inappropriate for the venue will not be allowed.
Is There An Airport Shuttle Available From Silver Sevens Casino?
Unfortunately, this casino does not offer an airport shuttle service. However, several convenient transportation options can help you get to and from McCarran International Airport.
Taxis, shuttles, limousines, and ride-sharing services are available at the airport.
What Is The Smoking Policy At Silver Sevens?
This casino is proud to offer a smoke-free environment for all guests. Smoking is not allowed on the gaming floor, and designated smoking areas are provided for those who wish to smoke outside.
What Is The Pet Policy At Silver Sevens Casino?
Unfortunately, this casino does not allow pets on their property. However, service animals are welcome in the casino and all other areas of the property. All service animals must be properly identified and remain under the control of their owners at all times.
Is Wifi Available At Silver Sevens?
Yes, this casino offers complimentary high-speed WiFi throughout the property. Guests must register their devices to access the network, and they can do so easily with just a few clicks on their web browser.
If you need further assistance connecting to the WiFi, contact the casino's customer service team. They are always ready and willing to help guests get connected.
What Is The Cancellation Policy For Silver Sevens Casino?
This casino offers a flexible cancellation policy to help guests keep their plans and budget in check. If you need to cancel your reservation, you can do so up to 24 hours before your check-in date with no penalty fees.
Cancellations made within 24 hours of the check-in date are subject to a one-night penalty fee.
Conclusion
Silver Sevens Casino is a great destination for both locals and visitors alike. With an array of amenities, activities, and gaming options, everyone can find something that appeals to them here.
Check out their website for more information on upcoming events and promotions. Plus, don't forget to take advantage of their online casino option – A-Play Social Casino – for the ultimate gaming experience from anywhere in the world.
After all, if you're looking for an exciting and rewarding casino experience, this casino is the place to be. So head over to this premier Las Vegas destination today!