Skyline Casino Henderson
Address: 1741 N Boulder Hwy, Henderson, NV 89011
Phone Number: +1 702-565-7907
Website: www.skylinehotelandcasino.com
Hours: Skyline Casino is open 24 hours a day, 7 days a week.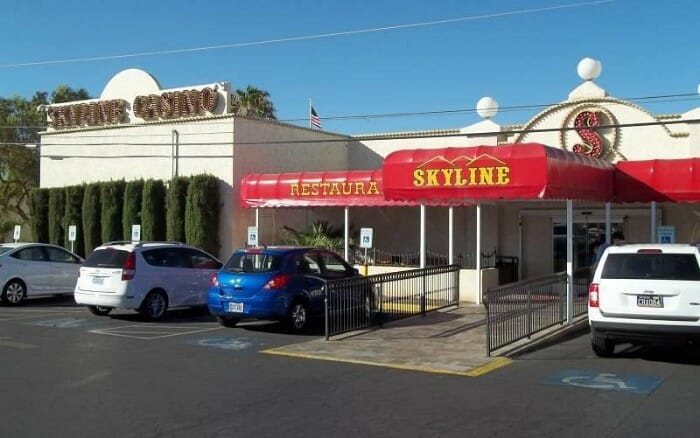 Skyline Casino was founded in 1964 by Nevada-based casino operators. Initially, the property housed the Dixie Bar, a small bar and cafe that offered guests quick drinks and snacks. In 1952, the bar was sold to a couple named Rolly and Ella Cook, who renovated the entire property.
In the 1950s, the bar became famous for having a small library within its premises. The library provided books that the guests could read and borrow, making it a popular destination for bookworms visiting the area.
When the Cooks retired in 1960, a couple of businessmen purchased the property and built what we now know as the Skyline. However, despite several years of success, the owners had to sell the casino to Jim Marsh in 2003.
Over the years, the casino has undergone several renovations and expansions to keep up with the changing times. Today, the casino is one of the oldest gambling destinations in Nevada. The casino offers a variety of gaming options, including slot machines, blackjack, poker, and more.
In addition to gaming tables, the casino also boasts a spacious onsite bar where people can relax while they enjoy drinks or watch live entertainment. They also have an in-house restaurant that serves up delicious meals for guests.
Additionally, this casino also offers lodging options for those who wish to stay in the area. The casino offers comfortable rooms that are ideal for long-term and short-term stays. Guests can also enjoy various amenities, such as an outdoor pool, fitness center, and more.
This casino is certainly the perfect destination for people looking to enjoy a night of gambling and entertainment. Whether you're a casual player or an experienced gambler, you'll surely find something at this Henderson hotspot that suits your needs.
On most major review websites, this casino has been rated with a 4-star overall rating. Many guests who have stayed at the casino said, "This is a great place to go for some gambling and entertainment."
Another said, "The staff was very friendly, and the slots were well maintained. I had a great time." Many guests also said that they would return to Skyline Casino in the future.
(Related reading: Nevada casinos)
Gaming
Their 4,356 square foot gaming room is home to several slots, video poker machines, and table games. They also have an onsite sportsbook for those who like to bet on their favorite teams.
Table Games
This casino in Nevada offers a variety of thrilling table games to suit all levels of play. Whether you're a new or experienced player, you can choose your game from Texas Hold'Em, NL Hold'Em and Double Deck Blackjack.
Each game has its own features and exciting gaming experience that will keep you entertained for hours. Plus, the friendly staff is on hand to help any newcomers get their footing in these classic card games.
The minimum bets for each game vary depending on the table you choose. Generally, the minimum bet for most tables in this casino is $5, but some tables require higher minimums for certain games.
Slots
This casino has a whole lineup of popular slot machines that will please any player. Kitty Glitter is a classic that is loved by many, with its cartoon cats and captivating sound effects.
Fireball's imaginative theme really stands out, packing the energy of classic pinball with some great rewards. Snow Wizard is perfect for those who like to get in the Christmas spirit all year round, while The Three Fates will take you on an exotic journey of stacked symbols and big wins.
Timber Wolf will transport you back in time with symbols from the wild frontier if you're looking for something more traditional. For something fast-paced and thrilling, Vortex brings futuristic gameplay to the table.
Unfortunately, this information is not available at this time. However, the Nevada Gaming Commission requires all casinos to maintain a minimum slot machine payback percentage of 75%.
This means that the average return players can expect at this casino is at least 75% of their total bets. This is within the accepted industry standard and ensures fair gaming.
Hotel/Resort
This casino offers luxurious rooms for guests who wish to stay in the area. The rooms come with various amenities, such as complimentary Wi-Fi, smart TV, and mini-refrigerators. Guests can also request additional services like daily housekeeping, room, and concierge services.
Some of their room types include:
Classic Full – features 1 king or 2 queen beds
Accessible Rooms – features ADA amenities
Executive King – features 1 king bed, a fireplace and a spacious walk-in bathroom
Additionally, their hotel offers a variety of amenities for guests to enjoy. These include:
Free Wifi access
24-hour front desk
Free self-parking
Outdoor swimming pool
Fitness center
Business center
Meeting and banquet facilities
Onsite restaurant and bar
The cost of staying at this hotel in Nevada can range from $99 to $150 per night, depending on the type of room you choose. There will also be additional fees for any additional services or amenities you may need.
Check-in time at Skyline is 3:00 pm
Check-out time at Skyline is 11:00 am
Restaurants & Buffets
Although there isn't a buffet available, the casino still has an onsite restaurant and bar offering delicious food and drinks. If you're looking for a delicious place to eat while you're visiting this casino, look no further than Horizon Café.
The restaurant serves various authentic American and Mediterranean cuisine options, from pasta to pizza and delightful entrées like Chicken Kiev. On top of that, they also have a full bar featuring craft beer, specialty cocktails and select wines.
Their amazing atmosphere is the perfect touch to make your experience complete – dim lights, cozy tables, and friendly service add up to the perfect destination for your dining pleasure.
Pools
This casino hotel's pool is the perfect place to relax and have some fun under the sun.
Featuring a serene waterfall flowing into the pool, comfortable covered and uncovered lounge areas, and an invigorating whirlpool, guests can take advantage of various amenities to enhance their experience.
There's even a swim-up bar for those looking for a little extra adventure. This casino offers something for everyone to enjoy, from swimming laps to lounging in the shade.
Skyline Casino, Henderson, NV FAQ
Does Skyline Casino Have A Sportsbook?
This casino is one of the best-kept secrets in Las Vegas for sports betting lovers. Thanks to William Hill Sportsbook, visitors and locals alike can enjoy a full menu of sports betting options with all the latest lines available in real-time.
Their newly designed casino floor on the Strip is bright and bustling with energy, offering an immersive environment for fans to watch the games and try their luck.
This casino has become a great option for sports enthusiasts looking to place bets confidently because they know William Hill Sportsbook has their back.
Is Poker Available At Skyline?
This casino has certainly not disappointed when it comes to the world of poker. The casino features a top-of-the-line poker room with various games to choose from. Whether you're a fan of Texas Hold'Em or NL Hold'Em, you're sure to find exactly what you've been looking for.
What Are The Age Requirements For Gambling At Skyline Casino?
In order to gamble at the casino, you must be 21+ years old. This includes playing slots, table games, and betting in the sportsbook. Guests must present a valid photo ID upon check-in. Failure to do so will result in denied access.
Does Skyline Have An Online Casino?
No, they do not have an online casino. Their gaming and gambling activities are conducted in person on the casino floor, sportsbook, or poker room. It is important for visitors to remember that all betting must take place in person.
Is There An Skyline Casino App?
No, they do not currently have an app. However, customers who want to stay updated on the latest news and promotions from the casino can follow them on social media channels such as Facebook, Twitter, and Instagram.
What Is The Dress Code At Skyline?
The dress code is generally casual, but no beachwear or offensive clothing is allowed. It is also suggested that customers refrain from wearing shorts and sandals in the casino. They may also be asked to leave if they are not dressed appropriately.
Is There An Airport Shuttle Available From Skyline Casino?
Unfortunately, there is no airport shuttle service available from this casino. However, there are plenty of taxi and rideshare services that can be used to get to and from the casino. Alternatively, visitors could rent a car or take the public bus.
What Is The Smoking Policy At Skyline?
This casino is a smoke-free facility. There are designated smoking areas outside the casino, but guests are asked to respect the non-smoking policy inside the building.
Additionally, the casino does not allow vaping products in any part of its facility. Guests are asked to use their discretion and only smoke or vape outside the building in designated areas.
What Is The Pet Policy At Skyline Casino?
Pets are welcome here on request. To ensure that everyone can enjoy their stay, there is a nominal pet fee of $35.00 per pet/per night, which ensures your furry companion feels right at home during their holiday.
Is Wifi Available At Skyline?
Yes, WiFi is available free of charge throughout the casino. Guests can connect to the internet using their own devices or access the computers in the lobby.
Wifi can also be accessed in the hotel rooms for free. This allows guests to keep up with the latest news while in town or catch up on emails and social media.
What Is The Cancellation Policy For Skyline Casino?
All hotel reservations must be canceled 24 hours prior to arrival. Any cancellations made within 24 hours of check-in will incur a fee of one night's stay.
If you need to cancel or amend your reservation, don't hesitate to contact the property directly using the details provided in your confirmation email.
Also, if you booked your room through a third-party site like Expedia or Booking.com, you must cancel through that specific website to avoid additional charges.
Conclusion
Skyline Casino is a great destination for those looking to experience all the thrills of Vegas-style gambling without traveling too far from home.
With an impressive selection of games, friendly staff and plenty of amenities, you can be sure that your casino stay will be enjoyable. Check out their website or social media channels for the latest information on promotions, events and more.
Do not forget to follow the dress code, smoking policy and cancellation policies to have a safe and pleasant experience during your visit to this casino.