South Point Las Vegas
Address: 9777 S Las Vegas Blvd, Las Vegas, NV 89183
Phone Number: +1 866-791-7626
Website: www.southpointcasino.com
Hours: South Point Las Vegas is open 24 hours a day, 7 days a week.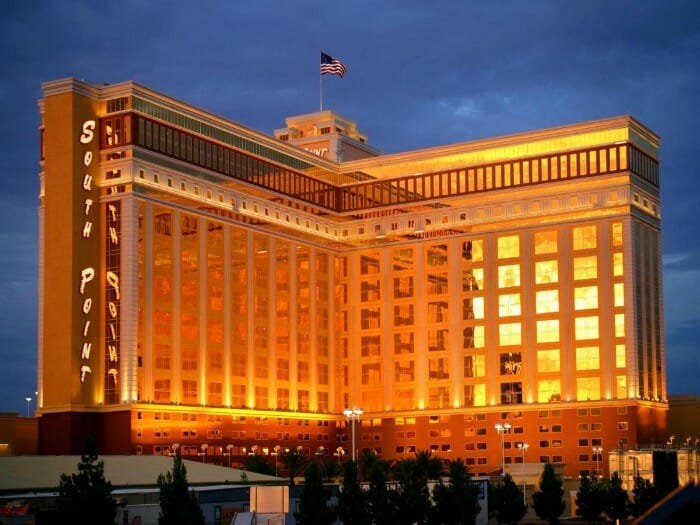 South Point Las Vegas was built in 2005 and has been a favorite destination for locals and tourists. The casino is owned by Michael Gaughan, who also owns the Barbary Hotel & Casino.
The land it currently stands on was originally owned by Coast Casinos, who built the property in 2003 as the South Coast Hotel Casino. In 2005, Gaughan purchased the property and changed its name to its current branding.
Today, the casino offers its guests a variety of amenities, including top-notch gaming, luxurious accommodations, an expansive spa and fitness center, world-class restaurants, and more. The casino boasts over 2,200 slot machines, video poker games, and 60 table games.
Their hotel offers a variety of accommodations, from its standard rooms to its five-star suites. Guests can also enjoy the hotel's outdoor pool area and fitness center. The casino also offers a wide selection of dining options that range from casual to high-end.
At this casino, guests can access an array of entertainment and activities, from live shows to musicals. No matter what guests are looking for, they definitely offer something for everyone.
On popular travel sites like TripAdvisor and Yelp, the casino has a 4-star rating from hundreds of reviews. One guest said, "The South Point Vegas is great for all kinds of entertainment, food, and fun. The staff was really friendly. The casino had lots of different games to choose from."
Another guest commented on the hotel accommodations, saying, "The service in the rooms was top-notch. Great location with lots of attractions nearby. Highly recommend staying here".
(Related reading: Nevada casinos)
Gaming
Their 137,232 square foot gaming floor offers over 2,200 slot machines, video poker games, and 60 table games.
Table Games
At this casino, there is a great selection of classic table games for you to enjoy. Whether you're a fan of card games such as Blackjack, Three Card Poker and Baccarat or prefer dice games like Craps and Fortune Pai-Gow Poker, they have you covered.
Roulette is always popular with its mysterious spinning wheel, keeping your heart pounding as the ball nears its destination. Ultimate Texas Hold 'em will surely provide a unique challenge for advanced players looking for something new.
The minimums at this casino vary depending on the day and game. Generally, on weekdays, the minimum bet for most table games is $5, while weekends will see a slightly higher minimum of $10.
Slots
This casino offers a variety of exciting slot machines for visitors to enjoy. From classic reels to the newest and most popular video slots, there is something for every type of gambler. Popular titles include:
Texas Tea
Dragon Link
Buffalo
Invaders From Planet Moolah
Sharknado
The Lord of the Rings
Buffalo Gold
Ten Times Pay
Unfortunately, this information is not available to the public. However, according to the Nevada Gaming Commission, all casinos in the state of Nevada must have at least a 75% payback percentage on their slots.
Hotel/Resort
The casino hotel offers guests the perfect combination of luxury, comfort and convenience. Each room is equipped with modern amenities such as flat-screen TVs, memory foam mattresses, mini refrigerators and more.
Their room types include:
Premium Room – features 1 king or 2 queen beds
Professional Hotel Suite – features 1 king bed and a working area
Junior Hotel Suite – features 1 bedroom with a king, a Roman tub and a working area
1 or 2 Bedroom Suites – feature a living room and a small bar
Luxury Suite – features a living room, a big sofa, a bar with a sink, a Roman tub and a shower
They also offer guests the full resort experience with a variety of amenities, including:
24/7 room service
Outdoor pool area
Fitness center
Business Center
24-hour valet parking
Meeting spaces and banquet rooms
Spa and salon services
Barbershop
Gift shop
Liquor store
The cost of staying at this hotel varies depending on the type of room and amenities you choose. Their room rates range from $79 plus additional taxes and fees to $300+.
Check-in time at South Point is 3:00 pm
Check-out time at South Point is 12:00 pm
Restaurants & Buffets
This casino's location offers a wide variety of restaurants. Michael's Gourmet Room is an excellent choice for diners looking for high-end cuisine. This restaurant features fresh lobster, USDA prime steaks, homemade pasta and many more traditional fine dining selections.
Silverado Steak House should not be overlooked for a steakhouse experience with great seafood options – known for its perfectly cooked sirloins and parmesan-crusted halibut. Don Vito's is the place to go for Italian cuisine featuring creative recipes with fresh ingredients.
Primarily Prime Rib specializes in slow-roasted hormone-free beef – perfect for lovers of prime rib! Baja Miguel's offers Mexican food made from scratch with unique toppings and flavors.
At the same time, Big Sur Oyster Bar has an impressive selection of both cooked and raw seafood dishes that could rival any seafood specialty restaurant.
Zenshin offers sushi and other Japanese dishes prepared with traditional techniques — including an impressive Teppanyaki menu which can be enjoyed tableside! The Coronado Cafe offers American-style meals like burgers, chicken tenders and steak smothered in mushrooms.
Steak 'n Shake presents a diner-style atmosphere with all the classic staples – burgers, shakes and fries – but you can also get steakburgers here! Last but not least, Del Mar Deli creates delicious sandwiches that don't skimp on quality or quantity, subs and wraps too.
Lastly, if you're looking for a budget-friendly buffet, check out the Garden Buffet. It boasts hearty breakfast dishes, delicious lunch fare and special dinners like the Prime Rib & Champagne Brunch and Prime Rib Dinner featuring Peel and Eat Shrimp.
Seafood lovers will also love the Seafood Night Featuring Prime Rib. Prices range from $14.95 for breakfast to $44.95 for dinner – an amazing value no matter what option you choose.
Pools
This casino has a fantastic pool area to offer guests. The free-form pool offers plenty of room for splashing around and cooling off on those hot summer days. For a quieter swim experience, the wading pool is lovely and refreshing.
If you want to take a break from the sun, you can relax in the gazebo, sit back and enjoy some shade. The hotel's hot tub is also available throughout the day, perfect for unwinding after an exciting Las Vegas night out.
South Point Las Vegas, NV FAQ
Does South Point Las Vegas Have A Sportsbook?
Yes, this casino has a sportsbook. Guests can wager on various sporting events and races from around the world. Their sportsbook features big-screen TVs, comfortable leather chairs and a relaxing room.
Is Poker Available At South Point?
Yes, this casino has a poker room. The poker room offers an array of cash games and tournaments throughout the day. There are also special bonuses for playing in the tournaments, such as free drinks or meals at their on-site restaurants.
What Are The Age Requirements For Gambling At South Point Las Vegas?
The age requirement for gaming at this casino is 21 and over. Guests must also provide a valid photo ID to enter the casino's gaming areas. Minors are allowed to enter the hotel, restaurants and other non-gambling areas as long as they are accompanied by an adult.
Does South Point Have An Online Casino?
No, this casino does not have an online casino. Guests can only access the casino's gaming offerings while on-site. This includes slot machines, table games and poker. The sportsbook is also a physical location only.
Is There An South Point Las Vegas App?
No, this casino does not have an app. However, they have a website with information about the casino and its offerings.
The website also provides links to various promotions and events held at the casino. Guests can also find information on their restaurants, pool area and other amenities offered at South Point Las Vegas.
What Is The Dress Code At South Point?
The dress code at this casino is smart casual. They ask that guests avoid wearing overly revealing, offensive or inappropriate clothing. The casino has the right to deny entry to anyone not in compliance with the dress code.
Is There An Airport Shuttle Available From South Point Las Vegas?
If you're heading to this casino, here's some great news – the hotel offers a scheduled shuttle that runs to and from Harry Reid Airport. This is very convenient if you're flying into or out of the area, as it means you don't have to worry about waiting for a taxi or renting a car.
However, please be aware that the shuttle needs to be reserved in advance, so make sure you call before hopping on board.
What Is The Smoking Policy At South Point?
This casino has a strict no-smoking policy throughout the hotel. This includes all gaming areas, restaurants and other public spaces. Guests who wish to smoke must do so outside the casino, in designated smoking areas only.
What Is The Pet Policy At South Point Las Vegas?
Unfortunately, pets are not allowed at this casino hotel. This includes both service animals and emotional support animals. Guests with these types of animals must make other arrangements while staying at this hotel.
Is Wifi Available At South Point?
Yes, free wifi is available throughout the hotel. Guests can enjoy unlimited internet access during their stay at no additional charge.
Guests can also access the free wifi in the common areas, such as the lobby and pool area. This is a great way to stay connected without having to use data.
What Is The Cancellation Policy For South Point Las Vegas?
The cancellation policy for this casino requires guests to cancel their reservations at least 72 hours prior to arrival. If a reservation is not canceled within this time frame, the guest will be responsible for the full cost of the stay.
Additionally, any reservation booked through a third-party site must be canceled through that same site. Guests should always double-check the cancellation policy for any special offers or discounts that may be applied prior to booking.
Conclusion
South Point Las Vegas is a great destination for gamers and non-gamers. It offers all the amenities of a top-notch casino, with plenty of gaming options, restaurants and activities.
With its convenient location near Harry Reid Airport, free wifi and smoking policy, this casino is sure to make your stay in Las Vegas a memorable one. So, if you're looking for an exciting casino experience, this casino is definitely worth a visit.