Stagecoach Hotel & Casino Beatty
Address: 900 US-95 North, Beatty, NV 89003
Phone Number: +1 775-553-2419
Website: www.stagecoachhotelandcasino.com
Hours: Stagecoach Hotel & Casino is open 24 hours a day, 7 days a week.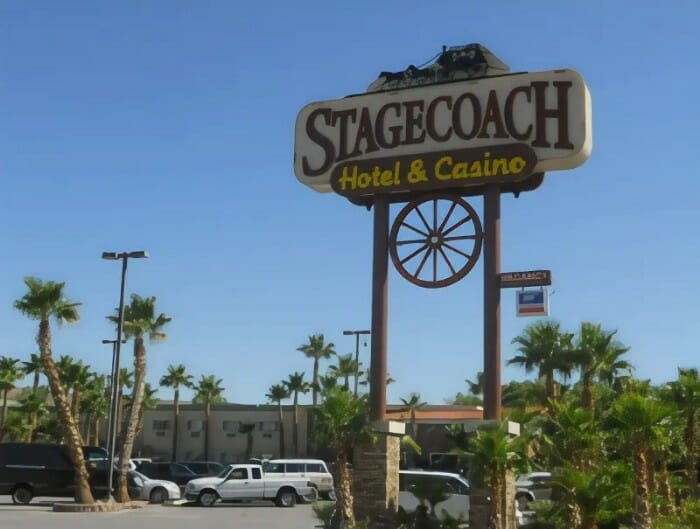 Stagecoach Hotel & Casino has been a popular destination in Beatty since the early 1980s. The hotel and casino were owned and operated by a family from its opening until today.
The casino has become a staple in the area and is loved by locals and visitors.
The casino offers guests various gaming options, including slots, table games, video poker, keno and more. The hotel also provides comfortable accommodations for staying overnight or longer.
The casino hotel has become a tourist hotspot and is especially popular among those looking to escape from the hustle and bustle of Las Vegas.
With its convenient location off Highway 95, guests can enjoy the beauty of Beatty while still having access to all that Las Vegas has to offer. So if you're looking for a place to stay in the area or just a fun night out, look no further than this casino.
The casino hotel gets an average of 4.5 stars out of 5 from reviewers, making it a great choice for your next visit to Beatty. One reviewer said, "The rooms were clean, and the staff was friendly. The casino is small, but it had a great atmosphere."
Another reviewer said, "I really enjoyed my stay! The hotel is right off the highway, so it's easy to get to your destination quickly. The gaming options are fun, and the atmosphere is very inviting."
(Related reading: Nevada casinos)
Gaming
Their gaming floor features several of your favorite gaming machines, including slots, video poker, keno and more. They offer a variety of table games such as blackjack, craps and more.
Table Games
This casino offers a wide variety of classic table games for its guests. You can enjoy the classic casino atmosphere and test your skills against the dealer with Blackjack, one of the oldest casino games.
If you're feeling luckier that day, you can try your luck at Poker, which offers numerous variations and remains one of the most popular card games. Roulette is another great option if you'd like to take a spin at Lady Luck; pick between red or black and win big.
Craps doesn't require as much skill as other table games, but it's also worth a go – throw the dice and get ready for an exciting game. For those wanting something different, Cage has plenty of mystery and wildness where anything can happen.
Generally speaking, the minimums for table games here are $5. However, depending on what game you're playing, they may be higher or lower.
Slots
This casino offers a great selection of popular slot machines for everyone. You can find a variety of classic 3-reel slots and the latest 5, 6 and 7-reel video games. You're sure to find something fun, from vintage favorites to high-tech titles.
Some of the popular slot machines at this casino are:
Wonder Woman Wild
The Walking Dead
Rawhide
Starry Night
Jurassic Park
Cleopatra
Unfortunately, the casino does not release their slot machine payback percentages. Generally, Nevada casinos hold a minimum return-to-player of 75%.
However, this does not mean that all slot machines at the casino have a payback percentage of 75%. It is possible for some slot machines to have a higher return-to-player than others.
Hotel/Resort
Their hotel offers a variety of comfortable rooms and suites for their guests. From standard double queen rooms to king suites, the hotel has something for everyone.
Each room is equipped with modern furniture, a flat-screen TV, and complimentary Wi-Fi. The hotel also offers an onsite restaurant, bar, and fitness center for guests to enjoy.
Their room types include:
Double Queen Suite – features two queen beds
King Suite – features one king bed
Additionally, their hotel has a variety of amenities for their guests. These include:
24-Hour front desk and concierge
Outdoor pool
Spa services
Nightlife
Gift shop
Business center
Local attractions tours
The cost to stay at their hotel varies depending on your room. The rates start from $97 plus taxes and fees per night for a standard room. For a more accurate pricing quote, please check the rates directly on their website.
Check-in time at Stagecoach is 3:00 pm
Check-out time at Stagecoach is 11:00 am
Restaurants & Buffets
You're in luck if you're looking for dining options during your stay at this casino. Although the hotel does not have an on-site restaurant or buffet line, guests can still enjoy delicious food options through their convenient in-room dining services.
With 24-hour room service, you never have to go without a meal – no matter what time of day it is. Whether you want a snack during late-night hours or a full 3-course dinner, they have something to offer everyone.
Pools
This casino has one outdoor pool, but it's a great spot to kick back and relax during those hot desert days. The sparkling waters provide a cool respite from the burning sun and invite you to jump right in and enjoy a refreshing break.
If you're looking for something a bit more low-key, lounge chairs are set up all around the edge of the pool so you can soak up some rays while still being able to keep an eye on your family as they splash around.
Stagecoach Hotel & Casino, Beatty, NV FAQ
Does Stagecoach Hotel & Casino Have A Sportsbook?
No, unfortunately, they do not have a sportsbook. Guests can still enjoy the casino, table games, slots and hotel amenities while at this casino. Additionally, they can take advantage of the nearby betting options at other casinos in the area.
Is Poker Available At Stagecoach Casino?
Yes, there are several poker tables available at this casino. The casino offers several game variations so you can find something to enjoy, whether you're a novice or an experienced player.
Also, if you're looking for something a bit different, the casino holds tournaments throughout the week where players can compete for prizes.
What Are The Age Requirements For Gambling At Stagecoach?
The legal gambling age in Nevada is 21. Guests must be at least 21 years of age to enter the casino and participate in any gaming activities. In addition, all guests must have valid photographic identification with them when entering the casino.
Does Stagecoach Have An Online Casino?
No, at this time, there is no online casino available. However, guests can still enjoy the casino, table games, slots and hotel amenities while at this casino. Additionally, guests can take advantage of the nearby betting options available in other casinos in the area.
Is There An Stagecoach Hotel & Casino App?
No, there is no app available for this casino. However, guests can check out their website to learn more about the casino, view promotions and check out room rates. Additionally, guests can follow the casino's social media accounts to stay up-to-date on the latest events and promotions.
What Is The Dress Code At Stagecoach?
The dress code at this casino is casual. Guests should avoid wearing any clothing that can be deemed offensive or disrespectful. Additionally, guests must wear a shirt and shoes in the gaming area. There is no shirt required for the pool area.
Is There An Airport Shuttle Available From Stagecoach Hotel & Casino?
No airport shuttle is currently available from this casino. However, guests can take advantage of the nearby transportation options available in Beatty and Las Vegas. Additionally, there are several major car rental companies located near the casino.
What Is The Smoking Policy At Stagecoach?
The casino allows smoking in designated areas. Guests who wish to smoke should check in with the front desk for more information on where these areas are located. Additionally, all guests must be 21+ and show a valid ID when purchasing cigarettes from the gift shop.
What Is The Pet Policy At Stagecoach Hotel & Casino?
At this casino, guests can bring their beloved four-legged friends along for their hard-earned vacation.
The pet policy offers complimentary accommodations to all cats and dogs that weigh 40 pounds or less; pets heavier than 40 pounds are accepted, too, just for an additional fee of $15 per pet, per night.
For more information, guests can call the hotel and speak to one of their friendly customer service representatives.
Is Wifi Available At Stagecoach?
Yes, WiFi is available at this casino. Guests can access the complimentary network in their rooms and public areas like the lobby and pool. This will allow guests to stay connected while they visit this casino.
What Is The Cancellation Policy For Stagecoach Hotel?
The cancellation policy for this casino varies, depending on the type of room that you booked. Generally, all reservations can be canceled without penalty up to 24 hours before the scheduled arrival date.
Guests should contact the front desk or check their confirmation email for more information about their reservation.
Conclusion
Stagecoach Hotel & Casino is a great destination for people looking for a fun and entertaining time.
The casino offers a variety of gaming activities, tournaments, hotel amenities, and more. Guests must be 21+ to enter the casino and should check in with the front desk to learn more about any age requirements or policies before they visit.
This information should help guests plan their trip to this casino hotel and ensure they have a great experience.