Stagestop Casino Pahrump
Address: 100 W Stagecoach Rd, Pahrump, NV 89060
Phone Number: +1 775-537-9002
Website: N/A
Hours: Stagestop Casino is open 24 hours a day, 7 days a week.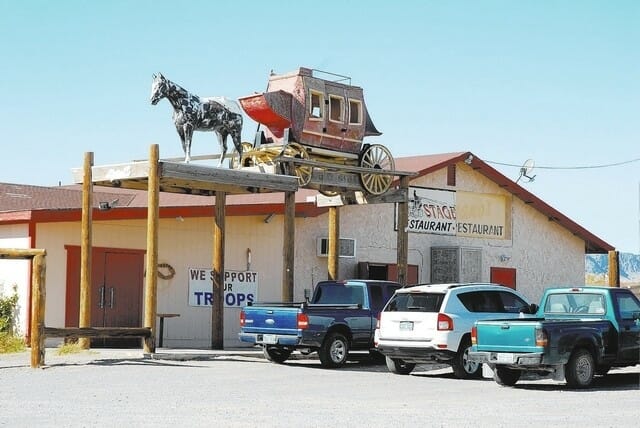 Stagestop Casino is a small casino in Pahrump, Nevada. Since its opening, it has become a favorite local hot spot for gaming. The casino features more than 40 slot machines and video poker games for players to enjoy.
And if you want to take a break from gaming, the casino has a full-service pub and a casual eatery. The casino also hosts regular live entertainment so that you can enjoy some great entertainment while gambling or wining and dining.
The casino has been around for many years and is a popular spot for locals and visitors. And with its friendly service, great selection of games, and entertainment, it's easy to see why it continues to be one of the most popular casinos in Pahrump.
Many guests rate this casino highly, giving it 4 stars out of 5 on average. One guest said, "I love coming to this cozy casino. I always have a great time, the games are fun and it has an awesome atmosphere."
Another said, "Stagestop Casino is one of my favorites in Pahrump. It's well-maintained and the staff is really friendly. Highly recommend."
(Related reading: Nevada casinos)
Gaming
Their gaming space includes 40 slot machines and video poker games. The slots range from quarter to dollar machines.
Table Games
At this casino, you'll find a wide variety of slot machines to choose from. While the casino doesn't offer any table games, their selection of slot machines is sure to provide hours of entertainment.
From classic reel machines to the latest video slots, there's something for everyone at this casino. And with friendly staff and a welcoming atmosphere, you're sure to have a great time while trying your luck at the slots.
Slots
At this casino, you can find a variety of popular slots. Some popular titles include:
Crazy Money Deluxe
Wheel of Fortune
Jurassic Park
Quick Hits
Pixie Power
Triple Diamonds
Shadow Panther
Cleopatra
Quick Hit
Miss Kitty
Unfortunately, this casino does not release its payback percentage. However, Nevada's legal minimum is 75%, so you can rest assured that the slot machines at this casino will offer a fair return on your money.
Hotel/Resort
While there isn't a hotel attached to this casino property, there are several great options nearby that guests can check out. For those looking for a luxury, the Red Rock Casino Resort and Spa is a stunning destination known for its impressive amenities and breathtaking views.
If you want to be near the excitement of the Vegas strip, the Rio All-Suite Hotel & Casino offers an unparalleled experience with non-stop entertainment and world-renowned restaurants.
For those seeking comfort and affordability, the Palace Station Hotel and Casino and the Cannery Casino & Hotel are both fantastic options. No matter which hotel you choose, you're sure to have a fantastic time at this casino.
Restaurants & Buffets
If you're looking for good eats in this casino, you might want to check out Romero's and Stagestop Pub. Both restaurants offer tasty menus with something for everyone, whether you're in the mood for classic pub fare or Mexican cuisine with a twist.
Romero's serves up delicious dishes like chile verde and carne asada, while the Stagestop Pub has mouth-watering burgers and sandwiches. Beyond the yummy food, the casual and friendly atmosphere at both restaurants is sure to make you feel right at home.
Pools
While there may not be any swimming pools at this casino, fear not, as there are plenty of other nearby options to cool off in the hot desert sun. In fact, the town of Pahrump, just a short drive away, boasts several hotels with beautiful outdoor pools available for public use.
And don't forget about the stunning natural swimming holes found throughout the surrounding area, offering a refreshing break from the heat and an opportunity to connect with Nevada's stunning landscapes.
Stagestop Casino, Pahrump, NV FAQ
Does Stagestop Casino Have A Sportsbook?
No, they do not have a sportsbook. However, Las Vegas is just over an hour away and there are plenty of other casinos in the area with sportsbooks. For those looking to place bets, they can easily access one of these options.
Is Poker Available At Stagestop?
No, there are no live poker tables at this casino. However, video poker and other gaming machines are available to provide an exciting form of gambling entertainment. For those looking for a live poker game, the nearby casinos in Las Vegas offer plenty of options.
What Are The Age Requirements For Gambling At Stagestop Casino?
The minimum age for gambling at this casino is 21 years old. All patrons must present a valid form of identification to prove their age before entering the casino floor or playing any games. Failure to present valid identification can result in ejection from the premises and/or legal consequences.
Does Stagestop Have An Online Casino?
No, they do not have an online casino. You may only enjoy their slot machines and other games in person at the casino. Don't worry though as visiting this casino is sure to be an exciting and rewarding experience.
Is There An Stagestop Casino App?
No, there is no Stagestop Casino app. Guests must visit the casino physically to participate in the gaming activities and promotions. They also have a Facebook page where patrons can stay up to date with the latest news and offers from the casino.
What Is The Dress Code At Stagestop Casino?
The dress code at this casino is casual. Guests should be dressed comfortably, but not too casually. Shoes and shirts must be worn at all times, and any obscene clothing or offensive language is strictly prohibited.
Is There An Airport Shuttle Available From Stagestop?
No, there is no airport shuttle service offered by the casino. However, there are plenty of taxi and ride-sharing services available to transport guests to and from the casino. And for those looking to drive, the casino offers parking.
What Is The Smoking Policy At Stagestop Casino?
Smoking is not allowed in any part of the buildings. However, there are designated areas outdoors smoking is permitted. Guests should note that all forms of tobacco vaping products are prohibited on the casino.
What Is The Pet Policy At Stagestop Casino?
No pets are allowed in the casino, except service animals. If you have a pet with you when arriving at the casino, they must be left in your vehicle or at home. Failure to comply may result in ejection from the premises.
Is Wifi Available At Stagestop Casino?
Unfortunately, there is no Wi-Fi available at this casino. However, cellular data service works well and guests can use their phones to access the internet if needed. And for those looking to stay connected, there are many nearby coffee shops and restaurants offering Wi-Fi connections.
What Is The Cancellation Policy For Stagestop Casino?
As they don't offer any accommodations, you won't need to worry about a cancellation policy for the casino. Just remember to be responsible when gambling and only gamble with money that you can afford to lose.
Conclusion
This casino may be smaller than some of the bigger ones in Las Vegas, but it still provides plenty of exciting gambling activities and an enjoyable atmosphere. With slots, video poker, and other gaming machines, this casino has something for everyone to enjoy.
Just remember that all patrons must be 21 years or older and dress appropriately when visiting the casino. And don't forget to bring valid identification for proof of age. So if you're looking for an exciting gambling experience in Nevada, Stagestop is the place to go!