Stockman's Casino Fallon
Address: 1560 W Williams Ave, Fallon, NV 89406
Phone Number: +1 775-423-2117
Website: www.stockmanscasino.com
Hours: Stockman's Casino is open 24 hours a day, 7 days a week.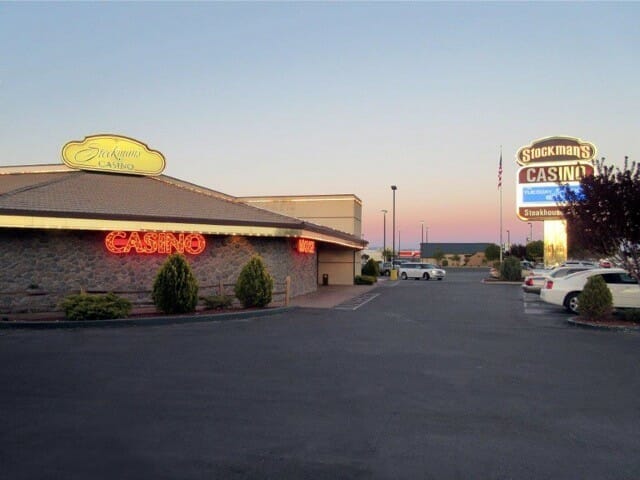 Stockman's Casino was established in the 1960s in downtown Fallon, Nevada. Since then, it has become a popular destination for many people. They are currently owned and operated by Full House Resorts, Inc.
It has undergone several iterations over the years, but it has always offered locals and travelers quality gaming and a place to socialize. The casino provides a wide variety of slot machines, table games, and other gaming amenities.
Additionally, they have a cafe and a restaurant serving delicious meals for hungry guests. They also host tournaments and events throughout the year to keep visitors entertained.
This casino is one of the most popular in Fallon, Nevada and is known for being a great place to enjoy gaming, entertainment, and food. If you're looking for a fun night out in Fallon, check them out.
On popular customer reviews sites like TripAdvisor and Yelp, guests give this casino an average rating of 4 out of 5 stars. One guest said, "The restaurant was great, the gaming was fun, and I won a few bucks at the slots."
Another said, "The atmosphere is very friendly and welcoming. The staff was helpful when I had questions. I would definitely recommend it to anyone looking for a good time."
(Related reading: Nevada casinos)
Gaming
This casino features several slot machines, including progressive slots, five-reel machines, and video poker. Table games include blackjack, craps, roulette, and more.
Table Games
This casino offers a range of exciting table games for plenty of entertainment. Whether you like the classic casino experience or the modern touch of virtual gaming, there's something for everyone.
Guests can enjoy traditional live blackjack as well as virtual blackjack, roulette and craps – all of which can be played with between 1-8 players at a time. With so many options available, this casino provides a unique opportunity to have some fun without leaving Las Vegas.
This casino offers a variety of table games with minimum bets starting at $5. Some of the higher-stakes tables have minimum bets that reach up to $500 – but these are reserved for highly experienced players only.
Slots
At this casino, you'll find something for everyone regarding slots. If you're looking for an exciting and daring adventure, the site offers a wide range of games that keep players coming back for more. Popular titles include:
Gonzo's Quest
Blake Sheldon Video Slots
4d Monopoly Millionaire Sphinx
Starburst
Game of Thrones
Lucky Ladies
According to Nevada gaming regulations, all slot machines at this casino must pay a minimum of 75%. This means that players receive 75 cents back for every dollar they spend.
However, as with most casinos, some slot machines will have higher payback percentages. Look for the best odds when playing at this casino, and you may just be a winner.
Hotel/Resort
This casino in Nevada is one of the Las Vegas area's most beloved betting establishments, and for a good reason. While it doesn't offer an onsite hotel, there are plenty of great lodging options near the casino.
Whether you need something budget-friendly like a Rodeway Inn or a more upscale experience at the Pioneer Hotel, you'll find the perfect night's stay awaiting you nearby.
Plus, if you're looking for a unique take on your evening stay, why not check out the Thunderbird Motel – with its vintage decorations and incredible views, it's sure to make your stay in Nevada truly unforgettable.
Restaurants & Buffets
Although no buffets are offered at this casino, there are a couple of dining options available for hungry guests. The first is the Three Sisters Steakhouse. Enjoy a hearty steak and eggs, bacon and beef brisket, or lighter fare such as sandwiches and salads.
Afterward, why not head over to Stockman's Café – a quaint diner sure to delight your tastebuds? Various comfort foods are available, from burgers and fries to grilled cheese sandwiches made with delicious artisan cheeses.
Whether you're looking for a filling meal to fortify you for your next adventure or just a casual snack during your stay at this casino, these restaurants have something for everyone to enjoy.
Pools
This casino is the perfect place to test your luck. Unfortunately, however, if you're looking for a refreshing swim and dive into the cool water, then you may need to look elsewhere. This casino does not provide any pool or hot tub experience to its guests.
If you need a break from the tables and slots, however, then slot machines galore – plus roulette and blackjack – take away from having a pool. Plus, with a cafe and steakhouse on-site, no one needs to leave the premises to get a good meal.
Stockman's Casino, Fallon, NV FAQ
Does Stockman's Casino Have A Sportsbook?
Unfortunately, this casino does not have a sportsbook. If you're looking to place bets on your favorite teams, you'll need to look elsewhere in Nevada. However, you can still enjoy table games, slots and other gaming options at this casino.
Is Poker Available At Stockman's?
While there aren't any traditional poker tables available, video poker is an excellent option for those who love the challenge and excitement of playing cards.
You can enjoy all your favorite poker basics with the convenience of gaming on a screen without worrying about other players or dealers.
What Are The Age Requirements For Gambling At Stockman's Casino?
The minimum age to gamble at this casino is 21, and players must bring a valid ID when entering the casino floor. Those under the legal gambling age will still be able to enjoy all other parts of the casino, such as entertainment, restaurants, and shops.
Does Stockman's Have An Online Casino?
No, they do not have an online casino. All gaming must be done in person at the physical location. For those seeking to experience the excitement of gambling without ever leaving their homes, there are other online casinos available outside Nevada.
Is There An Stockman's Casino App?
No, there is not currently an app for this casino. However, players can still access promotions and offer and get updates regarding new games and events by visiting the casino website or following them on social media.
What Is The Dress Code At Stockman's?
The dress code is casual and comfortable. Shorts, jeans, t-shirts, and other comfortable clothing are all acceptable as long as they are not overly revealing. Shoes with a closed toe must be worn on the casino floor.
Is There An Airport Shuttle Available From Stockman's Casino?
Unfortunately, there is no airport shuttle available from the casino. However, taxis and ride-sharing services are available for those who need transportation to and from the airport or other nearby locations.
What Is The Smoking Policy At Stockman's?
Smoking is not permitted inside the casino or restaurant areas. Guests may only smoke in designated outdoor areas. Electronic cigarettes and vaping are also prohibited inside the casino.
The casino's smoking policy is designed to ensure the safety and comfort of all guests. Don't hesitate to contact the casino directly for more information on their policies.
What Is The Pet Policy At Stockman's Casino?
Unfortunately, pets are not allowed inside the casino. They can be walked in the designated outdoor areas but must be kept on a leash and under control at all times. Service animals, however, are always welcome on the premises.
If you require a service animal to have a pleasant and safe stay, please get in touch with the casino ahead of time so that proper arrangements can be made for you.
Is Wifi Available At Stockman's?
Yes, the casino offers complimentary wifi for all guests. Connecting to the network is easy and secure and allows you to stay connected throughout your visit.
If you need further assistance regarding the wifi connection, contact the casino staff, and they will be happy to help.
What Is The Cancellation Policy For Stockman's Casino?
Since there is no need for a reservation for most activities at this casino, there is no cancellation policy. However, the casino reserves the right to refuse entry or service to any person.
If you have any further questions regarding the casino's policies and procedures, please get in touch with them directly. They will be happy to answer your questions and provide guidance.
Conclusion
Stockman's Casino is a great place to visit for those looking for the challenge and excitement of playing cards. The casino offers a wide range of games, from slots and table games to poker, as well as plenty of other entertaining activities.
With everything from comfortable accommodations to complimentary wifi and a pet-friendly policy, this casino has something for everyone. So if you're looking for some fun and excitement, why not try your luck at this casino? You may just be the next big winner!