Stockmen's Casino & Hotel Elko
Address: 340 Commercial St, Elko, NV 89801
Phone Number: +1 775-738-5141
Website: www.stockmenscasinoelko.com
Hours: Stockmen's Casino & Hotel is open 24 hours a day, 7 days a week.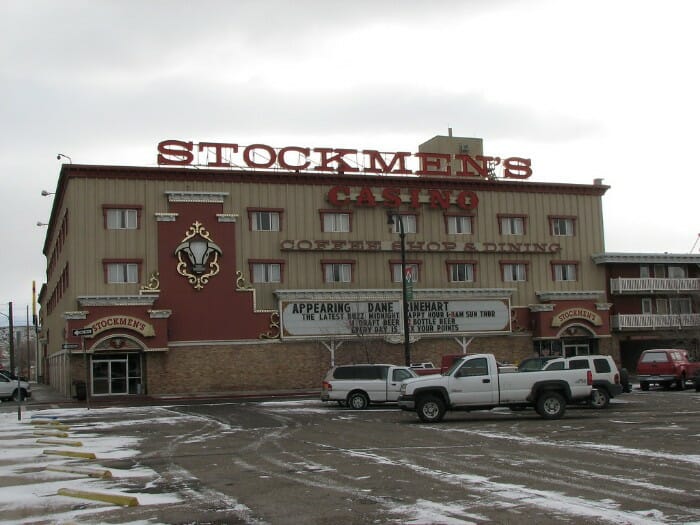 Stockmen's Casino & Hotel was established in the 1950s and has been a staple in Elko's entertainment and hospitality scene ever since. In recent years, it has become one of the most popular destinations for tourists and locals.
It is currently owned and operated by Nevada Casino Holdings, LLC. With a prime location on Commercial Street, they offer various gaming options, including slots, video poker, and more.
Their hotel features several rooms and suites with all the amenities. Guests can enjoy a variety of dining opportunities, including breakfast, lunch, dinner and late-night snacks. There is also an on-site lounge where guests can unwind after a long day.
This casino hotel is committed to providing guests with an enjoyable and memorable experience. Whether you're in town for business or pleasure, this is the perfect place to stay. This hotel will make your time in Elko even more enjoyable.
On most review sites, guests rate this casino hotel with 4.5 out of 5 stars, indicating that visitors enjoy the overall experience. One guest said, "I had a great experience at this casino – the staff was friendly, the rooms were nice, and the food was delicious!"
Another said, "This is a great place to stay if you're looking for convenience and plenty of fun. Highly recommend!"
(Related reading: Nevada casinos)
Gaming
Their casino features slot machines that include progressive and multi-line games. They also boast a variety of video poker machines for those looking for a bit of strategy in their gaming experience.
Table Games
This casino has something for everyone, especially those looking for exciting table games. Forget traditional tables; these electronic versions of roulette, blackjack and craps offer a thrilling gaming experience like no other.
Not only do players enjoy the feel of classic casino play, but they also can take advantage of special features on the touchscreens that give them even more control over their overall game.
Slots
If you're looking for some of the hottest slot machines to play in this casino, you're in luck. They offer a wide range of machines, including several exciting options.
Blake Sheldon Video Slots offers a fast-paced take on classic slots with holographic technology and wild multipliers. Then there's Game of Thrones, which allows you to relive your favorite epic scenes from the show while enjoying bonus rounds and free spins.
Add 4D Monopoly Millionaire Sphinx to the mix, and you have a new level of interactive gaming with stunning 3D images and motion technology. Starburst keeps things simple but is still tons of fun, whilst Lucky Ladies provides lots of bonuses with its exciting strategy game.
Finally, Gonzo's Quest puts an entertaining spin on puzzles, so it never gets dull. Unfortunately, this information is unavailable, as the casino does not publicly report their slot machine payback percentages.
However, according to Nevada Gaming Commission rules, the minimum payout percentage for all slot machines in the state is 75%.
Hotel/Resort
Their hotel offers quality accommodations at an unbeatable price. With its modern rooms, suites, and amenities such as a swimming pool, fitness center and gym, guests are sure to be comfortable while they stay here.
Their variety of accommodations ranges from standard rooms with either one king or two queen beds to King Rooms, King Suites and Premium King Suites, so there is something suitable for any taste and budget.
All the rooms are equipped with mini-refrigerators, complimentary WiFi and HD television programming. Additionally, guests can take advantage of several amenities, such as:
24-Hour Reception Desk
Meeting and banquet facilities
Business center
Daily housekeeping
Fitness center
Laundry services
On-site parking
An outdoor pool
The cost of a stay at this hotel depends on the type of accommodation you choose. Prices range from around $110 per night plus taxes and fees and additional charges for additional people or pets.
Check-in time at Stockmen's is 3:00 pm
Check-out time at Stockmen's is 11:00 am
Restaurants & Buffets
This casino currently does not offer any restaurants or buffets, but guests can take advantage of their onsite restaurant without leaving the property. They offer a coffee shop that is sure to satisfy any craving.
From cappuccinos and lattes to Americanos and cold brews, the Barista Station has it all. In addition to coffee, they feature an array of pastries, muffins, danishes and breakfast sandwiches available in the morning or throughout the day.
Going out for dinner? The Coffee Shop also serves lunch entrees, including burgers, hot dogs, sandwiches and more. Get your caffeine fix or grab a bite with friends – whatever you choose at the Coffee Shop, you won't be disappointed.
Pools
This casino is the perfect place to get away and enjoy some relaxation. The hotel features a stunning outdoor pool that offers plenty of space to soak up the sun or dip in the cool water.
Whether you're seeking a vacation destination or need a quiet weekend getaway, this casino has all the amenities to fit your needs – including its pools that are perfect for relaxing by yourself or with friends.
Stockmen's Casino & Hotel, Elko, NV FAQ
Does Stockmen's Casino & Hotel Have A Sportsbook?
Unfortunately, this casino does not have a sportsbook. However, there are plenty of other attractions and amenities in this casino that guests can enjoy. Also, the casino is conveniently located near multiple sportsbooks and race books.
Is Poker Available At Stockmen's Casino?
This casino offers a wide variety of games for its guests to enjoy. Unfortunately, regular table poker isn't available, but they offer video poker. All the popular varieties are available to play with, and the experienced staff is always on-hand to provide helpful tips and advice.
So while there may not be regular table poker, the abundance of video poker machines makes this casino a great destination for gamers who prefer a more digital experience.
What Are The Age Requirements For Gambling At Stockmen's Casino & Hotel?
The minimum age to gamble in Nevada is 21 years old. All guests must present valid photo identification upon entering the casino. No minors are allowed on the gaming floor.
This casino strives to provide a safe and secure environment for its guests – so please be sure you are at least 21 years old if you plan on gambling while visiting the casino.
Does Stockmen's Have An Online Casino?
No, this casino does not offer any online gambling services. While the atmosphere is fun and exciting, all their games are for land-based play only. This ensures a secure environment for all guests to enjoy the gaming experience without worrying about potential fraudulent activity.
Is There An Stockmen's Casino & Hotel App?
No, there is no app available for this casino. However, visitors can take advantage of the special offers and promotions made online and in person. Check the website or onsite message boards for up-to-date information on specials or deals.
What Is The Dress Code At Stockmen's?
The dress code at this casino is casual. While it's not required to adhere to a specific dress code, guests are encouraged to dress in clothing that is respectful of the other patrons and staff. Shirts must be worn at all times on the gaming floor, and shoes must also be worn.
Is An Airport Shuttle Available From Stockmen's Casino & Hotel?
No, this casino does not provide an airport shuttle service. However, they are conveniently located near the Elko Regional Airport and can easily be reached by car or taxi. Guests should plan to arrive at least two hours before their flight to ensure they make their flight on time.
There are also several car rental services available near the casino so that guests can rent a vehicle for their stay. Guests can also book ride-sharing services like Uber to get to and from the airport.
What Is The Smoking Policy At Stockmen's Casino?
This casino hotel is a non-smoking establishment. Smoking and vaping are not permitted anywhere on the property. Guests must adhere to these policies or face potential fines or other penalties.
Guests who need to smoke can do so in designated smoking areas outside the casino. These areas are marked, and guests should follow all instructions posted in these areas. Guests should also remember to dispose of their cigarettes and other smoking materials properly.
What Is The Pet Policy At Stockmen's?
This casino hotel is a pet-friendly establishment that welcomes guests traveling with their furry companions. Pets are allowed for an additional fee of $25 per pet per night, and the hotel imposes a 40 lbs weight limit so that they can make sure all their guests enjoy the stay.
For more information on the pet policy, contact the hotel directly, and they will be more than happy to help.
Is Wifi Available At Stockmen's Casino & Hotel?
Yes, this casino hotel offers free wifi to all its guests. Guests can connect to the network using their device's settings and enter their room number as the password.
The connection is secure, so you don't have to worry about people accessing your personal information while you're connected.
What Is The Cancellation Policy For Stockmen's Casino?
This casino hotel offers a 24-hour cancellation policy. Guests who need to cancel their reservation must do so at least 24 hours before the check-in date, or they will be subject to a one-night room and tax charge.
Conclusion
Stockmen's Casino & Hotel is a great choice for gamblers looking for a fun and exciting experience.
This casino offers secure gambling services, special promotions, and pet-friendly accommodations. It also provides free wifi as well as a 24-hour cancellation policy to make sure that guests have the most comfortable stay possible.
Whether staying overnight or just visiting for the day, this casino will surely provide an unforgettable experience.