Suncoast Casino, Las Vegas
Address: 9090 Alta Dr, Las Vegas, NV 89145
Phone number: +1 702-636-7111
Website: https://www.suncoastcasino.com/
Hours: The casino is open 24 hours a day 7 days a week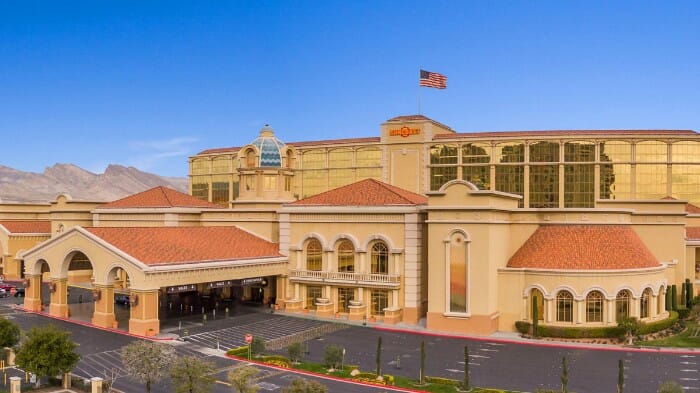 Suncoast Casino, located in Las Vegas, Nevada, has a long history of providing quality gaming and entertainment to locals and tourists alike. The casino first opened its doors in 2000, with the primary focus being video poker and slots.
It quickly gained popularity among players due to its wide selection of games and top-notch customer service. Today, Suncoast Casino is proud to offer more than 900 gaming machines with a variety of denominations.
Apart from its expansive slot and video poker selection, the casino offers table games such as blackjack, roulette, craps and Pai Gow Poker. There are numerous different tournaments and promotions available every day.
The casino also features a variety of restaurants and bars for guests to enjoy. Options include classic American comfort food, steak and seafood, and a selection of quick bites, which offer casual dining around the clock when you're feeling peckish.
For those looking to relax and unwind after a long day of gaming, the Suncoast Casino has plenty to offer. Its luxurious spa offers services such as massage, manicures, pedicures and aromatherapy. There is also a pool and a fitness center.
The casino also houses two movie theaters showing the latest releases, as well as several lounges to sit back and enjoy a drink or two. There is also the option to go bowling or play golf if you want to get away from the casino floor for a little while.
With its wide selection of gaming options, lively atmosphere and convenient location near the Las Vegas strip, it's clear why Suncoast Casino is one of the top destinations in Nevada. Whether you're visiting for business or pleasure, this casino is sure to provide an unforgettable experience.
Suncoast Casino, Las Vegas, is highly rated by guests who visit the resort. According to reviews, guests are consistently impressed by the casino's selection of games, as well as its friendly and helpful staff.
(Related reading: Nevada casinos)
Gaming
This casino offers a large variety of gaming options for players. Whatever your preferences, you can be sure to find something to suit your tastes. Slots, video poker and table games are all available.
Table Games
The casino offers a range of table games for your entertainment. Whether you prefer the classic casino experience of blackjack or roulette or the modern twists on some favorites like Face-Up Pai Gow and Three Card Poker, there's something to fit all tastes.
If you're feeling lucky, try out their renowned I Luv Suits game for a chance to take home some big winnings. No casino would be complete without Ultimate Texas Hold'em and craps; these traditional table games still have plenty of draw for both new players and seasoned veterans alike.
The casino has a variety of table game minimums to suit all budgets. Blackjack and roulette have a minimum bet of $5, while Ultimate Texas Hold'em and some other specialty games start at just $2.50.
Slots
This casino offers an extensive range of slot machines to choose from. That way, you will always find something to get your blood pumping on the casino floor. Popular titles include:
Lightning Link
Wheel of Fortune
Ultra 5 Reel
Buffalo Grand
Dragon Link
The casino also houses traditional favorites such as 3-reel slots, classic slots and video poker machines for those who prefer a more classic gaming experience.
The payback percentage for this casino has not been made available to the public. However, the state of Nevada has a minimum payback percentage of 75%. Despite this, you will find most casinos in the state offer something closer to 90% or higher.
Hotel/Resort
The Suncoast Casino is part of a larger hotel/resort complex. Guests can enjoy numerous amenities such as swimming pools, spas and fitness rooms.
A few of the room types available are:
Deluxe King: King bed, spacious room, comfortable couch, amenities
Deluxe Queens: 2 Queen beds, spacious room, comfortable couch, amenities
Presidential Suite: Living, dining, and sleeping space, golf course view, amenities
There are also several restaurants, bars and lounges for you to relax in after a long day of gaming. The resort also offers special discounts and packages for guests who plan to stay for a few days.
The hotel/resort complex is located close to the Las Vegas Strip, which means you can enjoy the city's many attractions and nightlife without having to travel too far. The casino itself offers free shuttle service between certain points on the strip.
Overall, Suncoast Casino is one of the best in the state of Nevada. Whether you're visiting for business or pleasure, they have something to suit everyone's tastes.
From its selection of games and friendly staff to its luxurious amenities, Suncoast Casino is an ideal destination for anyone looking to experience Las Vegas at its best.
Some of the amenities provided at the hotel and casino include:
Luxurious rooms and suites
Restaurants and bars
Spa
Pool
Fitness center
Movie theatre
Bowling alley
Golf
Lounge
Live entertainment
Event spaces
Shopping
Promotions
The cost of staying at the hotel varies depending on the type of room and length of stay. Rates generally range from $70 to $350 per night (suites are more), with promotional packages available that include discounts and additional amenities.
Check-in time at Suncoast Casino is 4:00 pm
Check-out time at Sunset Casino is 12:00 pm
Restaurants & Buffets
This casino has an array of eateries to satisfy your cravings. Examples include SC Prime, a delectable steakhouse with great ambiance, and 90 Ninety Bar and Grill, which provides American cuisine and classic comfort foods.
Briggs Oyster Co; offering the freshest seafood around; Fans Sports Bar for classic pub grub and sports viewing experience; The Game features delicious international cuisine inspired by gaming themes, as well as specialty cocktails.
Du-Pars serves all-day breakfast or lunch foods that will bring back childhood memories; Bowling Snack Bar for pizza lovers – plenty of toppings mostly from local ingredients available here.
Subway is also present if you're looking for quick sandwiches, while Bagel Corner Deli and Bakery serves freshly baked bagels. Java Vegas Coffee and Creamery is the perfect place for caffeine addicts, making sure that all their coffee beans are rather freshly roasted.
Pools
The hotel has the perfect spot for you to get your quality relaxation time. The stunning free-style swimming pool offers guests the best views of Las Vegas due to its panoramic lookouts and dramatic landscape.
Put on some sunscreen, find a nice spot on one of their lounge chairs and soak up the sun. Enjoy the amenities such as the spa, patio area, and cabanas, in combination with perfect temperature-controlled waters where you can relax from dusk till dawn.
Suncoast Casino, Las Vegas, NV FAQ
Does Suncoast Casino, Las Vegas, Have A Sportsbook?
Looking for an exciting sportsbook experience? Good news, this casino has you covered. The Suncoast proudly features state-of-the-art television screens, comfortable seating, multiple betting kiosks, and much more for its guests to enjoy.
Whether you're a die-hard football fan or just looking to place a one-off wager on your favorite team, the sportsbook at the casino will give you a professional, entertaining experience in the heart of Sin City.
Is Poker Available At Suncoast Casino?
Unfortunately, poker is not available at this casino. If you're looking for a place to play the popular card game, make sure to check out some of the other exciting casinos located in the city.
With 24-hour gaming action and plenty of other attractions like restaurants, music concerts and special events – there is something for everybody. And with all the fun and entertainment you'll find right here in Vegas, there's sure to be a good time waiting for you.
What Are The Age Requirements For Gambling At Suncoast Casino?
The casino is a great place to try your luck while still having the perfect Vegas experience. But, before you can start gambling, it's important to be aware of the age requirements – you must be 21 years or older.
Does Suncoast Have An Online Casino?
The great news is that this popular casino also has an online casino. It offers members a range of exciting slot games, table games and video poker. The website boasts 24/7 customer support and regular updates with new features and games.
With features such as multi-table tournaments and chatting options, gamers can easily keep in touch with friends while enjoying their favorite slots or video poker titles from the comfort of their own homes.
Is There A Suncoast Casino App?
If you're looking for an app to navigate your visit to this casino in Las Vegas, Nevada, unfortunately, that's not currently available. However, the good news is that this casino offers plenty of other helpful benefits and amenities so you can still make the most of your stay.
On their website, you'll find detailed information about luxury accommodations and bookings, gaming options, free live entertainment events and more. Plus, they offer a range of dining experiences with cuisines ranging from steaks and seafood to burgers and tacos.
What Is The Dress Code At Suncoast Casino?
Visitors are expected to dress in a neat and presentable fashion while visiting the casino. Casual attire is acceptable, but guests should avoid wearing any clothing that could be considered indecent or offensive.
This includes clothing with profanity, offensive images, or slogans. Keep it classy out there.
Is There An Airport Shuttle Available From Suncoast Casino, Las Vegas?
Yes, the casino offers a complimentary airport shuttle service for its guests. The shuttle runs between McCarran International Airport (LAS) and the casino every two hours from 8:00 am – 10:00 pm.
The shuttle will pick up passengers from any of the designated airport stops and drop them off at the hotel entrance. Guests are advised to call the hotel in advance to make a reservation.
What Is The Smoking Policy At Suncoast Casino?
The casino operates a strict no-smoking policy throughout the entire facility. This includes all gaming, dining, and entertainment areas. Smoking is only allowed in designated outdoor smoking areas located on the property.
What Is The Pet Policy At Suncoast Casino, Las Vegas?
Suncoast Casino does not allow pets on the property, although service animals are permitted to be on the casino floor and in the hotel.
Guests who need to travel with a service animal or emotional support animal should contact the hotel prior to arrival for more information about their policy and any applicable laws.
Is Wifi Available At Suncoast Casino?
Yes, free Wi-Fi is available throughout the casino in Las Vegas. Guests can easily connect to the internet and have access to all their favorite apps, music, games and more.
What Is The Cancellation Policy For Suncoast Casino and Hotel?
The casino hotel cancellation policy requires guests to cancel their reserved room and/or gaming reservations at least 24 hours in advance. Guests may be required to pay a fee if they do not follow the cancellation policy or are late in canceling their reservation.
Conclusion
The Suncoast Casino in Las Vegas, Nevada, is an ideal place to enjoy the best of both gaming and leisure activities.
With a wide variety of games and amenities available, plus 24/7 customer support, and regular updates with new features and games, this casino is sure to provide a great experience for all its visitors.
Guests should be aware of the dress code, smoking policy, pet policy, and Wi-Fi availability when visiting the casino. Additionally, all guests should carefully read through the cancellation policy of the casino before making their reservations to avoid any unnecessary fees or charges.
With these helpful tips in mind, you'll be sure to have a great time at Suncoast Casino.