Sunset Station Casino Henderson
Address: 1301 W Sunset Rd, Henderson, NV 89014
Phone Number: +1 702-547-7777
Website: www.sunsetstation.com
Hours: Sunset Station Casino is open 24 hours a day, 7 days a week.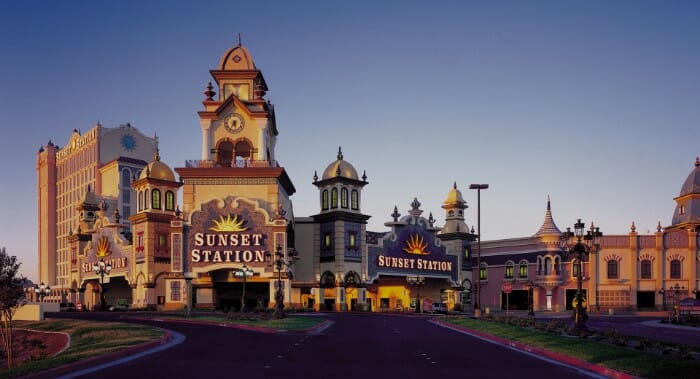 Sunset Station Casino in Henderson opened its doors in 1997, becoming the first local casino to open on the east side of Las Vegas. Since then, the casino and hotel have grown into one of the most popular gambling destinations in Nevada.
Their gaming space boasts several slot machines, dozens of table games, a bingo hall and a race and sportsbook. They also have an array of restaurants ranging from fine dining to casual options like the Oyster Bar or The Brass Fork.
Their hotel has over 400 rooms and suites, with modern amenities like flat-screen TVs and room service. There is also a pool and spa, a fitness center and several on-site shopping options. In addition to gambling, guests can enjoy live entertainment at the club.
This casino is also a great place to host events like weddings and conferences. They have several meeting rooms and banquet halls that accommodate a thousand guests.
At this casino, guests can experience a unique atmosphere and some of the best gaming action in Henderson. Whether you're looking for a weekend getaway or an exciting night out, this casino is a perfect choice.
The casino's overall rating is 4 stars out of 5 on TripAdvisor. Most guests said, "Good selection of gaming machines, great atmosphere, friendly staff and good drinks. Good restaurant choices as well."
Another notable review said, "Amazing place. We had a great time and enjoyed the food options as well. The staff was friendly and helpful."
(Related reading: Nevada casinos)
Gaming
Their 162,173 square foot gaming space boasts several slot machines, dozens of table games, and a bingo hall. Some of their popular games include blackjack, roulette, craps, and slots. They also have a race and sportsbook to bet on your favorite teams or horses.
Table Games
This casino is a great place to try your luck on some table games. You'll find all the classics, such as Blackjack, Craps, Pai Gow Poker, and Roulette.
Whether you want something straightforward and intensely fun like Blackjack or something more complex that requires a little strategy, this casino has it all covered. They also offer high-limit tables for experienced players looking for a more intense experience.
The table game minimums at this casino vary. Some games have a $5 minimum, while other tables may require more. Check the casino website or ask an employee for more information about specific table game limits when you arrive.
Slots
At this casino, you'll find a wide variety of slot machines. From modern video slots to classic reels, they have something for everyone. Some of their popular titles include:
Wheel of Fortune
Buffalo Legends
5 Dragons Gold
Buffalo Gold
Megabucks
Buffalo Grand
By law, all Nevada casinos must have a minimum payout percentage of 75%. The actual payback at this casino is unknown as they do not publish their slot machine payback information.
However, since the casino must adhere to state law, it can be assumed that the minimum payout percentage is in line with other area casinos.
Hotel/Resort
Their hotel offers over 448 rooms and suites, perfect for a weekend getaway or an extended stay. All rooms feature modern amenities like flat-screen TVs, air conditioning, and room service.
Some of their room types include:
Deluxe Rooms – features one king or two queen beds
King Suites – features one king and a sitting area
Petite Suites – features one king or two queen beds, a sitting area, a working area and a spacious bathroom
In addition to the hotel and casino, this casino offers a variety of amenities for guests to enjoy. These include:
Bowling alley
Live concerts and entertainment
Fitness center
Nearby local attractions
Nightlife and bar
Outdoor pool
Onsite dining options
The cost of staying at this hotel varies by season, room type and availability. Room rates typically cost around $70 a night, plus taxes and fees. For more pricing information, visit the casino's website.
Check-in time at Sunset Station is 3:00 pm
Check-out time at Sunset Station is 11:00 am
Restaurants & Buffets
Even though this casino does not currently offer a buffet, they have several restaurants and bars to choose from. The Brass Fork serves up a wide selection of steak, seafood and prime rib dishes as well as plenty of appetizers and side items.
For those with an appetite for adventure, explore the wide array of flavors at the Oyster Bar with its varied oyster choices. If you have a craving for Italian, Pasta Cucina has all your favorite pasta dishes and more. A glass of fine wine awaits you at Sonoma Cellar.
Don't forget to treat yourself to one of Ben & Jerry's signature creations when it's time for dessert or try something new from Fatburger or Panda Express.
There are also convenient grab-and-go options like Starbucks, SBARRO or Subway right inside the casino and Viva Salsa offers Mexican specialties to satisfy your tastebuds.
No matter what kind of meal you're looking for, there's sure to be something that hits the spot at this casino.
Pools
If you're looking for fun in the sun, head to this casino hotel in Nevada. Entirely renovated and redesigned last year, the pool area is a resort-style tranquil retreat for visitors. Sip on a cocktail of choice as you lay back in one of their stylish cabanas or daybeds.
There's definitely something for everyone here as they offer both a shallow wading pool, perfect for cooling down in the hot Nevada heat and an adult-only infinity pool where you can soak up beautiful views of the Southern sky.
With inviting landscaping and plenty of seating options, this casino is just the place to spend the day with friends or family.
Sunset Station Casino, Henderson, NV FAQ
Does Sunset Station Casino Have A Sportsbook?
Yes, this casino has a fully-equipped Race & Sports Book featuring flat-screen TVs to enjoy the action better. You can place your bets quickly and easily with their self-serve terminals or hand them over directly to their team of expert staff.
For those who like to stay constantly connected, this casino offers mobile wagering through STN Sports. So wherever you are, you won't miss the excitement of placing your bets on some of your favorite sports teams.
Is Poker Available At Sunset Station?
Yes, poker is available in this casino. In particular, there are plenty of table games to choose from, such as Pai Gow Poker and video poker. Also, many exciting tournaments run regularly within the casino that allows experienced or new players to face off against one another.
What Are The Age Requirements For Gambling At Sunset Station Casino?
To gamble in this casino, guests must be 21 years of age or older. The legal gambling age is also strictly enforced at all times, and valid photo identification will be required upon entrance. Any minors caught attempting to enter the casino will be immediately asked to leave the premises.
Does Sunset Station Have An Online Casino?
Have you been looking for the perfect online casino? Look no further than STN Play, the official online casino of this establishment in Nevada.
STN Play offers a full range of exciting casino games with special bonuses and promotions, as well as a secure platform providing players with the trust that their financial information is safe and secure.
When playing at STN Play, you can experience the same excitement from home as you would when visiting one of their casinos.
Is There An Sunset Station Casino App?
Unfortunately, there is no official app available at this time. However, they have a website where you can stay up to date with all their latest promotions and events. Also, you can easily access their website via your mobile device to book a room or make restaurant reservations.
What Is The Dress Code At Sunset Station?
The dress code at this casino is casual. They recommend visitors dress in comfortable attire while they enjoy the relaxed atmosphere of their casino and take part in all the fun activities that they offer.
Is There An Airport Shuttle Available From Sunset Station Casino?
Unfortunately, there is no airport shuttle service currently offered by this establishment. However, they are located just 10 minutes from McCarran International Airport, making it easy to find transportation to and from the casino.
You can arrange for a taxi or rideshare company, such as Uber or Lyft, which provides reliable services in the local area. Alternatively, you can rent a car from the airport to get around while you're in town.
What Is The Smoking Policy At Sunset Station?
Smoking is only allowed in designated smoking areas within the casino. All guests are asked to respect this policy as a courtesy to other visitors and staff.
If you're looking for a smoke-free environment, there are plenty of indoor and outdoor non-smoking areas available throughout the property. These include restaurants, bars, and lounge spaces where you can relax and enjoy a break from the gaming floor.
What Is The Pet Policy At Sunset Station Casino?
Unfortunately, pets are not allowed in the casino or on the premises. Service animals accompanying guests with disabilities are permitted but must be kept on a leash at all times and may not disturb other guests.
Is Wifi Available At Sunset Station?
Yes, complimentary wifi is available throughout the casino. Guests can connect to the network with their own devices by entering the required credentials.
What Is The Cancellation Policy For Sunset Station Casino?
This casino has a strict 48-hour cancellation policy. All bookings must be canceled at least 48 hours in advance, or you will be charged the full amount of your reservation.
If you need to make any changes to your booking, please get in touch with their customer service team as soon as possible.
Conclusion
Sunset Station Casino is the perfect destination for anyone looking to enjoy a Las Vegas getaway. The casino offers an amazing selection of games, and there are plenty of activities and events to keep you entertained.
They also have great dining options, live entertainment, and more. To make sure your visit runs smoothly, remember to read up on their dress code, pet policy, smoking policy, and cancellation policy before you arrive.
With some preparation and the right attitude, you'll have an unforgettable stay at this fabulous casino!