Tamarack Junction Casino Reno
Address: 13101 S Virginia St, Reno, NV 89511
Phone Number: +1 775-852-3600
Website: www.tamarackcasino.com
Hours: Tamarack Junction Casino is open 24 hours a day, 7 days a week.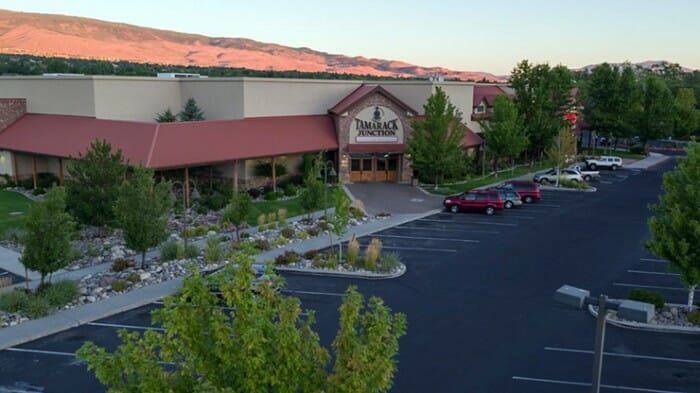 Tamarack Junction Casino first opened its doors in 2001 and has been a Reno favorite ever since. The casino is conveniently located near the renowned Reno-Tahoe International Airport and just a few minutes from downtown Reno.
It was initially built as a log cabin with a bar where people could come to unwind and enjoy the great food, drinks and entertainment. When it was sold to the current owners, Tamarack Crossing, LLC, the casino was remodeled to include a full-service restaurant and gaming area.
Today, this casino offers one of the most exciting gaming experiences in Reno city limits, with over 400 slot machines that include penny games and progressive slots, as well as video poker and live keno.
Visitors can also enjoy their onsite steakhouse, which offers an extensive menu of mouth-watering steaks, seafood, pasta and sandwiches.
Whether looking for a great way to end your day or an exciting night out on the town with friends, this casino in Reno has something for everyone. With its convenient location and friendly staff, it promises to offer you an unforgettable experience.
On popular review sites, this casino has been rated highly by guests. The average score is 4.5 out of 5 stars, and most reviews mention the friendly staff, great gaming selection and delicious food offered at the casino.
One notable comment by a guest said, "I've been to Tamarack Junction Casino several times, and each time I'm impressed by the customer service, the selection of games and the tasty food. It's a great place to spend a night or have fun."
(Related reading: Nevada casinos)
Gaming
Their casino floor offers over 400 slot machines, video poker and live keno. They also offer progressive jackpot slots with some big wins waiting to happen.
Table Games
This casino is one of the many great places you can visit to enjoy gaming in Reno, Nevada. Unfortunately, if you're looking for traditional table games such as blackjack and poker, this isn't the place for you – they only offer slot machines.
But if you prefer slots, then this casino might be a perfect fit for you. From old-school classics to modern video slots with bonus rounds and free spins, this casino has something for everyone.
Slots
Looking for the best slot machines to try at this casino in Nevada? Look no further. The casino offers a selection of classic favorites such as Monopoly and Da Vinci Diamonds, plus some unique titles like Crazy Money Deluxe, Dragon Lines and Emperor Penguin.
Take your pick of these exciting games that promise hours of entertainment with their captivating soundtracks and visuals. For some real adventure, Genie's Riches takes you through an enchanted journey full of spell-binding surprises.
Unfortunately, the payback percentage of slot machines at this casino is not publicly released. But according to Nevada law, all slot machines must offer a minimum payback of 75%.
Hotel/Resort
While the casino itself doesn't have an onsite hotel, there are plenty of nearby accommodations to choose from.
Just a short drive away, visitors can check out the Hampton Inn & Suites Reno, Hilton Garden Inn Reno, Extended Stay America, or SpringHill Suites to rest after an evening at the casino. Put your luck to the test with this casino while being near some great hotels.
Restaurants & Buffets
If you're looking for a delicious meal while visiting this casino, you've come to the right place. Diners have two great restaurant options at this casino: Nevada Steak for a savory steak dinner or The DC Cafe for a more casual dining experience.
These restaurants offer fantastic meals, but unlike many other casinos in the area, this casino does not have an all-you-can-eat buffet. Nonetheless, diners can still expect to enjoy a quality meal in an inviting atmosphere.
No matter which one you choose, both restaurants will satisfy your appetite and make your evening memorable.
Pools
This casino in Nevada is a great place for gaming and entertainment, offering over 400 of the newest slot machines and popular table games. Guests can take advantage of daily tournaments, destination events and progressive jackpots that are 2nd to none.
Despite its exciting offerings, the casino does not feature pools or swimming areas on-site. Guests looking to hit the pool can visit nearby accommodations that feature outdoor pools to cool off on those hot summer days.
Tamarack Junction Casino, Reno, NV FAQ
Does Tamarack Junction Casino Have A Sportsbook?
At this casino, you'll find sports betting easy and convenient with the William Hill Sports Book. Whether you favor basketball, baseball, soccer, or any other sport, you can jump right into the action with this user-friendly sportsbook.
And if horse racing is your passion, you're in luck — William Hill provides wagering on some of the world's greatest race tracks. Don't know where to start? Their friendly staff is always happy to assist newcomers and experienced bettors alike.
Is Poker Available At Tamarack Junction Casino?
It's possible to enjoy a great game of poker at this casino in Reno, Nevada. However, it should be noted that only video poker variants are available here. The casino offers more than a hundred different thrilling options.
Video poker combines the excitement of slots with the tactics and strategy of poker, so it's no wonder why it's such a popular game among casino goers.
What Are The Age Requirements For Gambling At Tamarack Junction Casino?
The minimum age requirement to gamble at this casino is 21 years of age. This applies to all gaming activities, and valid identification will be required upon entry. Guests should always bring valid government-issued photo IDs in case verification is needed.
Does Tamarack Junction Have An Online Casino?
No, this property does not have an online casino presence. However, visitors can enjoy real-money gaming action at the physical location. With over 400 slots with progressive jackpots and exciting table games, this casino offers plenty of thrills and great chances to win big.
Is There An Tamarack Junction Casino App?
No, this casino does not have an app. However, guests can check out the casino's website for all the latest information on promotions and events.
The website also features helpful FAQs that can answer any questions visitors may have before they make their way to this exciting Reno destination.
What Is The Dress Code At Tamarack Junction?
The dress code at this casino is casual and relaxed. Guests should feel comfortable in their attire, but the casino reserves the right to refuse entry if they deem it too provocative or inappropriate.
Additionally, visitors should note that the casino does not permit hats, sunglasses, or masks for security purposes. Appropriate footwear, such as sneakers and sandals, are allowed.
Is There An Airport Shuttle Available From Tamarack Junction Casino?
Unfortunately, there is no airport shuttle available from this casino. Guests can use local public transport, taxis, or ride-sharing services to and from the Reno-Tahoe International Airport.
The casino is just a few minutes from the airport, making it easy for guests to get around without too much hassle. Alternatively, private car hire from the airport might be a more convenient option for some.
What Is The Smoking Policy At Tamarack Junction?
This casino is a non-smoking facility. For convenience and comfort, the casino has designated smoking areas located outside the main entrance. These areas are equipped with seating and ashtrays for those who need to smoke while visiting this establishment.
What Is The Pet Policy At Tamarack Junction Casino?
Only certified service animals are allowed in the casino. All other pets must remain outside the premises at all times. Guests should be aware of local pet regulations for those visiting Reno with their furry friends.
If you need to bring your service animal inside the casino, don't hesitate to contact the front desk first. Proper documentation and identification will be required before your pet enters the building.
Is Wifi Available At Tamarack Junction?
Unfortunately, this casino does not offer free wifi for its guests. However, there are plenty of other connectivity options available in the area. Visitors can connect to local networks or purchase mobile data plans from their provider for uninterrupted internet access during their stay.
What Is The Cancellation Policy For Tamarack Junction Casino?
As there is no need to book accommodation at this casino, a cancellation policy does not apply.
However, visitors should ensure that they have enough funds available to cover all their gaming expenses before entering the property. Any changes or cancellations to existing reservations must be made directly with the venue.
Conclusion
Tamarack Junction Casino is the perfect place to enjoy a memorable gaming experience in Reno. With its wide selection of slots and table games, there are plenty of opportunities to win big.
Be sure to dress appropriately and bring valid government-issued photo IDs when visiting this casino. Additionally, remember that only certified service animals are allowed on the premises and that wifi is unavailable.
If you would like to find out more about this venue, be sure to check out their website for the latest information on promotions and events. With its great amenities, this casino is a spot worth checking out in Reno.