Terrible's Town Pahrump Casino
Address: 1750 Pahrump Valley Blvd, Pahrump, NV 89048
Phone Number: (775) 727-7777
Website: www.terriblespahrump.com
Hours: Terrible's Town is open 24 hours a day, 7 days a week.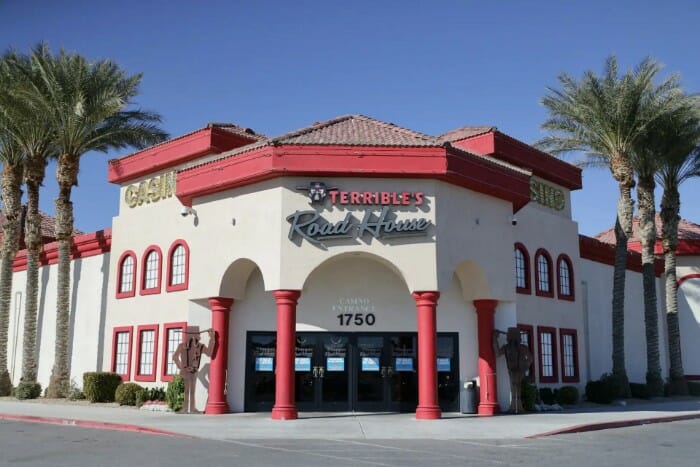 Terrible's Town Pahrump was founded in 1995 by The Herbst family. The first location opened in Las Vegas, followed by a second location in Pahrump. For over 50 years, they have been a leader in providing Nevada residents with quality gaming and entertainment experiences.
With over a hundred slot machines that include all the classic favorites, this casino offers a variety of gaming options for players. The casino also features video poker and live keno for those looking to try their luck.
There are an onsite restaurant and bar where you can enjoy a meal or a drink with friends. The property also includes an RV park that offers full hook-up sites with ample parking, restrooms and showers.
Whether you're looking for a night of fun or just a place to get away for the weekend, this casino is the perfect destination. With great gaming options and excellent hospitality, you're sure to have an unforgettable experience.
On popular review sites such as TripAdvisor, guests rate this casino very highly. With an average rating of 4.5 stars out of 5, visitors praise the great gaming options, friendly staff, and convenient location.
One guest said, "The slots were great, the staff friendly and helpful, and overall we had a very enjoyable evening. We will be back next time we're in town."
(Related reading: Nevada casinos)
Gaming
Their casino has 191 slot machines that include all the classic favorites, video poker and live keno. They also offer promotions and special offers to make your visit more enjoyable.
Table Games
If you're looking for something a little more laid-back and interactive than slot machines, then you'll be disappointed to hear that this casino doesn't offer any table games.
The good news is the casino does have a wide variety of slot machines for those who enjoy the more traditional kind of gaming experience. You can find classic Vegas slot machines and modern 3D games, giving plenty of opportunities to explore and win big.
Slots
If you're looking for a great time at this casino, check out the popular slot machines. Da Vinci Diamonds is the perfect game for anyone who enjoys a classic casino feel. China Shores offers an exciting adventure in the Far East, full of lucky spins and big wins.
Big Bang Theory fans rejoice – now you can join your favorite characters from the show as you spin and win big. Kitty Glitter is like taking a trip to the kitty-cat paradise with every spin. Pirate's Pleasure takes you on a ride to get treasure – if luck is on your side.
Finally, Sphinx will have you feeling like an ancient Egyptian with all its possibilities of winning prizes and jackpot rewards.
Unfortunately, this casino does not publicly disclose its slot machine payback percentage. However, Nevada requires all casinos to have a minimum payback percentage of 75% for their slot machines.
Hotel/Resort
If you're looking for an unforgettable getaway, this casino in Nevada is the perfect destination. There may not be an on-site hotel, but never fear, as this area offers a wide selection of nearby accommodation options that are sure to fit any budget or travel style.
From Holiday Inn Express & Suites to Best Western Pahrump Oasis and Saddle West Hotel Casino, it's easy to find the perfect place to stay while exploring the many fantastic attractions in the area.
And if you're planning a camping trip, you'll love Preferred RV Resort — special rates are available for folks taking advantage of all that this beautiful locale has to offer.
Restaurants & Buffets
Even though this casino does not have a buffet, they have an onsite restaurant and bar where you can enjoy a meal or grab a drink with friends.
Dining at Moonshiners offers an eclectic mix of flavors from an upscale menu featuring southern-style classics and light fusion dishes in a warm and inviting atmosphere.
Enjoy the unique flavors of their famous Pitmasters Burger and the craft beer selection of rotating taps, or gaze upon the beautiful views of Pahrump valley while savoring their tasty desert specialties like crispy alligator bites and moonshine cheesecake.
Come explore a truly delightful restaurant in this casino that you won't forget.
Pools
Pahrump, home of Terrible's Town Casino and Resort, offers an array of entertainment. Unfortunately, despite the summer heat not being far away, they lack a swimming pool.
But don't let that stop your fun. There are plenty of other activities in Pahrump that don't require hitting the town pool, like exploring petroglyphs on the nearby mesas or visiting one of the many attractions, including art galleries and museums.
If you like bird watching, check out the local hot springs, which provide a great opportunity for observation. So although you won't find any pools in town, it's still possible to enjoy all that Pahrump has to offer no matter what season it may be.
Terrible's Town Pahrump, NV FAQ
Does Terrible's Town Pahrump Have A Sportsbook?
Unfortunately, no. This casino does not have a sportsbook. However, there are plenty of other casinos in the area that does have sportsbooks. Visitors can also take advantage of this casino's many other gaming options.
Is Poker Available At Terrible's?
The casino does not offer traditional table games. However, you can still enjoy fun gaming options by playing video poker on-site.
These machines provide a great way to enjoy the thrill and excitement of playing poker without having to deal with players or figure out odds at a physical table.
What Are The Age Requirements For Gambling At Terrible's Town Pahrump?
In Nevada, the legal age to gamble is 21 years of age. All visitors must present valid identification upon entering the casino floor. Guests under the age of 21 will not be allowed entry.
Also, guests aged 18-20 can access some areas of the casino but are prohibited from gaming on the casino floor.
Does Terrible's Have An Online Casino?
No, there is not an online casino associated with this particular property. However, the casino does have an excellent selection of gaming options available on the casino floor. There are many different slot machines and video poker machines to choose from.
Is There An Terrible's Town Pahrump App?
No, there is not a specific app associated with this property. Still, they do have an excellent website where you can find out more information about the casino and its offerings. Visitors can also use the casino's social media accounts to stay up-to-date on events and promotions.
What Is The Dress Code At Terrible's?
The dress code at this casino is casual. However, visitors should be sure to adhere to the casino's rules and regulations while in public areas of the property. Generally, it is best to avoid clothing that may be considered inappropriate or offensive.
Is There An Airport Shuttle Available From Terrible's Town Pahrump?
No, unfortunately, there is no airport shuttle available from this property. The closest airport is the McCarran International Airport in Las Vegas, approximately an hour's drive away. Visitors can also take advantage of local taxis and ride-sharing services to get to and from the casino.
What Is The Smoking Policy At Terrible's?
The smoking policy at this casino is strictly enforced. Smoking is only allowed in designated areas, and guests cannot light up anywhere else on the casino floor or within the property. Non-smoking areas are available for visitors who prefer a smoke-free environment.
What Is The Pet Policy At Terrible's Town Pahrump?
Unfortunately, pets are not allowed on the property. However, guests may bring service animals if they have proper identification. All service animals must be kept on a leash, and their owners should have proof of their pet's vaccinations.
Is Wifi Available At Terrible's?
Unfortunately, there is no public wifi available at this property. However, visitors can find free and paid internet access at nearby cafes and restaurants. Additionally, several hotels within a few miles of the casino offer complimentary wifi for their guests.
What Is The Cancellation Policy For Terrible's Town Pahrump?
There is no standard cancellation policy for this property since there is no need for a reservation. However, guests should be aware that certain promotions or events may have their own separate cancellation policies. It is best to contact the casino directly for more information.
Additionally, visitors should review their booking information before making a reservation to understand all terms and conditions related to cancellations.
Conclusion
Terrible's Town Pahrump is an excellent destination for those looking to enjoy a fun and exciting gaming experience. Whether you're visiting for the slots, video poker or other table games, this casino has something for everyone.
Be sure to check out the dress code and pet policy before arriving, as well as any age requirements related to gambling activities. With all these details in mind, this casino will surely be an excellent place for an entertaining night out.