The Alamo Casino Sparks
Address: 1950 E Greg St, Sparks, NV 89431
Phone Number: +1 775-355-8888
Website: www.thealamo.com
Hours: The Alamo Casino is open 24 hours a day, 7 days a week.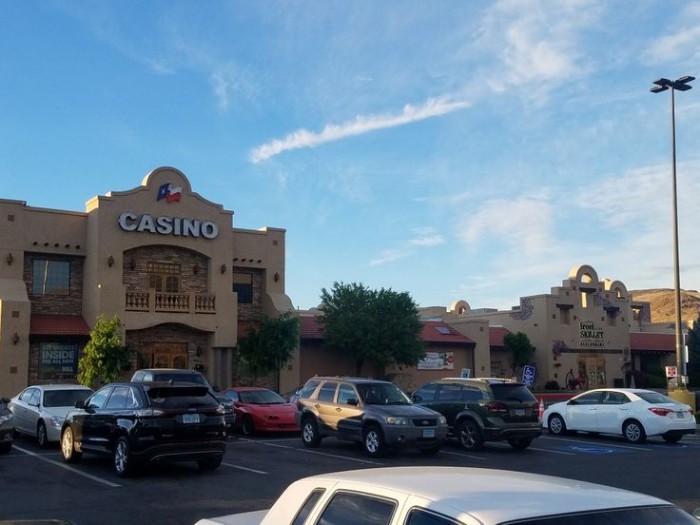 The Alamo Casino has been a hotspot in Sparks, Nevada as it is located in a prime area just off the interstate. Originally opened as a small and local casino, they have grown over the years to become one of the most beloved gaming spots in Northern Nevada.
The casino is situated inside the Travel Center, which is home to a variety of amenities such as dining, retail stores and service shops. Additionally, the casino has branches scattered throughout the greater Reno-Sparks area.
Today, the casino is known for its wide variety of gaming options; offering over 150 exciting slots, as well as a full range of table games including blackjack and more. The casino also offers a variety of promotions and rewards for its loyal players.
The property also offers lodging and overnight parking for motorhome guests, making it a great stopover point for travellers. Guests can also enjoy delicious meals at their on-site restaurant and drinks from their bar and lounge.
The casino's staff is friendly, knowledgeable and always willing to help customers make the most out of their gaming experience. With an array of additional services such as valet parking and check to cash, the establishment is sure to provide visitors with a fun and memorable experience.
The casino has been receiving positive feedback from guests over the years. On many review websites, it consistently scores 4 out of 5 stars. One guest claimed, "The Alamo Casino is a great place to spend an evening. The gaming selection is more than sufficient!"
Another guest has added, "The Alamo Casino is THE spot for any night out. The staff are so friendly and the games are both fun and rewarding. Highly recommend!"
(Related reading: Nevada casinos)
Gaming
This casino is home to over 150 gaming machines, including 3-reel and 5-reel slots. Table game lovers can enjoy multiple variations of popular games such as blackjack.
Table Games
If you're looking for some gaming fun in the Northern Nevada area, then this casino is definitely worth checking out.
Featuring one of the most generous Blackjack games in any Nevada casino, Single Deck Blackjack Tables are available for plenty of chances to win big. For something a bit different, Deuces Wild Hold'em Fold'em is your game – it's the only table of its kind in the area.
If you're looking for something more classic, why not get your poker hands ready for some Texas Hold'em Poker? This casino is guaranteed to provide an unforgettable night of gaming entertainment.
The casino offers table games with a variety of minimums. Generally, the minimums range as low as $5 but can go as high as $50. The exact minimums vary depending on the game and the hour of the day, so it's important to check with a casino employee when you arrive.
Slots
This casino is packed with fun and popular slot machines sure to entertain. For those looking for the classic slots feel, they have Traditional Reel Slots, while Video Poker and Multi-Game Video Reel Slots are perfect when you feel like having a bit of variation.
Fans of newer technology won't be left behind either, with their selection of 100% Ticket In – Ticket Out games. Some of the biggest hits include Quick Hit Wild Blue, Extra Bonus Wilds and Invader Return from the Planet Moolah, just to name a few.
There's something for everyone at this casino so be sure to spin by your favorites like Sapphire, Forbidden Dragons, and Sex and the City if you're in the mood.
The slot machine payback percentage for this casino is currently unavailable. However, the Nevada Gaming Commission requires all slot machines to have a minimum of 75% payback.
With the higher stakes, it is likely that this casino has a much higher percentage. As always, it's best to check with casino staff when you arrive to get the most up-to-date information.
Hotel/Resort
For those looking to stay overnight or make a weekend of it, guests may be disappointed to find that this establishment does not offer hotel rooms. However, the Travel Center houses America's Best Value Inn Hotel (ABVI), making it a perfect place to stay for casino guests.
This hotel is more than just a place to rest your head after a long day exploring the area – with 71 rooms and a host of convenient amenities, you can guarantee yourself an enjoyable stay with this budget-friendly option.
Among these amenities are 40-inch flat screens with HBO and ESPN, complimentary wireless internet, coupons for slot play and restaurant discounts, free truck/RV parking and a heated outdoor seasonal pool.
You can also be certain that every room comes complete with a microwave and refrigerator, as well as a number of smoking rooms. The Business Center on-site provides free faxing and printing capabilities for all guests – making it the perfect spot for both business trips and vacations alike.
For more information or to make a reservation, please visit the hotel's website or contact their friendly staff.
Restaurants & Buffets
If you're looking for a unique and delicious dining experience, then a trip to this casino in Nevada should be on your list. Located in the heart of Las Vegas, this bustling facility boasts two great dining options – the Iron Skillet Restaurant and Sports Bar & Lounge.
At the Iron Skillet, you'll find American favorites like juicy hamburgers, steaks, and hearty breakfasts. With its down-home atmosphere and prompt service, it's easy to see why this eatery has become so popular with visitors.
Meanwhile, the Sports Bar & Lounge is perfect if you want to catch your favorite sporting event while chowing down on mouthwatering appetizers like Wings or Nachos. So come on over and see what all the buzz is about at this casino – you won't be disappointed.
Unfortunately, this casino does not offer a buffet at the moment.
Pools
This casino is great for those looking for a fun-filled gambling experience. But if you're after a little fun in the sun, there's more to offer here too.
Although the casino doesn't have its own dedicated pool area, the ABVI hotel located next to the casino has an amazing pool area perfect for some cool-down time after a long day at the tables.
Complete with comfortable lounge chairs and plenty of space to relax, their outdoor pool area will surely be a hit no matter how long you plan to stay. Just make sure to keep an eye on the pool times, as they vary throughout the year.
The Alamo Casino, Sparks, NV FAQ
Does The Alamo Casino Have A Sportsbook?
If you're looking for an exciting place to catch the big game and place your bets, this casino is the perfect destination for you. They offer live sports betting at William Hill Sportsbook, located directly in the casino, and a sports betting kiosk conveniently located on the casino floor.
With its friendly staff and competitive odds, this casino is sure to be your go-to spot for all kinds of sports betting. Experience a thrilling new way to watch and wager on sporting events while enjoying all the other amenities they offer.
Is Poker Available At The Alamo Sparks?
Yes, this casino offers a great selection of poker games for experienced players and newcomers. Stop by their poker room for regular daily tournaments and cash games such as Texas Hold'em.
You'll find a great atmosphere here, complete with friendly dealers and plenty of comfortable seating where you can test your skills against other players.
What Are The Age Requirements For Gambling At The Alamo Casino?
The legal gambling age at the casino is 21. However, if you are younger than 21, you may still be able to access the casino for dining and entertainment purposes. Make sure to check with a staff member prior to visiting to confirm that you meet all of their requirements.
Does The Alamo Have An Online Casino?
Unfortunately, this casino does not have an online casino. However, they offer various other gaming options, from slots and table games to sports betting and poker. Be sure to check out their website for more information on all of their gaming options.
Is There An The Alamo Casino App?
Unfortunately, there is no dedicated casino app for this facility. However, you can always find the latest news and updates on their website or by following them on social media. Make sure to check back often for exciting new offers and promotions.
What Is The Dress Code At The Alamo?
The dress code in this casino is casual. That being said, they reserve the right to refuse entry to those not dressed appropriately. So make sure you wear something comfortable and smart that won't draw unwanted attention when visiting.
Is There An Airport Shuttle Available From The Alamo Casino?
No, there is no airport shuttle service available from this casino. However, guests can always take advantage of the many local taxi and ride-hailing services to get to and from the airport.
What Is The Smoking Policy At The Alamo Casino Sparks?
The casino has a strict no-smoking policy. Guests are not permitted to smoke anywhere in the facility and must leave the premises if they wish to do so. Smoking is only allowed outside of the casino grounds and designated areas.
What Is The Pet Policy At The Alamo?
The casino does not allow any pets on the premises. This includes gaming areas, restaurants, and hotel rooms. Guests must leave their pets at home or arrange for a pet-sitting service while they are away.
If you need to bring a service animal, please notify the casino prior to arrival.
Is Wifi Available At The Alamo Casino?
Yes, the casino offers free wifi throughout the property. Guests can easily connect to the network and enjoy fast and reliable internet access while exploring all of the gaming options and amenities this facility offers.
All you have to do is ask a staff member for the wifi login information upon your arrival.
What Is The Cancellation Policy For The Alamo?
There is no cancellation policy in place for this casino as they do not currently have any accommodation services. However, guests who are staying at the ABVI hotel should refer to their cancellation policy for further information.
Conclusion
The Alamo Casino is a great place to gamble, eat and have fun with friends. With a variety of games, shows, restaurants, and bars, there's something for everyone.
Be sure to check the age requirements for gambling and make sure you are dressed appropriately. Moreover, don't forget that pets are not allowed on-site.
Finally, take advantage of the free wifi to stay connected while you're there. You will surely have a great time at this casino with all these amenities and more.