The Pony Express Casino Jackpot
Address: 1800 Poker St, Jackpot, NV 89825
Phone Number: +1 775-755-2900
Website: www.pony-express-casino.business.site
Hours: The Pony Express Casino is open 24 hours a day, 7 days a week.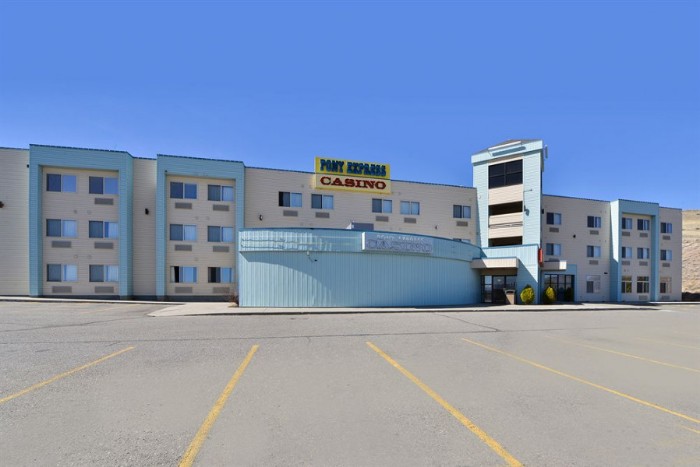 The Pony Express Casino is a Nevada-based casino located in Jackpot. Established in 2003, it has been a popular destination among gamblers. It was founded by an entrepreneur who wanted to bring a casino to the small town of Jackpot.
Since its inception, the casino has grown in popularity due to its friendly atmosphere and variety of games. It is known for offering some of the best slot machines and sports betting in the area.
Additionally, the casino offers players a chance to participate in pool tournaments and other fun activities. There is also an onsite bar that serves various alcohol and bar food.
Whether you are a beginner or an experienced gambler, the casino is sure to provide a memorable experience. If you find yourself in town, stop by and take a chance.
On average, customers rate this casino 4 out of 5 stars. One guest said, "I had a great time at the Pony Express Casino. The staff was very friendly and accommodating, and the machines were entertaining to play with. Highly recommended!"
Another customer said, "The atmosphere was great, with a nice selection of games and good drinks. We will definitely be coming back!"
(Related reading: Nevada casinos)
Gaming
Their gaming space offers several gaming options, including slots, video poker and sports betting. Their slot machines have a variety of different denominations to choose from.
Table Games
At this casino, visitors can enjoy a variety of gaming experiences. From electronic slots to video blackjack machines, the casino offers its guests plenty of opportunities to try their luck and win big.
Table game fans may be disappointed that they do not offer traditional table games; however, they will find hours of fun with video blackjack. This popular game is available in two denominations: penny and five-cent machines.
Players can also take advantage of great multi-player tournaments and progressive jackpots. Whether you're a seasoned gamer or an absolute beginner, the casino has something for everyone.
Slots
If you are heading to this casino, you'll be sure to find some of the most popular slot machines around.
Enjoy classic games such as Double Double Bonus, Double Bonus and Aces & Faces for exciting and rewarding payouts, or try your luck with video slots entertainingly themed on TV shows, movies and books.
For good returns and plenty of fun, bring your quarters to Jacks or Better. If you're lucky, try your hand at Deuces Wild, where all 2s are wild cards. Last but not least, everyone can get in on the action with Tens or Better, a game that appeals to those wanting lower stakes with less risk.
Unfortunately, the casino does not release its slot machine payback percentage. However, most Nevada casinos have a minimum of 75% payback for slots and video poker.
Hotel/Resort
The casino is a great place to try your luck at one of its gaming tables. But for those seeking overnight accommodations, the casino does not have a hotel onsite.
However, there are several nearby options, such as the West Star Hotel, Barton's Club 93, Horseshu Hotel & Casino, and Cactus Petes Resort Casino, all within close proximity to the casino.
Many hotels offer cozy lodging and amenities like fitness centers and nearby restaurants to make your stay more comfortable.
Restaurants & Buffets
If you're looking for a place to dine in the Nevada desert, this casino is worth checking out. With a relaxed atmosphere and numerous dining options, it's sure to please various palates.
The Pony Express Bar offers delicious classic menu items like burgers and sandwiches and more creative options like build-your-own tacos and street-style quesadillas. There's no need for a buffet here either – every dish is cooked fresh for the best-tasting food.
From dinner to snacks, you can find something delicious to satisfy your cravings at this casino.
Pools
This casino offers visitors a unique gaming experience with plenty of options but no swimming pool. Instead, visitors have access to several slot machines and video games. Whether you're a veteran gambler or a first-time player, the casino is sure to be a fun and exciting option for all.
Unfortunately, however, those seeking a swimming pool will be out of luck here – because none are available. But that doesn't mean you can still enjoy a leisurely dip during your trip – consider exploring some of the area's nearby beaches or lakes.
A sparkling pool may not be part of your experience in this casino, but lots of enjoyable activities and attractions are still waiting to be discovered.
The Pony Express Casino, Jackpot, NV FAQ
Does The Pony Express Casino Have A Sportsbook?
This casino has a great sportsbook option – William Hill Sportsbook. This bookmaker gives you access to various exciting and innovative sports betting options.
Not only can you bet on all your favorite professional sports and college games, but you can also find great lines and props on international events like horse racing.
And with up-to-date odds and lines constantly in motion, you can feel confident placing any wager, knowing you're getting the best value for your money.
Is Poker Available At The Pony Express?
Unfortunately, if you're hoping to find traditional poker at this casino, you may be disappointed – they only offer video poker games.
While it may not satisfy serious poker players, the casino still provides plenty of fun. You can still find much exciting entertainment with multiple video poker machines.
What Are The Age Requirements For Gambling At The Pony Express Casino?
The minimum age for gambling at this casino is 21 years old. All visitors must present valid government identification to enter the casino and participate in gaming activities.
And just a reminder – those under 21 are not allowed in the casino, even if accompanied by an adult. So if you're bringing young children or teenagers, be aware that they will not be allowed to enter the casino itself.
Does The Pony Express Have An Online Casino?
No, unfortunately, this casino does not offer an online version of its games. But that doesn't mean you can't still enjoy plenty of fun slots and table games in person – and with plenty of exciting options, you're sure to find something that suits your needs and preferences.
Is There An The Pony Express App?
No, this casino does not currently have an app. But you can explore the website for information about upcoming promotions and events. Or, you can follow their Facebook page for upcoming offers and special deals.
What Is The Dress Code At The Pony Express Casino?
The casino has a relaxed dress code. So you can go casual, but no swimwear or revealing clothes. And if you're heading to the bars and restaurants, it's best to leave your flip-flops at home – closed-toed shoes are preferred for dining.
Is There An Airport Shuttle Available From The Pony Express?
No, unfortunately, there is no airport shuttle available from this casino. But the nearby Jackpot Airport is just a few miles away and has taxis and ride-share services available to get you to and from the casino. You can also rent a car for your stay if needed.
What Is The Smoking Policy At The Pony Express Casino?
Smoking is only allowed on designated smoking patios in the casino. Cigarettes, cigars and vape devices are all permitted on these patios. But it's important to remember that no smoking is allowed anywhere else in the casino – including on the gaming floor.
What Is The Pet Policy At The Pony Express?
Unfortunately, pets are not allowed at the casino. But if you need a pet sitter while you're in town, numerous local services are available to take care of your four-legged friend while you enjoy the games and entertainment offered at the casino.
Additionally, if you require a service animal for travel or medical purposes, you are welcome to bring them into the casino. However, please ensure your animal is properly restrained and supervised at all times while in the casino.
Is Wifi Available At The Pony Express Casino?
Yes, free WiFi is available throughout the casino. You can easily connect to the network and start enjoying your favorite online games and apps right away. For those who need it, a secure connection is also available for an extra fee.
What Is The Cancellation Policy For The Pony Express?
As there is no booking process for visiting the casino, there is no need to cancel your plans.
However, if you experience any changes in your schedule and can't make it to the casino on the day of your visit, be sure to contact customer service as soon as possible, and they will help you with a refund or credit.
Conclusion
The Pony Express Casino is an exciting place to try your luck and enjoy some of the best games in town.
From slots to sports betting, the casino has something for everyone. Plus, with its convenient location and accommodating policies, it's easy to make a visit to the casino part of your next trip.
With its relaxed dress code and pet policy, there's something for everyone at this casino. So make sure to check it out next time you're in town.