Tonopah Station Casino
Address: 1137 Erie St, Tonopah, NV 89049
Phone Number: +1 775-482-9777
Website: www.tonopahstation.com
Hours: Tonopah Station is open 24 hours a day, 7 days a week.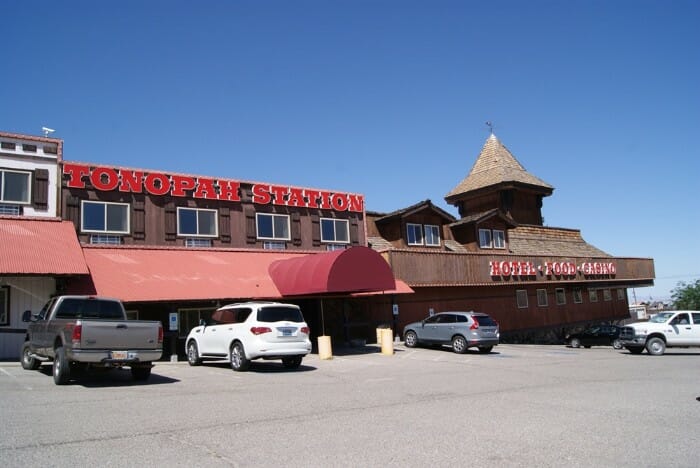 Tonopah Station has been a part of the Tonopah community since the early 1900s. Little is known about the history and original owners of this property, but what is known is that it has been a popular stop for many visitors ever since.
Today, they are a popular destination for travelers, locals, and tourists alike. Guests can enjoy various amenities, including the onsite hotel that boasts comfortable rooms and in-room amenities.
Their gaming floor offers a variety of electronic games, blackjack tables, and video poker. They also have live keno and video poker that will keep you entertained for hours.
The property also includes a full-service restaurant and a cafe that serves breakfast, lunch, and dinner. The restaurant is open 24 hours a day and offers a wide array of delicious food.
Don't forget about their RV resort and campground that has a variety of amenities to make your stay comfortable. The RV resort includes many sites as well as onsite showers, laundry facilities, and full hook-ups for electricity, water, and sewer.
With all of these amenities and more, it's no wonder this casino has been a staple in the community for over a hundred years.
On most review websites, the casino is rated four or five stars. Customers report that "the staff is friendly, the games are great, and the food is delicious."
One guest also said, "The RV resort is perfect for a weekend getaway, and the hotel rooms are very clean and comfortable. I highly recommend this place to anyone looking for a great time!"
(Related reading: Nevada casinos)
Gaming
Their 2,900 square foot gaming floor boasts several slots and video poker. There are also live keno and blackjack tables to test your luck.
Table Games
Visiting Nevada Soon? Then you should check out this casino. With an all-inclusive selection of video slots and the fan-favorite blackjack tables, your gaming experience is sure to be a blast.
The highly knowledgeable staff there are always willing to help answer any questions ensuring you get the best experience possible.
Generally, the minimum and maximum bets are posted at each table. Here, at this casino, blackjack minimums start at $5 and go up to $500 for some higher-stakes games.
Slots
At this casino, you can try your luck on various popular slot machines. From classic choices like Larry the Lobster and Pharaoh's Fortune to modern favorites such as Kitty Glitter and Da Vinci Diamonds, there's something for everyone.
For some exciting twists on classic slots, check out Fireball if you're feeling lucky or Flying Horse if you have a bit of an adventurous streak. Whichever way you play, the wide range of options means that there's sure to be something to fit everyone's tastes.
This casino does not disclose the slot machine payback percentage. However, the Nevada Gaming Commission does require that all slot machines in the state must have a minimum payback percentage of 75%.
Hotel/Resort
This casino also boasts a hotel and RV park so you can stay close to the action. The in-room amenities include free Wi-Fi, coffee makers, mini-refrigerators, microwaves and irons with ironing boards. Their room types include:
Standard Room – features a king or queen bed
Double Queen Room – features two queen beds in a spacious room
Suite – features a king or two queen beds and a living area
Handicap Accessible Room – features a king bed and accessible amenities
Additionally, the hotel offers a wide array of amenities. Some of these include:
Complimentary WiFi
Daily housekeeping
Pet-friendly accommodations
RV resort
Free parking
Onsite restaurant and saloon
Meeting rooms
The cost of staying at this hotel depends on the type of accommodations you choose. Standard rooms start from $89 per night, and suites can range from $130 to $145 per night. Additional fees may apply for pet-friendly rooms or extended stays.
Check-in time at Tonopah Station is 2:00 pm
Check-out time at Tonopah Station is 11:00 am
Restaurants & Buffets
If you're looking to grab a bite while at this casino, you won't be disappointed. Tonopah Station Restaurant serves classic hearty American fare – think juicy hamburgers and crisp salads – plus steaks, fish and chicken dishes.
The food is skillfully prepared using only the freshest ingredients and is always cooked to order. If you've got a sweet tooth, they even have chocolate milkshakes. Another great option is Stage Shop Cafe. Here, you'll find all your diner favorites, like hot cakes and macaroni and cheese with bacon.
Both restaurants offer appetizers and full entrees and are sure to satisfy your cravings for deliciousness. Moreover, there's no need to worry about buffets here; everything is made-to-order fresh.
Pools
Although the casino has much to offer, including gaming tables and memorable eats, one amenity that's missing is a pool. However, many of the rooms come complete with air conditioning, so you can still beat the heat indoors – why not try your luck creating your own splashy atmosphere?
With all this casino has to offer, alongside nearby attractions and outdoor activities, you'll find it's not hard to stay cool.
Tonopah Station, NV FAQ
Does Tonopah Station Have A Sportsbook?
Unfortunately, no. This casino does not have a sportsbook. However, guests can still enjoy the wide variety of gaming offerings available. Also, the casino is located within close proximity to many other Nevada casinos that offer sports betting options.
Is Poker Available At Tonopah Station?
If you're looking to hit the poker tables while visiting this casino, you're in luck. Though the station does not offer traditional live poker tournaments, there is an excellent selection of video poker machines.
With plenty of different denominations, even a casual gambler can find a game perfect for their bankroll. So whether you're a pro or just looking for some leisurely fun at the slots – this casino is sure to have something you'll enjoy.
What Are The Age Requirements For Gambling At Tonopah Station?
The minimum age for gambling at this casino is 21. All guests must show a valid photo ID when signing in to play and be able to provide proof of age upon request. Failure to comply with this policy may result in expulsion from the casino.
Does Tonopah Station Have An Online Casino?
No, this casino does not have an online casino offering. However, this property is still a great place to visit when vacationing in the area or looking for a fun night out. With plenty of classic games and delicious dining options, you will surely find something that suits your fancy.
Is There An Tonopah Station App?
No, there is not currently an app for this casino. However, the casino does have a website where guests can view current promotions and book their stay directly online.
Additionally, they offer social media accounts on Facebook and Twitter so you can keep up to date with all the latest news and events at the hotel and casino.
What Is The Dress Code At Tonopah Station?
The dress code at this casino is casual. While there is no formal attire required, guests should still refrain from wearing anything that could be deemed offensive or disrespectful.
Shorts, t-shirts and jeans are all acceptable – though you may want to err on the side of caution if opting for a more risqué outfit.
Is There An Airport Shuttle Available From Tonopah Station?
No, this casino does not offer a shuttle service. However, the area is served by several taxi and limo services that can help get you to and from the hotel in comfort and style.
There are also several ridesharing services available, such as Uber and Lyft, so that you can get to your destination quickly and easily.
What Is The Smoking Policy At Tonopah Station?
This casino is a non-smoking facility. However, there are designated smoking areas outside the building where guests can enjoy their cigarettes or cigars. These areas are marked, and all guests must adhere to the smoking policy while on the property.
What Is The Pet Policy At Tonopah Station?
The pet policy at this casino is very accommodating. If you'd like to bring your four-legged pal along during your stay, all you have to do is request it.
Your furry rider must be well-behaved and leashed when in common areas. In exchange for this privilege, there will be a one-time $10 fee that can be paid upon arrival. For more information, contact the hotel directly.
Is Wifi Available At Tonopah Station?
Yes, this casino offers complimentary wifi throughout the property. Guests can sign up for an account and start browsing the web in just a few minutes. The network is secure and reliable, making it ideal for streaming your favorite shows or videos online.
What Is The Cancellation Policy For Tonopah Station?
The cancellation policy for this casino is very flexible. Guests can cancel a reservation without penalty up to 24 hours before check-in. If a cancellation is made after that time, guests will be charged one night's stay plus applicable taxes and fees.
Conclusion
Tonopah Station is the perfect place for a fun and entertaining night out. With plenty of classic casino games, delicious dining options, and an accommodating pet policy, you can find something that suits your fancy.
With its wide range of gaming options, ample dining choices and flexible cancellation policy, you're sure to have a great time. So come on down and experience all that this casino has to offer.