Tropicana Laughlin
Address: 2121 S Casino Dr, Laughlin, NV 89029
Phone number: +1 702-298-4200
Website: www.caesars.com/tropicana-laughlin
Hours: Tropicana Laughlin is open 24 hours a day, 7 days a week.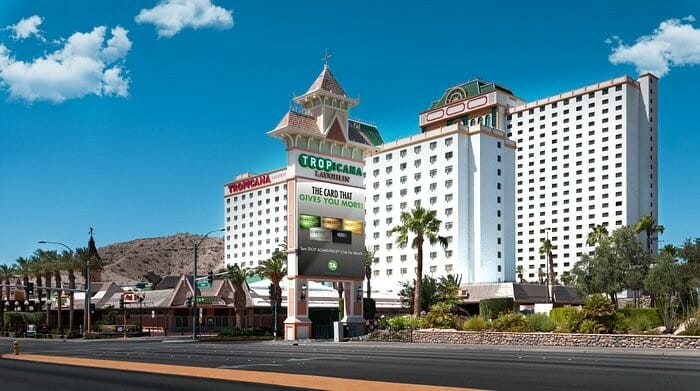 Tropicana Laughlin was opened in 1988, and since then, it has become a major player in the Laughlin casino market. It was formerly known as the Ramada Express until it was given its current branding in 2009.
The property was initially owned by the Columbia Sussex Corporation until they sold it to Gaming and Leisure Properties and Caesar's Entertainment in 2018. Today, it stands as a popular destination for gamblers and tourists alike.
Their gaming floor features over 650 slot machines and many table games such as blackjack, roulette, craps and more. They also offer a variety of promotions and discounts as well as a loyalty program for their customers.
For guests who would like to stay over, the hotel offers almost 1,500 rooms and suites. Guests can also enjoy their wide array of amenities, such as the outdoor pool, a fitness center, and a spa.
In addition to the casino, it also offers live entertainment from some of their top performers. And if you want to take a break from the casino floor, they have multiple dining options, bars and lounges to choose from.
Whether you are looking for a night of fun and gambling or just want to relax, this casino hotel is the perfect destination. With its convenient location and many amenities, it's an ideal place to visit on your next trip to Laughlin.
On most travel sites, this casino has a rating of at least four stars out of 5. According to one guest, "I visited this casino with friends and had a great time. The staff was friendly and helpful, the food was delicious, and the facilities were excellent".
Another guest commented, "Tropicana Laughlin is a great place. The casino floor was huge, the drinks were delicious, and the staff was friendly".
(Related reading: Nevada casinos)
Gaming
Their casino features 650 slot machines, ranging from traditional reel machines to the latest video slots. They also feature table games such as blackjack, roulette and craps. Plus, they offer various promotions and discounts throughout the year for players to participate in.
Table Games
This is the perfect location for anyone looking for an exciting gaming experience. Here, you can try your luck on a wide range of table games – from classic blackjack to thrilling craps and roulette.
For those with a taste for something more exotic, they also offer Pai Gow Poker, 3-Card Poker, and Let It Ride. All the games feature captivating designs and sound to create a truly immersive experience fit for any gambler.
As if that's not enough, there is also a variety of tournaments to add even more excitement to your gaming experience.
The minimum bets at this casino vary from game to game. Typically, for blackjack and roulette, the minimum bet is $5. However, there are some tables that require a minimum bet of $10 or more.
Slots
This casino is definitely the place to be for great slot machine entertainment. Offering a large selection of both modern and classic slot machines, there's something for everyone here. Popular choices include:
Ghostbusters
Betti The Yetti
Wicked Winnings
Wicked Winnings III
Wicked Winnings
Leopard Spots
Despite the fact that this casino does not openly disclose its slot machine payback percentage, according to Nevada Gaming Commission guidelines, it must be kept at least equal or higher than 75%.
Hotel/Resort
This casino also offers accommodations for visitors who want to stay the night. Here, guests can choose from one of their 1,468 rooms and suites.
All rooms are equipped with modern facilities such as air conditioning, television sets, safes and complimentary Wi-Fi access. They also come with a pillow-top mattress and fine linens to ensure guests enjoy a comfortable stay.
Some of their room types include:
Classic Rooms – features one king or two queen beds (offers smoking and nonsmoking)
Deluxe Rooms – features one king or two queen beds and a shower
Luxury Rooms – features one king or two queen beds and a view of the mountains
West Suite – features one king bed, a bathtub, a 2-person sofa and a sitting area
Additionally, the hotel offers a variety of amenities and services to ensure everyone has an enjoyable experience. Some of them include the following:
Free wifi access
24-hour front desk
Free parking
RV parking
EV charging stations
Outdoor pool and cabanas
Onsite dining options
Live entertainment
Golf courses
Meeting facilities
Retail stores
Gift shops
Arcade games
The rates for rooms at this hotel vary depending on the type of room, time of year and other factors. However, the minimum nightly rate is around $24 USD per night. Rates may also include taxes and fees, so make sure to check before you book.
Check-in time at Tropicana Laughlin is 3:00 pm
Check-out time at Tropicana Laughlin is 11:00 am
Restaurants & Buffets
Although they currently do not have a buffet, they offer a variety of restaurants to choose from. Whether you're looking for classic American fare or something more exotic, there's definitely something to delight your palate at Guy Fieri's El Burro Borracho.
Or if your craving some comfort food, visit The Brew Brothers for great pub fare featuring a wide selection of craft beers. For a truly special evening, you can't go wrong with The Range Steakhouse, where succulent steaks and live music make the perfect combination.
Taking a break from the casino floor? Sneak away to the Beach Café for light salads and sandwiches, all with breezy ocean views. Carnegie's Café is the perfect stop for an old-fashioned breakfast before hitting the slots.
Passaggio offers traditional Italian fare like handmade pizzas and pasta dishes, while Pin-Up Pizza serves classic slices in a stylish environment. And if you're looking for something more fast-paced, Smashburger is here to satisfy your burger cravings.
Pools
This casino is the perfect vacation spot for those who love a little bit of poolside fun. The resort boasts an outdoor pool, making it perfect for swimming laps or just taking a dip. It's heated to the perfect temperature, so you'll be able to stay in for as long as you'd like.
Sunbathing is also available on the deck surrounding the pool area – just sit back and soak up some rays. So grab your bathing suit and visit this casino hotel – it's sure to be an unforgettable trip.
Tropicana Laughlin, NV FAQ
Does Tropicana Laughlin Have A Sportsbook?
This casino is home to a great entertainment experience and now includes sports wagering. Located inside is the iconic Caesars Sportsbook. Week-long sports fans can rejoice as they have all their favorite American sports on display, like football, basketball, baseball and more.
On top of that, they even offer mobile wagering through the BetMGM App, so you never have to miss out on any of your favorite games or matches.
Is Poker Available At Tropicana?
Yes, this casino is proud to offer exceptional poker action. They offer different variations of the game, such as Pai Gow, Let It Ride and more.
For those who want to take their poker skills to the next level, they offer a variety of tournaments every month, which give players a chance to win big prizes. Poker newcomers can also brush up on their skills with lessons offered by in-house professionals.
What Are The Age Requirements For Gambling At Tropicana Laughlin?
You must be 21 or over to enter this casino and participate in any gambling activities. However, it's important to note that you may need to present a valid ID upon entry, so make sure to bring your passport or driver's license with you.
Does Tropicana Laughlin Have An Online Casino?
No, this casino does not currently offer an online casino. You may only enjoy the casino's games and services while onsite. However, you can still enjoy their wide selection of slot machines, table games, restaurants and more.
With so much to do, you won't soon forget your stay at this casino. Even if you're only visiting for a quick weekend getaway, it's sure to be an experience you'll never forget.
Is There An Tropicana App?
No, there is not currently a Tropicana Laughlin app. However, you can always keep updated with their website and Facebook page for the latest events, offers and promotions.
Additionally, they offer a monthly newsletter that includes exclusive offers and special discounts perfect for those who plan to visit multiple times throughout the year.
What Is The Dress Code At Tropicana Laughlin?
At this casino, the dress code is smart casual. You may want to bring some dressier items with you if you plan to visit one of their fine dining establishments or attend a special event at the casino.
Is There An Airport Shuttle Available From Tropicana?
Unfortunately, this casino does not offer an airport shuttle service. However, there are several local taxicab companies or ride-sharing services that you can use to get from the airport to the resort.
Additionally, you can also rent a car at the airport or have a rental car delivered directly to the property. This way, you'll be able to explore the local area and all that it has to offer in your own time.
What Is The Smoking Policy At Tropicana Laughlin?
This casino hotel is a non-smoking resort and casino. This means that smoking is not allowed in any of the public areas, including the gaming floor or restaurants.
What Is The Pet Policy At Tropicana?
Sadly, pets are not allowed at this casino hotel. Service animals are still allowed, but you must present a valid service animal certificate upon entry. Additionally, please be advised that all pet policies may vary depending on the room type you book.
Is Wifi Available At Tropicana Laughlin?
Yes, wifi is available at this casino hotel. You can sign in and access the wifi network quickly and easily, whether you're staying in one of their luxurious suites or playing on the gaming floor. If you need assistance, you can always visit the front desk, and they will be more than happy to help.
What Is The Cancellation Policy For Tropicana?
The cancellation policy for this casino hotel is 48 hours prior to the start of your stay. You may be subject to a fee if you cancel after this period, so make sure you read through their policy before booking.
If you have booked through a third-party website, the cancellation policy may vary. Please contact the website directly for more information on their refund and cancellation policies.
Conclusion
Whether you're looking for a weekend getaway or an extended vacation, Tropicana Laughlin is a perfect choice. With its luxurious rooms, variety of activities and events, and convenient location, it's sure to provide you with the ultimate casino experience.
From the smart casual dress code to the wifi availability, this casino has everything you need to make your stay as comfortable and enjoyable as possible. So plan your trip today and book a room at this casino hotel for a great time!