Tuscany Hotel & Casino Las Vegas
Address: 255 E Flamingo Rd, Las Vegas, NV 89169
Phone Number: +1 702-893-8933
Website: www.tuscanylv.com
Hours: Tuscany Hotel & Casino is open 24 hours a day, 7 days a week.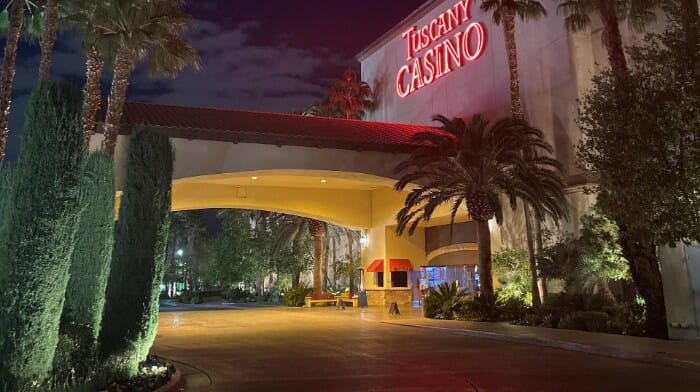 The Tuscany Hotel & Casino was originally built in 2001 and has been one of the most popular hotels in Las Vegas since then. The Italian-themed hotel and casino is located on the east of the Las Vegas Strip and offers guests plenty of world-class amenities.
The property is owned and operated by CMH Real Estate Development and boasts over 700 suites that have been beautifully renovated with modern designs and amenities.
The casino features more than 500 slot machines, video poker machines, electronic table games and a separate sportsbook. The property also features onsite dining options, a spa and fitness center, a swimming pool and hot tub, and a business center with meeting rooms.
The hotel is conveniently located near the Las Vegas Convention Center, providing easy access to conferences and meetings. It also offers various entertainment options, including live music, comedy shows and more.
With its top-notch amenities, great location, and friendly staff, this casino hotel is a great choice for guests who want to stay in the heart of Las Vegas. Whether you're looking for a romantic getaway or just a place to relax and unwind, this casino will make your stay unforgettable.
This casino has received generally positive reviews from guests. On average, the hotel has earned a 4-star rating on major travel and review websites such as TripAdvisor, Expedia, and Booking.com.
One guest said, "The location of the Tuscany couldn't be better. It's close to all the major attractions in Las Vegas, and it is clean, comfortable, and very affordable. Highly recommend it for anyone planning a trip to Vegas."
(Related reading: Nevada casinos)
Gaming
Their 60,000 square foot casino houses 585 slot machines and video poker machines, as well as electronic table games and a separate sportsbook. The casino also offers progressive jackpot machines, including Wheel of Fortune and Megabucks.
Table Games
If you're looking for excitement and action at the tables, head to this casino. You won't find any traditional table games here, but royal fun awaits with their all-electronic options.
Enjoy your favorite casino games – from electronic craps to electronic blackjack and roulette – in a modern setting with plenty of friendly staff ready to help make your experience unforgettable.
This casino's table game minimums vary by day and time. Generally, on weekdays, the minimums range from $5-$10. On weekends, they can be as high as $15-$20. Ask a staff member when you arrive for the current table game minimums.
Slots
At this casino, you'll find many different types of slots that should suit any budget. The most popular kind is the Dollar Slots, which offer a great chance to win big rewards and an enjoyable experience.
They also have Megabucks, a progressive jackpot game where the jackpots start at $10 million, which can reach even higher amounts. If you're looking for more affordable options, the casino offers Nickel and Penny slots so everyone can join in on the fun.
Lastly, Quarter Slots will give you plenty of chances to cash in with smaller wins that add up over time. Unfortunately, this casino does not disclose its official slot machine payback percentage.
However, the Nevada Gaming Commission does require all casinos in the state to offer a minimum return of at least 75%. Any slot machine on the property should pay out at least 75% of the money it takes in.
Hotel/Resort
This casino is a great place to stay when visiting Las Vegas. Their newly renovated suites are clean, comfortable, and modern. Each suite features high-speed internet access, a flat-screen TV with cable channels, an iron/ironing board, a mini refrigerator, a coffee maker, and more.
Their suite types include:
Deluxe Executive Suite – features one king or two queen beds, a living room, a wet bar, a bathtub, a walk-in shower and a water closet (offers smoking, non-smoking and ADA amenities)
Two Bedroom Suite – features a jetted tub, spacious living room, and a boardroom
Pool View Executive Suite – features a bathtub, a walk-in shower, a living room, a wet bar and a lanai
The hotel also offers a variety of amenities to make your stay comfortable and enjoyable. Some of these include:
24-hour room service
Highspeed wi-fi access
Outdoor swimming pools
Business center and meeting facilities
Spa and fitness center
Valet parking
Gift shop
Bars and lounges
Restaurants
The cost of staying at this hotel depends on the type of room you choose. The daily rates for their suites start at as low as $39 per night plus taxes and fees. For longer stays, they offer packages that include discounted rates and complimentary amenities.
Check-in time at Tuscany is 3:00 pm
Check-out time at Tuscany is 11:00 am
Restaurants & Buffets
Although this casino does not offer a traditional buffet, they do have some great restaurants to choose from. With four fantastic restaurants, the hotel has something special for everyone.
Whether you're looking for a delicious Italian meal at Tuscany Gardens or an upscale pub-style fare at PUB 365, it's all available here. Caffè Bottega is the perfect spot to gather with friends over coffee and Italian treats, while Marilyn's Café offers casual American cuisine throughout the day.
Each restaurant provides welcoming hospitality with excellent service – so wherever you eat, you can be sure the experience will be unforgettable.
Pools
If you're looking for the perfect pool experience in Las Vegas, look no further than this casino. Whether you are here to relax or exercise, there is something for everyone.
Enjoy a luxurious swim in their heated lap pool, great for those chilly winter days. Or take a dip in their sprawling lagoon-style pool and let the stress of everyday life melt away in a serene atmosphere. Make this casino your summer oasis, and spend some time in the pools.
Tuscany Hotel & Casino, Las Vegas, NV FAQ
Does Tuscany Hotel & Casino Have A Sportsbook?
If you're looking for a sports book in this casino, look no further than Circa Sports Book – located just steps away from the casino floor. With an HD LED screen, this luxurious venue makes it easy to watch your favorite teams and games.
Whether you're a newcomer to sports betting or an experienced gambler, the friendly staff at Circa are always on hand to offer advice and answer any questions.
Plus, you'll enjoy exclusive amenities such as vibrant full-service bars and enticing quick-serve eateries – all designed with you in mind.
Is Poker Available At Tuscany Casino?
This casino in Nevada recently released exciting news for poker fans. While there is no traditional form of poker available, guests can enjoy playing video poker on the casino floor.
With several gaming machines in the room, lucky players can enjoy spinning the reels and experiencing spinning action on the exciting bonus features, not to mention a large selection of games with bet levels that suit everyone's budget.
What Are The Age Requirements For Gambling At Tuscany Hotel & Casino?
Anyone over 21 is allowed to gamble at this casino. Guests must present valid ID upon arrival and adhere to all local gambling laws. Additionally, those under the minimum age of 21 may not be on the casino floor or participate in any form of gaming.
Does Tuscany Have An Online Casino?
No, they do not have an online casino. Visitors can only experience the casino gaming action at their Las Vegas location. Also, visitors can check out their website for upcoming promotions and giveaways.
Is There An Tuscany Hotel & Casino App?
No, they do not have a mobile app. However, their website offers bonuses and discounts for all guests who book directly with them. The hotel also features a loyalty program that rewards guests with points they can exchange for free things like room upgrades, drinks and more.
What Is The Dress Code At Tuscany Casino?
This casino does not have an official dress code. Guests can wear whatever they want, casual, business or special occasion attire. However, please note that some restaurants do adhere to their own dress codes, so guests should check with their specific establishment before visiting.
Is There An Airport Shuttle Available From Tuscany?
Unfortunately, there is no airport shuttle available at this casino. The closest major airports are McCarran International Airport (LAS) and Henderson Executive Airport (HND). Guests can take a taxi or arrange a limo service from these two airports to the hotel.
There are also ridesharing services, such as Uber and Lyft, available from both airports. If you choose to arrange a ride-sharing service, please ensure it is authorized in the area before booking.
What Is The Smoking Policy At Tuscany Hotel & Casino?
This casino does not allow smoking in any of its facilities. If guests wish to smoke, they can do so outside in designated smoking areas. Smoking is prohibited inside the hotel and casino buildings. Additionally, vaping is also prohibited inside all of the buildings.
What Is The Pet Policy At Tuscany?
Unfortunately, this casino does not allow pets on the premises. Guests may bring service animals, but all other pets must remain home. For more information about service animal policies and requirements, please get in touch with the hotel directly.
Is Wifi Available At Tuscany Hotel & Casino?
Yes, free wifi is available throughout the hotel. Guests must register their devices to access the network and can connect up to five devices per room. For those guests staying in a suite, they will enjoy unlimited connections on their own private wifi network.
What Is The Cancellation Policy For Tuscany?
The cancellation policy for this casino is 72 hours before the arrival date. All reservations must be canceled or modified at least 72 hours before the day of check-in. Otherwise, you may be subject to a fee. Please refer to the hotel's website for more information.
Conclusion
Tuscany Hotel & Casino is a great destination for those looking to experience Las Vegas in all its glory. With plenty of games, bonus features and rewards, guests will surely have an unforgettable stay.
The hotel also offers many amenities for everyone's budget, including free wifi and more. So, if you are in the Las Vegas area and looking for a great place to stay, this casino is a perfect choice.