Virgin Hotels Las Vegas
Address: 4455 Paradise Rd, Las Vegas, NV 89169
Phone Number: +1 702-693-5000
Website: www.virginhotelslv.com
Hours: Virgin Hotels Las Vegas is open 24 hours a day, 7 days a week.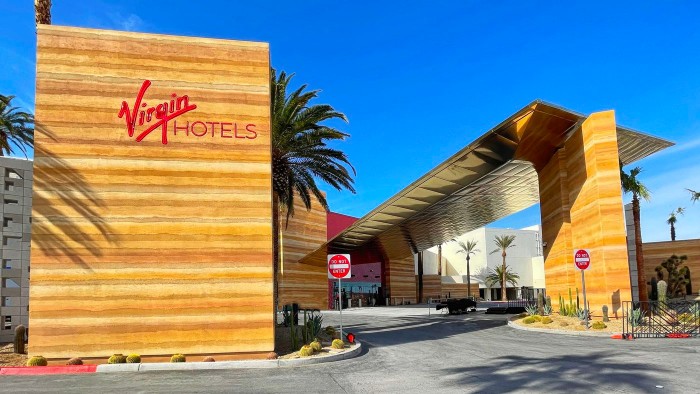 Virgin Hotels Las Vegas is a hotel and casino located in Paradise, Nevada. Originally opened as the Hard Rock Hotel & Casino in 1995, the property was purchased by Virgin Group founder Richard Branson and rebranded in early 2020.
The hotel section of the property is a part of the Curio Collection by Hilton, offering over a thousand luxury guest rooms and suites. Each room is rated four-star and includes amenities like high thread count linens, marble bathrooms with rainfall showers, and more.
On the other hand, the casino is managed by Mohegan Gaming & Entertainment, which is associated with the Mohegan Indian tribe. Thus, making them the first Native American tribe to operate a casino in Nevada.
Their gaming space offers a variety of betting opportunities, from slots to table games. There are also a number of entertainment options available such as live music, comedy acts, and other shows.
Since its opening in the early 2000s, this casino hotel has been known for its luxury accommodations while providing outstanding customer service with helpful staff members that make guests feel welcomed and looked after.
Furthermore, the property is also known for its excellent food options, as it houses an award-winning steakhouse and several other notable restaurants.
On most customer review sites, this casino hotel has received a 4.2 out of 5 stars rating from customers who have stayed at the hotel and casino. One guest said, "The hotel and casino are amazing! The staff was so friendly, the rooms were very comfortable, and the food was delicious."
Another customer said, "My wife and I had a wonderful stay here. The staff went out of their way to ensure we had everything we needed. We will definitely return!"
(Related reading: Nevada casinos)
Gaming
The Mohegan casino at this establishment features a wide variety of gaming options, including slots, table games, poker, and more. The casino also offers exciting promotions where guests can win prizes such as cash, cars, electronics, and even vacations.
Table Games
If you're looking for an exciting night out at this casino, there are plenty of table games to choose from. Take your pick of blackjack to get that adrenaline rush, or try your hand at baccarat for a chance to experience the opulence of the high-stakes tables.
Craps and roulette offer a different kind of excitement in the atmosphere where you can see your luck unfold with each dice roll or turn on the wheel. Plus, Three-Card-Poker gives players an interesting take on the classic card game.
The minimums for each table game at this casino vary depending on the day and time of your visit. Generally, most table games have a minimum bet of $5 to $25. However, the minimum can increase to as much as $50 on weekends and holidays.
Slots
This casino offers a great variety of popular slot machines for guests to enjoy. For lovers of cats, there is the Cats game which is set in the African Savannah. Mystical Mermaids transports players to an underwater paradise featuring alluring mermaids and colorful sea life.
Wonder 4 Tower combines four popular games into one thrilling experience with progressive jackpots. Spin It Grand has five reels, free spins, plus some exciting bonus features.
If you're looking for an interactive adventure, try the Huff and Puff game, where players can unlock amazing rewards in the wolf's den. Finally, Kronos: Father of Zeus will transport you to an ancient world complete with stunning visuals, stacked symbols and multiple free spin rounds.
The Nevada Gaming Commission sets the minimum slot machine payback percentage at this casino, and it currently stands at 75%. This means that slot machines return an average of 75% of what you wager.
However, some machines may have higher or lower payouts than others. It's always best to check the machine display before playing to get an idea of what kind of payouts you can expect.
Hotel/Resort
This casino hotel provides a luxurious stay in one of its comfortable rooms and suites. Guests can enjoy amenities such as complimentary Wi-Fi, flat-screen TVs, and plush bedding with premium linens.
Their rooms are divided into three hotel towers, The Canyon Tower, The Ruby Tower and The Opal Tower. From King Bed and Two Queen Bed rooms to various stylish Suites and Villas, guests have plenty of options to choose from.
The Stellar Suite offers breathtaking views of the Mojave Desert, while the relaxing Oasis Suite overlooks the casino floor. Those looking for something a little funkier may find themselves drawn to the Shag Suite or Richard's Grand Suite, which both feature contemporary design.
For extra space and comfort, take a look at either Richard's Flat or Villa—guests will be provided with elegant rooms that offer executive comfort and amenities. No matter what kind of vacation you plan, this hotel has perfect accommodation options for your needs.
The hotel also offers a variety of amenities to make your stay comfortable and enjoyable. Some of the amenities offered by this hotel include:
Exercise gym
Valet parking
24-hour front desk
Free parking
Fire safety compliant
High-speed internet access
Outdoor pool
Wheelchair access
Gourmet highlights
Banquet facilities
Laundry service
The cost of staying at the hotel varies depending on the type of room and the time of year. Rates start from $500 per night.
You can also take advantage of packages and special offers that the hotel has available to get additional discounts. Guests should check their website for details on the current rates and offers.
Check-in time at Virgin Hotels is 3:00 pm
Check-out time at Virgin Hotels is 11:00 am
Restaurants & Buffets
Even though they do not currently offer buffet-style food, the casino does have some great restaurants that guests can enjoy. From pizzas and ice cream to sit-down steak dinners and group dining, they provide something for everyone.
Afters Ice Cream is the perfect place to end a night or enjoy a cool-down after basking in the Nevada sun. Olives by Todd English is great for those looking for a more upscale experience, and Funny Library Coffee Shops for a caffeine boost.
Those looking for plant-based options are covered with Juice Bar, while Kassi Beach House Asian street food will suit those looking for something different.
Night+ Market is ideal if you still have room or need some late-night snacks, while The Kitchen at Commons Club offers casual dining and takeout if you'd rather eat in the comfort of your bed.
Pools
This casino resort is the perfect place for a poolside weekend getaway. The outdoor pool features cozy cabanas, lounge chairs, and plenty of relaxing space. Take a dip in the warm waters and enjoy the stunning views of the city skyline.
Élia Beach Club, located within the resort, offers poolside dining and signature cocktails. There's something for everyone – you can cool off with a tropical beverage or piece of fruit from the bar while watching your favorite swimming activities in the pool.
Virgin Hotels Las Vegas, NV FAQ
Does Virgin Hotels Las Vegas Have A Sportsbook?
If you're looking for a place to lay down a few bets on your favorite sports team in Las Vegas, then this casino is the place for you.
Located inside the resort is the renowned Betfred Sportsbook, where sports fanatics from all over can come together to share their excitement and support for their favorite teams.
Offering top-notch amenities and service along with customizable betting options, the Sportsbook at this casino is the ideal destination for anyone seeking an unparalleled sports betting experience.
Is Poker Available At Virgin Hotels?
While it does not have traditional poker tables like some other hotels and casinos in town, the casino offers three-card poker. This is a variation of regular poker, which uses only three cards instead of five.
The game requires strategy and skill to be just as fun and challenging as regular poker. Even if you're used to playing five-card poker, a session of three-card can be an enjoyable and educational change.
What Are The Age Requirements For Gambling At Virgin Hotels Las Vegas?
The minimum age requirement for gambling at this casino is 21 years of age. Guests must present valid photo identification upon arrival to the casino to access the gaming floor and participate in any games or activities.
Does Virgin Hotels Have An Online Casino?
If you're looking for an exciting gaming experience from the comfort of your own home, this casino has you covered. With their easy-to-use Mohegan Sun Casino Las Vegas app, you can play all your favorite games anytime and anywhere.
You can play free with your friends, perfect for those nights when you want entertainment without breaking the bank. Even better, the app offers daily bonuses, so you can get free chips with every visit.
Is There An Virgin Hotels Las Vegas App?
Yes, they have an app! It's the perfect way to make the most of your visit – you can easily make reservations at their hotel or restaurant, sign-up for exclusive offers and events, or check out the latest news from the establishment.
Their app also provides helpful information about their local area sights like popular attractions and places to eat. And as a bonus to loyal customers, you'll even be rewarded with loyalty points for each purchase made.
What Is The Dress Code At Virgin Hotels?
The dress code at this casino is smart casual. While visitors are not expected to be overly formal, they should ensure their clothing is appropriate for the atmosphere.
Is There An Airport Shuttle Available From Virgin Hotels Las Vegas?
Unfortunately, there is no airport shuttle service available directly from this hotel. However, guests can take advantage of the various transportation options available in Las Vegas to get to and from McCarran International Airport.
These include taxis, ride-sharing services like Lyft and Uber, shuttles or limousine services, and public buses. For a more convenient option, you can also book a private car service with your stay at the hotel.
What Is The Smoking Policy At Virgin Hotels?
According to the Nevada Clean Indoor Air Act, smoking is prohibited at this casino. This includes all public areas, restaurants, and guest rooms.
However, designated smoking areas are available outside the casino, where guests can smoke cigarettes or cigars without leaving the premises completely.
What Is The Pet Policy At Virgin Hotels Las Vegas?
Look no further than this casino if you've been looking for the perfect getaway for you and your trusty pup. They are proud to offer pet-friendly accommodations and services so you can be sure you don't have to leave your four-legged buddy behind.
They do require a daily fee of $60 per day if you reserve ahead of time but also ask that all pets are well-behaved, supervised while in the hotel room, and not left unattended at any point. Don't hesitate to contact the hotel for more information about their pet policy.
Is Wifi Available At Virgin Hotels?
Yes, complimentary wifi is available for all guests at this casino's hotel. Guests need to go directly to the front desk and ask for a free wifi code for their stay in order to access the internet.
What Is The Cancellation Policy For Virgin Hotels Las Vegas?
Cancellations must be made 24 hours prior to the day of arrival to avoid any fees. Any cancellations made within 24 hours of arrival are subject to a fee of one night's stay.
No-shows will also be charged one night's stay, and guests will be charged the full amount of their stay for any early departures. Guests should contact the hotel directly if they need to modify or cancel their reservation.
Conclusion
Virgin Hotels Las Vegas has something for every guest from the dress code, pet policy and free wifi to the cancellation policy.
With luxurious accommodations and services to make your stay as comfortable and convenient as possible, there's no better place in town to enjoy a getaway or exciting night out.
Whether you're looking for a place to stay or want to experience the casino and gaming floor, this casino hotel has it all.